Moët Nectar Imperial with jasmine tea macarons at the Emirates Dubai Business Class Lounge
Seasoned business class travellers say that to really experiences the best that an airline's lounge has to offer, you have to try the lounge at the airline's hub city. And with my transfer at Dubai airport to Bologna I have roughly three hours to sample what Emirates' lounge in Concourse B has to offer.
The lounge has recently gone through an $11 million upgrade with strategic partnerships with Costa Coffee, Voss Water and Moët and Chandon. This brings the total number of food outlets to 7 in the lounge making this a mini airport within an airport.
Phone charging station with locked compartments
Emirates' Dubai business class lounge seats 1,500 and seems to span the entire length of the airport (it doesn't, it just seems that way, it's 10,000 square feet). The three partnerships offer three new concessions for business class travellers. Even with the lounge at almost capacity it's relatively quiet, no scraping of chairs and just the gentle buzz of people.
My first stop is Costa Coffee, a coffee concession making coffee using slow roasted beans of the house's mocha Italian blend as well as pastries and cookies.
I order a cappuccino to take away as well as a giant chocolate chip cookie. There are also danishes, double chocolate chip cookies and pain au chocolat but I try to pace myself.
My second stop is the health hub with fridges full of help yourself Voss sparkling and still water. The food here has a healthy bent from cereals (it's breakfast time so this will change during the day to salads later in the day), to smoothies and juices.
I go for a fruit salad and add longans and pomegranates to it and grab a bottle of water for the upcoming flight.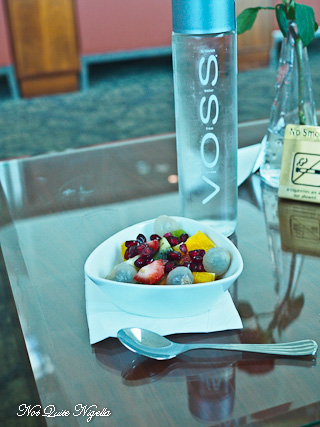 I saved the best til last though. That is the exclusive Moët and Chandon bar, the first of its kind in an airport lounge. Tucked away in a quiet area of the busy lounge and relatively undiscovered (an added bonus) this gleaming gold bar offers guests a choice of four Moët champagnes from the Moët Imperial, Moët Rose Imperial, Moët & Chandon Grand Vintage and Moët Nectar Imperial. The bar itself has a gold wave design with 2,400 gold leaves applied individually by hand.
I feel like a glass of Moët Rose Imperial and they offer me a matching canape. Each champagne comes with a range of canapes from nori wrapped smoked salmon topped with flying fish roe and wasabi mayonnaise and a gougere.
After this I try a Moët Nectar Imperial with jasmine tea macarons. It seems almost a shame to leave the airport at this stage!
Showers are another benefit of the lounge and there are a few women's showers (located on the opposite side of men's showers). These are fairly basic in comparison to others. These are small rooms with a shower and a block to rest your bag on or sit on. There is a towel and bath mat provided and shampoo/body wash and conditioner. The toilet, mirrors, hairdryers, combs and toothbrushes are located outside of the showers.
There is also the Timeless Spa located here although prices are on the high side. Dubai airport's food and facilities are on the pricey side so being able to eat and drink in such a way is very welcome.
My flight to Bologna departs from the C concourse and it's best to leave for there with 10 minutes to spare as it is quite a distance and you do have to get a bus that takes a rather long route to the plane. Business class boards a separate bus from first and economy.
Our plane, a B777-300 is smaller than the A380 and doesn't have in flight wifi. The seats in the business class cabin are arranged in a 2x3x2 configuration which means that there is a middle seat so if people are reclined then the person in the middle has to climb over them. Today the flight is quite empty and I have the three seats in the middle to myself.
The plane's business class has less room than the A380 and doesn't have the drinks selection although given that this is a relatively short flight of just over 6 hours that is not an issue. There is a bottle of water and socks and a sleeping mask in the seat pocket while noise cancelling headphones lay on the seat with a pillow and blanket.
I settle into my seat and charge up all my devices - the sockets are slightly hidden away near the passenger's elbow. I take a peek at all of the entertainment and go with Downton Abbey Season 6. Hot towels are handed out and I sip on the champagne offered. They ask me for a drink order and after take off they bring a Virgin Mary and a salted nut selection.
There isn't an amenity kit for this flight as it's not an overnight one but there are toothbrushes, combs, hand cream, razors and cologne in the bathroom though should you require these. They then offer to lay the mattress on the seat for me which makes things very comfortable and you don't feel the joins of the seat.
Once up in the air, they start serving lunch. There is a choice of appetiser from roasted tomato soup, Arabic mezze and salmon roulade. I go for the middle option of the mezze and warm garlic bread is offered. I hungrily devour the salad. The delicious dips are eggplant dip with onion and hummus with feta & herbs. They come with small rounds of pita bread and a roll.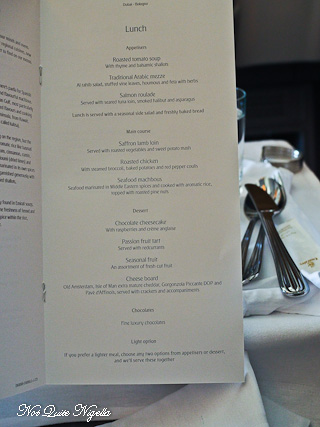 For the main I decide on the seafood machbous that is made with prawns and fish marinated in Middle Eastern Souk spices and cooked with a spiced long grain rice and roasted pine nuts. It's a dish that the menu explains originated in the Arabian gulf and Bahrain and uses a combination of spices like cardamom, cinnamon, cumin, coriander, black pepper, turmeric, loumi (dried limes) and caramelised onions. I really enjoy the spice blend applied to the seafood and the prawns are good although the fish is a tad dry.
Dessert, and by now I'm quite stuffed is the cheese plate. I didn't quite anticipate how big the cheeses would be and there are four of them as well as crackers and dried fruit. There's an Old Amsterdam matured Dutch gouda, an Isle of Man extra mature cheddar, a Gorgonzola piccante DOP and a Pave d'Affinois. They're all great cheeses but I especially enjoy the Isle of Man mature cheddar as cheddars seem to do well on planes and better than soft cheeses. We finish lunch when there are four hours remaining of the flight which I while away with episodes of Downton Abbey.
So tell me Dear Reader, do you tend to watch movies or television shows on a flight? Have you ever watched a whole season of a tv show on a long flight and if so, what was it? And did you like the look of the coffee place, health hub or champagne bar in the lounge?
NQN was upgraded by Emirates from a purchased ticket but all opinions remain her own.
Emirates
Emirates flies from Australia to Dubai 11 times a day, including seven daily flights on Emirates flagship A380 aircraft. For more information or bookings visit www.emirates.com/au.