Plated Prawn entrees
Lobster tail dish
Once upon a time there was a girl (ok it was me), that attended an event called Taste of Sydney. It was an event sponsored by Emirates airline and this girl was obsessed with airline food. She had often wondered if there were little elves that put the little portions of food together and she had a fascination with small, compartmentalised meals. During the evening, her husband Mr NQN came up to her and said "Honey, talk to that man, tell him about the story you've wanted to do for ages about airline food". Unfortunately the man in question was always busy being shuttled from group to group and she was too shy to blurt out "I'd love to do a story on airline food" in front of a group of strangers so a year passed where she occasionally thought about contacting Emirates but never did.
And then the opportunity came when she was chatting to the amazing Myriam from the Emirates airline's PR company. She told her that she had always wanted to do a story on how airline food is made in a behind the scenes kind of way and Myriam offered her the chance to do so - in Dubai! So that is how this very happy girl ended up one afternoon being given the lowdown on how your airline food gets from the chefs to your plate and any challenges in between!
X ray machine
There are two security checkpoints to drive into the $120million USD Emirates Flight Catering facility. Security is tight and I need to fill in an infectious and communicable disease questionnaire and surrender my passport, sign two visitors logs and go through an X-ray machine before donning a white coat and hairnet and entering the main area. Staff member's mobile phones are taken so they can't photograph or video the facility such is the security. I'm met by John Earnshaw one of EKFC's (Emirates Flight Catering Company) Assistant Vice Presidents who gives me a tour around EKFC1, one of two catering facilities. EKC1 is for the Emirates meals while EKC2 is for the other 110 airline clients that EKFC provides the meals for. We start downstairs on the ground floor where all supplies are delivered. Everything is scanned by a huge X-ray machine operated by Dubai Police. We walk through the High Base store which holds between 7-10 days worth of stock and over 1000 pallets of produce, airline equipment, cutlery, china, dishes and meal carts.
Sorting the debris
Because Emirates airline is so "peaky" as in there are peaks in which many of the flights leave e.g. between 6am-10am there are over 65 flights departing, this requires a lot of planning. The main activity here on the ground floor aside from storage is unloading of the trolleys and this is called the ware-wash area where the meal trolleys are sorted by workers according to the class (economy, business or first) and they're then loaded into another area where other workers separate the waste and other debris from the plates, napkins and the cutlery. The food waste is fed into a vacuum system compacter and the food waste is fed into a vacuum system which transports it directly to a compactor through pipes which stretch for 200 metres in length.
Plates and cups going in for a wash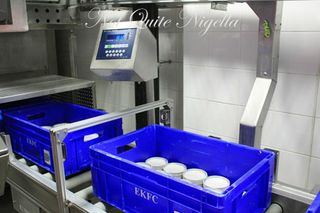 The weighing machine that counts the number of units
All of the cups, dishes, glasses and cutlery are then washed and dried and come out hot, dry and ready to pack. These are then weighed in blue bar coded crates that travel around a huge conveyor belt that stretches over two floors. These weighed crates act as an inventory and the barcoded system allows different crates go to a different storage area in the floor above depending on their contents. We hear a constant clinking of plates and glasses and I look up and John points out the constant trail of the blue bins containing all of the plates, china and cutlery above us. This conveyor belt is called the 'bin conveyor system', and it stretches for 1.1km throughout the building.
Sorting the trolleys
One of the computer screens in the control room
Everything is monitored and controlled from the facility control room. There are 226 CCTV cameras installed that watch over every corner of the building including exits so that there is no need to post a security guard. Footage is recorded on hard disk and kept for 30 days.
Hand rolled dolmades
Dolmades being cooked
Now for the food! We head into one kitchen and see the painstaking process of making dolmades from scratch. Each vine leaf is soaked, stuffed, rolled and then cooked and we see a pot which contains about 2,000 dolmades (6,000 dolmades are used a day). I ask how the decision is made to make these even though they are so labour intensive and John says that they're such a specialty of the region so it's not prudent to omit them. Everything is made on the premises including all of the sauces. The only thing that is bought in is the Arabic bread and some of the cubed fruit for economy and the lettuce comes already washed.
The Bond Store is where the shopping fun occurs. This is where the duty free goods and the alcohol for the flights are kept. They're divided up in Economy, Business and First Class and of course Business and First is where most of the fun is at with some amazing wines and champagnes being brought in. They used to have a system whereby there was a different stock list of liquors for each destination which was a lot more labour intensive but now they just have an extra cart of the special liquor for certain flights like Japan or Brazil that is just added on the regular selection. The temperature sensitive drinks are placed in a huge holding chiller 6 hours prior to departure. The area of the cold rooms and refrigeration in this facility is 3140 square metres and they can produce 24 tonne of ice cubes a day.
Caviar reserves for the flights
In First class we see Iranian Caviar where a 1oz can is allocated to each passenger. The champagne is Dom Perignon and the overnight bags are stored here (the first class amenity bag isn't that different to the business class but these two are quite different to the economy class). There are routes where First Class is in a lot of demand for example the Jeddah route where First Class is almost as compulsory as a golf club membership.
First Class Amenity Bag
We then reach the kitchen which is divided into three areas: a cold kitchen, a hot kitchen and a pastry kitchen. We start in the cold kitchen where I meet the executive chef Hawaiian born James A. Griffith. He has been in Dubai for 17 years and at EKFC for 10 years. He formerly worked at the Hilton and Hyatt before starting here as an executive sous chef. The meals that they are currently preparing are made 10-12 hours ahead and the trays are set 4-5 hours ahead. They make up a sample with weights etc and the rest are prepared accordingly with the time and temperature recorded. He shows me a diagram of the food and laughs "Marco Pierre White (who was visiting Dubai and wanted to see the facility) saw this and he laughed and said it was cooking by numbers".
Sample menus
A sample dish with guidelines
The menu is changed monthly and depend on the region that they're flying to but there's always an Arabic option and a mezze option as well as a dish from the destination. The passenger mix is also taken into account which is taken from information gathered at the time of the booking (although James is a little reluctant to discuss how they get this information).
Each section is then run by a chef. The pastry section is run by a Canadian chef, the Cold section by a Swiss chef and the Hot section by an Indian Canadian chef. These chefs all have sous chefs underneath them much like a restaurant kitchen. And does James miss working in hotels and restaurants? Yes, he says he misses the stress of the service although there are events where the chefs prepare fine dining meals for the cabin attendants when they move from Business to First class.
Plating up prawn entrees for First Class
So what are the challenges to cooking for an airline? James says that cooking so far ahead of time is one and the temperature constraints are another big challenge as everything has to be chilled to 5 degrees. The temperature in the air is also a problem as it's cold and dry so items such as bread are made a bit differently with a lot of bread improver and less butter to keep it softer. They use North American Beef Tenderloin which they've found to be a good cut to cook as it comes out nicely despite the early lead time for cooking.
Sushi rice also presents a problem as it can go hard but a combination of salt and water helps with this. Some items hold up better e.g. iceberg and cos lettuce hold up better than softer oak leaf lettuce. The sheer volume of food can be a challenge and the chefs can tend to get bored easily if they aren't regularly challenged and motivated. And how do they find ideas? He and other staff (including two workers from the floor) head out to fine dining restaurants like Gordon Ramsay and Gary Rhodes.
Smoked salmon for sandwiches
There's always an Arabic choice and all food is halal without alcohol. Other choices are red meat, poultry, seafood and a vegetarian dish, often a pasta. In economy there is a choice between chicken and red meat or seafood and in this part of the world, chicken is the most popular choice although this depends on the region.
Do they work towards a specific budget for each meal? James says that cost is a factor but the quality and range is more important. However it can be a factor for other airlines particularly with the Global Financial Crisis and its impact on the aviation industry.
We watch them loading up a cheese plate for first and business class. In it there's Australian Persian Feta (gorgeous stuff!), French Camembert and a German Smoked goats cheese. And who chooses the brands that they use? The suppliers are invited to submit their products, these are tasted and then the choices are presented to the food managers.
In the pastry section we watch as they make a wattleseed pavlova. They're always on the lookout for new suppliers with good quality products. They're currently testing the wattleseed and have started off small with using the wattleseed on one route and  if it is popular, they will then use it on more routes. To find out what the passengers think of the food, there are "Voyage Reports" where cabin attendants can log in whilst in flight and email the catering facility any feedback so it can be sorted out quickly.
I know the question you're dying to ask: Is there anyone to check the standard of the food? There is a whole department of twelve staff who handle quality control. It's very obvious when they do it as they take out cameras and thermometers mid flight to ensure that the food stays of a certain standard. To aid in the presentation, some of the dishes have plastic rings to keep them in place and in First and Business items are packed in metal trays which are then removed and served on fine bone china by the flight attendants. The Captain and first Officer eat different meals for safety and these are prepared by different people in different sections.
An exciting development for future airline food is the on board cook-from-raw ovens which they have recently trialed and James is pleased to report that even French fries cooked in it turned out crispy. First Class currently have a dine on demand system whereby passengers can order things from the menu whenever they like, just like in a restaurant.
Lemon tarts
Economy meals
For those of us that have missed out on our meal choice, it's most likely been in economy. The best way to get the meal you want is to pay for a business class or first class ticket as first class meals are loaded 150% full, business class is loaded 120-150% full and economy are 100% loaded so that means your selection may run out if you're in economy as they've just packed enough for the passengers. And the nicest touch for all class of passengers (and one that probably shouldn't be abused for fear of having the privilege revoked! ;) ) is the special order cakes which are made for honeymooning couples etc. Although ringing up to celebrate "My first flight on Emirates" is probably not such a cake worthy occasion no matter how tempting haha!
Japanese crockery for the Japan routes
Japanese dishes
We enter the hot kitchen where we see some workers flipping roti. The kitchen here is divided into Indian, Continental, Sub continent, Far East, Arabic and Japanese. Osaka is an existing route but with the forthcoming addition of Tokyo means that there is much more testing of the Japanese menus. This involved two teams of Japanese chefs coming over from Japan. One team cooked with the Emirates team while the other team tested the food. We see the Japanese plates being plated up and they look beautiful.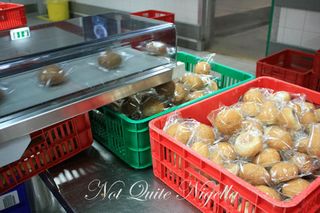 Flow wrapped bread rolls
Then we head into another room where the food that has been cooled down is then portioned up and plated under "cooling curtains" so that the food doesn't ever rise above eight degrees. There is a flow wrap machine which packages up all of the bread rolls and slices of fruit cake and moves them onto a conveyor belt. In total there are 430 staff in the kitchen and 30 in the staff canteen.
Canapes for Business Class
Filling the economy trays assembly line style
The packed trolleys
We then go down to assembly where the bits you never think about are done such as the cutlery which is all flow wrapped. The economy trays are all prepacked by a line of people where each person grabs two products and places it on the tray. Business and First are done in a slower manner by an individual with 5 trays at a time and there's a runner who helps to replenish the stock. All trolleys are filled with the necessary number of trays even if there aren't the number of passengers traveling. This is called "dead heading" and helps with keeping inventory and returning the correct quantity of equipment.
Once the trolleys are prepared they go into a lift where they are then loaded onto refrigerators. Two hours before departure, the entire flight uplift is loaded into trucks fitted with a hydraulic system which will lift the catering to the aircraft door. We walk past giant flour silos which they make full use of as they go through so much flour at this facility. I then try various dishes that represent the different routes.
Mezze plates for Europe and Australia
Prawns for Germany and Lobster for Europe
Chocolate tart with cherry compote for Africa Duck liver terrine for Far East
Pecan Pie for America and Pavlova for Far East and Australia
And I'll leave you with some interesting stats while I'm busy sampling these delights:
There are 127 different menus and 70,000 meals a day
In 2008 Emirates airline used:
Beef tenderloin: 187 tonnes

Assorted prawns: 188 tonnes

Chicken: 580 tonnes

Whole eggs: almost 2.2 million

Whipping cream: 190,000 litres

Lobster meat: 50 tonnes

Cheddar Cheese: 18 tonnes
_NQN visited and travelled to Dubai as a guest of Emirates airline. Chef James A. Griffith second from right and John Earnshaw, first on right.
_