There are certain cultures where hospitality is an art and Thai culture is one of them particularly as far as Arun Thai is concerned. I'm meeting my fabulous travelling companion Alison with whom I recently travelled to Austria with and we're having lunch at Arun Thai. The location is no coincidence. She and her photographer husband have just completed a cookbook called "Kham's Sai Mae Nam" with Kham, the effusive and generous owner of Arun Thai. I have always enjoyed dining here as one of my oldest friends lives literally doors away and we have many happy memories of meals here but it has been a while between visits. This is not cheap, casual Thai food. It is a little more at the upper end but the room reflects it.
_Entree selection: Lamb skewer, Goong hom sabai (prawn in crispy pastry) and Mieng Klum betel leaves _
Alison and I are too busy chatting and catching up so Kham who is a long time friend of hers, brings out an entree selection.The lamb skewer is perfection. It looks very dark so one could be excused for thinking that it may be overcooked or burnt but it is tender and incredibly flavoursome with the flavour reaching every part of the meat. The prawn in crispy pastry is nice and crunchy and the mieng klum betel leaf filled with a tangy, crunchy mix of peanut, lime, ginger, dried shrimps, chilli, toasted coconut.
As a duck fiend,the duck curry with cherry tomatoes and fresh pineapple pieces is like a spoonful of heaven. I adore the sauce for this which is so rich and flavoursome that I ask for several servings of rice so that I can have more of this sauce.
The pan fried butterflied king prawns with garlic and pepper are lovely and fresh with strong flavours and it is served with crunchy green beans.
I always order banana flower salad whenever I see it on a menu as it's one of my favourite salads with the crunchy banana flower and herbs (I think it's rather healthy too which is a bonus).  This version is mixed with chicken, king prawns, cashew nuts, chilli and lime juice and it's tangy and gorgeously fresh. I confess to Alison that I don't think I've ever seen what an actual banana flower looks like so she asks Kham who happily obliges and brings us a banana flower.
He tells us that only sugar banana flowers should be used as the other varieties are too bitter. They also need to be used quickly as the flowers get old and browning starts from the base. Once cut it needs to have some sort of acid to stop it going brown.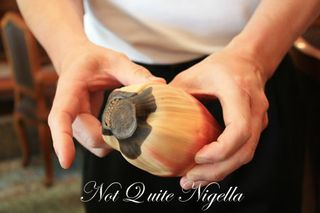 _Gaeng garee phetkae lamb shank _
Lamb Shanks are perhaps not a native Thai ingredient but after my first bite of this, I'm really convinced they could be. The softer than soft lamb shank that eases off the bone with the slightest nudge of a fork is cooked in yellow curry, coconut milk and potato. It's gorgeously rich and this is another dish that just begs for more rice to transport the sauce.
We can't fit it in any more so Kham offers to pack up our goodies which I am rather chuffed about as I would have hated for it to go to waste. Alison tells me of Kham's incredible palate which means that he has one of the best stocked wine storerooms particularly for a Thai restaurant. He is characteristically modest and says that as his clientele is made up of many judges, QCs and lawyers, they require a good wine list. They've also found that certain wines suit Thai food better and that cool climate wines with a moderate acidity suit Thai food and even some red wines get a look in. I even get a peek into the cellars which are enormous and span over a large fridge, a large room and then some. Kham's wonderfully generous nature comes into play and when he hears that I like dessert wine he gives me four bottles!
And who should walk in as we are getting ready to leave but Saucy Onion blogger and presenter Indira Naidoo who has just arrived back from a trip to America. It's a treat meeting her and her husband and she's as friendly and lovely as she is on television.
Dear Readers, thanks to True Blue Cockatoo,we have four copies of Kham's new cookbook called "Kham's Sai Mae Nam". It's filled with his delicious recipes from classic Thai dishes chicken larb gai salad, mee grob noodles and betel leaf wraps but it has plenty of recipes beyond the usual Thai cuisine. There are recipes for making your own Thai sausages, a fascinating looking straw baked free range chicken dish, salt and pepper pandan crab and crying tiger salad using Wagyu beef. He also gives us a glimpse of his influences at the beginning of each chapter.
So for a chance to win 1 of 4 copies just tell me in 50 words (or less!) what you like most about the tastes of Thai food! The giveaway ends midnight February 20th 2010 AEST. Enter as a comment on this story and this prize can be sent to Australian addresses only. You can enter once daily as long as the answer is an original one.
If you can't wait, stockists are listed on the True Blue Cockatoo website.
Arun Thai
28 Macleay Street, Potts Point, NSW
Tel: +61 (02) 9326 9135