My little black book is full. Not full of numbers from various men that I've met - I'm married after all, but full with restaurants and shops that I want to visit and notes that I take from visiting these places. There was one place that I was determined to visit and that had stayed asterisked for a while. I saw it on the lovely Ja's blog Beansprouts cafe and her photos sealed the deal so to speak and that was why I had positioned an asterisk next to it.
I walk past and there's a man at an outside table with an adorable dog and they're bringing it a container of water. I walk in to meet Myriam who I'm hoping will love it as it's said to be decorated in a French apartment Louis XIVth style (although I should have probably forethought that she might be able to spot the difference between the real thing and just an emulation of the style). It's very dark inside, even though it's day time and my first thought is "Oh the photos!". Service is very friendly and they don't mind that we're taking ages to order, after all, we have some catching up to do.
No. 9 Decadent Eggs Benedict $15.50
The menu is small and succinct and we choose easily and opt to have a savoury dish and then share some pancakes. I was seduced by the name "Decadent Eggs Benedict" and they come with either smoked salmon or ham and I choose the smoked salmon. It's deceptively filling - the eggs are perfectly poached with seemingly huge yolks that dribble a river of golden orange yolk onto the toasted English muffins. The salmon is very lightly lemon flavoured too and the tarragon is distinct in the hollandaise.
No. 9 Full Monty $16.50
Myriam's full monty breakfast has a bit of everything. The waiter explains that this is an item that is going to be discontinued as the small kitchen means that they cannot produce all those little bits and pieces during busy periods. There is bread, butter, home made baked beans, tomato, hash brown, bacon and scrambled eggs. It's enormous and produces a gasp when it's set down on the table. I try some of the baked beans which are home made but they're perhaps missing a smoked hock or other rich flavour and they taste predominately of tinned tomatoes.
Pancakes with banana puree and poached rhubarb $14.50
The pancakes are said to be their signature item and the idea of banana puree may be an odd one but our waiter reassures us "It works, believe me" when we had looked a bit puzzled at the idea. The pancakes are pikelet sized and aren't quite as light and fluffy as we'd like but this may be due to us rather than them as we waited a while before trying them as all three dishes came came out together. The banana puree and poached rhubarb are delicious and he's right, it does work with the banana puree rich the flavour of brown sugar.
OK yes  do love a good bathroom. Say hello to my arm! Hello!
I wander upstairs to visit the Ladies and to have a look at the library and see that there is a book wallpaper rather than actual books. We then try the Galette Des Rois that Myriam had purchased earlier that day. They don't mind at all and bring us knives and plates. Myriam offers them a slice which they try and they offer us a tea to complement the buttery Galette des Rois. It's a perfect Summer's afternoon really.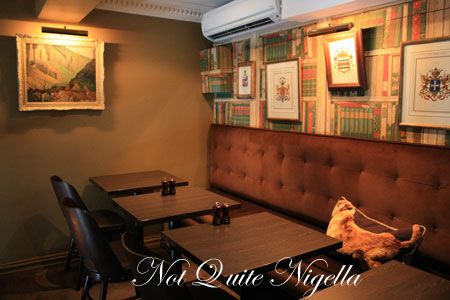 And because it's our first Wallpaper Wednesday of the year, at a special request from my friend Kathy, I've made a Bacon wallpaper! Actually three in fact for your gustatory food porn pleasure :) Click on the images to see the larger version.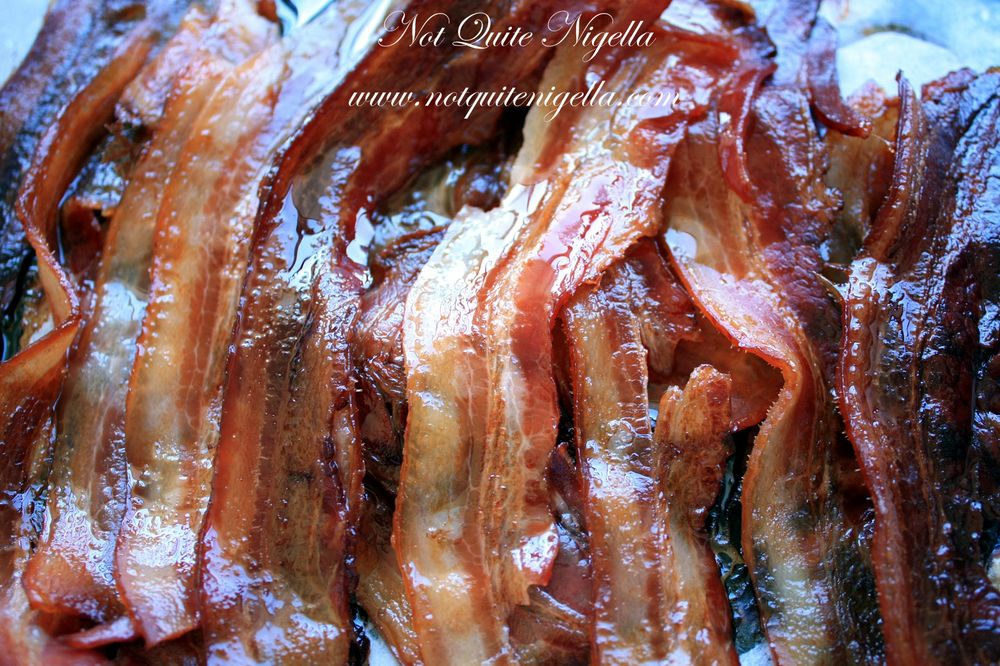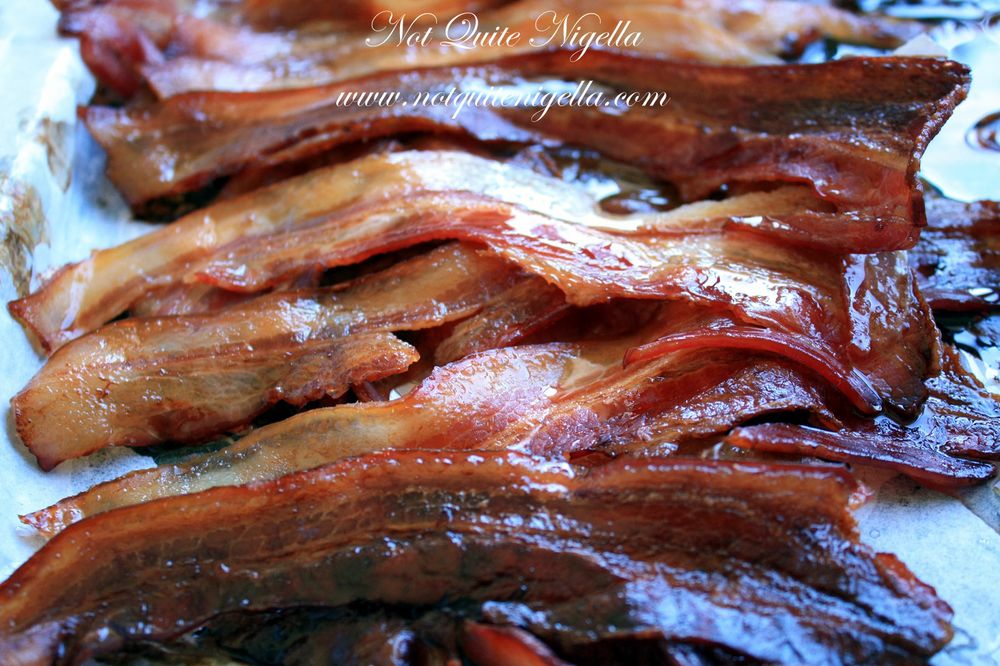 And I'm rather excited to share my recent press. In somewhat of a mini media blitz, I've been fortunate enough to be featured in Cleo Magazine, The Brisbane Courier Mail newspaper, That's Life magazine and Fried Chillies voted Not Quite Nigella #8 in their favourite things of 2009!
_Cleo Magazine with Jen, Suze, Anita, Lili and Lisa.
_
Brisbane Courier Mail
That's Life
](http://www.friedchillies.com/index.php/articles/detail/foodsters-favourite-50-2009-edition/)
Fried Chillies
So tell me Dear Reader, do you have any Wallpaper requests? Is there anything food related that you'd like to have as a Wallpaper?
No. 9
9 Ward Avenue, Potts Point, NSW
Tel: +61 (02) 9331 1399