I've never been much of a poet. Until I was a teenager, I always thought that poems had to rhyme. I've never quite understood haikus but I don't mind the odd spot of non rhyming poetry. It doesn't help though that Mr NQN guffaws whenever he hears poetry from yesteryear. If I were to write poetry, it would probably be an ode to a cake or food and in this way I thought that these cookie pops, based on Bakerella's incredible cake pops, would be the most appropriate Ode to a Biscuit.
I had a packet of Tim Tams and Mint Slice biscuits in the pantry-a leftover from Halloween when I bought them intending to use them as gravestones (I bet Arnotts never envisaged them being used like that!). Made up of three ingredients, these would have to be among the easiest and most smug making items I've ever made. Not only were these cute, but they were easy to make and did I mention only required three ingredients?
I knew I wanted to test out my new Breville Ikon BFP650Food Processor that the nice peeps at Breville gave me. It has four blades so it's said to process faster and better than other food processors. I was upgrading from my very small Breville Mini Wizz which I quite frankly was not in love with. This one has a 2 litre wet capacity (many have a 2 litre dry  capacity but a 1.5 litre wet capacity where liquids can leak out) and while this meant that this relatively small mixture didn't quite test it's capacity limits, it processed it well. Importantly for Mr NQN (a noise phobic, who knows why he married me as I am one of the noisiest people on earth), it was very quiet when doing so.
The other positives were a sturdy construction and it didn't shake uncontrollably like my previous food processor did and the added blades, blade box and two sided cleaning brush were pluses as well as the cord storage at the back. And negatives? Because the blade has four cutters, I was quite wary and scared about cutting myself when cleaning and a small thing, but cutting it out of the packaging was relatively hard. Also when I used it to make a batch of puff pastry, about 1 tablespoon of flour got stuck inside the blade.
I then coated them in chocolate and stuck some skewers in them and voila! I had my very own Cookie Pops and they were a cinch to make! You could do these with virtually any biscuit and making pops out of them like this keeps the flavour of the biscuit true.
So tell me Dear Reader, which biscuit would you use in your own signature cookie pops?
Tim Tam Cookie Pops
Makes 20 Cookie Pops
1 packet Tim Tams or Mint Slice biscuits (or whatever biscuits you like)

65grams/2.3 ozs light or regular cream cheese (I used light)

125 grams/4 ozs. milk or dark chocolate

Wooden skewers or lollypop sticks
Step 1 - In a food processor, process the biscuits and the cream cheese until it becomes a smooth paste. You may need to stop and scrape 2-3 times to do this. Scrape the mixture into a bowl and refrigerate for 30 minutes until it becomes firmer.
Step 2 - With a melon baller or small spoon scoop out truffle shaped balls and rolls these into balls between your palms. If you have hot palms like me, run them under cold water and quickly towel them dry.
Rolling cookie balls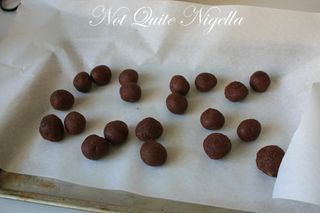 Step 3 - Melt chocolate in a double boiler and then dip each ball in the chocolate making sure that excess chocolate drips off. Place back on parchment lined tray. Sprinkle with hundreds and thousands and leave to set.
Step 4 - When set, insert a wooden skewer into the base of the cookie pop.