Dear Reader, whenever I read about serial killers like Ed Gein (the serial killer on which Silence of the Lambs' Jame Gumb was based) and find out that their childhoods involved having overbearing or domineering mothers, it has occurred to me more than a few times that if I had a child, they might end up as a serial killer. Not on purpose of course - please don't look at me like that...
I'm being completely serious here. I know that I'm forceful in terms of my ideas and thank goodness I have Mr NQN. He is so easy going against my Type-A Elvira and pretty much goes along with my ideas. And come October when our apartment is transformed into a graveyard in anticipation of All Hallows Day he just quietly moves his stuff away from the "production area" and does his work helping when I lasso him back into the eye of the hurricane. The poor dear barely escapes with his life intact afterwards.
Because there's always a postmen in zombie films...
So Your Honour, not only am I domineering, but I love to do ghoulish things. I can practically see the future headlines detailing my love of all things Halloween and ghastly. I mean the kid would be raised decorating zombie cookies, bloody popcorn cupcakes, vampire cookie pops or rat plague brownie bites so what chance would it have? At the very least we'd end up like the Addams Family.
The unlucky bride and groom
Which brings me to my latest creation for this year's Hallowe'en party. The idea for these cookies came from the cover of Zilly Rosen's Zombie Cupcakes book with a murderous bride and the head of her groom on the cover. I decided to do a Zombie Walk cookie-style based on a scene that you might encounter, well...if you encountered zombies.
After the bride and groom I decided to make a postman. Mainly because postmen always seem to feature in zombie films. I was actually terrified after watching a few episode of The Walking Dead. I started closing all the curtains and blinds that was a not too subtle clue that I needed to stop watching. While I know that there's a sheriff in it, I don't know if he has turned into a zombie yet so I didn't make one. I did recall a torso on the ground that frightened me so I did one of those. Then I stuck with more regular folk albeit of the guts and heart spilling variety and then I did my little homage to the twins from The Shining as the little zombies.
I had just a bit too much fun doing these. I think I was singing aloud to myself as I baked them "When you go out to the woods today, you're in for a big surprise." There's nothing more fun than one month of uglifying as much as possible where the rest of the year has been spent making "pretty" things.
It's funny what will delight your beating heart and these put me in such a sunny mood the whole day. And I just pushed those pesky thoughts of serial killers out of my head and lovingly created my zombie walk. I think I even gave myself a fright!
So tell me Dear Reader, what scares you the most i.e. what is your biggest phobia? Would you do a zombie walk for fun? And are you thinking of getting dressed up this Halloween and if so, what is your costume idea?
DID YOU MAKE THIS RECIPE? Share your creations by tagging @notquitenigella on Instagram with the hashtag #notquitenigella
The Walking Dead Zombie Cookies
An Original Recipe by Not Quite Nigella
Makes about 18 cookies (15 large, 3 small "kids", although this depends on the size of cutter you use)
170g/6ozs butter, softened
280g/10 ozs white caster superfine sugar
2 eggs
1 teaspoons almond extract
1 teaspoon lemon extract
360g/12ozs all-purpose flour
green and black food gel colour
You will also need a gingerbread man cutter
To decorate
White fondant and colouring gels
Red, brown, yellow, green, blue and pink icing colour pens
Step 1: In a large bowl, cream together butter and sugar until smooth. Beat in egg and almond and lemon extracts. Stir in the flour and then the colours. Roll into two large balls, flatten and wrap each in cling wrap and chill dough for at least one hour (or overnight but take it out ahead of time to let it become more rollable).
Step 2:Preheat oven to 200C/400 F. Roll out dough on floured surface 1/3 inch thick, I prefer these a bit thicker so that they are sturdy. Dipping your cutter in the flour, cut out man shapes. Place cookies 1 inch apart on parchment paper. Because they are zombies you can cut off heads and place them in the crook of the arms so that they look like they're carrying their own heads.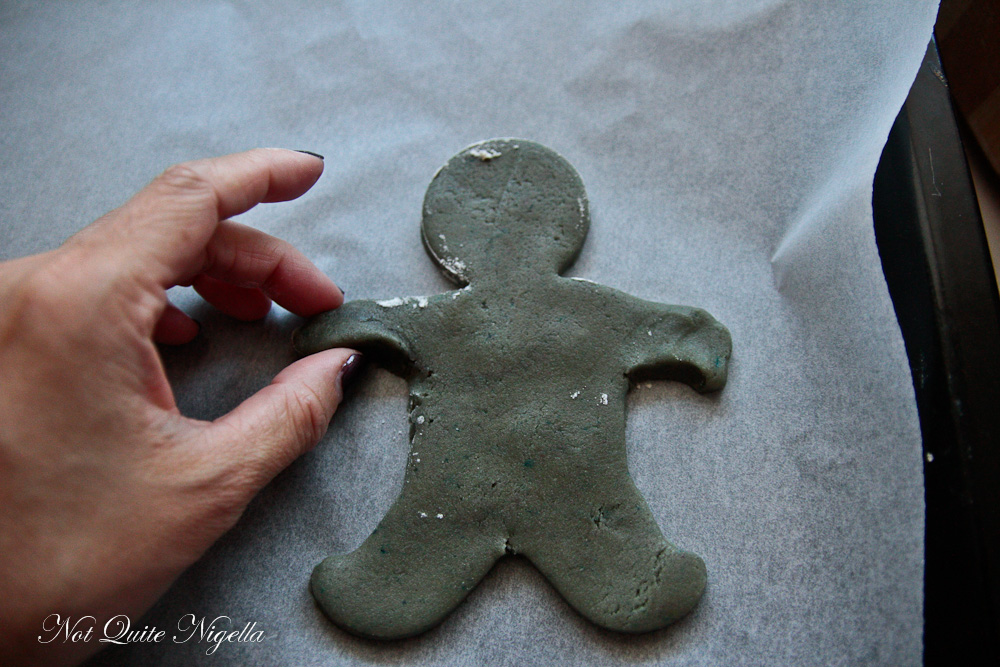 Gently moving the arms and head to become more zombie-like
You should also raise the arms gently because apparently zombies don't stroll like the rest of us and hold their arms up. Tilt some heads to the side too. Refrigerate the cut out dough for 15 minutes-this will help them keep their shape.
Step 3: Bake for 10-12 minutes in preheated oven. Cool completely.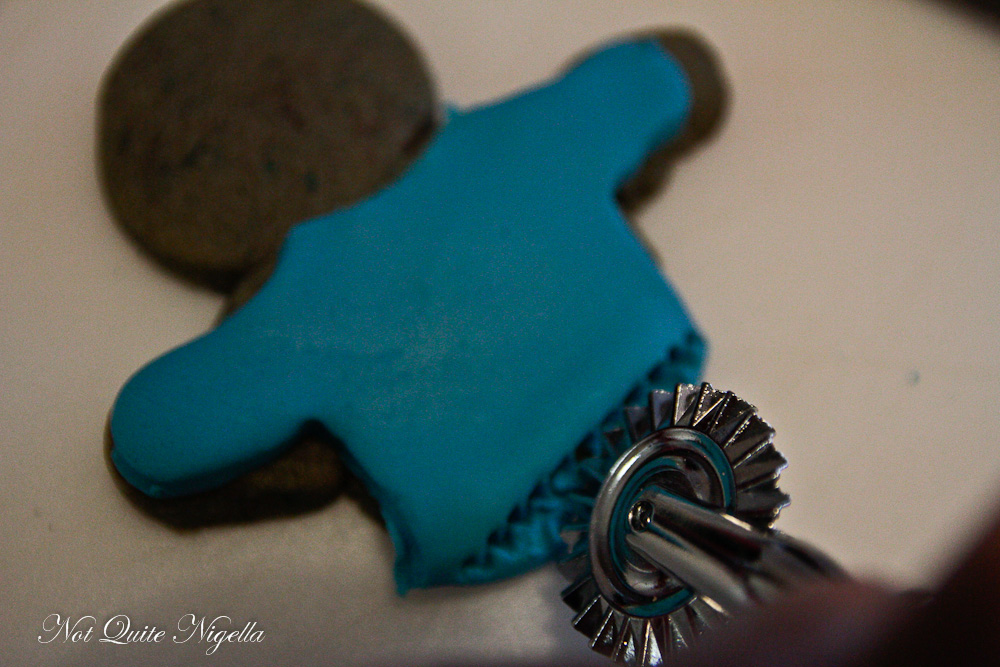 The torso guy...I saw that in the Walking Dead and was suitably grossed out. So of course I had to make it
Step 4: This is what us bakers and cookie lovers live for-the decorating! I made sure to set up all of the bits and pieces that I needed. These include a non stick board to roll on, a non stick rolling pin, the fondant and gels, gloves, a glass of water, a trash bin and anything that will help you do patterns on the "clothes" which includes toothpicks, pointy ended chopsticks or a ravioli rotary cutter. Now's the time to get into a seriously trashy 80's movie because decorating this many cookies takes at least 1.5-2 hours.
The Shining twins
Step 5: I always do anything with white first as the coloured gels do tend to mark white fondant much in the same way that wearing a white dress will attract red wine or shark blood (don't ask). I cut out the clothes by rolling out the fondant colours and then cut out the shape with the same cookie cutter. Don't forget that raggedy edges are good and ugly and messy and dirty are good in the zombie world (or so I hear). Adhere the clothes to the cookies using a little water from the glass. Bite a bit off the arm and then draw some blood on the cut.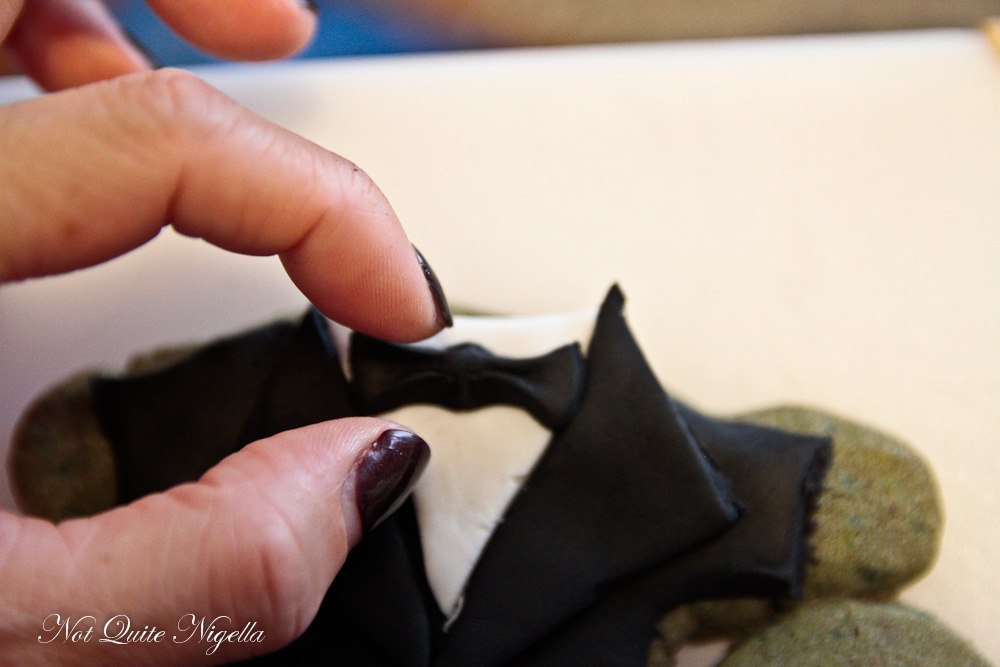 Step 6: The most fun was doing the faces. Think bulging eyes and red eye veins. To do the red eye veins, squeeze out some red gel and using a toothpick, feather little veins on each eye. Do things like crooked teeth, blood (you'll use loads of the red icing pen) and eyes dropping out of sockets.
To store the cookies, once completely dry, place in an airtight container between layers of parchment and get some desiccant packets that you get with items like dried nori, biscuits etc and allow the desiccant to soak up any moisture. You can even use cubes of bread to do so too.