There is a time of the year when only a hotdog on a stick covered in a cornmeal batter and dipped in tomato sauce will do. It's an item that I just do not see any of time of the year (and for that I am quite grateful) but it also means that along with bunny shaped chocolate, hot cross buns and Christmas pudding, I look forward to it every year. To me it signals the beginning of Easter and the Easter Show, an annual event held in Sydney at Olympic Park. And Dear Readers, settle in with a cup of tea or coffee this lovely Easter Monday because this is a big post with 80 photos!
From left to right: Laura, Olivia and Eloise at the back
We were running slightly late, we were both bone tired from the day before and tried to locate Liss, A and their 3 frills to no avail. The map we are given is one a large double sheet of newsprint and she tells me that they are in the Paddington pavilion. Unfortunately all of the pavilion names do not appear on the map and we end up discarding it. I need a bathroom and there's an enormous queue at the ladies but when times are desperate one will wait (not without a few of us checking out whether the men's are free). Seven phone calls and countless SMSs later we finally locate Liss, A and the three girls who are all proudly sporting "I Milked a Cow" badges.
Oh hai!
Eloise feeds a goat "He's my favourite" she declares.
There are goats and goat judging and the chance for people to pet little piglets (which are so adorable, I want to grab one under my arm and abscond with it!). We visit the working dairy where people can watch a dairy in action and we see the chicks, ducks and all sorts of animals with some roaming free for everyone to pat and feed. For $1 one can purchase a cup of food to feed them (although the goat that Eloise was feeding above seemed to like the hay).
There are also educational displays including computer games where children can help muster livestock by controlling the sheep dog as well as displays like the one above which show children (and adults) which parts of the cattle are used for what cuts and when you flip open the circles, it reveals a picture of the cut of meat.
I don't think roosters can read
After each pavilion visit you get your Easter Show Passport stamped and when you've finished collecting all the stamps, you can win a prize (although I did forget about it! completely after getting my first stamp).
Dagwood Dog $5
It's time for lunch and the girls are getting peckish so they try their first ever Dagwood Dog. We all know how unhealthy they are for you but the pervading smell of grease and deep frying that is present throughout the whole day is hard to resist especially when you see faces as happy as these.
Don't you just love the unselfconsciousness of youth? I'd love to see an adult do this!
Time for something a bit healthier and that means following the alluring aroma of freshly cooked corn. We order ours with butter, salt and pepper and they're very hot off the press. They're juicy and sweet though and it feels good eating a vegetable when we know what's coming up for dessert ;)
Corn cob $4
Liss and I go off in search for other food and there's all sorts of chocolate dipped fruit and fairy floss as well as rides and showbag stands for the most popular showbags.
I'm dying to try the Twisty chips that we saw earlier. We watch a man with the drill slicing the potatoes which has everyone transfixed and the line is long-and exasperating. Today one register is broken so we line up for 15 minutes only to reach the front of the queue to find out that it's just the queue for pickup and that the register is broken! Arrgh! But once we get in the payment line and order the Twisty fries we don't have to wait long. I am surprised at the price -$9 for the fries and $1 if you want a special sauce (garlic & parsley, sour cream, cheese, chilli con carne and sweet chilli).  A touch on the expensive side although the serving is large and could feed two. We order the chilli con carne sauce which is not really a chilli con carne as there's no beans or beef, it's more like a sweet Italian pasta sauce.
Twistys Chips $10
You will get stopped multiple times if you walk around with something like this ;)
Kvetching about the price aside, they're quite good although some plates that come off the line look worse than others. Ours actually doesn't look too bad but like some of the food here, they take them off the assembly line a little bit before the time that they're ready in order to feed the hungry hordes and these chips would have been a lot better if they were crunchier and cooked for a bit longer as they're a little soft and greasy. Still, the girls adore them.
Oooh chip worms!
Liss and A need some proper food and A has had his eye on the Bavarian Grill since he first set his eyes on it. They buy some sausages in buns and they're relatively good value at $7 each although the onions haven't seen enough of the grill and aren't sweet and soft as they should be.
Weisswurst with onion and sauerkraut $7
Kransky with onion and cheese $7
Did I mention dessert? The item we missed out on eating last time was going to be ours as we were all eager to give this a go. Most people are ordering the poffertjes from this stand but we order some deep fried cheesecakes. "Oh look, isn't that gross!" a girl comments holding a Dagwood dog as we watch them fry it and we have to chuckle at the irony given her lunch. After a few minutes we get our deep fried cheesecake.
Deep fried cheesecake $8
The slice of deep fried cheesecake is coated in a beer batter type of batter and deep fried. Inside it's something like a Sara Lee frozen cheesecake but it is actually surprisingly good and everyone loves it, even Mr NQN who doesn't like deep fried food. It's like a super fresh donut and they give us two generous scoops of ice cream to go with it and every single morsel is gone.
Piggyback time with Mr NQN to work off some of the lunch!
We take a seat to watch the Racing and Flying pigs which was one of the shows that we missed out on seeing last year. They are adorable and they work the crowd up for the short show.
Not really...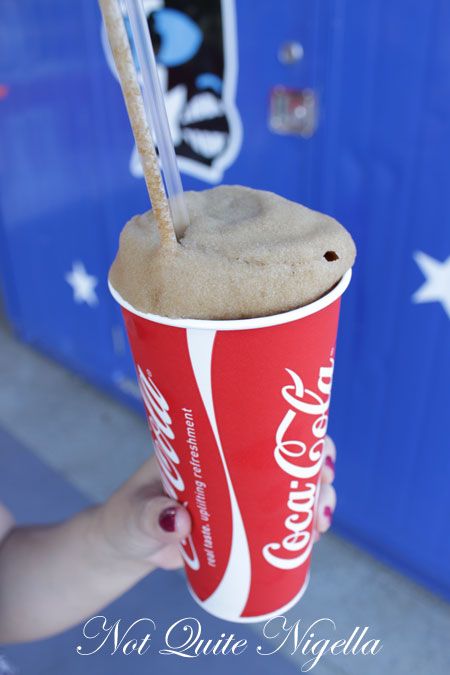 Frozen Coke $7
We're thirsty so we go for a large frozen coke which is rather steep at $7 a pop.
Phew, only just!
Eloise just makes it on a lot of the rides but surrounding us were kids in various levels of distress and tears when they realised that they couldn't reach the height needed! The girls go on their rides and we bid farewell to them while A takes them home and Liss stays back to check out the food.
A mini Ferris Wheel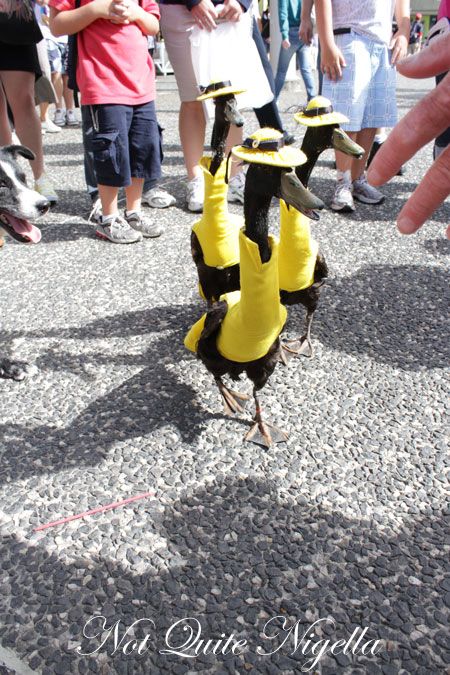 Ducks with ...hats? These three ducks herded by a single dog were the Destiny's Child of the show and caused a sensation everywhere they waddled.
Mr NQN and I have a look and see what is available in the Food Dome and the Graze area which is the area where "International" food is sold. There's Mexican, Wood Fired pizza, Italian, Seafood, Indian and Spanish-Thai. Spanish Thai? Yes a stand sells both.
A snowie stand with six different flavour toppings. Best business plan ever at $8 a pop!
My Little Cupcake Stand
Robert Gordon spoons $2 each and red star cupcake liners $5
Inside the food dome, there are many of the same stands as there were last year (in fact they're even in the same position as they were last year). There is the My Little Cupcake stand where I buy some Robert Gordon spoons at $2 each (great prop!) and cupcake liners.
The Macro wholefoods showbags
The stand that I always hit at every food festival is Yumi's dips. They were selling 3 dips with crackers for $7 or 5 dips with 2 packets of crackers for $10 I ended up buying 8 of these (buyer's tip: the smoked trout mousse and tuna mousse retail for $5.19 so the deal is great value!) and I start a new addiction in Liss.
Mick's Bakehouse with their award winning pies. Sadly they had sold out of these before we had the chance to get one :(
Lavender House which also sells organic culinary lavender by mail order at 50grams for $16.
Lemon Myrtle is one of my favourite flavours and they were offering free tasting of the lemon myrtle & honey yogurt and lemon myrtle ice cream. I bought Mr NQN the lemon myrtle yogurt for something a bit healthier.
They were also giving out these little fridge thermometers which help show if your fridge is at the correct temperature.
The Best in Show bags-I was going to get one of the cheese packs but really wanted a soft cheese like a goat's cheese in it and they didn't have any.
And the nice people at Le Spice who were advertisers on NQN are selling generously sized ziplock sachets of their spices in packs of four for $15. They kindly gave me some fabulous spice bags to try for my next BBQ! :)
_ _
Le Spice BBQ spices
The safari biltong at Jim's Biltong was good-like a cross between pastrami and jerky (which I sometimes find too dry).
The Newcastle Pudding Lady stand-she's there on the right. There are some fabulous 50% off specials on the Christmas puddings which last for another two years and develop a better taste over time.
The taste.com.au stand is a sampling stand where they offer samples of new supermarket items. We tried the Abbots Village bread with the Sole Mare tuna, a new barbecue sauce and some Ayam sago dessert and the items sampled change each day.
Woodchopping
Whilst outside, for the blokes, there is some woodchopping entertainment.
And at 1pm, 3pm and 5pm there is also the Psycho Sideshow which is grisly but entertaining. Behind half closed eyes, I watch a man carry a woman on a trolley by attaching fish hooks to his eyeball sockets-argggh my eyes!!
Then we see a parade that winds itself around the grounds including dancing Pirates, some very friendly waving Storm Troopers and a marching band.
Seafood basket $15.50
After hours wandering around the show Liss and I get some dinner from the Graze section. She opts for the Seafood Basket from the Seafood and Eat It stand. It's pretty cold by the time we find a table and rather disappointing as everything is cooked so far in advance. A shame as I had some gorgeous salt and pepper calamari from them last year at another festival.
Curry selection $11.90 plus samosa $3.50
The Indian stand offered a choice of three curries with rice. I chose butter chicken, spinach and potato and a lamb curry. The lamb curry sauce was good but the lamb was quite tough. I liked the spinach sauce but I much prefer the paneer cheese instead of potato and butter chicken is great. Liss doesn't like the lamb samosa and I prefer vegetable samosas as the lamb mince tastes a bit muttoney.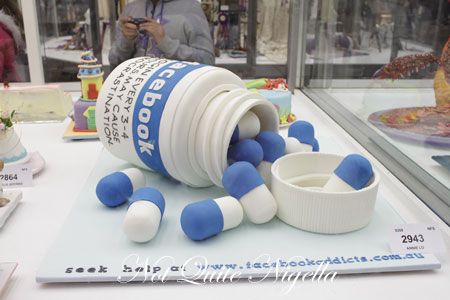 Haha! Facebook addicts...
Energy fortified, we plunge back into the Food Dome where we have a look at the cakes. Did I mention how gorgeous these creations are? No well take a look at these beauties-all edible!
I adored this peacock one...
Just look at the detail in the tail feathers!
And of course there were plenty of Alice in Wonderlands this year.
And this amazingly well done dog!
Then it's time for a little dessert from the Irrewarra Natural ice cream stand. The milk used in this ice cream is from Jersey cows that graze on biodynamic land while the fruit used in it is unsprayed fruit. Liss tries the banana and the chocolate one and we try the mango and blackberry. Whilst they're very, very creamy the fruit flavour isn't very strong in the blackberry or mango but the banana one is the pick of the bunch tasting like real, caramelised bananas. The chocolate one tastes more of cocoa rather than chocolate.
Mango and blackberry ice cream $6.50
With our feet too weary to walk much further we take a cursory glance into the showbags stand but even a hardened shopper like me doesn't buy anything. The brands I like don't seem to do showbags :(  However if they were to revive the Wonder Woman showbag that I bought when I was young I'd be there in a flash!
Pros: It's fun, especially for kids. The food dome is good and most exhibitors are generous (but there are some food exhibitors that charge $2-$3 for a small cup sample). The medal winning food is always fantastic.
Cons: well we all know that it's expensive. $8 for a snow cone and $10 for twisty chips and the rides means that it can get expensive. Very similar to last year's stands in the food dome. If you are meeting someone, do so at the beginning as the map is not that useful.
I asked Liss about how much they spent as a family of five and she gave me the following breakdown. Each girl had a limit of 1 showbag and 1 ride each and they brought their own morning tea.
Entry (1 family pass+1 child) $115.50
Rides - $40 (2 x merry go round, 1 bouncing harness)
Showbags $72 (2 x Barbie, 1 x Fairies, 1 purina for Dougall)
Food: 15+8+10.50+18.50+12 =64
Parking $20
Kite $15
(we brought our own morning tea and drinks except for 2 bottles of water)
Total = 346.20
NQN and Mr NQN received entry tickets to the Easter Show.
Sydney Royal Easter Show
From April 1st-April 14th
Showground Road, Olympic Park, NSW