At the risk of dropping a name (please forgive me, I find it an appalling habit), I was once asked by the producers of Anthony Bourdain's No Reservations to recommend a restaurant in Sydney that was capturing the zeitgeist of the city at the time. I thought about it for a while and then pointed them to Porteño not only because South American food was so popular, but also figuring that Anthony might like the whole package there from the whole beasts on the grill, the asador Argentinean style to the tattooed chefs.
For this year's Big Day Out, those two tattooed chefs Ben Milgate and Elvis Abrahanowicz  have gathered a group of fellow chefs in each state for a concept called Chow Town. It's an idea that originated at the sister festival Lollapalooza in Chicago. Festival goers will be able to buy food beyond the usual festival fare at affordable prices made by these hand picked restaurants.
This also opens the chefs up to a new audience that perhaps would not have tried the restaurant and is a reasonable entry price for festival goers to try the restaurant's food. As the concept is so new, prices and portion sizes are yet to be figured out. Portions will be between $10 and $15 and will be roughly the size of a hamburger. And each state's Big Day Out will feature Ben & Elvis's hand picked restaurants, indigenous to that state. Melbourne's lineup includes Golden Fields, Huxtaburger and St Ali while Perth, Adelaide and Gold Coast all have their own home grown stars.
El Jimador Wrestling Bar anyone?
So one sunny day, Belinda and I set off to explore Chow Town at the Big Day Out. Enter the hottest day in Sydney's history with scorching temperatures out at Olympic Park officially reaching 44.7C /112.46F. Walking felt like swimming through glue and we spent time hydrating as much as we could. Girls in tiny shorts and midriff baring tops saunter past with guys wearing wet tshirts or singlets and thongs.
The signage isn't brilliant and the only map given is a vague, small one in the booklet. We pass a frozen Coke stand and resist the temptation-the queue looks forbiddingly long and we keep our eyes on the prize. So after stopping about half a dozen staff, we arrive at Chow Town.
Walking from the entrance, it appears after you walk past many the other food stands and stadiums so many festival goers may not have come across it until too late. Admittedly, we're eating quite late at 2:30pm but it took us a while to recover from the searing heat. There are coloured picnic tables set up with some under trees. And as promised, all of the chefs are there behind their stalls.
Chow Town stalls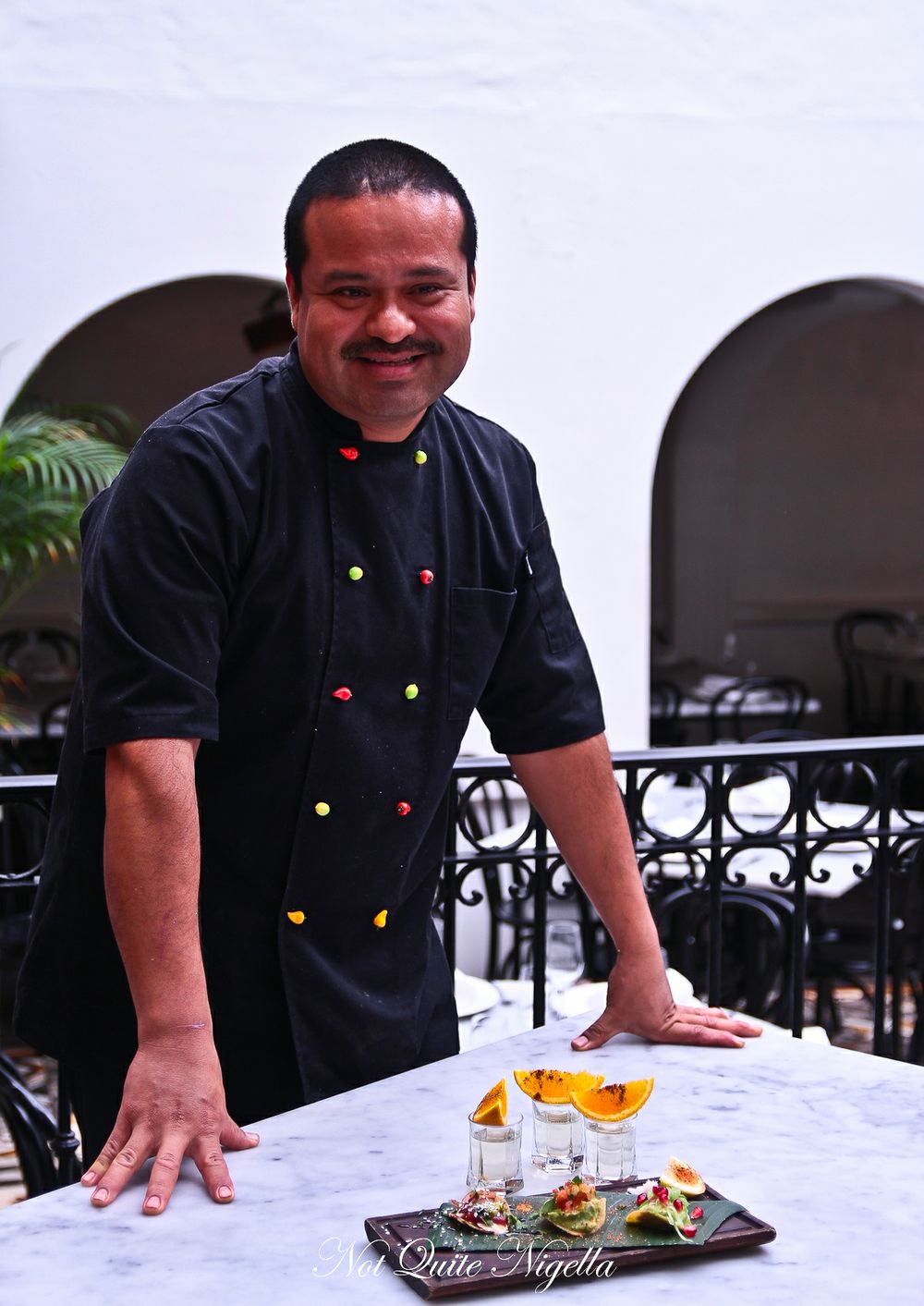 Rojo Rocket Chef Alejandro Urbina with tostada de atún & tostada de aguachile
We started off at one end at Rojo Rocket. Rojo Rocket is a restaurant on the Central Coast with chef Alejandro Urbina from Playa del Carmen in Mexico. We both loved the fact that there was one item on the menu: the Red Hot Chilli Peppers which happened to be the headlining act for this year's B.D.O.
Rojo Rocket: Red Hot Chili Peppers with a Killer Sauce – $10
Although we expected smaller chilli peppers, these are actually two large green peppers, slightly spicy and filled with a soft mixture of beef mince and sultanas. Each is then battered and deep fried until crispy and a creamy walnut sauce and pomegranate seeds are scattered on top. It has a mix of creamy and crispy textures and the flavours are absolutely heavenly together.
Rojo Rocket: Ceviche De Pescado – $10
This was tangy and fresh, the tanginess of the lime and lemon serving us well in the heat along with the onion, tomato and coriander. However, the cup was a little difficult to scoop the ceviche out of with a corn chip.
Rojo Rocket: Tacos De Camarón – $10
These lightly battered prawn tacos were served on a corn tortilla with chipotle and pineapple salsa. My kingdom for a tray of these as they hit the spot perfectly. The pineapple was sweet and soothing for a hot day like today while the prawns were fresh and the taco soft.
The Apollo Chef Jonathan Barthelmess (left)
Forgive me but in this heat, I couldn't have the fried cheese or lamb souvlaki on offer at The Apollo's stand but I tried a sample of it at the preview event where the more formal shots were taken. The fried cheese with oozing, sweet, dripping honey and aromatic oregano has an appealing crispy edge and a gooey centre. On the day, this was served at a larger size for $9 while the lamb souvlaki was $12.
The Apollo: fried cheese with honey & oregano
Hartsyard Chef Gregory Llewellyn
Hartsyard: Country Fried Chicken Legs – $15 Hartsyard hot sauce
The hit at the media launch was the Hartsyard Country Fried Chicken and oh my, how a crowd of adults can get excited when they see a plate of fried chicken coming towards them! The chicken is wet brined and then cooked in a 64.5C water bath for two and a half hours and then placed in an ice bath until completely cold. It then goes into a buttermilk marinade for six hours, coated with seasoned flour and then fried at 155C. And then anyone worth their mind would simply dunk this in the addictive hot sauce and eat and realise that cooking these at home would be a lot of trouble but eating them much less.
Hartsyard: Poutine  $15
It's probably a little mad going for poutine in this weather and this is Hartsyard's homage to poutine sans cheese curds. Their poutine is a scaled down version of the one that they do in the restaurant with large chunks of soft beef chili, fries, cheddar, ranch dressing and hot pepper vinegar.
Longrain Chef Louis Tikaram
Longrain: Ka Pow Beef – $15
It really sort of makes sense that the stands with food from hot weather cuisines fared well and apart from chicken satay sticks, the Longrain stand had Ka Pow Beef with stir fried beef, snake beans, wild ginger, holy basil & rice. On top is a sunny side up egg and I'm pleased to see that there's lots of chilli in it - it's not too hot but gives it a nice level of spice.
Longrain: Vanilla Tapioca with fresh fruit – $10
The only problem with a cold dessert is that about 5-6 minutes after you sit outside in the sun, this ends up being quite a warm fruit salad. Still, we like the slip of the silky tapioca pearls and the small chunks of fruit salad.
Three Blue Ducks Chefs Darren Robertson, Mark LaBrooy
Fun fact, I once got an email from a reader that lives in New Delhi, India who implored me in no uncertain terms for more on Mark LaBrooy from Three Blue Ducks so this picture is for her.
Duck Salad with Chili Jam, Green Mango, Bean Shoots, Fried Eshallots & Roasted Cashews $10
They're nice enough to give us a large serving as they know that we're sharing. The chilli duck salad with crunchy fried shallots, plenty of fresh herbs and salad and pieces of roasted cashews. It was fresh, crunchy and flavoursome and a good portion size for the price.
Iced Tea with Lemongrass & Ginger and Coconut Water $5 each
Okay, these weren't quite the drinking coconuts that were on the bar but rather ones in cups. I can't tell you how glad I was to see plenty of ice in a drink and this along with the iced tea with lemongrass, ginger & mint, although not particularly strong was welcome in the heat. And once these were drunk, we made use of all of the ice popping the cubes down our dresses and rubbing them on our scorched limbs.
Porteno Chefs Ben Milgate and Elvis Abrahanowicz
Porteno: BBQ Wagyu Beef Brisket w/ Old Bay Coleslaw on a brewski bun – $12
By the time the temperature on our phones showed 46 degrees, we knew that it was time to retreat. We got two of the Porteno burgers which were easily transportable and took them back to shelter.  They were softer than soft buns with bbq brisket wedged inside with coleslaw and a slice of cucumber pickles to give it freshness and crunch.
Porteno: 16 hour Chipotle Chili Pulled Pork w/ Pickle, Old Bay Coleslaw on a brewski bun – $12
The beef brisket one reminded us of a smokey corned beef with the sweet but distinctly hops flavoured beer bun encased both the pulled pork and the beef brisket. We took this back to the media room to eat after a few hours and it was worth waiting for as we would have been too full for these monster sized buns otherwise.
But on the way, you bet that we stopped by this sprinkler stand that dispersed a fine and instantly cooling mist of water on everyone. Some clever girls were even eating their watermelon wedges under there in an effort to cool down. I jump under for about ten seconds to cool off.
"That was the best ten seconds of my life!" I say to Belinda before facing the heat again.
So tell me Dear Reader, would you have gone for the Chow Town food over regular festival food? And are you a hot weather or a cold weather person?
NQN and Belinda attended as a guest of the Big Day Out but all meals were paid for independently.
Big Day Out
http://www.bigdayout.com/
http://www.bigdayout.com/chowtown/
Melbourne
Golden Fields
Anada
Cookie
Golden Fields lobster roll – $12
Vegetarian rice paper rolls – $9
Fried chicken bahn mi – fried chicken, Vietnamese slaw served in a baguette – $10
Peanut butter and chocolate ice-cream sandwich, salted caramel – $6
Salt Cod Croquettes – $3
Patatas Bravas – $5
Otway Ranges Chorizo Burger with Grilled Peppers – $10
Churros with Chocolate – $5
T Rex Chicken Wing & Green Papaya Salad – $10
Garlic Chive Dumplings with Pickled Chilli & Soy – $10
Cookie's L.A.M.B. Curry with Rice – $10
Honky Tonk Noodles – $10
Huxtaburger
St Ali
RB's Fried Chicken
Huxtaburger – $10
Red Hot Chili Burger – $10
To-Foo Fighter Burger – $10
Crinkle Cut Chips – $5
My Mexican Cousin – $10
Secret recipe corn fritters with red hot chilli jam & halloumi
Super Granola – $8
Honey toasted granola, goji berries & vanilla bean yoghurt – $8
Chickadee – $10
Chicken burger with bacon, chipotle mayo & avocado
Moo Sanga – $15
Premium angus beef, rocket, mustard, pickled red onions & gruyere cheese
RB's fried chicken sandwich w/ slaw, pickle on a jalapeño cheese bread – $10
Fried chicken taco w/pickled cabbage, lime mayo & salsa Roja – $6
Fries – $6
Adelaide
Chicken Baby by the Vendor
Jack Ruby
Devour
Char grilled Chicken Sandwich w/ Smokey Mayo, Crispy Bacon & Pickles – $10
Bucket of Chicken Baby's Wings – $15
Choc-dipped Frozen Bananas w/ Cornflake Crunch, Coconut, Peanuts or Pop Rocks – $5
Pork belly & slaw burger – $9
Beef cheek, lemongrass & tamarind soft taco w/ cucumber lime salsa ? $8
Chilli cheese fries ? $7
Donuts Sundae – $10
Peanut Butter Jelly Panna Cotta – $10
Lemon Tart – $10
Peanut Butter & Chocolate Ice Cream Sandwich – $10
Veggie Velo
Simon Bryant
The Grace Establishment
Quinoa Burger – $10
vegan
Haloumi Burger – $10
Deluxe Vegetarian Burger – $14
Salad – $5
vegan, gluten free
Add a quinoa patty – $5
Add grilled haloumi cheese and pineapple – $5
Chilled Mango and Coconut Chia Parfait $5
vegan, gluten free
Salt & Pepper Tofu – $12
Kway Teow – $13 Wok charred soft rice noodles , Kangaroo Island lentil sprouts, chili, garlic chives & bean curd "crackling" – Vego, Vegan on request
Gado Gado – $12
Shaved raw vegie salad, Queensland "red skin" peanut sauce, RSPCA soft boiled free range egg, springy fried tofu Banana & Bee Pollen Chocopops – $6.50
Grace Cheeseburger – $8
Swiss cheese, tomato ketchup, pickle, american mustard
Spit roasted suckling pig bun with slaw and homemade BBQ sauce – $8
New York style chilli dog – $8
Spi
Perth
Clarences
El Compa
Lalla Rookh
500gm of fried Chicken Wings with spicy or plain aoli – $12
Panzanella salad in a sourdough bowl – $8
Mushroom arancini with fetta whip – $8
Tacos & Quesadillas $5 each
OR any 3 for $12
Tacos
Tinga: Chicken in Chipotle & Tomato
Carnitas: Slow Cooked Pork in Orange
Bistec: Seared Beef, Black Beans
Nopales: Cactus in Tomato Salsa
Quesadillas
Tinga with Cheese
Nopales with Cheese
Bistec: Beef, Black Beans with Cheese
Grilled piadina, prosciutto San Daniele, tomato, buffalo mozzarella, basil – $10
6" polpetone sub, italian slaw – $10
Salad of cherry truss tomatoes, cucumber, pickled shallots, candied prosciutto – $10
Snags & Sons
Andaluz
Greenhouse
New York Style Hot Dog – $8
Organic loafers baguette; caramelised onions, mustard, chilli & ketchup + Jalapeño sauce, chipotle mayo & parmesan
Chicken & Seafood Paella – $13
Spiced Pork Empanadas with Salsa Verde – $7
Green Papaya Salad – $8
Caramel Braised Pork, Rice – $10
Cinnamon dough
Gold Coast
The Kettle and Tin
Top Shop
JR's Smokehouse Barbecue
Confit Duck Nachos with re fried beans, tomato salsa, avocado & sour cream – $10
Pil Pil Prawns with Papas a lo pobre (poor mans potatoes) – $12
The American Burger – $10
Beef, double cheddar, dill gherkins, chopped onion, ketchup, mustard and mayo
The Mission Roll – $10
Hot roasted chicken with a snow pea slaw, Top Shop Chili sauce and mayo on an organic soft burger bun.
Mushroom Burger – $10
Braised mushrooms with beetroot, sunflower sprouts, goats cheese and relish
Carolina Pulled Pork Roll – $12
12 hour slow smoked pork shoulder served on a roll and topped with coleslaw and Carolina BBQ Sauce
Texas Beef Brisket Roll – $12
12 hour slow smoked Angus Beef Brisket served on a roll with Texan BBQ Sauce, onions and dill pickles
Cabiria
Peasant
Chorizo Bocadilla – $10Truffled Pumpkin & Goats Cheese Tortilla – $10
PaellaChicken, chorizo, prawn, mussel and saffron – $10
Or Vegetarian – $10