Warning: this post contains some graphic food! ;)
" Get your Mountain Oysters!"
"And what is your purpose for visiting New Zealand today?" the Christchurch immigration officer asks me when checking my immigration form. "To visit the Hokitika Wild Foods Festival" I answer. She laughs "Ahh okaaay. Well good luck! I wouldn't eat half that stuff" and waves us through.
The Startled Worm Cafe-featuring earthworms among others!
The Stream Larvae stall
Shark anyone?
Our trip to New Zealand was almost a year in the making which is a long time for a person like me who has very little patience. Mr NQN and I were being hosted by the lovely people at Tourism  New Zealand and the event that I really wanted to go to was the Wild Food Festival held in March each year thereby necessitating the year long wait. It was something that we had heard of on our last visit where we had heard that all sorts of weird and wonderful things were being served there. A few days before I find myself looking up their website to see what I am to face. I find myself googling "What is punga?" and "What are huhu grubs?". There are also larvae, worm truffles, mountain oysters (aka sheep's testicles), moonshine, stag meat patties, mutton birds, paua, locusts and grasshoppers but then there is "safer" fare like shark, venison, wild boar and whitebait.
The bugs on offer
From 10am-5:30pm this sunny Saturday, the small town of Hokitika on the West Coast of the South Island, they will welcome just under 15,000 visitors to this one spot. Parties are encouraged with posters advertising "bring your party to our party" and dressing up is encouraged as we discover. The festival has attracted a lot of media attention in the past and has been featured in Playboy magazine (who claimed that the emu shells sold there were an aphrodisiac), The Amazing Race and features in Frommers Top 300 events in the world snaring second place 2 years ago (only pipped by Italy's Slow food Festival). It pumps $2 million into the local economy and serves up an enormous range of food. One year they served up 10,000 Whitebait patties which is a South Island speciality and this year 300kg of whitebait was caught for the festival.
Pukeko (swamp hen)  skewer
_ _
We start off with a tour of the stands. The Pukeko is a swamp hen that is considered  a pest that takes duck eggs and we try a Pukeko skewer that is given with every purchase of a sausage or a fritter. It's small and tough and flavoursome with a rich kidney flavour to it.
Frying Whitebait
The Whitebait batter
We then visit the Whitebait stall. There are a few stalls selling whitebait which is a small fish (although they're bigger here than the ones we had in Kaikoura) and they are mixed with a pancake batter and then fried. The result is a lightly, mildly fishy flavoured pancake fritter that is also soft and spongy. They're served on white bread (as we learn, everything is served on white bread here).
The first flock arrive
Suggestive vegetables
Venison sausage $3
We ease into the day with a venison sausage which is richly flavoured and gamey (and yes served on white bread). Fortified with courage, we head towards the tent which houses some of the more...unusual specimens of the day._ _
_ _
The Grasshopper stand
Pickled Huhu Grub $3
We need to try the item that is the most featured and perhaps the most squeamish item: the Huhu grub. They are large wriggly grubs, probably similar to witchetty grubs (although I haven't tried one myself). Here they come pickled for $3 each. Mr NQN who is a typical boy that loves telling his mates that he survived eating certain things goes first. I try one and it's sweet from the pickling and soft with a slightly grainy texture inside with the skin being a bit tougher than a sausage casing. Not bad but nothing I'd rush out to eat again and since we survived it jut fine we got onto the grasshoppers.
Fried Grasshoppers on satay bread $5 each
Battered beetle $5
Grasshoppers? Yep grasshoppers as well as Huhu beetles are on offer here. A chef in training opts to try a live grasshopper and a crowd gathers. They give him a  shot to chase it with. He shrugs when he is done, apparently that kind of thing doesn't faze him. Each year they bring 150 live grasshoppers the size of crickets to the festival and they always sell out of them. We opt for the fried grasshoppers on satay sauce and it tastes just like those tiny fried prawns or a not very meaty soft shell crab. Our next purchase is a huhu longhorn beetle covered in chocolate which tastes just like a rice crispy chocolate with a slightly longer crunch. Not bad at all. We've now worked ourselves up to the worms. Gulp, yes the worms.
Chocolate coated Huhu beetles
"Jonah Lomu eats worms" the poster declares. As for me, I have a fear of segmented, wriggly things. Still, the idea of coming here and turning back without eating the worm sushi or a worm truffle persuades me to try them. There are a few varieties of worm served here and they're all common garden worms. "Do you eat worms normally?" and the boy behind the counter steps back waving his hands "Nooo noo" he says and tells us that these are just sold for this event. We start with the worm sushi. It's pickled ginger worms with a shard of carrot. It's actually very nice with the worm being indiscernible. In fact there is another Japanese vegetable that looks very similar to this and if I didn't know it was worm I'd think it was that. Mr NQN tries the "Worms with Wings" aka worms in Red Bull and he remarks that it really just tastes like Red Bull. I then try a worm truffle which is made from dried, crystallised worm that have been ground up.
Crystallised worms
"Did you get any truffle stuck in your teeth?" the boy asks "That's the worm if you do". Arrgh I think to myself, so that's what is stuck to my teeth. Despite that the truffle is perfectly nice and tastes like a rum truffle with a slight crunch to it.
Volunteer Taste Tester
A man walks past in a tshirt that reads "Wild foods Taste Tester (Guinea Pig). You buy it, I'll try it" and he confesses that he had a tough time eating the bugs and insects in the other marquee. We wonder how he'll go with this lot.
Live Huhu grubs
Full of a slightly gruesome sounding but tasty breakfast, we walk out into the sunshine to see wood choppers to our left and camera crews at the ready. They're not chopping wood for fire but they're cutting radiata pine in search of live Huhu grubs. The boys walk around holding the largest wriggling grub they can find enticing people to try one (priced from $1-$5 according to size). I'm just not game-to me they look like giant maggots and all of my instincts tell me that maggots shouldn't be eaten but Mr NQN braves it and the video cameras set in motion.  How did he describe it? He's typically a man of few words and describes it as "gooey and jellyish - all the stuff came out of it". Every time someone tries one of these, news and digital cameras are whipped out. One girls poses with the live grub wriggling on her tongue whilst one man ends up throwing up after eating one. I keep my mouth firmly shut (for once ;) ) .
Stream larvae Turkish Delight $1
Stream larvae toffee $3
Bug jelly
We see the bugs and insects that the taste tester was talking about so we try the "stream larvae" Turkish Delight which is more like rose flavoured jelly rather than real Turkish delight. It's pleasant and sweet and the stream larvae don't impart much flavour or texture as they're so small and it is much the same with the toffee. The stall is manned by students, one an entomology student and another biology student and they tell us that the flying insects took weeks to catch using nets. Catching the stream larvae was easy but sorting them with tweezers was a laborious process.
Mussel and Wild Boar skewer $3
The mussel and wild boar skewer is sweet and hot as it's straight off the BBQ. The wild boar is similar to bacon but double the thickness and the mussels are plump and sweet.
Escargot $2
We try the escargot in the shell and cooked in garlic butter from one stand (although admittedly this is pretty normal, especially after worm sushi).
The Hangi stall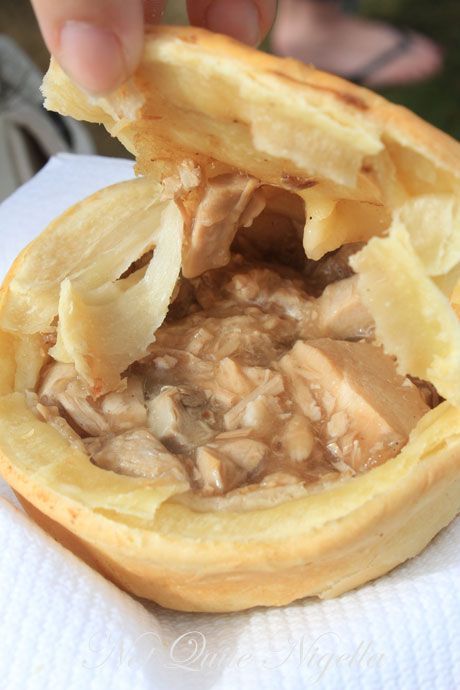 Hangi pie $5
We take a walk around the outdoor stalls. There is Fijian kava being sold at one stand as well as mutton bird, raw rabbit mince and a hangi pie. I like hangi meat as it's so lovely and soft so we try the pie. It is very mild in flavour with a very soft pork meat inside. They are also selling the soft meat sliced  up in white bread
Kava stall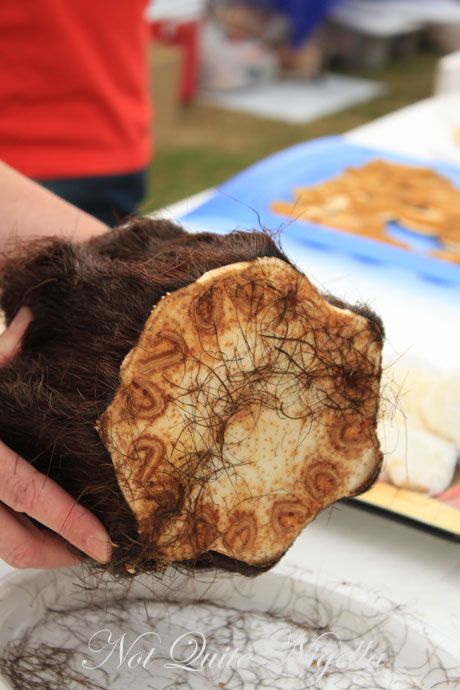 The Punga fern
Pickled punga
Honey coated punga
Punga is a fern palm and they sell the flesh from the inside of the punga which is either eaten raw, pickled or cooked with honey. We try all three of them starting with the pickled which is sweet with a texture and taste similar to a Japanese pickle. The honey punga is slightly firmer but coated in sweet honey and the raw one has an unusual slimy texture and is like a daikon radish although with not much flavour at all. Of the three we prefer the pickled, honey and then the raw.
Colostrum stall
Colostrum mousse
"What is colostrum?" I had to ask. It is apparently the first milk produced by a cow within the 2-3 days following the birth and is said to be highly nutritious. A shot here is $6 each and there are two varieties, a chunky colostrum or the pure colostrum. Mr NQN opts for the pure one and says that it tastes just like a creamy milk. I try the colostrum on a raspberry jam pancakes and it's delicious and tastes just like cream.
Colostrum pancake $3
The faux udder!
Mr NQN downs the colostrum to a ringing of the bell!
Exotic salamis
Our next  stop is the exotic salami made from animals such as turkey, wild boar and hare which we'll all heard of but also more exotic animals like Tahr, Chamois and Venison.
Chamois goat salami with crackers and cheese $5
We're torn whether to get the Tahr or the Chamois and ask what the difference is and the Canadian man next to us asks the same question. He gets the Tahr and we get the Chamois and we do a bit of a swap to try both. The Tahr is stronger flavoured and Mr NQN likes that but I like both. They're served with a sweet chilli style sauce and some crackers and cheese.
We were saving the "best" for last: the Mountain Oysters aka sheep's testicles! It's also the stall with the most gawkers.
"Come on guys, try them, they're full of cum!"* *the cowboy hatted guy behind the counter yells holding up two raw sheep's testicles.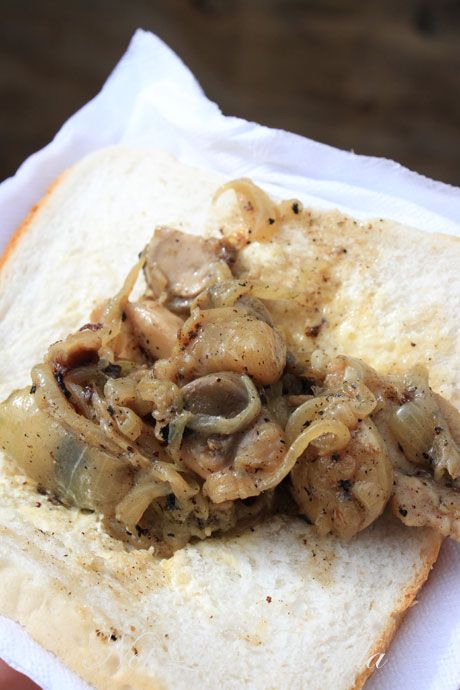 Mountain Oysters on white bread
"That's not really selling it to us!" a guy yells back. True there is a large contingent of people watching to see who will come forward and try some mountain oysters. There are whole boiled ones in a hospital grey shade that don't look particularly appetising or you can opt to have them sliced up and fried with onions on bread. They're surprisingly mildly flavoured and very soft like a pudding and there is the strong flavour of mutton fat.
Grouse Cordial $3.50
We try some Gorse leaf cordial which is a beautiful floral flower similar to Elderflower in taste. The petals were handpicked in nearby Christchurch.
Our penultimate stall is the honey stall where they sell honeycomb in little cubes. We try the Manuka honey one for my cold. It's sweet and strong and I get little bits of comb in my teeth but that's to be expected. In ideal conditions, each of the above trays takes a colony of bees just a day to produce and our little square is the lifetime of four to five bees!
Honeycomb pieces  $2 each
Moonshine!
Our last shot for the day-literally! Mr NQN tries some moonshine after seeing person after person line up for a serve. For $2 you get a shot of moonshine spurted into your mouth.  And how does it taste? "Like metho, only a little bit better"  Mr NQN answers.
As the day wears on and 1pm hits, the crowd triples and the costumed groups come out. There's an endless parade of them with some very impressive efforts.
So tell me Dear Reader, what is the most impressive dress up costume you've ever worn or seen?
NQN and Mr NQN attended the festival as a guest of Tourism New Zealand.
Hokitika Wild Foods Festival
13th March, 2010 - the next Wild Food Festival is on the 12th of March 2011,
http://www.wildfoods.co.nz/