Coco Chanel once said "Before you leave the house, look in the mirror and take one thing off". Whilst I appreciate Coco's sentiment, it's something I've never been able to do. You'll catch me leaving the house lit up with jewellery looking like a Christmas tree. It's this lack of self control and discipline that I think led to me almost leaving the house looking like a pirate the other night and it's one where I am attracted to sparkly things like a magpie.
Bracelets are like shoes, they'll always fit no matter how much weight you gain and when I saw Joumana's bracelets on her blog Taste of Beirut I was instantly smitten. Not only could I wear bracelets, I could eat them when I got hungry. It was like an advanced form of human survival. Forget edible underwear (ugh, have you ever tasted the stuff? It tastes like plastic strawberries) but edible jewellery is where it's at for me.
I meant to use the Pearl sugar but errm... I forgot!
I was so smitten I made these the day after I saw them. I had most of the ingredients to hand and I discovered an ingredient that I had bought a long time ago but forgotten about, candied fennel seeds from an Indian grocery store. I thought they'd do well as beads along with other small cachous or nonpareils.
I made the dough as directed but mine didn't rise very much. I blame it on confusion. It looked and smelt like a cookie dough so I know not to overwork those but then again it had some yeast in it so that needs some working so I treated it like a cookie dough as that was what it was supposed to be and just mixed until combined. The recipe said to leave it to rest for a few hours but well I was busy and the days are shorter now and I needed to bake them quickly so I went ahead and rested it for 1.5 hours. The dough was a little crumbly - I think a bread dough would have been less crumbly and so it was a little hard to roll these but they got easier as I got a bit more practice.
What I did find is that as Joumana mentioned, they smell wonderful. I didn't have mahlab but of course if you do by all means use it along with the dried lavender. The good thing about these is how you can use almost any spice that you like in them (I used cinnamon and nutmeg). They are crunchy and sturdy when slightly cooled and they hold up wonderfully as bracelets. Joumana seemed to have more luck getting her nonpareils to stick to hers so perhaps it was the dough after all. But like the best jewellery that is an investment, this kind of edible jewellery is also an investment - in your stomach. They taste fantastic-crisp and aromatic, particularly the ones rolled in the sweet candied fennel seeds.
So 'fess up Dear Reader, have you ever eaten edible underwear and what did you think of it? ;)
Twinkling Bracelet Cookies (Kaak bel-Haleeb)
Adapted from Nada Saleh's Fragrance of the Earth via A Taste of Beirut
INGREDIENTS:
300 g of all-purpose flour (10 1/2 ounces)
150 g of fine semolina or cream of wheat or fine cornmeal/polenta(5 ounces)
1 tablespoon ground lavender
1/2 teaspoon baking powder
dash of ground nutmeg and ground cloves
75 g butter ( 2 1/2 ounces)
box of multi-coloured or metallic small cachous/nonpareils (optional)
METHOD:
Step 1 - Line 2 baking trays with parchment. Combine all dry ingredients in a bowl: flour, semolina (or cream of wheat or fine polenta/cornmeal), yeast, baking powder and spices.
Step 2 - Place the milk in a saucepan and heat a bit, add the sugar and butter and turn off the heat, stirring all the while to dissolve the sugar.
Step 3 - Mix the wet into the dry ingredients, kneading them for a little while until the dough is smooth; let the dough rest 1-2 hours.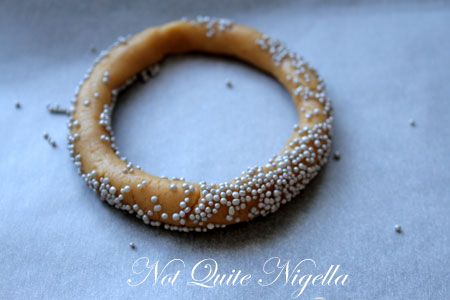 Step 4 - When ready to bake, preheat the oven to 325F/160C; pinch off bits of dough and roll out into a thin rope. I found it easiest to then roll it into a long pile of the cachous and then bring the rope over to the lined baking tray and then make into a round shape then.
Step 5 - Bake for 12 minutes, you may need to flip them half-way through to make sure they don't burn (I forgot about doing this and they didn't burn). These will keep for at least a week in an airtight container.