My new podcast Your Cake Dealer is LIVE and to celebrate here are some Biscoff Stuffed Cookies! Think chocolate chip cookies stuffed with Biscoff spread or Nutella, baked until chewy and gooey. These incredible Biscoff Stuffed Cookies start with a chewy cinnamon cookie base, cinnamon chocolate chips and a filling of that gloriously addictive Biscoff spread! This is a pushy recipe Dear Reader and these cookies are best savoured while listening to the podcast ;)
I'm so excited that my new podcast with Nina is live and you can listen to it now on Spotify, apple podcasts or Stitcher or wherever else you get your podcasts from. There are 3 episodes for your listening pleasure and we will be dropping a new episode weekly every Wednesday. If I could give all of you that supported this podcast and blog a cookie and a hug I would but since I can't I'll give you a Biscoff stuffed cookie recipe instead.
The first few eps are us finding our feet so please be kind. It's absolutely nerve wracking putting yourself out there and doing something new very publicly. Only the first episode was recorded while we were together and the rest were in lockdown in our respective homes which obviously affects flow a bit (we tried not to talk over each other but I couldn't see Nina).
The premise of the podcast is the foodie and the fitness trainer talk food. The first episode is about dinner party disasters - we've all had them but I talk about how to avoid them and Nina shares her latest of many dinner disasters. The second episode is about a topic close to Nina's heart and field of expertise and that's how to stay healthy during lockdown and Nina tells us her nutrition and fitness tips and I share mine too. And the third episode is all about comfort food and what and why you turn to certain foods when you need them. Upcoming topics include an episode where Nina interviews me and asks me things that only a friend could ask and get away with, and sneaky supermarket and restaurant tricks which was honestly mind blowing when we researched it.
Can I ask you for a favour? It really helps to get subscribers so if you could hit that "subscribe" or "follow" button we would be so grateful for it and that way you'll know when each episode is out. Nice 5 star reviews are really helpful too. I hope that you'll enjoy it as much as we enjoy recording it! xxx
And now, onto the cookies!
These cookies are based on my Small Batch Chocolate Chip Cookies. I've had soo many people send me lovely messages about these ever since the recipe went up! They're a favourite especially among parents who want to make them with their kids as they can be easily made with just a tablespoon and a bowl. I love how some of you even double or triple the recipe too! It makes me soo happy to see your lovely messages about this recipe :) These cookies are perfect dipped in coffee!
What is Biscoff? Biscoff is a type of spiced cookies made with cinnamon that are a dark caramelised colour with a crisp texture. It's made by a brand called Lotus and is based on the Dutch or Belgian speculaas cookie. Around 2010 or 2011 they released a Biscoff spread which is a spreadable paste much like peanut butter and it is HIGHLY ADDICTIVE (warning!!). The word Biscoff is a portmanteau of Biscuit and Coffee.
Cinnamon Choc Chips! I made my own cinnamon chocolate chips because I wanted to see how they would turn out and they were so easy and delicious. If you don't have time feel free to use regular white chocolate chips or Hershey's Cinnamon Chips if you have access to these.
How to make home-made cinnamon chocolate chips: melt 100g/3.5ozs. of white chocolate in the microwave or a double boiler. Stir in 1 teaspoon of ground cinnamon. Place in a piping bag and pipe dollops on a sheet of parchment and refrigerate (I piped larger dollops the size of melts). Or spread out onto a sheet of parchment and set in the fridge and cut into small chunks.
Alternatives to Biscoff: Love Nutella? Try stuffing these with Nutella instead of Biscoff spread!
So tell me Dear Reader, do you like Biscoff or are you team Nutella?
DID YOU MAKE THIS RECIPE? Share your creations by tagging @notquitenigella on Instagram with the hashtag #notquitenigella
Stuffed Biscoff Cookies
Rated 5.0 out of 5 by 3 readers
An Original Recipe by Lorraine Elliott
Preparation time: 10 minutes
Cooking time: 18 minutes
Serves: 4 large cookies (around 11cm/4.3inch each)
4 heaped teaspoons Biscoff spread (or Nutella)
4 tablespoons/60g/2ozs softened but not melted butter
4 tablespoons/60g/2ozs brown sugar
2 tablespoons/30g/1oz. caster or superfine sugar
1 teaspoon ground cinnamon
2 tablespoons beaten egg
1/2 teaspoon vanilla bean paste
10 tablespoons/100g/3.5ozs plain all purpose flour
1/4 teaspoon bicarb of soda
100g/3.5ozs. cinnamon chips* or white chocolate chips
Salt flakes to finish
See recipe above for how to make your own cinnamon chips
Step 1 - Line a tray with parchment and scoop heaped teaspoons of Biscoff spread and place on tray and freeze for 30 minutes until solid. Meanwhile line two trays with parchment and preheat oven to 180C/350F.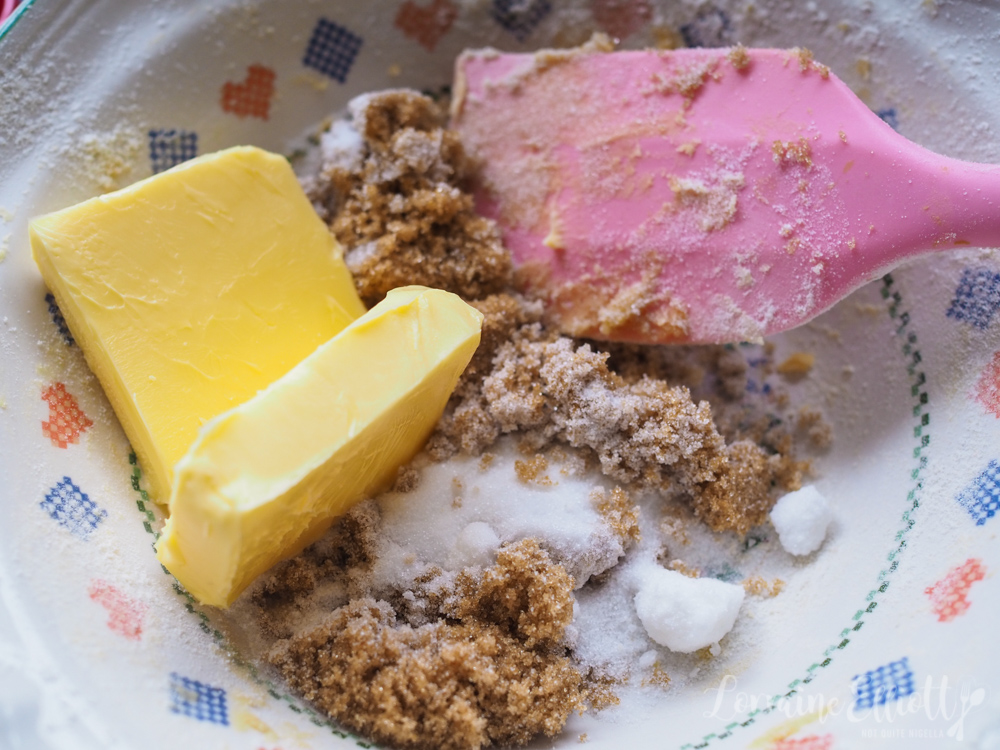 Step 2 -Place the butter, brown and white sugar and cinnamon and mix together using a spatula. The butter must be soft enough to do this but make sure that the butter is not melted (important!) and make sure that the butter is fully incorporated into the sugars. Then add the beaten egg and vanilla which will loosen the mixture. Mix in the flour and bicarb to make a cookie dough.
Step 3 -Set aside some of the chips to place on top and then mix the rest of the chocolate chips in. Divide the dough into four and press out into a circle and place one of the frozen Biscoff balls inside and enclose it with the edges of the dough. Roll into a ball and gently press the extra chocolate chips on top.
Step 4 -Place two cookies on each tray (they will spread a lot to around) and bake for 18-19 minutes. Sprinkle with salt and allow to cool on tray for 5 minutes and then serve with coffee.