This Small Batch Chocolate Chip Cookie recipe makes a total of 4 perfect and utterly delicious CHEWY chocolate chip cookies. You only need a tablespoon and a few basic ingredients to make these small batch chocolate chip cookies. Keep this recipe near and dear to your heart because it is a very pushy recipe indeed Dear Reader and I hope you'll give these a go!
Why small batch? Cookies are best made fresh and these chewy cookies are amazing warm from the oven (although truthfully and maybe I'm odd but I like them cold). Also when you're stuck inside and it's winter you may only want to make a small amount of cookies. I worked on this recipe for months (since Lockdown 1.0) trying to get the consistency juuuust right!
I wanted to make a recipe using tablespoons as sometimes people don't have scales although I've added weight measurements for those that do have scales. This works if you're using American spoons of 15ml or Australian spoons of 20ml. (To be perfectly frank I don't find the conversion in spoons or cups that much of a hindrance as long as you use the same and don't swap between the two). I used a tablespoon of 15ml and the measurements and weights reflect this.
Do I need a stand mixer? Great news, no you don't! You can just mix it with a spatula in a bowl! I've given instructions below on how to easily do it by hand so that you have less to wash up.
Important tip: do not melt the butter, you want soft, room temperature butter but not melted!
Do I need to rest the cookie dough? Nope! Just bake straight away after mixing.
Can I make just two cookies? Absolutely! Just halve the quantities below.
Other cookie flavour ideas: Add pretzels for crunch! I also used home made cinnamon chips and cinnamon, peanut butter chocolate chips and milk chocolate chips. These all work and make delicious cookies!
Although I made so many batches of this trying to perfect them, once they were done these ended up being the easiest cookies EVER. I make them when I want something sweet but low stress. It was important to me that they didn't require the "heavy equipment" because some days, like medication warnings, I don't think that I should I operate heavy equipment. I also didn't want cookies that required firming up in the fridge because sometimes you cannot wait for these sorts of things. It's just a bowl, spatula and four deeeelicious fresh baked cookies as a result.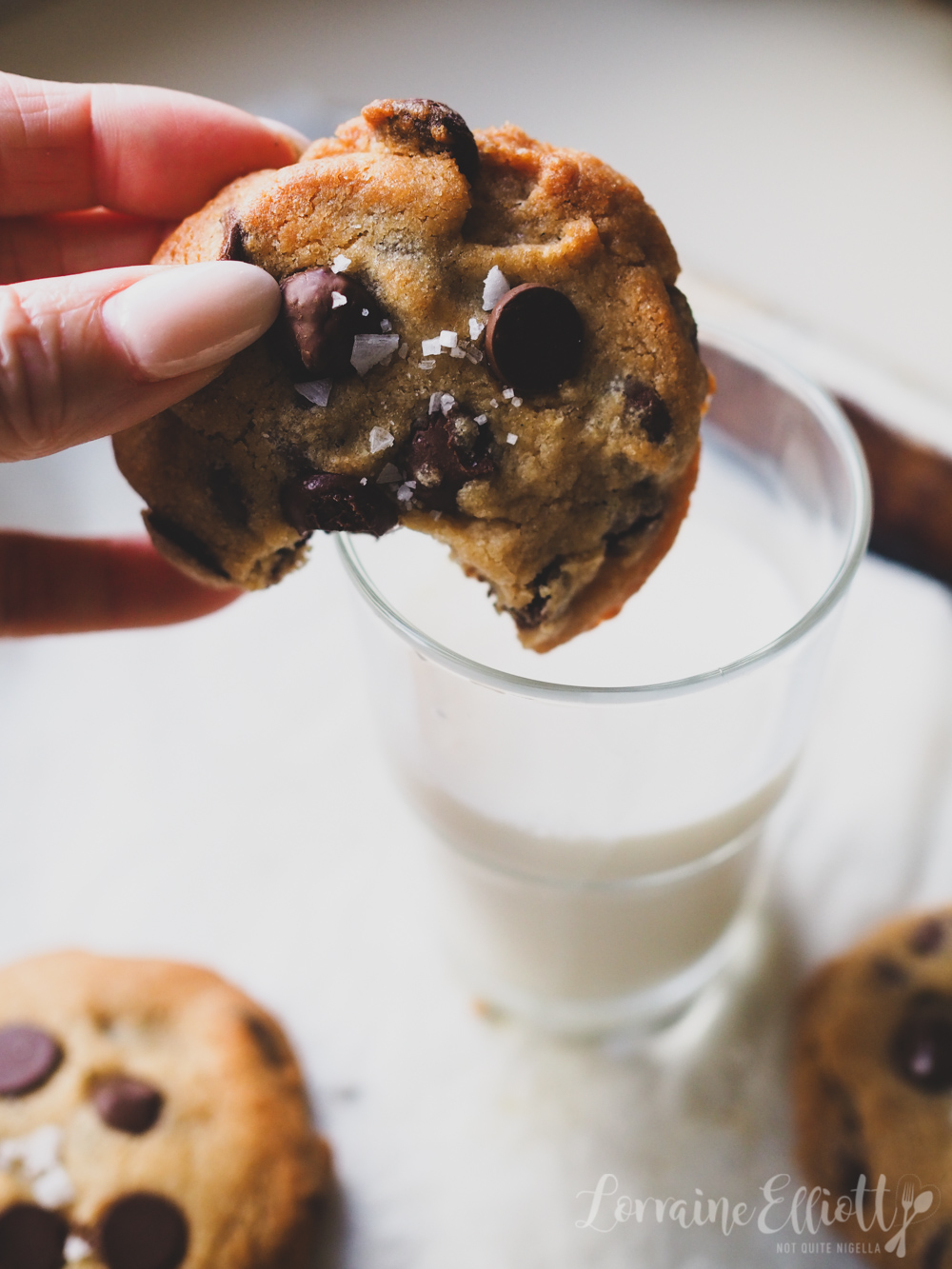 My friend (who asked to remain anonymous) told me about a way that she recently tried to de-stress that ended up not quite working out the way that she intended. Her husband had bought her a spa voucher for her birthday so she booked in for a massage. She rarely treats herself so this was something she was looking forward to for a long time and it took her about a year almost to her next birthday to book this massage.
About halfway through the massage another therapist knocked on the door and whispered that she needed her assistance with a "situation" outside. She disappeared for a long time and my friend lay under the blanket wondering what was going on outside the door.
The therapist returned 20 minutes later but she was clearly rattled. A man had walked in and then keeled over face down into a table and they had to call an ambulance for him. Clearly shaken the therapist started to massage her but at a 4x speed. "Don't worry! You'll get your full hour!" she said frantically poking, rolling and prodding her. My friend felt sorry for the man but she also didn't want the massage to continue but not wanting to make trouble she lay there being pummeled at warp speed and left feeling much less relaxed and more stressed than when she walked in!
So tell me Dear Reader, have you ever had something relaxing go terribly wrong? Do you like small batch recipes? What is your favourite cookie type?
DID YOU MAKE THIS RECIPE? Share your creations by tagging @notquitenigella on Instagram with the hashtag #notquitenigella
Small Batch Chocolate Chip Cookies
Rated 5.0 out of 5 by 4 readers
An Original Recipe by Lorraine Elliott
Preparation time: 5 minutes
Cooking time: 11 minutes
Serves: 4 cookies, 1 person, don't argue
2 tablespoons/30g/1oz. butter, soft and room temperature but not melted
2 tablespoons/30g/1oz. brown sugar
1 tablespoon/15g/0.5oz. caster or superfine sugar
1/4 teaspoon vanilla bean paste
5 tablespoons/50g/1.7ozs plain all purpose flour
1/3 cup/55g/2ozs dark chocolate chips
Mixing the softened butter with the two sugars
Use a spatula to make a smooth mixture
Step 1 - Line a baking tray with parchment and preheat oven to 180C/350F. Make sure that the butter is soft (not melted!), or it will be too hard to mix this by hand. Place the soft butter, brown sugar and white sugar in a bowl and mix together with a spatula. The sugar and butter should meld well to produce a consistent mixture without any lumps.
Adding the flour and choc chips
Step 2 - Add the beaten egg and vanilla to the mixture and it will become looser in texture. Then mix in the flour and bicarb and then the chocolate chips (reserving a dozen or so chips to add on top).
Flattening down the cookie dough balls a little
Step 3 - Divide the dough into four balls and place on the lined baking tray and flatten down slightly. Add some extra chocolate chips on top. Bake for 11 minutes. Sprinkle with salt and serve warm or chill and serve.