Baaaah!
"A hunting we will go, a hunting we will go..." I sing quietly to myself. Never mind that my version of hunting doesn't quite involve a rifle but instead involves a different kind of activity. For this day Mr NQN and I are following Liss and her husband A and their adorable troop of girls on their monthly Farmgate pilgrimage to find the freshest meat, fruit and vegetables. Every month they visit the following farmgate producers and through smart shopping they manage to find food at very competitive prices with the produce lasting them for 3-4 weeks. It would be an adventure for us and we would end it off with a session of apple, lime and fig picking!
Awards upon awards
We take the drive out to the M& A Butchery in Wilberforce (which featured briefly on last week's episode of Masterchef) where Liss points out the live lambs in the back. This is a truly paddock to plate experience and it is the only abattoir in NSW that has a retail shop attached to it. M& A are fourth generation butchers Michael and Angela Diasinos who work with their two sons Dean and Sam. Local farmers also bring in their livestock (beef, lamb, goat and pig) to be processed. Hilariously, speeding away from the front of a shop is a yellow car with the license plate "BBQ".
Inside the shop is busy. There is a cool-room where you can buy ribs, rissoles, shoulders, corned beef, steaks, chops and all kinds of cuts including New York steak and sides of lamb with some stretching across two trays at a very reasonable price. As you are buying straight from the abattoir, you are effectively cutting out the middle man.
We buy some premium mince which is a steal at $5 a kilo, some sausages in "bush tomato and bacon" and "sweet chilli and mango" flavours and some double smoked garlic rissoles at $6.50 a kilo.  They'll also offer to carry your meat to the car too which is a nice touch.
Carrying a customer's meat to their car
After that we take the drive to Riverview Produce which is a farm that has been supplying produce to Sydney markets for 50 years and who now have a store in which you can purchase produce. Liss finds that the produce here is so fresh it  lasts for 3-4 weeks. She also buys herbs with the roots intact and replants them in her own herb garden. I buy some Royal Blue potatoes, Dutch carrots, golden nugget pumpkins and white nectarines.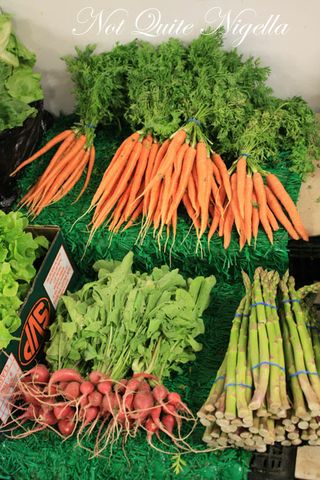 Outside there are hydroponic lettuces being grown. Inside there is a constant stream of buyers. On the noticeboard wall there are signs offering sheep shearing services, calves, Boer Goats and an antique petrol bowser for sale.
Hydroponic lettuces
Our next stop is an exciting one and one that the girls were waiting for all day long and one in which they had the perfect outfits for. We were going apple picking at the Bilpin Springs Orchard!  Cedric shows us where we can pick the fruit and the varieties available.  He shows us large quinces which he says will grow larger to be ready in two month's time. Then there is the nashi which he has to train to sit at a picking level as they want to grow up to the sky otherwise and he explains that the recent wind has kept many of the bees away which affect pollination.
Nashi tree
Quince tree
Chalk covering  to protect apples from sunburn
It's a twelve acre Pick Your Own farm and there are rows of fruit which has saves for people to pick on other weeks. We learn that whilst apples have a natural sunscreen, when the sun is very strong, they spray them with a liquid chalk to protects them and this chalk wipes away easily.
Lessons on how to pick apples
The girls are eager to start picking so he gives them a quick lesson in how to pick the apple from the branch. The motion is to curl the apple over so that you retain the stalk which helps to preserve the freshness of the apple. For a red delicious apple, you want to look for a white background colour rather than a green background as this shows that they are ripe. The red foreground colour isn't as important as the white background shade.
Bramley Apples
When we're done picking he shows us another row of fruit where flying foxes and other creatures  have already helped themselves to the fruit. He then shows us the prized Bramley Apple which are from England. They bruise very easily and come off the branch easily and we have to be careful when picking those.  The markings on top are russet which are said to be prized in Bramleys.
Eloise who says "This is the best apple I've EVER eaten!"
Cedric tells us that 22 years ago, the advent of cool rooms changed the apple market drastically and meant that before long, apples were coming from Perth and from Queensland. We take a bite of the apples and they're sweet, crisp and juicy. Similar to our cherry picking adventure in Orange, many ethnic groups enjoy fruit picking here and they get many Filipino, Chinese, Eastern Europeans, Italians, Greek and Middle East visitors. Some come once every 2-3 weeks and some come once a year.
As large as a large man's fist!
Little Red Riding Hood with apples!
Granny Smith apples are due to be picked and the absolute best time for these is Mid May (PYO season ends in June) for the sweetest, crispest apples. Plums and persimmon are also set to be picked in May and they update their website every week with the picking details. Morello cherries are available just before Christmas and pomegranates have just been planted. We pick some limes too which are fabulously juicy and we save the most exciting for last: figs! Cedric tells us about the figs and how they grow in bunches and once a week one fig in the bunch will be ready and then the next week another will be ready as if taking turns. When they start to split is when they're very ripe and ready to eat and we enjoy tasting these.
One our way home we stop by the Bilpin Fruit Bowl for some Bilpin cloudy apple juice and a slice of apple cake. Mr NQN loves the slice although it isn't quite sweet enough for a sweet tooth like me. On top is a generous sprinkling of cinnamon and a sour cream layer. We buy a box of plums to make plum jam with (but of course Mr NQN finishes these before I get the chance to make jam).
Apple Cake
A few weeks later we make the trek back to the Richmond Markets. Housed in two halls in a large building, they're small and perhaps not worth a specific trip out for them but if you happen to be there they're filled with great produce at great prices so if you make it to Richmond on the Farmgate trail, they're worth a visit. We walk into the first hall where Liss is buying Saltbush lamb and we take a walk around. Apart from the Saltbush lamb, there's all kinds of Angus beef cuts and sausages as well as Murray Valley moisture infused pork which are all very well priced.
There's also a Mamre Plains which is a community project of the Sisters of Mercy. This stall sells a fabulous range of unusual produce at incredibly reasonable prices. A pack of 14 heirloom tomatoes are $4,  apple eggplants retail at 4 for $5 and small acorn squash for 50c each amongst other unusual goodies.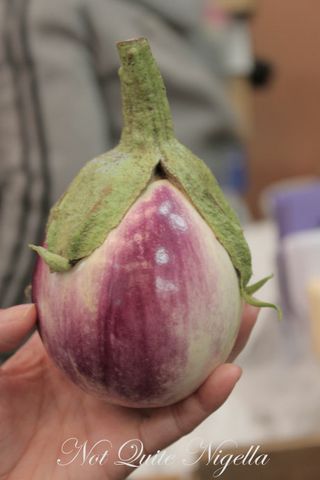 Apple eggplant 4 for $5
Heirloom tomatoes $4
The olive stall sells lovely small olives and they tell us  that the cure the olives using a traditional method which is different from many of the commercially produced olives which are processed using caustic soda.
No market would be complete without cupcakes or cookies. The Hummingbird Bakery stall has cute little sugar cookies in ladybird patterns as well as cupcakes in delicious sounding flavours.
Exhausted but with a swag of goodies, we drive back to the Big Smoke with grand plans for our produce. Our time out here has been relaxing and the drive feels like we've gone on a little holiday!
So tell me Dear Reader, what's your favourite thing to buy food-wise? Cheese? Chocolate? Jams? Or something else entirely?
M& A Butchery
62 Kings Street, Wilberforce NSW
www.mabutchery.com
Tel: +61 (02) 4575 1233
Riverview Produce
198 Yarramundi Lane, Richmond, NSW
Tel: +61 (417) 695 845
Bilpin Springs Orchard
2550 Bells Line of Road, Bilpin, NSW
Tel: +61 (02) 4567 1294
Bilpin Fruit Bowl
2093 Bells Line of Road, Bilpin, NSW
Tel: +61 (02) 4567 1152
Hawkesbury Harvest Farmers & Fine Food Markets
Corner of West Market & March Sts, Richmond
Tel: + 61 (02) 4567 8424 or 0438 731 712
Held every 2nd Saturday of the month
Morello cherries are available just before Christmas and pomegranates are just planted.