You know you're a food addict when you will happily spend your birthday at a pig farm. This year when my friend The Second Wife asked me if I would like to come along to a VictorsFood South West Markets Food Tour I happily accepted knowing that on my birthday I'd be knee deep in food. After all there isn't a much more pleasurable way to spend a day is there?
I'm greeted by Victor Pisapia and his partner Jim at Danks Street where the bus is waiting for us. We are to leave at 9am sharp and the bus is packed full of people. Tawnya is the tour guide and she gives us a quick overview of what we are to be doing while keeping some of the places that we'll visit a secret (arrgh, you know me, I like to know these things but I comply). Some of the places that we'll be going to today aren't open to the public so it's doubly exciting whereas others are open to the public and we can revisit them again should the urge strike.
Victor the fig farmer
Our first stop is about 45 minutes away. She lets the word "fig" escape and suddenly I'm clapping excitedly like a well trained seal. Figs are my downfall - too many dollars go into buying these sweet, luscious babies and visiting a fig farm is exciting indeed. We drive past a stand selling figs and fig trees and then we are greeted by Victor the farmer, the fantastic headband wearing fig farmer and his wife Julie. Upon spotting the headband I am immediately recalling "The Royal Tenenbaums" and apparently he is never seen without his headband.  On the 10 acres of land  there are 2,500 fig trees and from the produce they made shortbreads, biscuits, caramelised fig balsamic dressing, fig jam, dessert figs as well a vincotto, a grape syrup. During fig season they have up to 10 people picking and these are usually students. Fig season lasts from the second week of January until the end of May this year and will conclude with the first frost of the season. As we're at the tail end of the season, they are not quite as ripe as the ones picked during the heat of the Summer.
We help ourselves to tea and coffee and delicious biscuits that they make here. There are cookies that tastes like they've been deep fried and glazed. There are also two types of fig cookies, one with a shortbread and another one dusted with icing sugar which are divine and melt in the mouth.
"How about bats as pests?" someone asks and Victor becomes even more animated jumping up and down. These are among the biggest pests for him and he tells us that every night they destroy about 10-16 boxes worth of figs. To scare them he  beats a drum while riding a bike up and down the rows in an effort to scare them away.
He is also remarkably and charmingly unknowing of things like their production. When someone asks him "How many tonnes do you produce a year?" he scratches his head_ "Oh you got me there"_. A former career truck driver he was propelled into the world of farming during the recession in the 1980s where work was scarce. They figured that they already had the land so why not make the most of it. He started off growing prickly pear which has a small but enthusiastic following among certain cultures here. Why prickly pear? Because it was easy to grow and it didn't cost him anything to buy it. All he had to do was lay one prickly pear segment on the ground under a brick and then it would grow. Figs however were grown for demand.
Victor Pisapia
We go in where Victor (the chef, not the farmer) has prepared us some delicious finger food. We start off with figs with ricotta in small tart shells and then Victor makes us some figs with mascarpone which are lusciously gorgeous. He shows us how to zest fruit properly and the key is to hold the thumb down at the base of the fruit. Victor grew up eating great food and as a result he tells us that he was the most popular kid at school. Good cooking also allowed his mum entry into the school camp whereas other parents weren't allowed.
Afterwards we purchase some goodies. The Second Wife and I make no bones about our fig love and buy a carton of luscious figs for $15 ($1 each). Some people even buy fig trees. We climb back on the bus and head off down the road for a few minutes to our next destination-Australian Mushroom Growers!
It's a contrast from the small fig farm to this very large venture. They only grow button mushrooms and harvest 14-17 tonnes a week. The key to mushroom growing is a very specific type of compost for button mushrooms which they buy in which is specifically created with a particular Ph, nitrogen, ash and moisture content. The risk being if this is out of kilter, other things apart from mushrooms will grow in these  conditions. It takes about 16-17 days to grow a mushroom and each variety is grown differently e.g. the oyster mushrooms can be grown in mineshafts. Exotic varieties are easier to grow but there is less demand for those. And what is the demand for mushrooms? Apparently 200-300 tonnes of button mushrooms are sold a week at Flemington markets!
Mushrooms at 1 week's worth of growth
We are excited to see mushrooms growing at their various stages. There are small pin heads appearing throughout the moist peat moss and the whole room must be kept at 17C.
_Mushrooms at 25-26 days old _
The compost is used for three rounds of mushroom growing as it gets depleted after each time of use (with the first producing the best mushrooms). And we then stop back into the office to try some sauteed garlic mushrooms that Tawyna has cooked for us. And we all get a little sample bag of mushrooms to take home too!
Sauteed garlic mushrooms
Our last stop before lunch is the Bringelly Pork and Bacon Company. This was certainly a day for treats. Bringelly pork farm is a fourth generation business with 800-1,000 pigs on the pig farm.  Tawyna also points out that should you go for a drive, there are lots of hobby farms out here that will have stands that work on the honesty system where you put the money in a cash box and buy your produce.
We arrive there and take a look at the operation.  They make everything on the premises from frankfurters to salamis to prosciutto (priced at a steal at $20.99 a kilo!). The prosciutto is aged for between 8-12 weeks depending on its thickness and they often get customers in asking them to make something that perhaps that their grandparents would have made. They make it and if it sells well, then they keep making it. In total there are 8 families of pigs on the farm and they have a traditional white breed which they proudly tell us is free of pathogens. Andy show us how to roll a belly. He started in the family business at 10 years old when his grandfather started the pig farm.
Are the pigs free range? It's a popular question and one where they've answered it so many times that it's just easier to show people by way of diagram. The pigs roam indoors but they're not penned except for the male breeder pigs as they're too aggressive not to pen (their pen is a 3 square metre pen). They say that pigs can dig up and destroy land which is another reason why they're not free range. To qualify to be a breeder a pig would need to put on 100 kgs in 100 days at a specific fat level. Their feed is like a compressed muesli and it is wheat based with milk and molasses which is ideal to get the saturated fat that they desire. 90% of deaths occur when a mother lays on top of her baby and the operation is so large that they have their own sewerage treatment plant equivalent to that of a 4,500 person town.
The pig poster
Samples of frankfurter (on left) and kransky (on right)
We finish off with a taste of their kransky and frankfurters. I'm usually ambivalent about frankfurters, they can sometimes be too much for me but these are incredibly moreish and the best ones I've ever eaten. We quickly go in where I shop up a storm buying prosciutto ($20.99 a kilo), double smoked ham ($11.90 a kilo), frankfurts ($10.90 a kilo) and American spare ribs ($14.90 a kilo). Victor and Tawyna are very organised and take my bag of goodies and write my name on it and store it in the ice box.
We take the short drive to Field to Feast. Long time readers of NQN will remember we had a very memorable feast there involving a whole roast pig and fresh vegetables quite a while back so I'm curious to see how things are going here. Hapi the Tongan farmer still tends to all of the fruit and vegetable and the farm is now chemical free. Cath still makes pickles and has started selling these and they now supply to About Life in Sydney as well as Alfalfa House. Tawyna has scored us some lovely prosciutto and salami and we have these with cheese and crackers and Cath's pickles which include  an apricot and scotch bonnet jelly which is thick as honey and great when combined with the cheese and the salami. There is also currant stuffed chillies, soy chillies and gherkins with garlic as well as just picked strawberries. Pennan Wines from Margaret River are there and everyone grabs a glass of wine.
Before our lunch we take a little tour of the farm which now has pigs and they have a new idea where you can buy Pig futures. You buy a piglet and Cath and Hapi will rear it for you and you can come and visit it until it comes time to take your pig. These pigs here are free range and it can take about a year until a pig is ready to eat. They are adorable though and I wonder if anyone just wants to keep them as pets (meme!). There are also geese who take turns hissing and squawking. We see okra growing wild which none of us recognise in this state as well as a wide variety of vegetables.
We sit down to our Umu or Hangi where food has been baked in the ground beneath heavy blankets inside a tin drum. They open up foil wrapped bowls to reveal Tongan Lu which is made of Tongan spinach and corned beef and coconut milk (absolutely delicious), Umu roasted vegetables with pumpkin, sweet potato, taro and yam, eggplant dolma which is rice and meat stuffed eggplant, a garden salad with pumpkin and feta and a homemade honey mustard vinaigrette. The Pennan Wines Viognier is a definite hit with the group and also passed around is Cath's Lime and Ginger Mint Syrup which is refreshing in the heat.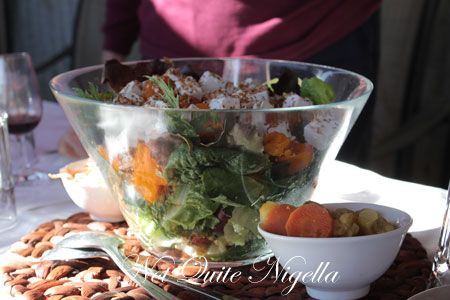 Everyone buys their goodies and well fed and jolly from the wine we pile back into the bus and take the drive home. On the way home Victor takes the microphone and gives us all a foodies quiz. I'm not allowed to play the first quiz but I am allowed to play the second one and I win a cook's soap and a round flan tin! I can't imagine a better way to spend your birthday...
So tell me Dear Reader, what is your idea of the perfect birthday?
NQN attended as a guest of VictorsFood. Victor's next South West food tour will be held on October 9th (although the specific places you will visit will vary due to the season).
VictorsFood
http://www.victorsfood.com.au/
Leppington Valley Farm
129 George Road, Leppington
Australian Mushroom Growers
Not open to public
Bringelly Pork and Bacon Company
171 Bringelly Rd, LEPPINGTON, NSW, 2179
Field to Feast
http://fieldtofeast.net/