Once upon a time there was a girl who visited a country town called Tamworth. Tamworth was where one of her best buddies came from and all she knew was how friendly folk were (well if her friend was any indication of the calibre of people). One day she was offered the chance to visit her friend's hometown. And the mission? To meet local producers and taste their produce in a 5 minute session speed dating style.
Photo by Gordon Hammond from the www.australianregionalfoodguide.com.au
After a 1 hour flight to Tamworth we settle into our digs for the evening, the Powerhouse (what The Second Wife called the "fanciest digs in town"). We make our way into the function room where there are 17 producers that have set up shop. Each one has a display and will give us a rundown of their products and a sample. With me are buyers from Rockpool,  Two Providores,  Flying Fish, Australia on a Plate, Bird Cow Fish and Danks Street Depot amongst others as well as media such as Good Living and Australian Regional Food Guide.
After the introductions and speeches we are each assigned a producer's table number. We are to speak to each producer for 5 minutes and then move into another. Everyone looks at each other and nods "Speed dating, food tasting style" we say to each other. And the whistle goes off!
Jac Wagyu
I'm assigned Jac Wagyu for my first stop and it's excellent timing as they carry out a whole prime rib. It's a family business (as we learn a lot are here) and a fourth generation farming family where they raise grass fed wagyu with a 1-2 and 3-4 marbling score. I prefer grass fed beef for the flavour and the fact that it is better for the environment to produce it (rather than feeding cattle on grain) but it is near to impossible to find grass fed wagyu. They raise 500 plus cattle a year which makes for approximately 1,000,000 kgs of meat. All of their cattle are free range and they use natural base fertilisers (worm waste) which reduces their environmental impact on their property where they farm wheat, lamb sheep and beef Angus on their 2,300 hectare property.
I try a slice of the prime rib. It melts in my mouth. They cut me another slice and I eat that even though it's about 10am, it's that buttery soft. They also sell Wagyu burgers with the lesser cuts of Wagyu as their current clientele opt for the prime cuts.
Daily Ritual
tinkle tinkle the bell goes and I'm off to my next stop. Daily Ritual is an Armidale based producer that makes gourmet coffee, tea, drinking chocolate and chocolate coated coffee beans. They produce a High altitude blend which is a South American bean grown at over 2000 feet which is popular particularly with students for it's high caffeine content. Their Signaure blend has also won Bronze in the 2010 Easter Show.
*The Super Strawberry *
"Oooh tiny scones" I say taking my bag and camera and promptly losing my folder along the way to The Super Strawberry which is a family run business established since 1972 and based in Glen Innes. It's not Strawberry season at the moment so Cecily offers me a taste of tiny scones with strawberry jam and cream. Prices for her jam are very reasonable at $5.75 for a jar and she gives me two pots to take home with me. There is also a sample of a Dalkeith Mustard Pickle which is made using Guyra tomatoes and they are just divine with cheese on crackers. The shop in Glen Innes also sells strawberries and cream, fresh strawberry milkshakes made with real strawberries as well as scones with tea or coffee.
Bellata Gold
Bellata Gold's story is an interesting one. Originally farmer Doug Cush sold his durum wheat to Italy. The North West area of NSW is known for it's golden durum wheat (called the "golden durum triangle") and it is popular with Italian pasta makers. Soon they started producing pasta of their own using the same type of durum wheat that they were selling to Italy. Technically only 100% durum wheat based pasta can be called pasta (as opposed to 00 flour pasta).
Now they make two kinds: Bellata Gold and regular Yatta which is a supermarket item that is hardier to cook and is designed to absorb sauces better and is therefore hardier and a little more "foolproof". We have the chance to visit the factory a bit later. Sadly after all of the build up we got to try it at dinner but the pasta was overcooked so it didn't provide us with the best representation of the product.
*New England Cheese *
_Photo by Gordon Hammond from the Australian Regional Food Guide
_
My next stop is New England Cheese which specialises in both jersey cow and goat's milk soft ripened cheeses. They specifically have Boer goats whose milk is a milder "less goaty' tasting. Due to an issue with electricity, production was set back two months and the goat camembert won't be available until a few month's time. I do try a bit of goat's milk yogurt which is light and slightly tangy, much like a buffalo yogurt.
John from New England Cheese tells me "We milk Jersey cows and Boer Goats for our milk supply. Jersey cows are well known for their rich full cream milk and flavour, the Boer goats are unique, to our knowledge no one milks a herd of Full Blood Boer goats in the world, and some cross breed Boer goats have found their way into some milking systems but not the Full Blood Boers. What's unique about Boer goat milk is the character of the milk it is totally different to any other milking Goat milk, like Saanen, Toggenburg, Anglo Nubian etc, and this Boer goat milk is higher in fat and protein and has a slight thermalised character coming straight from the animal."
Photo by Gordon Hammond from the www.australianregionalfoodguide.com.au
Pasture Perfect
The thing about speed dating (well apparently, I've never done it, honest!) is knowing where to go next and after a momentary lapse of confusion I get assigned to my next producer. Pasture Perfect pork is an organic and free range pork using Berkshire/Kurobuta pigs whose meat is more marbled, redder in appearance and higher in omega fatty acids. Interestingly, as they are free range, sometime cross breeding with other pigs occurs and owner Jack says that these cross breeds produce hams similar to the prize Jamon Iberico. I ask him about whether pigs dig up the soil which is the argument I've heard against free range pigs and he tells me that with good management and moving the pigs around through the day onto different surfaces, the pasture is fine. I try some of their salamis are they are delicious, particularly the fennel flavoured salami which is strong in fennel.
Olives of Beaulieu
At Olives of Beaulieu there are 15 varieties of olives including the azappa olive which they show on the table. The olive oil flavours are created in flavours such as bush mint, mountain herb and garlic and a lime agrumato (which is where the whole fruit is crushed long with the olives giving it a pungency of true fruit flavour) Apart from olives and olive oil they sell dukkahs in different varieties including a lovely Squisito dukkah which is tomato, capsicum, onion, garlic and herbs.
Inglegreen Family farm
A family run farm since 1925 Inglegreen produces 400 pigs a week and they are a supplier to many of the top chefs in Sydney. Their pigs aren't free range or organic but they live in sheds with 350-400 a group.  They believe that the consistency of their pork, which is one of the big selling points is because they have their own feed mill and this allows them to control everything and they themselves grow 50% of the pig's food.  Their farm in Narrabri (two hours west of Tamworth) is 1500 acres with 800 sows and 10,000 pigs. They also  grow grain along with the pigs. I try the ham and the roast pork and they are both delicious, particularly the roast pork.
Australian Bush Honey
Kath and Tony Eden run Australian Bush Honey borne of Tony's childhood obsession and love of bees and honey making. As Tony puts it "It was a childhood hobby gone out of control". At age 2-3 he was smitten by the little creatures. He received his first beebox at age 4 and he caught his first swarm of bees at 10 years old.
Photo by Gordon Hammond from the www.australianregionalfoodguide.com.au
Their range comprises of varietal blends of floral honeys, creamed honey, beeswax and natural honeycomb. There is a manuka blend and interestingly Tony tells me that 30 years ago, before Manuka was known worldwide for its healing and medicinal properties, no-one wanted to buy it. It was known back then as jelly  bush or goo bush and  the reason why it is often priced higher than other honeys is because they need to painstakingly scrape it so the extraction process takes twice the time.
Hereford Prime
I recall meeting Dan Morice at a dinner held at Wolgan Valley. They have access to cattle grazing on natural pastures on the Eastern Seabord of Australia. We tried some of their beef at the dinner that evening which was mouth watering. When I catch up again with Dan he tells me all about how they do things there.
"Our cattle are selectively chosen for various reasons. One is our grading system. MSA or Meat Standards Australia do an ossification test where they look at the spine near the pelvis region.The graders can tell if this animal has had any kind of set back or issues during its life. Our marketing is very different in the fact that our product is direct from the plant to the customer with only one change of hands being in the middle this makes us very clean and green".
*Linseed Lively *
We probably know how good linseed is for us and if you've ever bought the whole seeds, you've probably struggled as I have to try and crush the tiny little buggers. For us to absorb the goodness of linseed (it is a very high source of Omega 3's)  it needs to be finely milled or it will just pass through your system whole. I recall trying to put it in a food processor and then a mortar and pestle. It ended up about me against the linseed as I gave up and the little buggers stick everywhere. In any case, Lively Linseed sells  premilled linseed to add to breakfasts via a Breakfast boost product.
Working With Nature
I know if you've looked at the supermarket shelves for eggs, you're probably gobsmacked by the number of eggs that you can buy. Working with Nature is a small family business on a 120 hectare property to produce eggs (and beef) that are chemical free and free range and grass fed. They currently have 600 birds and during Spring the yolks are a vivid orange. Keeping the chickens feeding on grass and free range makes them happier and healthier and as a result the eggs are higher in protein content and they also have a high percentage of Vitamin D.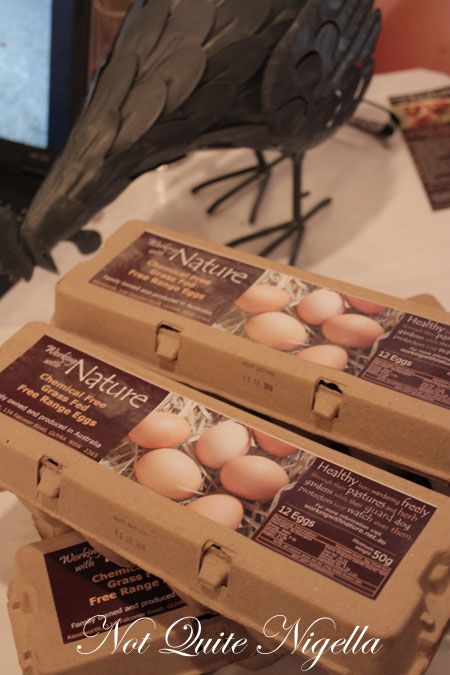 Milly Hill Lamb
I have a bit of an issue with lamb here. I think a lot of lamb sold is hoggett (that stage between lamb and mutton) and has that tell tale muttony fat flavour. So do the people at Milly Hill lamb that say that their lambs are all slaughtered while they have their milk teeth and as a result the lamb is juicy, tender and devoid of that muttony taste. From the taste I had I had to agree, there was no muttony fat flavour at all.
Gwydir Grove
I met the lovely Margi at the Hunter Valley Lovedale Long Lunch and enjoyed her agrumato olive oils particularly the blood orange, lime and zesty lemon which are made using fruit grown on their own property. She was kind enough to give us a sample of her olive oil and olive pate which is like a tapenade. She tells me more about how Gwydir Grove started.
"Gwydir Grove started with a dream of two families living on the banks of the Gwydir River in Moree northern NSW. We were looking to diversify from main stream agriculture into some horticulture and decided that olive growing would be a sustainable venture – a world traded commodity and a non perishable product. My business partner Jenni Birch and I travelled extensively in Europe to study the traditional olive growing culture and to learn the art of oil tasting or "organoleptic" tasting. This took us to many countries and wonderful experiences working in processing plants in Italy and learning to taste the differences in Spain Turkey and Italy. The Gwydir Grove branded products have now been available for 12 years. Five years ago the Blood Oranges that we were growing on our farm were mature so we developed an Agrumato range using the Blood Oranges".
Arc En Ciel
Photo by Gordon Hammond from the www.australianregionalfoodguide.com.au
Arc En Ciel (which translated means rainbow in the sky) is a trout farm at Hanging Rock, about 1.5 hours out of Tamworth. They also take tour groups and visitors to the trout farm where they can enjoy a trout breakfast as we did (scrambled eggs, some of their scrumptious lightly smoked trout and toast) and do some fishing on location. Trout farming is one of the most economical operations as 1.2 kgs of feed produces 1 kg of trout whilst it takes approximately 30kgs of feed for 1 kg of chicken and over 100kgs of feed to produce 1 kg of beef.
Photo by Gordon Hammond from the www.australianregionalfoodguide.com.au
We watch the trout swimming against the current (much like salmon) and Russell's son explains that if there is a fish swimming with the current that is a sign that there is something wrong with that fish and they would discard that one. When buying smoked trout, Russell explains that the lighter the fish when smoked, the fresher the fish.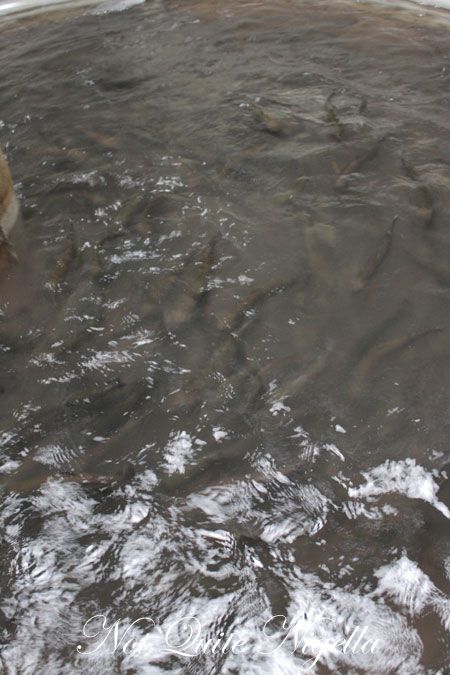 Mistral Hill
Mistral Hill is a five product range business made in small batches in Kathy's kitchen in Tenterfield, NSW . Each product is given someone's name whether it be a friend or relative and the maple syrup and onion marmalade is fantastic. Kathy tells me she uses only the freshest ingredients with no added preservatives or artificial colours and flavours. Each product has its own unique label with a special meaning. "The Orange Marmalade is named after my Mum while the Onion Marmalade is named after my Husband, both are my biggest fans".
The Coffee Bean
Bob Minton from The Coffee Bean is Tamworth's Coffee expert. His boutique coffee roasting business roasts eight tonnes of coffee a year and they supply coffee to the Raffles hotel in Singapore. He shows us some coffee beans being roasted. Roasting he explains adds flavour to the beans which are originally green and turn brown after roasting.  Grinding facilitates the brewing process and the finer the grains the short the brewing time is necessary. Turkish coffee is the only coffee that is boiled as normally boiled coffee is spoiled coffee and roasting loses 20% in weight but gains 60% in volume.
Bob is my last speed date and I find myself exhausted from going from stand to stand. If speed tasting is tough work, how hard would speed dating be? It was a challenge to get all the information that I wanted in five minutes. Just don't ask me to do speed dating!
So tell me Dear Reader, have you ever been speed dating or speed anything for that matter? ;)
NQN travelled to Tamworth as a guest of Industry and Investment NSW.