"Let me show you some of my secrets," Queen Viv said to me one day. I'm sure my Dearest Readers have heard all about my friend Queen Viv. She's my fairy godmother and very good friend and as fairy godmothers are wont to do, they love to spread a little fairy dust by sharing their secrets. In Queen Viv's case it's unlocking the secrets of where she lives. One afternoon she showed me around the light industrial areas of Marrickville, St Peters and Dulwich Hill.
It seems that the Inner West is home to some fantastic hidden gems in the form of food factory shops that are also open to the public. Smart residents know all about these places and over the course of a couple of days Queen Viv helps me stock my fridge and pantry with all sorts of fantastic goodies. These places are best approached by bike or car but not impossible to walk between. However bring a chill bag (or several) and some ice packs because you are likely to want to buy!
Paesanella Cheese
I don't need to let Italian cheese lovers know about paesanella cheese. Their cheeses, especially the bocconcini and ricotta are legendary and I'd venture to say that their ricotta is the best commercially made ricotta here. This ricotta is so popular that come any Sunday morning, the lines snake out the door with Italian nonnas bringing their own pots and buckets to nab their stash of still warm freshly made ricottta for Sunday lunch.
Their fresh ricotta is the only pure milk  ricotta produced commercially. Other ricottas are made using whey and the by product of other cheese making but what makes this ricotta so good is the fact that it is made from pure milk. The General Manager Tony shows us around. Apparently 10 litres of milk are needed to produce 1 kg of cheese and even at $6.90 a kilo it's a steal. He gives us a taste from the basket and it's just as I remembered it - incredibly light, creamy and soft and utterly full of milk flavour. He tells us the way to find out if your ricotta is made from milk or from by products is to check the label. If it features ingredients like Xantham gum, starches, gluten or a chemical cocktail, you are actually paying for less milk in your ricotta and more filling.
Paesanella Cheese was started in 1962 by Umberto Somma who came from a 300 year old cheese making family in Naples, Italy (in the buffalo mozzarella region). Since then they have been supplying Neopolitan style fresh cheeses to lucky Sydney siders. During his time making cheese, Umberto's family asked him to stop making it because his health was deteriorating with emphysema and years later he died while making cheese.
Speaking to Tony, their philosophy is against that of the the supermarket chains. It's about making these cheese fresh daily without any additives which means that they are all short shelf life products. This presents issues for supermarkets that want a long shelf life and as a result it is only found at good delis. They're not willing to change the product in order to supply to supermarkets so manufacture remains at manageable levels.
Grace, who is behind the counter singing, comes out and shows us the smoked mozzarella which she says is good for stuffing zucchini, in lasagne and pretty much anywhere where regular mozzarella can be used. Looking around the room there are walls of awards and a deli cabinet full of smallgoods, enormous olives and cheeses. Then there's two fridges with a mixture of imported cheeses and their own cheeses that are made on the premises plus the red white and green Paesanella sticker. They come in 250g, 500gram and 1 kg buckets.
Tony shows us the Burrata cheese which is one of their new best sellers. It's a bocconcini and mozzarella shell filled with cream and mozzarella curd and sounds absolutely divine. It's ideal for an antipasto dish and can be eaten simply. Just remove it from the pack, drizzle it with extra virgin olive oil, oregano or basil and then serve it with some crusty pane di casa bread. Their mascarpone is a rested mascarpone so that all of the acids seep out making it smoother and creamier. They supply their cheese through Simon Johnson to restaurants such as Pilu and Buon Ricordo. And I can't wait to dig into my 1kg bucket of ricotta when I get home and have it on toast for dinner. Tony gives me some samples of cherry bocconcini, smoked mozzarella, mascarpone, buffalo mozzarella, mozzarella and the delicious sounding Burrata which I plan on using on some special dishes - if I don't eat it all first!
Eumundi Smokehouse
"They thought I was a drug dealer or something," Dave Kasmaroski (or Kaz as he's known) says to Queen Viv and I laughing. The blacked out windows, the 3am sausage making and smoke rooms and the fact that they're only open on Saturdays from 8am-2pm may have given locals that impression. Until of course they try one of his sausages or smoked meats and they're transported into a place where sausages are organic and made without any fillers at all (yes they're all gluten free) and without adding any water. Just pure meat and spices. This morning I'm standing outside the closed up shop and I've just called him on his mobile. Moments later a smiling face greets me and I'm let in by a member of his staff. They're mostly female and very friendly and sweet. We smell that smoke aroma immediately and I recall my last visit here a few moons ago when I bought some of their smoked sausages for a European relative in law who swooned over them. Since then I've picked them up at markets all over Sydney as their shop is only open on Saturday from 8am-2pm.
The grill is going and Dave has cooked Queen Viv and I some delicious kangaroo sausages, some gorgeous spicy French sausages and a Spanish pork sausage with onion and paprika which has a lovely spicy linger at the end at the back of the throat. Sausages are made using natural gut casings which are porous and allow for better smoking. He gives us a sample of his 4 year old pancetta ($90 a kg) which is a real treat and is sold in thin strips "One strip would do one person there's that much flavour" he says. It's amazingly good stuff.
We then go out to the back smoking room (and yes it's damn smokey and affects one's throat and eyes) and Dave picks up a whole smoked chicken for us to try. The chickens are soaked in vodka and crushed juniper berries and he calls them "Pissed poulets". The chicken is wonderfully tender and at $18 per whole smoked chicken it's a brilliant value and can be used for a lovely salad or sandwich.
The business started off in Eumundi a, town of 400 in Queensland. A former ward of the state Dave became a first year apprentice at age 14 and a qualified butcher by the age of 17 and 3/4.  He became intrigued by the concept of sausage making and had a stint in Brisbane as a chef. His grandfather then passed away leaving him his recipes which now sit framed on the walls above which detail various sausage recipes as well as how to build your own smokehouse. He set up this shop in Sydney 6.5 years ago and he visits 35 markets a month.
Production and business is so big that he now has to move production to Eumundi where there is more space and less distractions. Which brings him to his other position, his rule on markets. He is emphatic that as far as farmers markets are concerned, you should be dealing with the producer themselves ."I'm dead against reselling" he says. His argument is that things should be sold by the person that makes them as they know the product best. Costco, the mammoth US supermarket has been pursuing him for 18 months to stock his sausages but he says that he'll only do it on his terms, with him in the shop selling them.
A constant joker and a charming personality, he leaves us off with a memory of his time in Central Queensland aka the Wild Wild West of Australia (ok technically it's East). He used to load up the trailer with sausages and stop at the small towns along the way. He'd set up bales of hay with gum leaves for a stall where during the day he'd sell out of his produce. Sitting on the dashboard would be a shotgun. Once he was finished selling he would load up the shotgun and start driving fast out of the town looking over his shoulder for any people fast following him to rob him of his hard earned money. He has never had an incident but he does recall being spooked by the Min Min lights of Queensland. These are a naturally occurring natural phenomenon where lights appear above the horizon and for him they would have mimicked a car following him. Lucky his shotgun was loaded!
His staff has generously packed us each a package of goodies and it's filled with the stuff dreams are made of including prosciutto, venison and beetroot sausage, chicken and leek sausages, spicy French sausages, black pudding, double smoked bacon and garlic stix. I don't think you could have found two more excited people that day than Queen Viv and I.
Home made Fine Foods
Balloons near a sign usually signify a child's birthday but these ones are pinned to chalkboard that read "Fruit crumble" and "Chocolate mousse". Our dessert stop is at Home made Fine Foods where a picture of their famous chocolate mousse is displayed in front of the door. There are heavy plastic strip doors and as we get closer we are not sure if unannounced and unexpected visitors are welcome. A smiling face then appears through the strips and hands us a hair cap and invites us in. We don the hair caps and sanitise our hands as we're entering a food preparation area. Home made fine Foods supplies mousse, dips, panna cotta, tiramisu, crumbles and rice pudding to Harris Farm and other stores with ready made food. Queen Viv who lives nearby recalls seeing dozens of people entering and leaving here around lunchtime with bags of goodies so she was always curious to see what they sold.
Pierre who greeted us offers us samples of everything. "Everything is available to sample" he says and indeed any customer that walks in can ask to try anything. He starts off showing us the olive tapenade and the basil pesto ($3 per tub), both of which are delicious and then we try the rocket pesto which is also very good. He then moves into the yogurt which they sell here and isn't sold wholesale. It's a thick sweet yogurt that takes them 3 days to make. It's so thick and creamy it reminds me of mascarpone. He tops it with their stewed vanilla rhubarb ($15 for a one kilo bucket) and tops that with a nutty crumble topping ($2 a packet).
He then moves onto the mousses - chocolate and white chocolate to be exact. The white chocolate is $2 per tub and the dark chocolate is $3 a tub. I adore the fluffy dark chocolate mousse and put a tub of that aside along with the yogurt and a dozen free range eggs while Queen Viv buys a panna cotta and interestingly he tells us that all of the eggs used here are free range. While we are there, mums drop by and replenish their stash of sweets to serve their families. I look at the tub of the chocolate mousse to see what the ingredients are and reassuringly find only four: chocolate, sugar, eggs and cream and no numbers or unpronounceables. There is a large pot of coffee brewing away for a long time to make the Tiramisu and apparently there are no shortcuts here. Just food that you would make for your own family - if you had the time.
Chef's on Buckley
1kg of blackberries $4.50, 1 litre mixed berry puree $4 and paperbark $4.50
Opposite Faros Bros Fish Markets (see below) is Chef's on Buckley, a large pasta and sauce wholesaler that also sells to the public at fantastic prices. "We wanted to be opposite Faros Bros" the saleswoman says "because of the business that it would bring in". In this stretch of Buckley Street, people can be seen picking up fish, pasta and something sweet for dinner. There's an interesting mix of items, of course there is pasta with signs pointing to 2x 1.3 kg lasagnes for $13 but there are also native bush spices and items and I buy some paperbark which can be used for barbecuing fish to impart a flavour onto it.
My favourite finds are in the freezer section where there sits a treasure trove of bags of frozen fruit up to 1kg in size. There appears to be a regular special bargain buy and today it is blackberries - 1kg for a phenomenal $4.50! I also pick up a mixed berry puree for $4 per litre for Mr NQN's smoothies. The most interesting fruit is their frozen sour cherries ($9 a kilo) which are rare to find here unless they're in a jar.
They also stock plenty of frozen pasta as well as fresh pasta including lovely pumpkin papardelle and there's also fresh liguine and fettucine in bags for $4.50 each.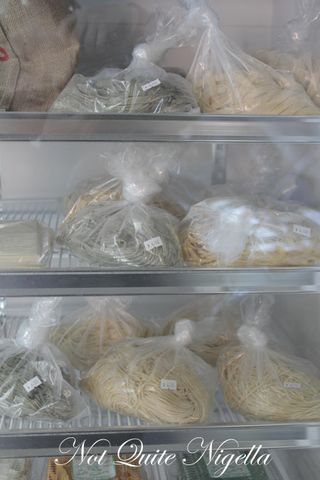 I already have some plans for my 1kg of blackberries and I know I'll be back for some more ;)
Faros Brothers
Faros Brothers is Queen Viv's local fish market and the prices here are very reasonable and the seafood very fresh. Women in gumboots stroll the aisles helping shoppers. We walk in and Queen Viv points at the large snapper with the protrusion on its head and tells me that that's a sign of an aggressive, dominant snapper. A man chuckles at me snapping away at it and says "Are you capturing tonight's dinner?". I just smile and say yes. Sometimes it's easier to pretend to be an overzealous tourist.
We see prawns although all of the raw ones are thawed from frozen and there are plenty of cooked ones starting at $11.99 a kilo. I purchase some whitebait - one of the legacies from visiting New Zealand is a love of Whitebait (Nanata) fritters and they're very inexpensive here at $8.99 a kilo (and only about 125grams are needed according to my trust Edmonds Cookery book). I also buy a Sole intending to make lemon sole and at $9.99 a kilo a decent sized sole only cost me $4.66 and I walk out of there with a bagful of whitebait and a whole fish for the princely sum of $7!
Two Providores
If you're looking to buy in bulk or access some of the more unusual items particularly cheeses, Two Providores (formerly James Foods) tucked away on Lilian Fowler Place in a industrial estate area is a good place to go. They sell bulk sized items at great prices and their nuts in particular are a great deal - I nabbed some almond meal for $12.50 a kilo bag. There are also bags of Callabaut chocolate ($74 for 5 kg bags) as well as speciality items like cocoa butter and blocks of gianduja as well as cheeses, butters, yogurts, dips, salts, smallgoods, oils, olives, frozen seafood, pastas and herbs to choose from. Their primary customer base is cafes but retail shoppers can also come in and purchase. In the future they're intending to make even smaller retail sizes to open up their customer base even further.
Darrin, one of the Two Providores shows us around. Amongst the known brands there are amazing little finds like smoked Basmati rice, pure Snowy Mountains Mineral Water from Beloka Estate, Tahitian Vanilla extract ($30 for 1 litre!) as well as gigantic bottles of Camp maple syrup. Prices are lower than in supermarkets as items are bought in bulk and repackaged. I also nab a catering sized roll of cling wrap (the stronger stuff that restaurants use - these kinds of things make me happy ok? ) and there are also bulk packs of baking paper. They're also one of the most cost effective places to buy pine nuts where they retail for $35 a kilo.
Black Forest Smokehouse
The Black Forest Smokehouse store was one that Mr NQN and I had driven past a few times, always with the intention of visiting but it was always at night when it was closed. Today Queen Viv and I find it open. It's a factory with a shop attached to one side. Inside there is a small display of meats and cheeses on the left and one with fruit and crackers in the other fridge. I'm intrigued by the Black Forest ham which I had recently at Bitton Gourmet and they have a black forest ham here but it's in half kilo portions. I will admit that I have no issues at all with half kilo proportions but as I'm to visit other stores and this is cash only I need to save my cash for the other stores. At $38 a kilo it's costlier than regular hams but the difference is that it is air dried much like prosciutto and it looks very similar (and according to the woman behind the counter it tastes quite similar). The woman shows me their best selling ham which is a flat ham.
Instead I settle for a squat sausage of duck liver terrine which she holds up for me to smell. It smells divine and there's an instant attraction and into the bag it goes. I ask her how long it lasts and she chuckles "Depends on how fast you can eat it". I also buy a portion of pancetta for cooking ($18 a kilo) and there is also some very lovely looking speck and we depart with our meatalicious bounty and I vow to come back with more cash to buy some Black Forest Ham.
Dim Sim City
Because I find it impossible to resist a dumpling, Queen Viv and I pop into Dim Sim City, to take a peek into their premises. We look into the doorway and to the right is what looks to be a religious altar and to the left is the dumpling making factory. They're in the middle of making dumplings, all by machine, and they show us a one page brochure with their offerings.
Prices are very cheap - a 600g packet of shrimp and pork dumplings sets you back $2.80 and 12 Hong Kong style BBQ pork buns are a mere $2.80. I can't resist and buy some (hey it's dumpling weather!). You can also bring your own packaging and pay $4 a kilo for the dumplings or 20c per bun saving a little more. That evening Mr NQN and I try the pork and shrimp dumplings and they are very good - indeed reminiscent of siu mai!
Epicurean Kitchen
Next door to Chef's on Buckley is Epicurean Kitchen which sells cakes and biscuits all at ridiculously low prices. Queen Viv buys two lemon tarts for $2 and I buy a packet of eight cream filled biscuits for $2.50. The biscuits are not bad with a strong ginger flavour. Queen Viv reports that her melon tart filling is a good balance of sweet and tart but found the pastry a bit ordinary. They also have a huge range of Gluten free goodies including large and individual cakes, muffins, coconut macaroons, friands and cookies.
Serendipity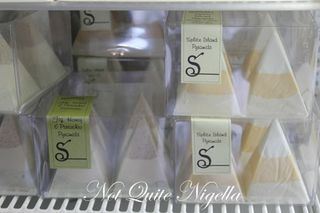 The last stop is Serendipity which we save until last because melting ice cream is not a pretty sight. The factory shop is filled with the various awards and commendations that they've won and we take a peek into their freezer. Small 150ml tubs are $3 and the larger 500ml tubs are $6 but since I have no freezer room I pick a small ginger ice cream tub for Mr NQN and a Peanut Butter Disaster for myself. They also sell delicious syrups for $6 like a gorgeous nutty Wattleseed syrup that Queen Viv bought for me as a gift one day.
Of course all of this shopping wasn't done over just one day, we kept finding new places every time we drove around so take your pick, pack up a bag, bring your best friends along and some cash and have fun!
So tell me Dear Reader, do you have any hidden gems in your suburb?
I recommend calling these places ahead of time to find out their exact opening hours. Some places may close early.
Paesanella Cheese
27 Gerald St, Marrickville NSW
Tel: +61 (02) 9519 6181
Closed Saturdays
Eumundi Smokehouse
Eumundi Smokehouse has now relocated to Eumundi Queensland.
Homemade Fine Foods
Has now moved to: Unit 4, 3 Wood Street, Tempe NSW
Tel: +61 (02) 9519 2793
Open 7 days
http://www.homemadefinefoods.com.au/
Chefs on Buckley
17-19 Buckley Street, Marrickville, NSW
Tel: +61 (02) 9519 3488
Faros Bros
34 Buckley Street, Marrickville, NSW
Tel: +61 (02) 9519 3785
Two Providores
2/8 Lilian Fowler Place, Marrickville, NSW
Tel: +61 (02) 9666 5583
Black Forest Smokehouse
150 Edinburgh Road, Marrickville, NSW
Tel: +61 (02) 9516 3210
Dim Sim City/Way Lup Food Company
19 Fitzroy Street, Marrickville, NSW
Tel: +61 (02) 9557 2866
Epicurean Kitchen
27 Buckley St, Marrickville NSW
Tel: +61 (02) 9557 7311
Serendipity
333 Enmore Rd, Marrickville NSW
Tel: +61 (02) 9557 8986