Whenever we go out for Chinese food I always feel compelled to take my parents along. For starters, I know that my dad needs to get out more but he only really likes Chinese food and for my mother who likes all food and likes to go out this is the path of least resistance.  Blue Eye Dragon was actually a long ago suggestion from one of my readers Rebecca, so long ago that when I looked up the date of her email to me it was about two years ago exactly. But I never forgot it!
The first thing that strikes us as we walk up to Blue Eye Dragon Taiwanese restaurant in Pyrmont is the wrought iron gates-shaped like a dragon. There is a spacious outdoor area and it is housed in a sandstone building.  The other thing that strikes us is that it looks so very different from your usual Chinese restaurant -it's dark and moodily lit and there are no bright lights beaming the way to the table. We are shown our table, up on the stage above which is a curtained off area that the menu tells us serves as a private dining room. Despite the moody and romantic atmosphere there are plenty of families with babies and large groups dining.
Mr NQN needs a bit of a pick me up and the Taiwanese High Mountain tea is ordered and comes with a tea light warmer powered stand which promptly goes out a few minutes after the teapot is placed on top of it. The tea...well it tastes like regular Chinese tea even if presented quite nicely and without a dripping tea pot.
The won tons, eight to a serve here are slippery and filled with pork mince and are coated in a chilli sauce which is quite spicy and the dumplings are propped up in the bowl by shards of iceberg lettuce leaves. Overall they're quite good and a nice kick start for our taste buds.
The pan fried pork dumplings come out next and they have a nice crispy bottom. The skin on these is thinner than the Shanghai counterparts and the filling is a mixture of pork mince, chives, ginger and shallots giving these a good flavour to them along with a sesame chilli sauce.
NQN reader Rebecca made mention of these dumplings and indeed they sell these house made dumplings in frozen 1 kg bags should you wish to make them at home. Again the same, thin skin on these as the above dumplings but with a prawn filling with quite a bit of water chestnut, shallot and Chinese celery for crunch. The sauce that comes with it is a slightly sweet soy, similar to what you get with chee cheong fun and really adds a lot to the dumpling dish.
The beef pancakes had four pieces (and we don't know whether each serve just happens to come with four pieces but we are glad we don't have to cut up portions to fit numbers). The pancakes are rolled up buttery roti pancakes with a slow cooked beef like a beef shin with coriander leaves and green shallots. I suppose it is like pairing a roti with a soft cooked beef curry or a rendang although this is probably why we were yearning for some spice.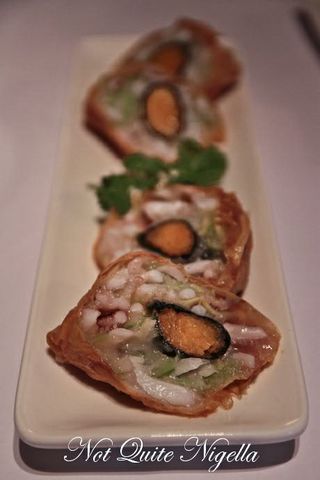 The table's favourite entree, this was a yuba (bean curd skin) encased ball stuffed with a seaweed wrapped salted duck egg yolk and diced, tender calamari deep fried and then sliced in half. The flavour and richness of salted duck egg yolk is excellent and we all wish we had ordered seconds of this.
Our mains start arriving with the first three arriving together. First is the pork belly which is so soft and gelatinous with a long slow simmer in soy sauce, star anise, garlic and chilli although the chilli isn't very strong in this dish. The sauce is particularly flavoursome and despite the fact that we had intended to try to eat low carb and order rice for two, another order for rice is place to mop up the sauces.
The prawns are large and come eight to a dish. They are crispy and come in a "bloody plum sauce" which is similar to the sweet and sourness of an Imperial beef sauce with the fruity tang from plums. This is my mother's favourite dish and I ate the whole prawns, tail and all for a satisfying crunch at the end.
I have made a version of this dish and it is called three cup chicken which is a very typical Taiwanese dish. The sauce here,  like the pork belly sauce, is worth ordering more rice for as it is deeply flavoured while the chicken pieces are tender with the dish redolent in licoricey Thai basil.
The last dish was the tofu and it came out about ten minutes after the others. The tofu squares were lightly coated and deep fried stuffed with minced pork. The sauce was a sticky, slightly sweet sour sauce but we felt like it was missing a flavour beat somewhere especially compared to the other main's sauces which were all so moreish.
We gave the Movenpick ice cream selection a miss as we were more interested in the Taiwanese desserts.  The sticky rice is a round mound of unsweetened sticky rice topped with Chinese wolfberries (or more commonly known as goji berries) which give it a little tart sweetness like cranberries. It is surrounded by sweet finely ground peanut powder and three coriander leaves. There isn't quite enough peanut powder for the rice as it is quite plain without it although my boiled rice fanatic father likes this dish.
The sticky rice cakes came out as four flattish discs of sticky rice cakes in a ginger syrup with thin ginger slices and a sprinkling of sweet peanut powder. Out of the three desserts, this was everyone's favourite although I wouldn't really consider this great value for money.
The vanilla ice cream was very vanillaey and scooping out the sweet red bean paste out of the little containers is a two hand job. I don't mind sweet red bean but I don't know if I could fit in a whole scoop of it with ice cream.
Forgetting the desserts and focusing on the savouries is probably the best idea here and we really did enjoy the dumplings and the mains. And although we did end up visiting two years after it was recommended to us, it seems in that time plenty of people have found Blue Eye Dragon as we leave and the restaurant is almost full.
So tell me Dear Reader, do you listen to people's recommendations for restaurants? Or do you prefer to go out and pick a restaurant on the spur of the moment?
Blue Eye Dragon
37 Pyrmont Street, Pyrmont, NSW
Tel: +61 (02)  9518 9955
Hours: Sun-Mon Closed; Tue-Sat 12:00-2:30pm, 6:00-10:00pm