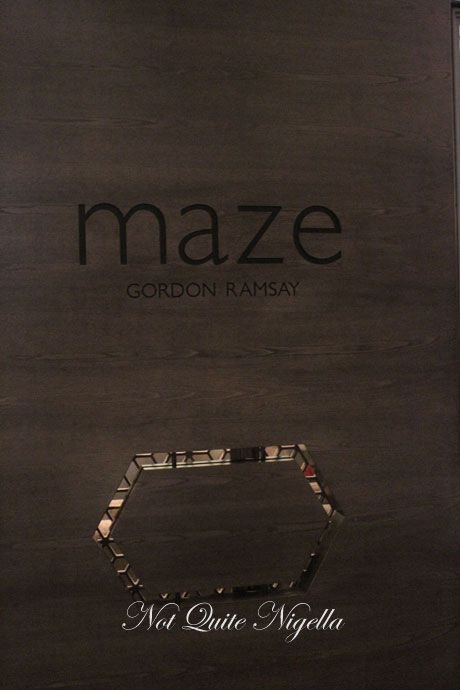 A smile spreads over his face as I sit down at the table next to his. He takes out his point and shoot camera and gives me a look. It's a look I'm familiar with. It's the look I give my nearby dining companions when I know I'm about to embark on strange behaviour i.e. taking pictures of my food and I hope for some merciful behaviour and don't stare at me like I've grown a second head. "We take pictures of our food" he says by way of explanation. I laugh and assure him that it is absolutely fine with me and he and his wife happily snap away. You see if anyone understands, I do ;)
Moments before I had stepped out of the taxi onto the plush carpet and entered the minimalist lobby of the Crown Metropole Hotel and ascended the curved staircase. The interior of Maze was designed by a Melbourne firm who worked with Gordon Ramsay previously on some of his overseas restaurants and the first thing I notice (apart from the extreme darkness - arrgh photos!) are the lovely lighting fixtures. Although the courses on the menu are priced very reasonably this is not budget dining and they're designed to be made into a five course per person affair. I'm delighted to meet with my fabulous friend Nic and we're both dithering over the choices so we do what any good food obsessed person does and we go with the degustation. There are seven courses for $95 and  three of the courses are alternate dishes so we get one of each course and share them. The cutlery set holder is quite novel with the spoon, fork and knife slotting into their compartments and between every course each set is replaced with new ones.
The flatware set holder
Bread with seaweed butter and salt
The waitress sets this down and starts  to turn away but I am prompted to ask "Excuse me, what is this butter?" I ask. It looks darker than regular butter and very lightly speckled. "It's seaweed butter" she says and the initial lack of detail is probably the only negative we can give of the service here tonight. Nic and I look at each other excited but slightly puzzled. The bread comes in a warm metal cup and there's a generous serve of six pieces of diagonally sliced bread. I slather some butter on with some salt and try it. Oh me, oh my. This is good but instantly a part of my childhood awakens and jumps up and down and a 6 year old me says "Buttery Promite, Buttery Promite!". It's got that familiar aroma of Promite (and no I'm not hallucinating, Nic agreed) when you mix lots of butter with a bit of Promite. And you'd better believe I kept going with this even requesting a second serve of bread (I flew down with a carrier that didn't provide me with a meal and I was ravenous).
Marinated beetroot with goats curd, cabernet sauvignon vinaigrette, toasted pine nuts
The matire'd Steven tells us that there is always a beetroot dish in every Maze restaurant menu around the world so we were glad to see this on the degustation menu. As the thinly sliced beetroot on top is not crisp despite it looking that way, the best way to attack this is to slide one portion of it onto a spoon (it's bite sized, don't worry I'm not setting you up for an embarrassing scene) and to pop the whole thing in your mouth so you get the full balance of flavours. The beetroot is delicious with the strong goat's cheese and the light cabernet sauvignon vinaigrette.
Seared yellow fin tuna, white radish, yuzu, enoki mushrooms, black garlic
I'm struggling with the low light here and it's rather difficult to get it all so thankfully Nic plays lighting assistant. I try some of her  seared yellow fin tuna but because I'm only trying a small amount as it's Nic dish and it's quite small I just try the fish which is aromatic and strong in the citrusy yuzu (like a cross between a lemon and mandarin).
Applewood smoked kingfish, fennel purée, pressed cucumber, globe artichoke, finger limes
When they bring this to us they mention fairy floss and five spice so I was intrigued but sceptical (especially since neither featured on the menu). I can smell the aniseed from the fennel I take an eager bite. It works absolutely perfectly though, the fairy floss never being syrupy sweet and it's given an extra dimension with the five spice. There's smokiness, sweetness and a melting quality from the fairy floss.
Pan seared scallop, caramelised kelp, samphire, mussels, Champagne
This was a very interesting dish, the fat pan seared Canadian scallop grilled golden on both sides yet still soft in the centre although fully cooked through. Sitting on the plate there is a mussel curled around and a fascinating caramelised kelp which appears in five small semi translucent strips which smell aromatic like cinnamon.  And see the tiny black balls at the front? These are tonburi seeds which come from the Summer Cypress shrub which resemble caviar in look and texture but don't have the salty taste of caviar.
Seared leg of rabbit, jicama, green olive, almond and brown butter vinaigrette
Nic's dish of leg of rabbit is superb, the rabbit tender and perfectly cooked and it is served as three small portions with the centre portion resting on a finely chopped mixture of jicama and green olive. Our friendly camera toting couple next door leave at this time after being promised a tour of the kitchen and Nic and I vow to ask for one too.
Pan roasted barramundi, butternut squash, compressed cucumber, pumpkin seeds
We both get a serve of the barramundi dish which we figure is the start of the mains. One thing we noticed is that the mains seems a bit safer than the experimental entrees and whilst this is skillfully prepared, we were both thoroughly enjoying the experimentalism of the entrees. The barramundi has a gorgeously crispy skin, a butternut squash puree, a small thimble sized piece of roast pumpkin covered with roasted nutty pumpkin seeds. And the pressed cucumber is interesting-we were both wondering what pressed cucumber was and do you know what it is? It's a doppelganger for my mum's cucumber pickle recipe (sans chilli)!
Ox "tongue and cheek", caper and raisin, carrots, horseradish pomme purée
It probably wasn't a brilliant idea to eat all that bread (is there such a thing as bread regret? It felt so good at the time...) and when it comes to our final savoury course, it's one that is so gelatinously rich and strong in red wine that I take a bite and brace myself for another mouthful of richness. There is a herbed carrot piece and a horseradish potato mash to accompany it and the tongue is a thin slice sitting at the bottom while the cheek is the large piece on top which is meltingly soft.
Lamb cannon and shoulder, cauliflower purée, anchovy, stinging nettles
I try some of Nic's lamb cannon and shoulder which has an interesting thin cross section of cauliflower floret (which looks like a tree - must replicate at home!). The stinging nettles resemble a creamed spinach puree and the jus for this like the oxtail is poured at the table.
Exotic fruit vacherin, passion fruit and banana sorbet
Our pre dessert is larger than a typical pre dessert and it's a tangily refreshing course. There is a chopped fruit salad of kiwifruit and mango at the bottom and chalky hard passionfruit meringues and a gorgeously tangy and smooth passionfruit and banana sorbet. I know Nic would love this as she and I have discussed our mutual love of lemon curd.
"Do you think we could have a tour of the kitchen?" we ask hopefully, with what we hope is a eyelash batting maneuver. "Of course I was going to ask if you would like one" Steven the maitre'd says and he takes us through the restaurant. We walk past Maze Grill which is based on a New York style grill and has an open kitchen. He points out the oven that reaches temperatures of 600 degrees celsius and above for the steaks. The Maze Kitchen is situated behind it and is divided into four parts, hot and cold entrees and hot mains and desserts. They also do the catering for the rest of the hotel's 100 rooms from this kitchen in another section.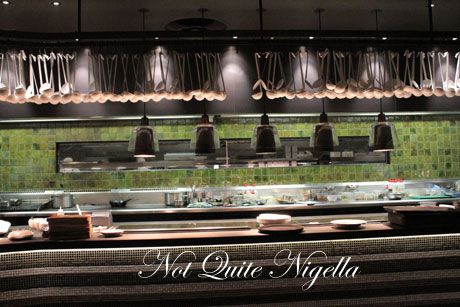 The Maze Grill open kitchen
_ _
Chef de Cuisine Josh Emett
We meet the native New Zealander chef Josh Emmett who has been with Gordon Ramsay since 2000 when he started at Royal Hospital Road as a chef de partie. We chat for a while and he is affable and enthusiastic and easy to talk to.
Maze "lamington", rosella jam
This was the dessert that had caught Nic's eye when we were doing our reconnaissance work prior to our visit and discussing what we would order. It's a deconstructed lamington with a layer of chocolate ganache sprinkled with coconut, rosella jam (made from hisbiscus flowers) and what looks to be a roughly torn piece of sponge with a small quenelle of coconut ice cream and a perfect buttery crispy tuile. We're intrigued by the sponge and we both say exclaim "It looks like an actual sea sponge!". Thankfully it doesn't taste like sea sponge instead tasting a bit like a brioche rather than cake although when it is all mixed together it does taste rather lamingtony although the rosella jam is noticeably tangier than a strawberry jam.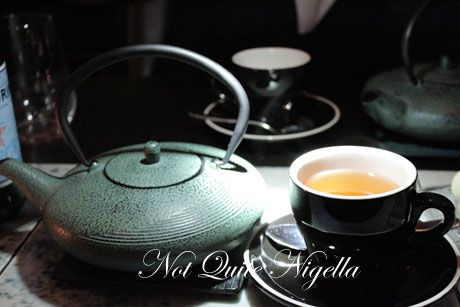 _Tea _
Strawberry ice cream petit four
The petit fours are white chocolate balls filled with strawberry ice cream and I enjoy popping one whole into my mouth and letting it melt in my tongue. The centre is filled with a lovely strawberry ice cream with real strawberry flavours (we'd expect no less ;) ).
The Private Dining Room
Our meal over we realised that it's almost midnight. Fearing not a Cinderella moment but a 5am wakeup call we bid each other goodbye and I race back to the hotel!
So tell me Dear Reader, do you often choose degustations or set meals or do you prefer to order a la carte?
Maze Melbourne
Level 1, Crown Metropol
Corner of Whiteman and Clarendon Streets, Southbank, Victoria
Opening Hours
Monday-Sunday
Breakfast: 6.30am - 10.30am
Lunch: 12.00noon - 2.30pm
Dinner: 6.00pm - 11.00pm
maze Bar and lounge is open from 6.30am until 1.00am