When I receive an offer by email from Somer Sivrioglu from Balmain's Efendy restaurant I am giggling with glee. For a tour by one of Sydney's top Turkish chefs to the Turkish rich area of Auburn is like getting a local's tour with an inside track on Turkish cuisine! Auburn is a suburb in Sydney's West with a lot of Turkish and Asian cuisine. Some friends have found it slightly intimidating to go there from the distance to the shops with unfamiliar ingredients but others have revelled in the other worldly atmosphere - not unlike being on a holiday. Auburn is also home of the largest Mosque in Australia so this has meant that the people that live in the area has now changed. It used to be mostly Turkish but now there are people from Africa and Morocco as well as Asia.
As we drive to Auburn Somer tells me a bit about himself,  the Turkish food scene in Sydney and his restaurant Efendy (which means "gentleman" in old Turkish). Turkey is a country that focuses very much on regional cuisine and that is why it can be hard to replicate it outside of Turkey. Certain areas are known for excelling in certain products and people will buy the products from there. There are also regions that are known for being gastronomic regions.  Turkey also occupies an area between the Middle East and Europe and in fact Istanbul is partly in Asia and partly in Europe.
Somer visits Auburn once every two weeks to get inspired and to shop for produce. His speciality is mezze and his changes day on day according to what is available. Even though it is a predominantly Muslim country, Turkish people like to drink and the aim of mezze was to complement alcohol. Their drink is called Raki which is an anise based liquor with a 50% proof like  across between ouzo and ayran and when mixed with water it turns cloudy. Foods that are heavy in olive oil or protein are needed to eat along with the Raki.
A friendly local
The other item that he likes to buy on his trips out to Auburn are lamb's testicles which are very hard to source . They are so hard to find that lamb testicle loving customers need to call ahead to the restaurant to ensure that there will be some available. Turkey is very much an offal loving culture with tripe, sweetbreads and other organs on the menu. Cooking culture is very much ingrained in Turkish culture and Somer tells me that recipe bartering is common-but of course a recipe may be given missing a crucial ingredient ;)
Somer grew up in the restaurant industry as his mother owned a restaurant in Turkey. He moved to Sydney as he was looking to get out of the armed services and an Australian university was the first one that accepted him. He draws similarities between Sydney and Istanbul but now calls Sydney "home".
RT Turkish Delight
A rose scent fills the air and I look up and smile. Founded in 1974 RT Turkish Delight makes my favourite Turkish delight-the hazelnut and coconut Turkish Delight.  Real Turkish Delight is somewhat of an institution. Started 25 years ago by Bahattin Pektuzun who has now passed, it is now run by his three sons including Bill and Eddie who I meet today.  Somer tells us that he used to buy his Turkish Delight direct from Turkey but he now buys the Turkish Delight from here. It is fresher as it doesn't have to travel very far and the flavour and texture are very good.
They also hold the world record for the largest Turkish Delight at 3.2 tonnes in 2003! It took four people 64 hours to make this in split shifts. It was displayed in Darling Harbour and then sold off in 6 kg slabs and raised $12,000 for Westmead Children's Hospital. It was a rose flavoured Turkish delight without nuts to weigh it down. Interestingly, rose flavoured Turkish delight is not the most popular flavour with the Turkish people, it's hazelnut and coconut (hey cool, I have a  Turkish palate!).
They make 80-100 tonnes a year here and supply to shops all over Australia and have been supplying to David Jones (where I first discovered it) for 20 years. They produce seven flavours as well as a large range of chocolates all coated in Belgian couverture.
And what makes a good Turkish delight? Texture is very important. It must have  bit of bite, and be smooth and silky but not sticky. It must also not be too hard or soft. There should only be four ingredients in Turkish delight. It should have wheat starch, glucose, sugar and water and should be cooked in a copper vat over a gas flame.
Copper pots cooking Turkish Delight
_
_
I take a look at the factory in the back. Each copper vat holds about 60kgs of Turkish delight and they are cooked for a total of three and a half hours. The white mixture on the right has only just started cooking and hasn't yet reached the desired 110+C temperature. It is then poured into starch lined trays and then left to set overnight. Then it is sliced up and dusted in icing sugar and packaged.
Mr NQN's birthday present-a plate of Hazelnut and Coconut Turkish Delight!
**Gima Supermarket
Fig jam-see the young unripened figs suspended in it?
Formerly a smaller store, Gima's owners bought an old Coles store and made it into a large supermarket with all sorts of Turkish products. Walking down the aisles is fun and people are friendly. A man watches as I take a photo of fig jam and enquires about it. He then shows me some Turkish fairy floss and other sweets and tells me that Turkey is the number 1 producer of apricots. Here Somer asks about the lamb's testicles and the butcher on duty rings around and asks other butchers whether they have any. We're out of luck today.
Medjool dates for $8.99 a kilo? trust me, I bought lots of these :)
Wow! You've got some big nuts! The biggest chestnuts I've ever seen...
Turkish eggplants
Imam Biyaldi is a stuffed eggplant dish that requires Turkish eggplants as Japanese eggplants are too small and regular ones are too large. Somer tells me that the grower from Mildura built his business on supplying these Turkish eggplants as there was no supplier on the market.
There is an interesting cheese called Tulum which is similar to ricotta. Somer goes through about 12 kgs a week of this at the restaurant. There is also another cheese called Kaseri which is similar to a  provolone. With this there are two grades, a soft and a hard one where the hard one has a stronger flavour.
Interestingly, as Australian customs is so strict with cheese and dairy products, cheese produced in Turkey isn't allowed to be imported. However with 3 million Turkish people in Germany, there is a large enough market to produce Turkish products there and since German cheeses can be imported all imported Turkish cheese in Australia is made in Germany.
Goat's yogurt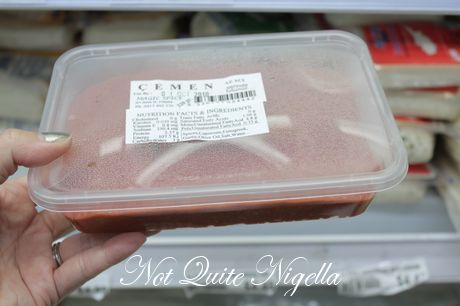 There is also Cemen which is a spice mix containing fenugreek, capsicum paste, cumin, oregano,pepper and black pepper. Somer coats meat with it as it cures and dehydrates it and gives it an almost prosciutto like quality.
The three most popular spices in Turkish cuisine
Tokat grape leaves
He shows me the vines leaves which comes from Tokat. Again as it is the regional speciality the Tokat leaves are much more expensive than other kinds but they are known to be the best. He picks up some dried mulberries which he uses in a sauce and also to snack on. He shows me burnt pepper which is in produces in one region of Turkey called Urfa and can be hard to source.
Gullac
Gullac is a dessert brought out around Ramadan which is similar to rice paper layers with milk and pistachio and he describes as a milky baklava.
Fermented carrot juice
Candied chestnuts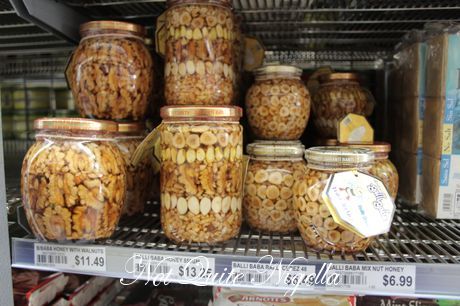 Honey nuts
He points out the Earl Grey tea. The tea here is so strong that it required 1 part of the earl grey tea powder, 1 part of another item and 1 part of another to make one pot of tea.
A secret to Turkish cuisine is the red pepper paste which lines the shelves in a vivid dark red shade. It is used like tomato paste and whenever a recipe specifies tomato paste, Somer will use half tomato paste and half pepper paste.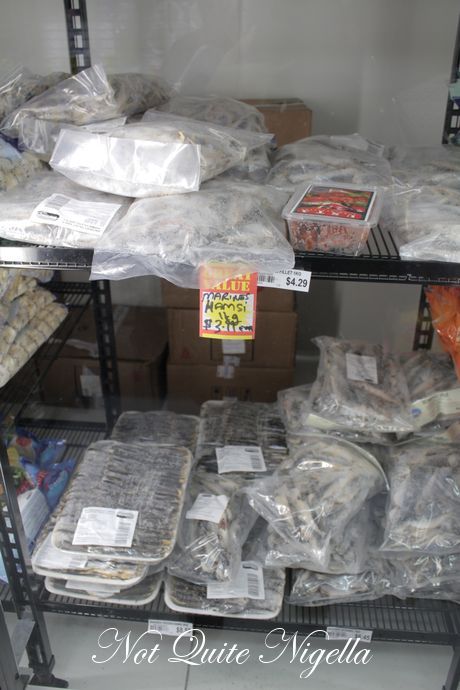 There are also Hamsi which are like sardines from the Black Sea.People make pickles and rice using them and even desserts although he confesses "I don't endorse that product" he laughs. There is also frozen do it yourself gozleme although Somer points me in the direction of the refrigerated gozleme pastry which I can use to fill with the fillings of my choice.
Cherry nectar for $1.49 a litre
I wish I had bought more of this yogurt-yum!
Pide on the left and traditional Turkish bread on the right
What is interesting to know is that what is commonly known as Turkish bread here isn't what is known as Turkish bread in Turkey. They have a regular bread loaf which is similar to a cross between a sourdough and Vienna bread. Our version is a pide which is only made for one month for Ramadan. Also the concept of dips in the mezze is not part of traditional Turkish cuisine. It is an adaptation for overseas countries.
And to leave you on a note of longing, Somer tells us that cherries and sour cherries are so plentiful and cheap in Turkey in the small villages that you only need to pay $2 and that will buy you as many cherries as you can carry!
Gozde
It's time for lunch and since I've already visited Mado cafe a few times we're going to Gozde. It's a modest looking shop, appearing a lot like an every day takeaway shop but the charcoal is hot and smoky and we choose some chicken, lamb and mince (kibbeh) kebabs with rice, salad and bread.
We sit outside at the tables and Somer tells me that he is lucky enough to have an all Turkish team in his kitchen that come from all of the major gastronomic areas of Turkey. His sous chef is from Bolu where there is the oldest chef's school much like the Cordon Bleu school of cooking.  Another chef is from Adana which is said to be the best place to train to be a cold mezze chef and another is from Gaziantep and another has a butcher father. Our ayran drink comes out. I must admit the first time I tried this drink I didn't like it much as it was salty and I kept expecting a sweet lassi but on subsequent times I really like it.
Our two plates of shish kebab comes out with a tomato and Spanish onion salad. I try some of the chicken, lamb and mince and the chicken and mince are my favourite. The lamb is a little tough and a bit muttony but the chicken is lovely and tender and the mince is deliciously soft and moreish. The pide bread is flatter but still soft and doughy.
I ask Somer about traditional Turkish meals and he says that they always start with a soup. And if you've got a hangover and you find yourself in Turkey with a hangover you may end up going to a place that serves offal soup from sheep's head  and mutton soup to tripe soup. These establishments operate from 12 midnight to 6am.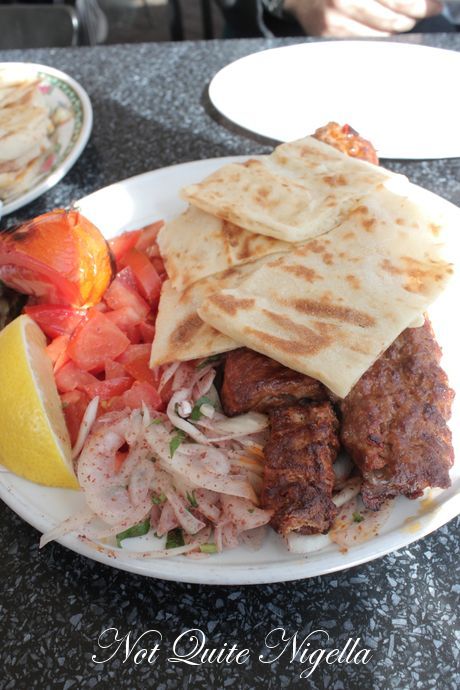 And if you aren't hungover soups of the non hangover variety are a yogurt soup with tarhana, dried capsicum and dehydrated yogurt and crushed wheat soup. Rather interestingly he tells me that during Winter, in small villages, not everyone has an oven, merely a stovetop. So to cook slow braises in the Winter, they take their clay pots filled with meats and vegetables to the baker who bakes it for them. There is also a "baker's cup" where they give the baker some of the dish once it is finished. The cost to them in minimal and poorer families often don't pay!
Gaziantep
Gaziantep is known as a gastronomic centre and is a large producer of pistachios of Turkey. It is also know for its foods in particular its baklava. We've all heard of sushi chefs training for 10-15 years but did you know that in Gaziantep people train for the same time to make baklava? A person can spend their first five years simply making the syrup. After that they graduate to the role of placing the pastry and if you are skilled, then you do the rolling of the pastry into paper thin layers-so thin that you can read a newspaper through it. This is the hardest job but often the most senior in the team is the baker as they've earnt their stripes by doing years of rolling.
The GPS leads us to a residential area of Auburn. I think that it has led us astray but no, we're visiting Mahmut who supplies all of the kebab shops in Sydney with the baklava and Turkish sweets. Not normally open to the public, the factory is in a building in front of his house and there is a wonderful aroma of butter and nuts as we walk towards it. I'm amazed. Inside the room are three staff members, two women and one man.
The mesmerising spinning machine
The women tend to the enormous spinning machine which pipes out thin lines onto the spinning wheel. Below the wheel is the gas supply and it quickly cooks the pastry which is called kataifi. They use a cloth bound tool to wipe the pastry strands off and pile them in an enormous pile to rest for 24 hours.
The paper thin pastry
I'm introduced to the man making the baklava who has rolled all of the pastry so that it is tissue paper thin. Formerly a skilled pastry chef in Istanbul he has come here to work. He sprinkles butter on top of the pastry and then layers on some breadcrumbs between the layers. Then some pure ground pistachios are sprinkled on top and then the pastry again. It will then be baked and then soaked in syrup.
Mahmut shows us the walnuts and pistachio nuts that he uses. They look amazingly large, flavoursome and fresh. He tells us in his broad Aussie twang that they come from Gaziantep. And some of the lemons on the lemon tree are used in the desserts too!
So that was the end of our tour of Auburn. I got to see and learn more than I ever would have wandering the streets of Auburn and I go to learn oodles of facts about Turkey and stuff myself silly on baklava and kebabs. What a nice day out!
So tell me Dear Reader, which cuisine particularly fascinates you?
Efendy
79 Elliott Street (Corner of Darling Street), Balmain, NSW
Tel: +61 (02) 9810 5466
RT Turkish Delight
3-5 Station Rd, Auburn, NSW
Tel: +61 (02) 9649-9787
Gima
31 -35 Queen St, Auburn, NSW
Tel: +61 (02) 9749 4588
Gozde
22 Auburn Rd Auburn, NSW
Tel: +61 (02) 9649 3036