_Vienna lights-powered by environmentally friendly LED
_
After a three hour First Class train ride  from Salzburg, we arrived at Vienna station. Gone was the village style charm of Salzburg and in it's place was the glamorous, brightly lit Vienna. We checked into our hotel called "The Ring" in the centre of Vienna and I set about checking out the room.
I've often wanted to have the job of hotel reviewer (is there even such a job or it just one of those fantasy jobs?) and I was pleased to see that it was a spacious room with a walk in wardrobe (so nice), sensor lights for the closet (me likey!), a very good music selection on the television, temperature controlled bathwater, nice slippers and my own coffee machine. Apart from that there was a donut in a box (a "Ring" get it? :P ) and a personalised note which was nice. I am lucky to score a non smoking room as my other travelling companions all get smoking rooms (and request to be moved). We spot Barbara Becker in the lobby and the list of celebrity guests is long.
On the way to the Christmas Markets we have a quick tour of Vienna. We walk past the Opera House where there is a production on every single night of the year. They have a total of 60 productions and each one is never repeated for more than 4 days in a row. A ticket can cost as little as E3 although this is a standing seat which is only sold a few hours before the event and prices range from E20 to several hundred Euros. Vienna is awash with tiny lights each resembling dazzling crystals and these are powered by environmentally friendly LED.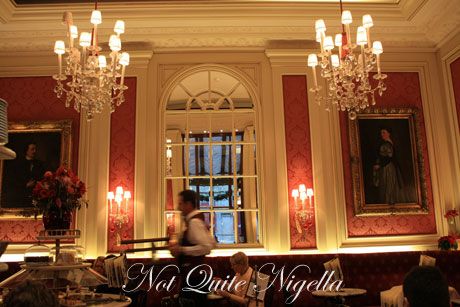 "We're going to start off tomorrow with some Sacher Torte, I hope that is ok?" our guide tells us and I grin broadly. How does "Hell yeah!" sound? Those that know me know that my schedule in Australia is strictly 9am-midnight. I get up at 8:45am and walk across the apartment and get started on the blog. So getting up early as I do here is harder for me but it's something that I happily do because I know that I have such fabulous things waiting for me.
Weiner Melange E4.70
The next morning we find ourselves seated in the famous Sacher Hotel, Vienna sitting at a table with a newspaper style menu. Of course we're here for the Sacher Torte but we start with the coffee. There is a popular coffee called a Weiner Melange which is an espresso coffee with foamed milk and cream.
Eispanner E4.70
I order something else to try another item and I order the Einspanner which is named after the horse carriage drivers of the same name. These are the drinks that they used to give them to keep them warm and is made of black coffee with whipped cream. The coffee is excellent indeed.
Sacher Torte E4.90
This is the cake that really brought this hotel to the world stage. It's a dense chocolate cake with apricot jam and this one is the original Sacher torte upon which others are judged. The Sacher Torte here has a layer of apricot jam in the middle and a layer on top between the icing and the cake (other varieties may not have this middle layer). Our guide Alexa points out that the whipped cream that is served in Vienna is never sweetened so that it doesn't over sweeten the cake. I take forkful and it's very good indeed. Moist and sweet and fruity it's immensely better than others that I've tried.
Sacher Punsch E2.70
Alexa's cake is the Sacher Punsch which is a smaller version of the Sacher torte although more moist as it contains rum. Some prefer this over the Sacher torte although both are good in different ways to me.
Altmann & Kuhne window
We stop at a chocolate shop Altmann & Kuhne that is famous for their miniature chocolates. They have a collaboration with Japanese artist Megumi  Ito whereby she designs bags for them. They proved such a hit that they went on to collaborate more.
Their boxes of tiny chocolate are incredible and the boxes are designed by Weiner Werkstätte which is a community of visual artists in Vienna. The prices for these tiny baubles of art aren't cheap though but they are adorable.
_Wiener Schokoladekönig display
_
The original buttons on top
Our next stop after that is Wiener Schokoladekönig who are famous for their button chocolates. Formerly a button shop they retained the same interior for the past 160 years while adding a glass display cabinet. Now that it's Winter they have a hot chocolate selection with spices of your choice whilst in Summer there is a chocolate fountain with fresh fruit.
Chocolate buttons
Demel cake display
Our next stop is the famous Demel shop which is where Sacher learned his trade as did others. They provide all the refreshments on Austrian Airlines flights and there's a fabulous array of cakes and boxed chocolates in amazingly elegant packaging (reminding me of Laduree's baroque style packaging). I buy some chocolates for gifts including a chocolate hazelnut bark and a milk chocolate bar.
Chocolate and more chocolate!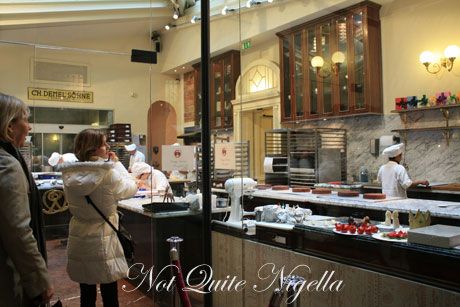 Gallery kitchen at Demel
There is also a gallery kitchen when customers can watch them weave their sweet magic and on display, there is a range of intricate marzipan pomegranates, a crown, horses and dogs.
Marzipan sculptures
Julius Meinl
We then venture in Julius Meinl which is the most exclusive delicatessen and food store in Vienna. It has a fabulous range of goodies both local and imported and I buy some delectable fruit jellies and contemplate the candied violets.
Chocolate truffle display at Julius Meinl
Alexa points out the Staud jams which are said to be the best in Austria and their apricot jams in particular are renowned. They are produced 80km west of Vienna in the Danube Valley.
Cafe Sperl (OK this didn't need a caption did it?)
Inside of Cafe Sperl
Cafe Sperl is a lovely coffee house that has remained unchanged since the beginning of the century where the introduced electricity. Apart from that, it's an atmospheric historic cafe where apparently Johann Strauss played his music. It's very smoky we don't stop here for coffee.
Standing up tables
Open faced sandwiches to take away or eat in while standing
A few hours after our morning tea and some walking around and shopping, we then at our lunch destination Zum Schwarzen Kameel (the Black Camel), one of the city's most well known places to eat. Open since 1618 (yes almost 400 years) they're famous for their open face sandwiches as well as elegant, well done Viennese food. We walk through the front section and it's packed with people pointing at the selection of the open face sandwiches. Each piece which half a slice of bread with a topping is around E1.10 and they come in a mouth watering array of toppings. People can buy their sandwiches and eat standing up at the pub style tables for a quick lunch on the go.
We sit down at the restaurant where they serve more substantial, high end traditional meals. Today we're having a degustation of traditional Viennese food and their version of items are said to be par excellence. Menu prices for mains range from E21-E39 with the most expensive being the beef, goose liver and truffles.
Open faced sandwiches
We start with the open face sandwiches. Everyone gets a different pair and I get the lentil and herring ones. Most of the toppings have a creamy element to them via mayonnaise. They're mouth wateringly good and dainty and I especially enjoy the lentil one (which I never thought to put on a sandwich but I'll try at home).
Sliced ham with freshly grated horseradish
We start with our first course, the pink hued hand carved sliced ham or Beinschinken. They're famous for this boiled ham with freshly shaved horseradish and have been doing this dish for the past 100 years. It's fantastic indeed with just the right amount of saltiness and flavour.
Pancake soup
Our next dish is the frittatenzuppe or pancake soup which is a light broth with sliced up pancakes. Having tried three in Austria this is my second favourite after the one at the Goldener Hirsch in Salzburg.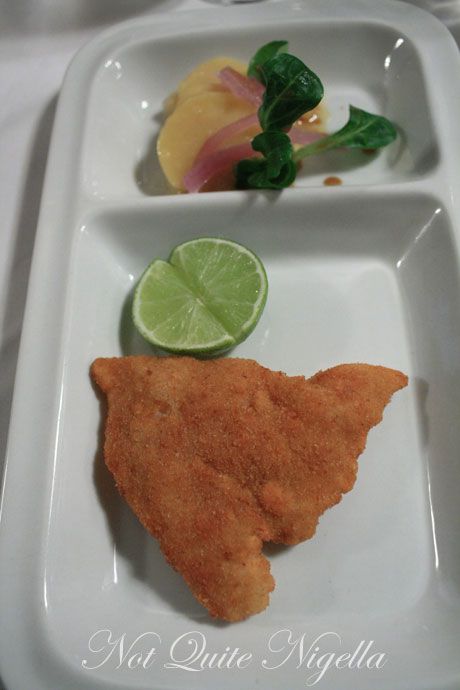 Schnitzel with potatoes
The schnitzel is our next course and Astrid explains that the air bubble between the meat and the breading is a good sign and is desirable in a schnitzel. It comes with lovely potatoes and a squeeze of lime and is delicious. I was only meant to take a few bites but it's all gone. Funnily enough the schnitzel doesn't appear on the menu as it's said to be a given that they serve schnitzel!
Goulash with dumplings
Our next course comes in a small copper pot and is a goulash with pasta dumplings. It's so moreish with the softer than soft meat and sauce and spongey little pasta dumplings.
Tafelspitz: boiled beef fillet
Chive sauce and apple horseradish sauce to go with the tafelspitz
We're now showing signs of extreme fullness by the time the tafelspitz arrives. It is a boiled beef fillet that needs to be very carefully cooked for 4 hours on a low heat with no bubbles in the water. It's served with a chive sauce and a apple horseradish sauce. I take a bite and it's lovely and tender and I particularly like it with the chive sauce which is similar to a mayonnaise or creamy hollandaise made with chives.
Pancakes with apricot filling
Dessert is up next and it's a treat: pancakes with apricot filling. They use the famous Staud apricot jam and it has to be said that these are absolutely gorgeous, especially the sauce on the top. I have to push this away from me physically so that I don't gobble it all down (there's a cooking class to come shortly and a big red carpet event tonight!).
Apricot sorbet with apricot jelly and whipped cream
Before we can undo our belts our last course arrives and it's a variation on apricots with an apricot sorbet and a apricot jelly with whipped cream. They're both gorgeous especially the jelly with the cream but if I had the stomach room I'd just go for the pancake.
We walk over to the department store (things in the city centre are about a 15-20 minute walk we find) where they are hosting an Austrian cooking class for us. We are a bit late and they have arranged for us to have a condensed version of the typical 5-6 hour cooking class. They hold English speaking classes for up to 10 people teaching them how to cook Austrian delights. Today we're making Orange Punsch, stewed beef shoulder in a red wine sauce with root vegetables, "napkin" dumplings and four types of Christmas cookies: crescent cookies, cinnamon stars, florentines, and date cookies.
Christmas cookies
I'm very happy having been away from a kitchen for a few days and I'm missing cooking. Thomas the chef shows us how to do the stewed beef shoulder and we make the cookies. Mine are the date cookies and the vanilla crescents. Some of my fellow travellers are less keen to get involved. Gerard the hard news man from the SMH finds it particularly challenging while Alison and Mike put in a good effort despite the heckling from Gerard who tries to avoid being sighted.
The Orange Punch is delicious-in fact given how cold Sydney has turned lately I can't help but figure that this will make an appearance several days this Winter. Lucky I have the recipe too! The beef and the vanilla cookies are delicious and we sit down to our third meal of the day although after the degustation we can't really make much headway into our meal as it's only a couple of hours after the end of the lunch.
No matter as we need energy for tonight's event, a Swarovski press conference and the opening of their new store. Swarovski is a big brand here in Austria and I dress up for the occasion in heels and a black dress and proceed to freeze my ass off (what we do to try and look glamorous). Each of us were gifted with a gorgeous pair of Swarovski sunglasses worth $800 plus prior to the event. The press conference is held in a large hall in the Vienna Library which is rather mind blowing to say the least. The room isn't open to the public and I spend much of the time staring at the lush, elaborately painted ceiling and walls. I watch the normally cool International fashion journalists busy snapping pictures of the ceiling with their phone cameras (ack my evening purse barely fit a lipstick-regret!).
After the press conference we are are handed cones of warm chestnuts and get into a horse drawn carriage throughout the city to take us to the Swarovski store to join European celebrities like Barbara Becker and Fiona Swarovski. After the obligatory red carpet pic (I say this like I've been on the red carpet before but trust me I haven't), we make our way inside and glasses of Moet with gold balls sitting atop the rim are served to us. We twist open the balls to reveal a sparkling Swarovski crystal inside. The end to a magical and food filled day!
So tell me Dear Reader, what is your dream job? Hotel reviewer? Celebrity? Or partner of a celebrity (let them do all the hard work ;) )?
NQN travelled to Austria as a guest of the Austria National Tourist Office and Emirates Airline.
Hotel Sacher Vienna
Philharmonikerstrasse 4
1010 Vienna, Austria
01 514560
Altmann & Kuhne
Graben 30
1010 Innere Stadt, Vienna, Austria
01 5330927
Wiener Schokoladekönig
A-1010 Wien, Freisingergasse 1
01 533 32 19
Demel
Kohlmarkt 14
1010 Wien
01 53517170
Julius Meinl am Graben
A-1010 Vienna, Austria
01 532 33 34 6000
Zum Schwarzen Kameel
Bognergasse 5, 1010 Vienna, Austria
+43 (1) 5338125
Kochen In Wien Cooking School
A-1070 Wien, ariahilferstrasse 12
01 228 99 00
Swarovski
Kärntnerstrasse 24, Vienna, Austria
01 3240000