Salzburg Christmas Markets
There are times when food blogging is quite the most fun thing on earth to do. It makes up for the times writing at all hours and never having a day off. One of these times was when I was invited to a media famil trip by the Austrian National Tourist Office  which was sponsored by Emirates Airlines. When I was first asked if I'd be interested in coming along to see the Austrian Christmas Markets in Salzburg and Vienna along with partaking of some gourmet goodies, I must have looked rather comically disbelieving. I may have even stammered in disbelief and after recovering briefly, I started packing my bag mentally in preparation. And a few weeks later when I saw the itinerary I was even more delighted. I may have squealed. And settle in for this story as it's a long story (but I promise a goodie!).
Decorations at Vienna Christmas Markets
This was my first time to Austria. Of course I have my friend M who is Austrian who has made me all manner of Austrian food from Pancake Soup to Malakoff Torte but to actually visit Austria was a thrill and not only was I going to participate in Austria's culinary and shopping tour, I was also going by Emirates Business Class and trying out the A380! My fellow travellers are Alison formerly of Vogue who now writes freelance for Get Up And Go magazine among others, Mike from the Daily Telegraph and Gerard from the Sydney Morning Herald along with Astrid from the Austrian National Tourism Office.
After a quick unpacking and refreshing, we all set off to check out the Christmas markets. Advent or the Pre Christmas season is very important to Austrians and starts four weeks before Christmas. There is a candle holder wreath with 4 candles inside and on each Sunday one candle is lit until 4 weeks later and all 4 candles are lit. There are many Christmas markets throughout Austria with a general rule that only good quality hand made items can be sold. Each market has its own personality and they each have special items that you don't see at other markets. The Christmas Markets also serve as a gathering place for locals where they can shop for Christmas presents and ornaments and also rather importantly, drink cups of hot Glühwein and Punsch to help ward off the chills and eat Christmas Cookies. During our visit it's unseasonably warm (which I'm rather happy about but we were all hoping for snow for some true winter photos) but the effect of the Glühwein and Punsch isn't lost on us. It's fabulously warming and even after we've left Austria I still have a hankering for a cup of Punsch at around 5pm (when we typically had it). So without further ado, here is your guide to some of the amazing Christmas Markets that we visited during our time in Salzburg and Vienna!
You can also skip through to the Christmas Market that takes your fancy from the list below.
Christmas Market at Cathedral Square, Salzburg, Austria
Christmas Market at Hellbrunn Palace, Salzburg, Austria
Christmas Market at St Gilgen and St Wolfgang, Upper Austria
Christmas Market at Vienna Town Hall, Austria
Christmas Market at Schoenbrunn Palace, Vienna, Austria
Christmas Market at Salzburg Cathedral Square
Our first Christmas Market and a truly lovely one at that. These markets are housed at Cathedral Square in the centre of Salzburg. They're very large with stalls selling all manner of items from beautiful glass ornaments, gorgeous wooden Christmas decorations as well as wooden children's toys (there was even talk of banning plastic items here). The prices are reasonable but depend on the stalls. Buying from the stalls here will inevitably save you about 20%-50% from buying from a regular store, particularly if it's a touristy store.
The Christkind
Whilst wandering around Salzburg we spotted these girls. They are the Christkind who are the child like bearers of gifts as opposed to Santa which is more an American or British tradition (and there is some opposition with Austrian traditionalists who don't want Santa to intrude or overtake on their Christkind). Every year the Christkind is chosen in a competition and they dress up in gorgeous outfits and parade around the city centre wishing everyone a Merry Christmas. One is the Christkind (in the gold dress) while the others are angelic types that surround her. The Chriskind usually has blonde hair and wears angel wings.
The Hot Chestnut Stall
Can you see the Krampus demons on the left made out of dried fruit?
Fresh fruit display
Adorable wooden toys
We're given an adorable walking wooden toy with our name on it as a gift from Gunda at Salzburg Tourism, the stallholder also stocks other great kid's toys all in wood. He will personalise them all at no extra cost which is a nice touch. There are amazing fruit and vegetables including fat white asparagus, berries and Krampus (the Christmas devil) made in dried fruit. Chestnuts, gingerbread, stuffed roast potatoes are also sold to help ward off the cold as well as Glühwein which is served in ceramic cups (no plastic here!). You simply return the cup when you're finished to get your deposit back.
Fat white asparagus spears
Chocolates, chocolates and more chocolates!
Reindeer ornaments
We have our first Glühwein and Punsch. There are a few varieties to choose from as well as a non alcoholic version. I choose the non alcoholic version (Kinder Punsch aka Child's Punsch). By all reports the Glühwein packed a punch with many of our grouop reeling and feeling like we've just had a hot toddy and wanting to curl up in bed. The Kinderpunsch is delicious and we sip from the cups warming ourselves up. It's a lovely introduction to our first night in Austria.
*Hellbrunn Palace Christmas Markets *
Leopold's Castle, Salzburg
Hellbrunn Palace Christmas Markets
* * Our trip to Hellbrunn Palace was during a day in which I knew we had a lot on. We were visiting Hellbrunn Palace for their Christmas Market and to see the famous pavillion from The Sound of Music. Originally the pavillion sat at Leopold's Castle but avid The Sound Of Music lovers were so eager to see the pavillion that they used to jump the fence. The security risk required it to be moved to another location and it was then donated to the city of Salzburg by three Harvard Alumni on behalf of the Salzburg Global Seminar who purchased Leopold's Palace and now use it as a seminar and conference centre.
The pavillion is the one where Liesl sang Sixteen Going on Seventeen and also features a scene between Maria and Captain Von Trapp. One used to be able to go into the glass walled pavillion until an 82 year old woman who was pretending to be 16 going on 17 lost her footing and crashed into the glass! The Sound of Music children are still great friends and Nicholas Hammond who played the eldest boy lives in Australia. Astrid tells us of how he talks about the still enduring bond between all of the children and in a crisis his fellow cast mates are the first people that he turns to.
We're given some time to wander through the markets and I marvel at the beautiful decorations and buy a few for myself and for gifts. Prices are amazingly good and I purchase two large wooden soldiers for €5 and €6 each and little wooden Christmas tree decorations for €1.50 and a set of 6 angels for €2.50. There are pine cone animals, knitted clothes, wooden birds, suspended Christmas decorations that jiggle up and down and red porcelain bells. One can even buy antlers! And what do you use an antler for? As a coat rack of course!
Antler anyone?
Cured sausages
Cured fish
There's all sorts of food from the omnipresent roasted chestnuts, marzipan shaped like potatoes, smoked sausages and some absolutely divine smoked fish. A man with a huge sword lures me over with some smoked tuna which is lovely. He then slices off some smoked salmon which is incredible and then lastly some smoked South African butter mackerel which tops them all. Soft and with the consistency of butter it is hard to describe and unlike any other smoked fish I've tried. These were my favourite markets of all with the beautiful setting, beautiful range of unique handicrafts and fabulously low prices.
Smoked fish
Marzipan potatoes
Gingerbread hearts
St Gilgen and St Wolfgang (the Lakes District) Christmas Markets
A view just before we reach St Gilgen
We're venturing out to the Lakes District today, a picturesque area about 30 minutes outside of Salzburg city and one where many Austrians holiday during Summer. Many years ago the Lakes District was made all the more popular as the Emperor Franz Joseph declared it his holiday place and wherever the emperor went, people followed. In the past few years they've started holding Christmas Markets in 3 of the areas, St Gilgen, St Wolfgang and Strobl and these attract masses of visitors from Austria and nearby countries with about 300,000 visiting during the pre Christmas advent season. There are 57 lakes in total in the Lakes District although some of the lakes are closer in size to a swimming pool.
Former Post Office where horses used to rest
Inside Dallman's-with vintage baking molds on the walls
The Mozartkugeln being made
After a short drive we arrive at St Gilgen which is one of the first areas in the lakes district to hold a Christmas Market. We walk past a huge building which used to be a Post Station and used to be the place where they changed horses but it's now a hotel. We go straight to Dallman which is a coffee and cake shop open since 1954 where Franz Mayrhofer shows us his handmade Mozartkugeln which are the special chocolates that are available all throughout Austria. He tells us of the history of the Mozartkugeln which started when Fürst the chocolatier first invented the sweet in 1890. In 1904 he went to the world exhibition in Paris where he won the Gold Medal but in his excitement he forgot to register it and now everyone can make them.
Mozartkugeln
At the turn of the century an item such as pistachio was exotic, today they mix 10% pistachio paste with marzipan. They then enrobe it with hazelnut nougat and then coat it with 56% cocoa dark chocolate by spearing it on a skewer so that it becomes perfectly round. They've been making them here since 1991 when Franz took over the tourism for this area and he brought in tours of Japanese who were eager to learn how to make these delicious little balls from scratch. For €28 they would get a lesson, hat, apron and a box of Mozart's travel cake as well as a diploma that certifies them to make Mozartkugeln, even 3 star Michelin chefs have signed up for this experience.
Mozart's Travelling Cake
And what is Mozart's travel cake? It is a cake rich in nuts, orange flavour, coated in marzipan and chocolate. It comes in a wooden box which was used to help transport the cake while Mozart and his sister were travelling through Europe. The cake was one that would last and the box would aid in that endeavour.
Cinnamon quill porcelain rocking horses
Cinnamon curl bells
We then stroll through the markets which are open on Thursdays to Sundays and see the various items on offer. There are soaps made from sheep's milk, a salt stand with cooking and therapeutic salts, a grilled open cheese stand with what looks like raclette. Alison and I look around and smell the strong scent of cinnamon and lo and behold there are cinnamon Christmas ornaments. There are rocking horses with cinnamon quills and gold bells decorated with cinnamon curls.
There is also an exhibition of cribs and nativity scenes and all are available for purchase.
Getting attention - you're doing it right
We end off St Gilgen with a visit to the Mozart Museum which is interesting because of its focus on Maria Anna (or Nannerl as was her nickname) Mozart. She was his older sister and also a gifted pianist but her talent was put in the background when compared to Wolfgang's. The building was built by Mozart's grandfather and Nannerl lived there for 12-13 years. Sadly there were no notes kept of hers as they suppose that they were all thrown away as women's work was not valued at that time although there is plenty of correspondence from Wolfgang complimenting her on her musical compositions.
Sausages, bratwurst and pretzels for "Bratwurst Sunday"
Luckily we're here on the first day of advent which is called "Bratwurst Sonntag" or Bratwurst Sunday where people eat Bratwurst and sauerkraut to celebrate the beginning of advent. The sausages and bratwurst are filling and the pretzel is fresh. I particularly love the speck dotted sauerkraut which we eat standing up at a table.
We then board a boat for a scenic ride across to St Wolfgang, riding on the top level would be a great idea if the wind weren't arctic and beating furiously. After a quick photo I go downstairs and wait in the warmth of the below cabin. It's packed and Eva explains that sometimes you cannot even move on the boat. She points out the deepest part of the lake where the Red Bull cliff diving takes place (Red Bull was invented by Austrian billionaire Dietrich Mateschitz).
Eva shows us these statues which a local artist produces every year. The town of St Wolfgang buy these statues from him and exhibit them at events like these.
Suppenkaspar stall
Dumpling and suppenstrudel stand
We arrive at St Wolfgang where the markets are huge with a massive variety of food. There's Suppenstrudel which is a strudel that you slice up and place in a bowl of soup, leberknodel and kaspress knodel (dumplings), a stand entirely devoted to venison and venison products. Also there's a suppenkaspar stall which sells soup in hollowed out bread rolls. The name Suppenkaspar is a joke as it is a story about a child that didn't like soup so he starved to death. They have three flavours: garlic, pea and sausage and potato. All are rich, hearty soups.
Horseshoe maker
We pass a horseshoe maker who stops and poses for photos. It turns out he has lived in Australia and when we ask him where he replies "Albury Wodonga" in a perfect Australian accent. There's an automated dumpling and sauerkraut stall which has everyone transfixed. You put in the coins and a couple of minutes later a bell rings and a drawer pushes out and your dumplings are ready! We walk past the oldest gingerbread maker in Austria that has been making gingerbread since 1429. The drawings on the outside of the building are Bavarian in style because the owner married a Bavarian woman.
_The oldest Gingerbread maker _
Venison stall
Children's stall
There is a cute stall staffed by children itself a smaller version of the adult's stalls where they sell the Kinder Punsch and Glühwein for kids as well as icing sugar dusted donuts. We stop off at St Wolfganger Lebkuchen which is a gingerbread store where we get the chance to decorate our own cookies and buy some goodies. We stop at the Kasspatzel stand and Astrid buys some kasspatzel for us to try. It is similar to a macaroni cheese with fried onions on top, spatzel being a pasta gnocchi type of noodle. We leave during the beautiful "Blue Hour" (when everything looks blue) exhausted with lots of goodies.
Kassspatzel
The divine Blue Hour
Vienna Christmas Markets - the largest in Austria
Tissue box decorating
With over 140 stalls, this is the largest Christmas Market in Austria. After arriving in Vienna from Salzburg we take a scenic walk around the city. It's quite different from the chocolate box beauty of Salzburg but still not without its charm. We reach the Vienna Christmas Markets which is situated in front of the Vienna Town Hall. Our guide Linda shows us one of the unique features of this market: the Christmas workshops. Children in Austria are encouraged to make gifts for Christmas but parents nowadays don't have time to make these with them so they can take them here to make items. For €3 they can buy a voucher and the child can choose which item they want to make: candle decorating, necklace making, tissue box decorating, vase making, picture frames or my favourite the cookie decorating.
Waffle** **stand
The famous Punsch stall
Everyone's favourite part of the Christmas markets is the Punsch or Glühwein and the stall here is said to have invented Glühwein and every year makes a different flavour. This year's is Chocolate, rum and coconut which I try and it's absolutely delicious. I don't even feel the headache and cheek flushing that I normally do when drinking alcohol.
Gingerbread
Donuts
As this is the largest Christmas Markets in Austria it is inevitably more commercial but it also means that the range is larger including a lot of food. Despite the fact that we have a dinner to go out to soon, some of us wistfully look at the food available and easily imagine going here to meet with friends, shop and eat. That's when the secondary stomach would come in handy of course. The range of filled donuts is larger and I spy this rather interesting looking concotion - 6 donuts on a large stick with pieces of apple in between and dusted with icing sugar. And you better believe that I bought it and yes it's so very, very good despite being a day's worth of calories on a stick.
Donuts on a stick _€2.80_
I longingly look past the pastries, cakes and gingerbread and immediately know what I'll wish for this Christmas.
A second stomach.
Pastries Galore!
Schoenbrunn Palace Christmas Markets
Last but not least is the Schoenbrunn Christmas Markets which is only a few stops away from the city centre by metro. Schoenbrunn which means "Beautiful well" is one of the most picturesque markets due to the setting right in front of the Palace. With breathtaking manicured gardens we take a stroll through the Palace and visit the Imperial Apartments. Photography isn't allowed but you can see some photos on Schoennbrunn Palace's website which show the lavishness of the apartments (although seeing them up close is much more wowing). In the gardens, our guide Alexa tells us that in March to October there are train rides that go through the grounds, she also points out the area in which they give Apple Strudel baking classes. During the Spring and summer months there is a maze for you to get lost in.
Christmas baubles
Wooden angels and nativity figures
It's night-time (which falls at about 4pm during Winter) by the time we head outside. The lights are on and they look spectacular, particularly with the palace in the background. I buy some adorable gingerbreads. There are also blue and white porcelain decorations as well as cinnamon curl decorated bells, hand painted baubles and interesting spiky glass ornaments.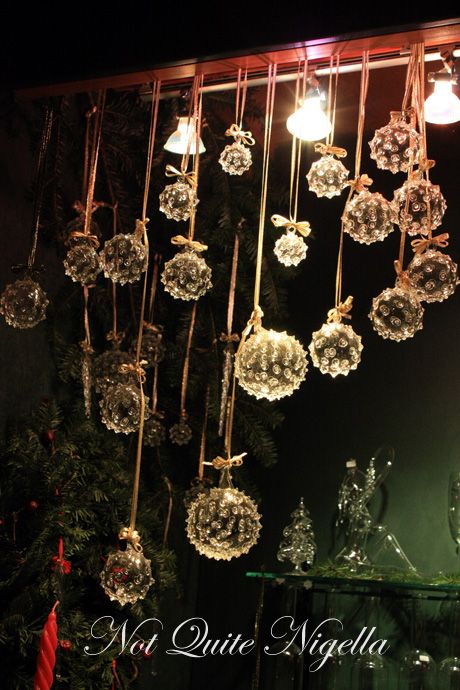 Food wise there are custom filled donuts with a choice of filling such as chocolate, vanilla and apricot. There is freshly made crepes stall and a stall which is flooded with customers and 4 people deep. I manage to squeeze my way through the crowd as I am curious to see what is so popular and see that they sell ice cream cones topped with marshmallow and chocolate (Schaumbecher). The chocolate marshmallows are wonderful here and very freshly whipped and unlike the ones that sit on a supermarket shelf. I buy a Punschkrapfen which I adore as they're icing coated sponge cakes with a rum soaked layer in the centre. There are huge pretzels in a variety of flavours and roasted chestnuts.
Punschkrapfen
Despite seeing so many Christmas Markets, I still got a thrill when we visited a new one as I knew the shopping would be different, the food would be different and of course there was the insatiable urge come nightfall and below 10°C weather to get a mug of Gluhwein or Punsch.
The Christmas Markets are held throughout Austria in the 4 weeks prior to Christmas Eve.
NQN was a guest of the Austrian National Tourist Office and Emirates Airlines