It's our final day exploring the regional "hidden" areas France and today's train trip with Rail Europe takes us to the picturesque town of Vannes and the Île-aux-Moines where we will have lunch before quickly exploring Vannes, a beautifully preserved Medieval town. By now our little group of travel writers have become familiar with each other and get along well and the trip from Nantes to Vannes is quick on the TER and over before you know it at just under two hours.
Vannes, a charming walled city on the Gulf of Mobihan was founded over 2,000 years ago and sits in the North West of France in the Brittany region. It was never bombed in the second war as the town was never a target so beautiful half timber buildings still remain alongside Gothic style buildings including Vannes Cathedral. In the town, the Brittany region's products are proudly displayed (their renowned salt from Guerande and creamy Brittany butter) and the street signs display both French and the native Breton language (Breizh is Breton in the native language).
Breton crepes are legendary and we simply must stop by Crêperie La Place situated near Vannes Cathedral. Breton crepes are large, paper-thin and light as air with delicately crispy edges. Spread with plenty of butter and a drizzle of filling they're folded over to make a package. We order three to share among us including the salted caramel, creme de marron or chestnuts and a dessert crepe. A simple butter crepe starts at €2 up to €6.80 for dessert style crepes.
Caramel au beurre sel "Maison" €4
It may look underwhelming at first but one bite into the crepes send me into raptures. My favourite is the salted caramel which is simple, divine and perfectly balanced. We admire the the thinness of the crepe and the balance between sweet and salt.
Creme de marron €4.20
The creme de marron is filled with pockets of sweetened chestnut puree and is delicious in its simplicity.
Le Breton €6.50
Megan's choice, a dessert crepe, this is heaped with soft poached apples, salted caramel "Maison" and a rich vanilla ice cream. The caramel lends the apples a richness as does the very rich vanilla bean ice cream which is a yellow shade from the Breton cream.
We make a purchase for the train ride home at Olivier Le Brun. Our first purchase is a kouign amann, that addictive, divine caramelised butter pastry. You can buy large kouign amanns or mini individual ones as well as huge range of buttery pastries in a rainbow of shapes. And in the Breton language kouign means cake and amann means butter so you get the idea that it is buttery good.
France is one country where I can always find my name ;)
Of course we can't help but buy a Gâteau Breton, the famous Brittany butter cake. This is a cake that I've made in the past which is really more like a crumbly, buttery shortbread cake that a regular cake.
At Tapenalgue I buy a small tin of Le Pâté Hénaff which comes in a ring pull can so that we can eat it on the train. Beautiful nougats are sold by the cake slice proportion. There is no shortage of food related temptations in Vannes and the proud Bretagne people consider themselves almost a separate country to France.
All of the flowers are made of sugar!
Lunch is eaten on the Île-aux-Moines, a short five minute ferry ride away. The island itself is small and compact and about seven kilometres from the top to bottom. Cars, trucks and tractors drive at frantic speed down the main road and you best get out of their way or risk being picked up in the jaws of a tractor.
Our meal is at the Hôtel Restaurant Le San Francisco and we watch as plates of split lobsters come out dressed with salad. We order from the €25, three course set menu. The view is stunning, the blues particularly vivid and you can choose to eat inside after passing the enormous stuffed bison (stop and pose with him if you like ;) ) or sit outside on the terrace if it is a nice day.
Crevettes Guises
The prawns are tiny, soft and juicy with a naturally sea salt flavour to them.Superbly fresh, they're small enough to pop into the mouth and eat, shell and all (prawn heads are so tasty!). Or you can peel them and for your patience, be rewarded with a sweet, succulent demi mouthful of flesh.
Terrine de campagne
The terrine is a strong liver based terrine with soft, chunks of meat in it. It is paired with a cornichon and some salad.
Filet de rouget, puree of butternut
The rouget is pan fried, skin on and served with pureed butternut squash and a dressed green leaf salad.
Pave de bouef Charolaise, sauce Bearnaise, frites maison
I try some of the steak and it is cooked medium rare and served with hand cut fries.
Riz au lait, confiture abricot
I love rice pudding and this was a definite favourite. Strong in vanilla it had a sweet apricot puree and finely chopped pistachio praline sprinkled on the top. And I finished every grain!
Profiteroles
When you travel with people for a week, you tend to share things and I tried some of the profiteroles stuffed with a creamy very vanilla ice cream and drizzled in hot, liquid chocolate sauce.
To work off our lunch, we go for a walk around the Île-aux-Moines where we spot a colourful array of letterboxes.  Many families are fishing families and they paint the shutters what seems to be a regulation blue to remind them of the sea. We're told that the island and Vannes is also a popular destination for Paris based families to holiday.
All images taken on a Sigma 17-50mm F2.8 EX DC OS lens
Making our way back to the station, we board our final train. The TGV train that approaches us was designed by Christian Lacroix and the first class interior is well compartmentalised for privacy. It is decorated in shades of vivid green and purple with fat, comfy slightly reclining beds while the second class carriage is done in shades of red and orange.
The bar and food section where hot meals, soft drinks and beers are served is located near the second class carriage and we buy some biscuits to have with the pate. I know the French will probably kill me for saying this, but the pate had an almost SPAM like quality and my travel journalist companions decry the "cat food" smell when I open up the tin.
The pate? Well, it wasn't quite as popular and I don't wish to offend but someone did mistake it for spam...The  kouign amann are wonderfully good, with that caramelised butter and pastry quality that makes you forget any sort of diet (although I'm glad that we got the mini version and not the large as that may have ended in a new dress size). As the train pulls away and gathers speed and takes us to Paris, we farewell regional France.
So tell me Dear Reader, have you ever travelled with strangers and if so, did you get along? And have you ever kept in touch with people that you've met overseas?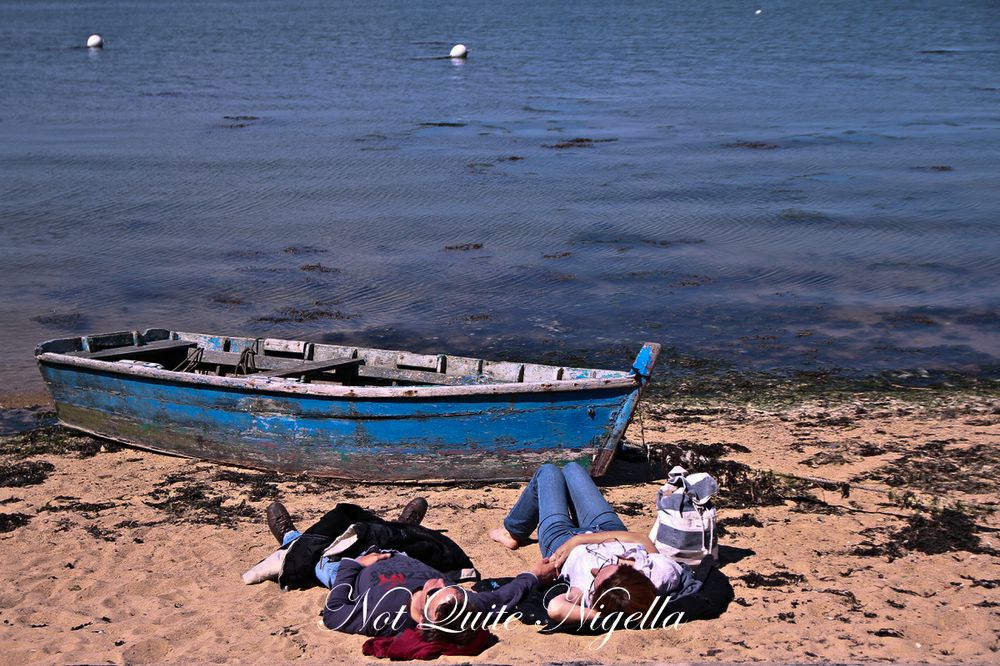 NQN travelled as a guest of Rail Europe.
Rail Europe
Rail Europe is the exclusive distributor of the France Rail Pass in the world. www.raileurope.com.au
Creperie La Place
3 place henri IV, Vannes, France
Olivier Le Brun
9 r Saint Vincent, 56000 Vannes, France
Hotel Restaurant Le San Francisco
Le Port, 15 Rue Benoni Praud, 56780 Île-aux-Moines, France
Te;: +33 2 97 26 31 52