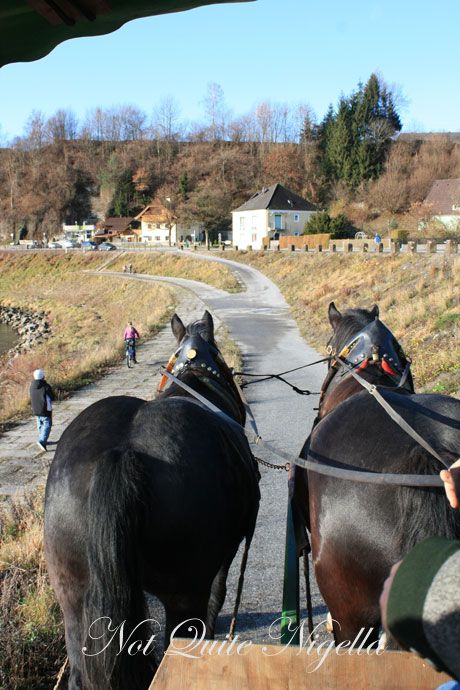 Today started with a hijacking. I've never been hijakced before and never did i think that it would be by an Italian women's travel group. We were on our way to Oberndorf to see the Silent Night Holy Night chapel when a talkative bunch of women boarded the train. We got off and proceeded to our waiting horses and carriage only to find them piling on board after us. Not wanting to deny fellow tourists a ride we let them on and thus our short lived hijacking saga began.
We took the scenic five minute horse ride through the narrow streets and past the river-literally on the other side of the river was Bavaria, Germany. We're trying to avoid being lumped together with the other tour groups so we move quickly and visit the Silent Night Holy Night chapel where the famous Christmas Carol was composed.
On December 24th 1818 at this site Silent Night was performed for the very first time. The lyrics were written by Joseph Mohr who served a a parish priest. Christmas meant something different back then. It meant that people would gather and it would also mean that they would eat better food but this year their organ had broken so they needed to find different music to play.
Mohr had written a poem which was the words of Silent Night and he gave this to Franz Xaver Gruber who was a teacher and organist and that afternoon on the 24th of December he write the music for it. 1000 people first heard them singing it and in 1839 it was brought over to America where it became popular very quickly and it is now estimated that it is sun in 400 different languages. In 1906 the original St Nicola church was burnt down and in 1937 this memorial chapel was built instead.We've arrived just in time as two singers playing Mohr and gruber sing us Silent Night. With this cue, two singers enter and sing us Silent Night.
After this we have a look at the museum and have a guided tour (single entry is E2.50 but does not include the guided tour) . Christmas cards can be purchased here and held until the special stamp date of December 8th, 2009 arrives and they will send it off for you with their special stamp.
We have some Punsch (what we rapidly learn is de rigeur here in Winter) to warm us up and some Christmas cookies which are vanilla crescents (delicious), fragrant cinnamon stars, shortbreads and a marzipan jam cookie. I buy a whopping great chocolate coated apple for E2 and a cone of warm roasted  sugar coated hazelnuts.
Upside down Christmas Tree
Our next stop is a ride to M32 a modern and traditional restaurant at the Museum of Modern Art on top of Salzburg which has a stunningly unbeatable view of the Salzburg. We go past the hotel Schloss Monchstein which is where rumour has it Cameron Diaz and Tom Cruise stayed just a few days before filming their movie Knight & Day (nothing to do with Kath & Kim :P ). The building is built into the mountain and one can take the elevator up to the top.
It's a stunning space with a bit of old and a bit of new and a bit of rustic Austria. the old is the Baroque style chairs, the rustic is the 500 antler lighting fixture (don't worry they drop the antlers, deers weren't killed for the lighting fixture ;) ) and the new is everything else as it is after all the Museum of Modern Art.
We order the carrot and ginger soup which is superb with just the right amount of ginger and seasoning and is wonderfully smooth. It is so popular that Nicolas Cage loved it so much that once he tried it he asked for it every day. the bread it has to be said is wonderful and fresh and paired with a very fruity Austrian olive oil.
Zondro with seasonal vegetables E18.50
The fish is crispy on the outside and very much cooked through although not dry. Underneath, there is thinly shaved in season pumpkin with the skin on and a creamy emulsion. It's an example of modern Austrian food where they take traditional ingredients and rework it so that it's lighter.
Double sided strudel
Our dessert is a two sided strudel, on one side of the apple strudel and on the other side is a apricot and curd strudel which is my definite favourite with just the right amount of sweetness and an almost syrupy texture to it. We see other diners with High tea type stands and they explain to us that it's actually breakfast served on these with a layer of sausage, eggs and other breakfast goodies.
After our strudel our tour guide Martina takes us around the old city of Salzburg. We see an amazing cathedral with it's Italian detailing as Italian workers were hired to complete this cathedral which only took an amazing 14 years (the 75 metre high roof at one end is breathtaking).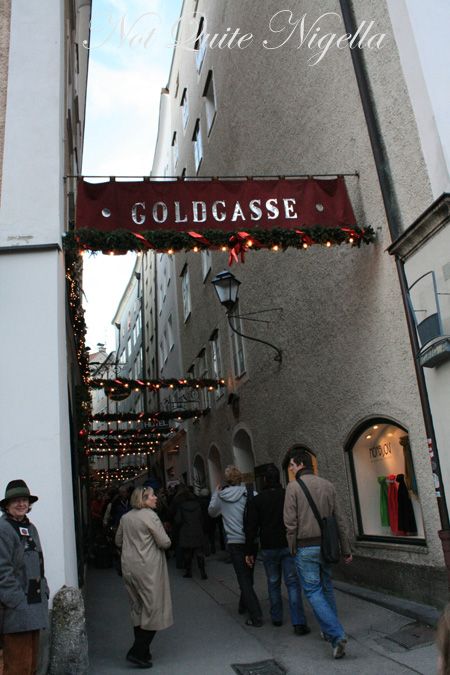 We walk down Gold Gasse which is a narrow street with lots of unusual little shops.
Scio Specereyen's famous Nipples of Venus chocolates
Martina shows us the famous Venusbrustchen or Nipples of Venus chocolates. The man who owns the store lived in Mozart's former house before it was donated to the city and he revived the nipple chocolates which were featured in the film Amadeus. I can't resist and I buy some for Mr NQN. It's a chocolate coated chestnut and nougat paste and it was said to be enjoyed by Salieri himself during Mozart's time.
We take a peek at Salzburg's oldest bakery "Stiftsbäckerei St Peter" which was run by monks and dates back to the 12th century. At first I think the heavy metal door is locked and we've missed out on this and then a friendly face opens the door from the other side and lets us in.
To this day, they use the same ingredients and techniques with flour sourced from the Salzach River Mill, wood for the wood fired oven from the forests of the St Peter Monastery and water from the Alm Canal. The bread is baked in a  log fired oven.The main product is a brown bread using only rye, water and salt from a natural leaven. The bread is often sold out by the afternoon so get in quick (and don't be afraid to push open the door). There is also a television that plays a video in English if you are interested in the process of bread making here.
The brioche is butter and milky, soft and delicious and the fruit bun is heavy with lots of fruit.
Nearby is St Peter's Cemetery where the graveyards and tombstones are ornately designed iron heads and it is here that one of their most famous people are buried, Mozart's sister along with Michael Haydn (brother of Haydn).
We visit the fortress which is accessible by furnicular railway and look at the incredible views. There is a torture tower (haha now closed) and a marionette museum.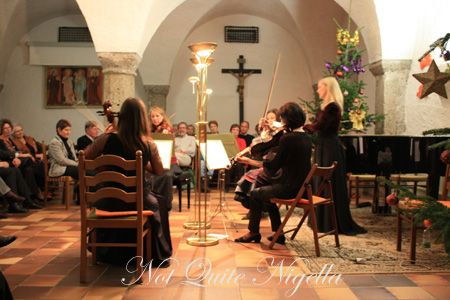 We finished off our tour with  an intimate Christmas concert at the Roman hall of St peter Monastery which concludes with our course their lovely version of Silent Night.
Our evening twists us again in the direction of traditional Austrian Cuisine when we visit the local Salzburg brewery "Die Weisse" for a full blown traditional Austrian affair. Smoked engulfs us when we enter,Austria is still a smoker's paradise and the crowd looks to be almost all locals. Gunda our host for the evening who is from Salzburg Tourism  tells us that she has ordered us a platter of Austrian specialties. A quick glance at the menu and there are provocative pictures of girls and boys and much legs and cleavage and sayings such as "Pickled make me happy". While this arrives we take to the selection of fresh bread on the table and the soft pretzel is lovely and fresh with flakes of salt.
To drink I start with a Frucade drink which is like orange juice mixed with lemonade. The boys order the wheat beer which they adore which is brewed on the premises and can be ordered in the bottle or on tap.
Sauerkraut
Our meaty main!
The sauerkraut and sauces arrives, a tomato based sauce and a sour cream sauce which is a bit mayonnaise like. And then the platter is set down on the table. My eyes widen and I may have even said "holy macaron" under my breath. It's a huge tray piled high with all manner of good looking food. there are pork ribs, roast pork, gigantic softball sized knodel (bread dumplings), chillis and onion rings. Gunda serves us and we help ourselves to the sauces too.
The roast pork is delicious and the knodel are a fitting match for it especially when a little chilli and sour cream sauce is speared alongside it. The ribs are a little chewier but they're tasty and we all resort to picking them up with our hands . The onion rings has an unusual spice added to them much like cardamom which does taste rather odd with the onion ring admittedly. And do we all go for seconds? Absolutely yes
Another table orders a serve yourself keg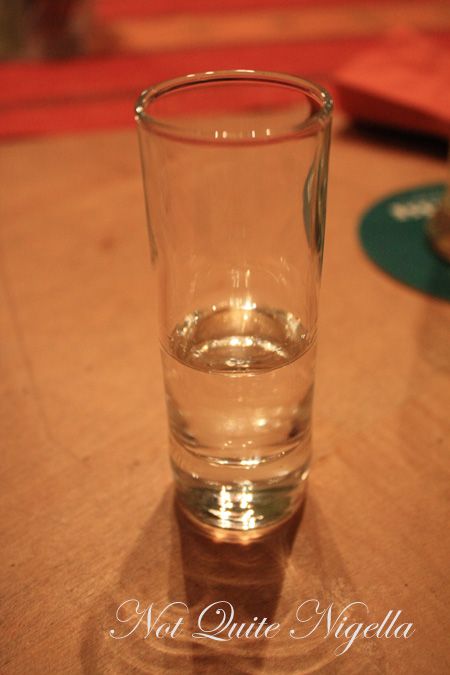 Beer Schnapps
No meal is complete without some schnapps or so they tell me and this is no ordinary schnapps, it's a beer schnapps brewed on the premises. It's about 40% proof and not too bad at all and even from someone that doesn't drink much.
Gunda asks if we are ready for dessert. Everyone begs off but me and we order the berry dumplings. We're waiting and the room fills up quickly with smoke. Even though we are i a non smoking section, everywhere is joined by open doors. We wait, it seems that the kitchen has been waylaid by the Saturday night dinner rush and after I can't take the smoke anymore (we've got a big day ahead of us) I reluctantly tell Gunda that I have to dash as the smoke is starting to take effect and I know that we have a big day ahead. With a heavy heart I kiss my cherry dumplings goodbye!
So tell me Dear Reader, do you mostly take food photos or do you also take photos of the sights when on holiday?
Silent Night Memorial Chapel
Oberndorf, Salzburg, Austria
M32 Restaurant
Mönchsberg 32, 5020 Salzburg, Austria
0662 842220451
Stiftsbäckerei St. Peter
Kapitelplatz 8, 5020 Salzburg, Austria
http://www.stiftsbaeckerei.at/ (in Austrian)
Scio's Specereyen
Sigmund-Haffner-Gasse 16, 5020 Salzburg, Austria
Die Weisse
Rupertgasse 10/Virgilgasse 9, A-5020 Salzburg, Austria
View from the Fortress