"Arrggggh what the....?"
"Little buggers!"
"F#@$%*S(SFSDF!!"
These are just some of things that you may have yelled when making macarons. These temptingly sweet, heavenly little morsels have caught the imagination of sweet lovers worldwide over the past year or two. However making them is another matter altogether. Today, on this cold, early Sunday morning, Mr NQN and I are attending the brilliant and brand new macaron masterclass at Baroque Bistro!
"Help yourself to the macarons, just open up any of the fridges and just try them all" Jean-Michel Raynaud the production and business manager of Baroque says (and our teacher for the day). Our eyes widen in excitement and what is a bistro kitchen suddenly gets turned into a Willy Wonka Wonderland of sugary confection where one can pick macarons from trees and giant macarons grow like sunflowers in the ground. Or maybe that's just my imagination :)
Jean-Michel Raynaud
We start with a coffee, necessary for the 9am wakeup you do understand and we follow Jean-Michel and Puti who makes all of the macarons here into the fabulous open kitchen where diners outside can peer inside and watch proceedings. It's open as a bistro while we are there but we are taking over one part of the kitchen. We have  a class of seven today including the lovely Ja from Beansprouts Cafe as well as her friends who are pastry chefs who want to master the temperamental macaron and other people who are just fascinated by the little beauties.
Jean-Michel starts off by explaining what we will be doing. Formerly of Planet Cake and Sweet Art he hails from France and has baked cakes for a slew of celebrities including the wedding cake for Bec & Lleyton Hewitt as well as cakes for Nicole Kidman, Delta Goodrem and even Bob Hawke. His area of expertise was pulled sugar as well as designing and decorating cakes.
The macaron piping machine
Jean-Michel hands us a folder with notes, tips, instructions, hints, troubleshooting, information on tools and recipes. Today we will learn how to make macarons using the Italian meringue method which they prefer as it produces a more stable, reliable macaron. Here at Baroque they have an Italian piping machine (originally built for biscuits) which they use for macarons. Our batches are much smaller than the typical 3kg lots of Tant Pour Tant (the almond meal and icing sugar mix) that constitute one lot for them.
They make 8,000 macarons a week and the two things that one needs to look for with their macarons are:
Step 1 - A smooth top and shiny finish
Step 2 - Feet. Ahh the dreaded feet
The top 10 things that I learnt were:
Step 1 - Use old egg whites for best results. Older egg whites are less elastic and more watery which means that they take longer to whip up and therefore there is a less risk of overbeating the whites.
Step 2 - Even though you have beat up a meringue into soft peaks, for best results and so that it doesn't look so dome shaped and is flatter with better feet, you knock back the macaron mixture.
Step 3 - With the Italian meringue sugar syrup, it is possible to "de-cook" the sugar if your sugar has gone over a certain temperature by adding water into the syrup. Simply letting the temperature drop back down to the desired temperature will not suffice.
Step 4 - Colours are best added during the sugar syrup stage, particularly liquid colours as they can introduce additional liquid to the mixture which is not desirable. Fresh flavours are easily used instead of flavour essences eg. passionfruit pulp cooked down.
Step 5 - Humidity, particular the relatively high humidity in Australia (which is often 50% and above compared to France at a 35% maximum) is often the main culprit for failed meringues and hard meringues. To get rid of any excess moisture:
a) dry out your almond meal in the oven. It is always good practice to dry the almond meal out in a 50-60C oven for 10 to 15 minutes.
b) grind your own almond meal from whole almonds
c) prop open your oven while cooking to let any steam escape with a metal tool or some matchsticks as this can also cause hollow macarons
Using your fingers to rest the piping bag
Step 6 - Piping is the most important skill of macaron making. Do not overfill the piping bag especially if you are a beginner at piping (a bag no more than half full is best). If you are right handed, hold the piping bag in your right hand and use your finger on your right hand to rest the bag against the parchment. Pipe vertically down slowly and then "cut" the end by not pressing and then swiftly jerking the tip up. Piping does get easier with practice! :)
Step 7 - Timing is important with an Italian meringue. Start beating your egg whites as soon as the sugar syrup starts rapidly boiling.
Step 8 - Macarons should rest for between 1-4 days waiting time once filled. This is so the meringue can suck the moisture back into the shell giving it a luscious melt in the mouth texture as well as flavouring the macaron shell with the filling flavour as all macaron shells are plain in flavour. As buttercream has no moisture in it, a buttercream filled macaron needs to rest for longer i.e. 3-4 days whereas others need 1-2 days.
Step 9 - If you were to want to add a liqueur like Grand Marnier to a ganache filling, you would heat it in the cream so that the alcohol cooks off as it can eat at the ingredients in a macaron.
Step 10 - You can also add other nuts apart from almonds. As different nuts have different levels of oils, it is best to substitute 20% of the almonds with nuts such as hazelnuts or macadamias. You can also sprinkle them on top but you may want to toast them before you sprinkle them on top as the oven temperature will not toast them.
We start by making the ganache fillings. Jean-Michel recommends doing the fillings and the Tant Pout Tant (TPT) and mixing that up with some egg whites the day before as it is easily done ahead of time and creates less work and stress in the kitchen when baking. He demonstrates making a batch of each of the fillings before we make some ourselves.
Flat butter-for croissants
We start off making a dark chocolate ganache made with 53% chocolate. The lower the percentage cocoa content then more likely it is to bind with the cream as high cocoa content chocolate has less cocoa butter and can cause the ganache to split. We heat cream up until boiling point and then quickly stir 3/4 of it into a bowl of dark chocolate ganache.
We're careful not to create bubbles and once it has combined we add the rest and then add the butter ensuring that this is done quickly so that the butter has time to melt. You can also heat the butter with the chocolate but it's best not to boil the butter as it will clarify and separate.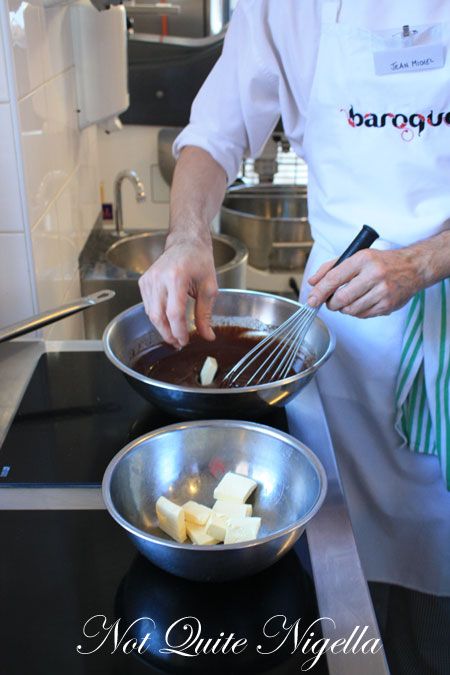 The salted caramel filling is an interesting combination of caramelised sugar, butter and heated cream. This is then cooled in the fridge. In between this can help ourselves to any macarons and order tea or coffee.
Covering the ganache with cling wrap
Sugar Syrup
We do some piping practice before lunchtime where he shows us how to make meringues and shows us how to decook the sugar syrup and shows us what to look for and what not too look for in your meringue mixture. We practice making macarons using a stiffer, fluffier mixture than the desired one as it's better for practicing although we will be making our own after lunch with the proper consistency.
Croque Norwegian $14
We break for lunch where we sit outside and order what we would like from the menu. As we are a little pressed for time, we order simple things like Croque Norwegian which has a divine onion bechamel, smoked salmon and is buttered and toasted on the outside.
slow cooked eggs, smoked salmon, spinach and hollandaise $19
We also order the tartine of slow cooked eggs, smoked salmon, spinach and hollandaise which is served on a split, buttered baguette. It's not bad but the Croque Norwegian has stolen my heart.
Croque Madame
We chat to Jean-Michel about his time here and his previous time working at Planet Cake and Sweet Art. Funnily enough when we ask him what he likes to eat he tells us that he likes biscuits and lollies-he says that he can eat an entire packet of biscuits  but not the macarons as he sees them day in and day out. Which brings us to the question, why are most pastry chefs so skinny? Does one have to become a pastry chef in order to be around sweets and stay skinny? :P
Back to class!
Pouring the egg whites into the TPT
Our lunch eaten we go back to the kitchen where our teas and coffees are waiting for us. We mix the TPT with egg whites vigorously until we get a smooth paste which we then cover with cling wrap (directly on top of the surface to avoid drying out) and left at room temperature.
Tucking the bag into the nozzle
Jean-Michel warns us to have our piping bags ready as it's a fairly quick process from here. Preparing a piping bag, you use a number 11 nozzle and slide it into a large piping bag. As the number 11 is fairly wide you want to tuck the narrow part of the plastic piping bag into the piping tube to avoid it coming out when you fill the bag with macaron (clever trick!).
We then place our egg whites in the mixer and then set out sugar syrup to boil. When the sugar syrup reaches 115C start whisking the egg whites in the mixer. We want the sugar to reach a 118C temperature and whilst you can tell this with a sugar thermometer he shows us how to do this with dipping our fingers in the sugar syrup. Yes! Seriously, it is possible to stick your little fingers straight into sugar syrup if you're fast enough. I was too chicken to do this.
The key is to soak your hand in some cold water and then quickly dip them in and snatch a little bit of syrup and plunge this into the jug of cold water. If it is a soft pliable ball then that is ready to add to the meringue mixture which is slightly whipped further than soft peaks but not until the stiff peak stage is reached.
The sacrifice
Mixing the meringue shell mixture
And then deflate until glossy!
We then mix a couple of scoops of this meringue mixture with the TPT and egg white mixture. These are "sacrificed" and you can beat the mixture quite quickly. Then incorporate the rest of the mixture gently folding until the mixture is combined. Then following all of your instincts, deflate the mixture so that it is reduced about a quarter or third less and shiny. This gives the best result.
Adding lustre powders
Or gold feuilletine sprinkles!
We then fill our piping bags with the mixture which we pipe onto the macaron template which we slide under baking paper weighed down by little magnets. It's easier said than done but by the time we've finished with one tray our second tray looks much better. We get to try all sorts of finishes on the macarons including gold lustre dust but my favourites are the blue lustre dust which you sprinkle over with a sieve and then blow on so that the finish becomes more sheen like and lighter and the gold feuilletine sprinkles which appeal to the Vegas show girl in me. These bake in a 150C oven for 30 minutes.
While these are baking we take the ganache and the caramel out of the fridge so that they can come to room temperature and become easier to pipe. The ganache is pretty much ready as is once it does but we need to emulsify the caramel so that it becomes smooth and glossy.
To go from this...
To this...
To salted caramel filling!
To do this we whisk the mixture vigorously occasionally putting it on a medium heat hotplate for a second or two to loosen it up but never allowing it to melt again. Once this has lightened in colour and become very glossy we add 10 grams of Fleur de Sel, the prized sea salt from Guerande in France which is hand harvested by paludiers using rakes. During the classes we are encouraged to taste everything and feel everything so that we know what things should and shouldn't feel and taste like.
Pairing up like sizes
Once the macaron shells are baked we  pair them up next to each other and place them in the blast freezer for a few minutes. We fill the piping bags with the two types of filling, the chocolate ganache and the salted caramel and pipe the filling in each one.
Holding base place top half on top of filling.
Twist gently to push down filling until the edge of the filling lines up with the edge of the macaron shell
Et voila!
The best way to place the top macaron on is to twist it slightly. I also make some "black forest" macrons by adding a half griottine (a kirsch and brandy marinated cherry) with the chocolate macarons scattered with cocoa nibs and filled with chocolate ganache. And voila! We have completed our macarons!
Griottine cherries
We're given boxes which we fill with the macarons that we have made and we take these, our aprons and a carry bag excited with all of the secrets of macaron making in our hot little hands. It was an absolutely fantastic class and one in which I learnt so much more than any book has ever taught me.
Salted Caramel Macaron
Recipe from Baroque Patisserie
SALTED CARAMEL FILLING
Ingredients
250g Fresh Cream
350g Granulated (castor) Sugar
10g Fleur de Sel
350g Butter
CARAMEL MACARON SHELL
Ingredients
600g sifted TPT (300g Almond meal with 300g icing sugar)
120g egg whites
Ingredients 2.
300g Caster sugar
75g water
120g egg whites
food colouring
Step 1. MAKING YOUR FILLING:
Chop your butter into small cubes
Weigh your sugar into a medium saucepan
Weigh your cream into a small saucepan and bring to boil, remove from heat as soon as it starts to boil.
Commence cooking your sugar stirring occasionally to ensure that it caramelises evenly
When the sugar reaches a dark brown consistency remove from the heat and slowly pour in the hot cream whilst continuing to mix with a spatula
Let the caramel cool to around 45°C and then add the butter a few pieces at a time whilst mixing the caramel.
Pour the caramel into a shallow container and allow to cool in the fridge.
Beat the caramel mixture until light, shiny and smooth.
Step 2. MAKING YOUR MERINGUE SHELLS:
Add the colouring to the first batch of egg whites (1) above.
Mix the TPT with the egg whites, mixing vigorously until you have a smooth paste.
Mix the caster sugar, water and colour, commence cooking.
Place the old egg whites in a Kitchenaid mixer with the whisk attachment.
Once the sugar has reached 115°C commence whipping your egg whites until they reach 'soft peak' consistency.
When the sugar reaches 118°C remove from the stove and pour slowly on the still mixing egg whites.
Turn the speed to maximum for around 1min and return to medium for another 2min and then let the meringue cool to around 50°C whilst mixing slowly.
Using a spatula commence incorporating the meringue into the TPT and egg white batter. Work the mix gently from the sides to the middle until you reach a homogenous, shiny texture.
Step 3. PIPING AND COOKING YOUR MERINGUE SHELLS:
Using a plastic piping bag with no. 11 tip, pipe the shells onto a baking sheet according to the size template.
You should stop piping before the mix reaches the outside edge of the template.
Tap the tray gently on the side of the bench until the macaron reaches the size of the template.
Remove the template from beneath you baking sheet.
Leave the macarons outside at room temperature for 15 min or until they have formed a skin and are dry to touch.
Cook the macarons according to the cooking guide for your type of oven
Once cooked, slide the paper off the tray and let the shells cool (preferably on a wire rack)
Step 4. ASSEMBLING YOUR MACARONS
Pull the shells from the paper gently and turn them upside down.
Pair your Macaron shells according to size and lay them out on your bench.
Take your caramel out of the fridge and transfer it to a mixing bowl.
Place the caramel over a bain marie to soften the mixture and melt any pieces of granulated butter (take care not to melt the mix too much). Remove from the heat and whisk the caramel energetically. This will thicken the mix to a butter cream consistency (perfect for piping).
Fill one half of your paired macaron shells filling them generously but keeping a space of approximately 3mm from the edge of the shell.
Pick up the macaron filled with caramel in one hand and the empty pair in the other and close the macaron by gently twisting the two shells together from left to right.
Remember to let the filling spread regularly all the way to the edge of the shells.
STORING AND SERVING
Put the finished macarons on a tray and leave them in the fridge for a least 24 hours.
Prior to serving, let the macarons return to room temperature.
NQN and Mr NQN attended the Macaron Masterclass as guests of Baroque Bistro
Baroque Bistro & Patisserie
88 George Street, The Rocks, Sydney, NSW
Tel: +61 (02) 9241 4811
http://www.baroquebistro.com.au/Masterclass/
The Macaron Masterclasses are held every Sunday from 9am-2:30pm and cost $220 per person and include your apron, coffee, tea, lunch and a box of macarons to take home with you.