My dream job list at some stage of my life has read:
Personal shopper
Chocolatier
Taste tester
Can you see a common thread? The need to consume! So when I was offered a place at any of the Fisher & Paykel Sydney Cooking School classes I naturally chose the chocolate one. That afternoon, when Mr NQN and I were on our way, we spied the temperature which read 37C. gulp "That won't be very good for the chocolate" I tell him.
We reach there and it's a small class with a teacher Brad Reiher who is a pastry chef at Dolcetti and a facilitator Brett who usually teaches the classes like the very popular Duck & Pinot class. Some classes are more interactive whereas others are a bit more sit back and learn like this one. Today we are going to learn some background of how to make chocolate truffles, some basics and a ganache filling for a chocolate brulee tart. The class is a mix of basics like tempering chocolate along with some very handy tips.
First of all Brad shows us his chocolate machine which keeps chocolate at a constant temperature. For chocolatiers who make dozens of chocolates at one go, it is important to keep chocolate at a consistent temperature. This machine is from Europe and doesn't use a water bath underneath it which is an advantage as water seizes chocolate.
We start with a  basic ganache. A ganache which is a filling for truffles is a mixture of chocolate and cream. Here they use two types of chocolate: Callabaut and Cacao Barry. Temperature is very  important for chocolate making and we take the cream to a boiling point and then pour it over the chocolate. However Brad tells us that we shouldn't start stirring straight away and we should let it melt first. Stirring or whisking it reduces the temperature of the chocolate ganache mixture and to give it a little more warmth, he puts it on top of the saucepan that held the cream and then stirs it until just combined, never over mixing it.
The recipe for ganache should always be the same, however if the weather is hotter you can change the amount of cream to be less and if it is colder, you can add a little more cream. If you were using this ganache to ice a cake you would need to refrigerate this overnight to get the consistency that you want. Also Brad points out that you infuse the cream with basil using basil leaves and then strain the cream, then the basil leaves will absorb some of the cream and you always need to ensure that you have the correct amount of cream after infusing and straining. These pastry chefs are very precise!
We then get started on the truffles. Brad tells us that chocolate molds need to be polished between uses with cotton wool balls in order for the chocolates to pop out easily. They never use soap or detergent to wash the molds, simply hot water and at first glance the molds may look clean but once you rub them with cotton wool, the chocolate that is left on becomes apparent.
We first need to temper the chocolate. All couverture chocolate needs to be tempered in order to get the glossy look and that crisp snap when you bite into it and the glossy top. And did you know that with truffles, they only use tempered chocolate on the top that shows? The bottom of the chocolate isn't tempered so you can use chocolate that is at a slightly higher temperature in order to fill in the gaps after you pipe the ganache in.
To temper dark chocolate you really need an electronic thermometer. Brad tells us that it's almost impossible to do this otherwise although some people that are expert in it can tell with a lip test but this takes years to do and a lot of practice. A candy thermometer will not do the job as it doesn't get precise enough and mostly works on higher temperatures.
For dark chocolate you need to take the chocolate up to 45C to melt everything so that everything separates. Then you reduce the temperature to 27C (you can do this naturally by waiting or with a water bath, just be sure not to get a speck of water into the chocolate as that will seize it faster than a bunch of Dementors!). Then you need to bring it up to 31C using a fan (aka a hairdryer) to get it to the correct consistency to pour it and set it.  If you don't do these steps and go beyond these temperatures things such as  a bloom will appear on chocolate which is the sugar that comes out of the chocolate as it has separated too much.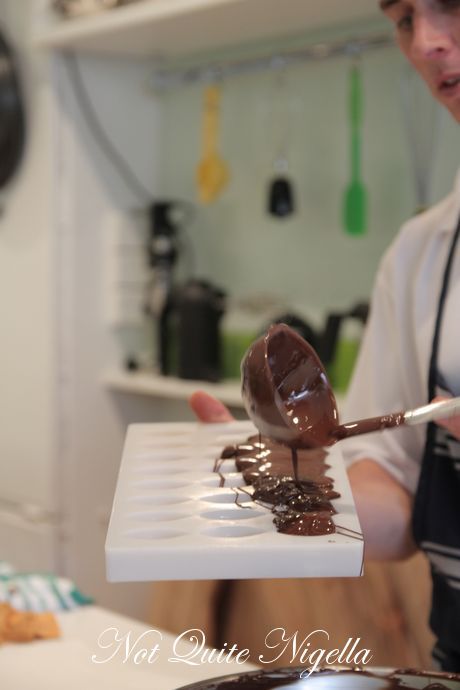 For milk chocolate you need temper it to 40C, the reduce it to 27C and then 29C.  There is a limit to the number of times you can temper chocolate and Brad tells us that he doesn't temper a batch of chocolate more than twice. You can still use the chocolate for a ganache or for cooking but not for glossy truffles. You can also temper chocolate by heating two thirds of the chocolate to 40C and then adding in the remaining unmelted third of the chocolate which will bring the temperature down if you are in a hurry.
Chocolate that has been tempered twice already
Oooh drippy!
To fill the molds you spoon in the tempered chocolate generously. You tap the sides of the mold to get rid of any air bubbles which should rise to the surface and then tip the mold vertically so that the excess chocolate tips back into the bowl. You then take your scrap and scrape along the mold to scrape off the excess chocolate and then tip the mold upside down on a sheet of baking parchment to drain it even further.
Filling the molds
Adding the last layer of chocolate for the bottom
Then scraping the extra off
Then ensuring that there are no bubbles and that the chocolates are filled properly
They pop right out!
Once this is set, we pipe it with the milk chocolate ganache. Then we add a coating of untempered chocolate for the base and scrape this back too and allow it to completely set. Once it has, we tap the mold and out pops the glossy chocolates!
Making a biscuit base for our ganache tarts
Brad then shows us how to do some barely set chocolate custard tarts. He firstly uses a shortcrust biscuit base which he reheats up in the oven and as soon as they come out, he uses greased cutters presses down to on the biscuit and creates a seal. He then adds the chocolate ganache mix which is made with eggs and milk so that it sets in the oven.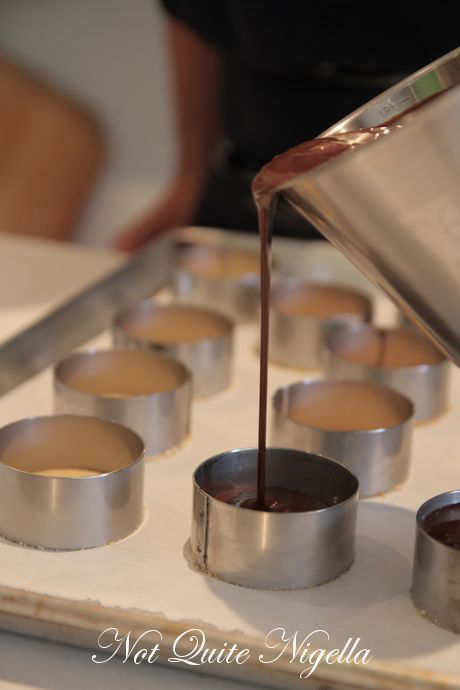 Filling with chocolate custard
Gently pushing out the tarts from their molds
The whole thing is cooked in the oven for a mere 2 minutes and then the oven is switched off and left for a further 12 minutes to slowly cook the insides but the tart filling is supposed to be like a jelly filling with a barely set centre with a wobble.
Our last lesson is in learning how to make chocolate curls. Not by that way where you pour chocolate onto a marble surface and then use a spoon. This method produces a more consistent thickness to the curls and you can make patterns. You can use overhead projector sheet which you can buy at any office supply store.
Using the shiny and not the matte side, you spread some tempered chocolate onto it. When it looks like it is just starting to set run the back of the knife in a range of patterns, we did triangles but you could also draw curls, and then an easy way is just to rest it on top of a long spray can (we used oil spray) resting on a tea towel to get a curl.
After it is set, the curls come off easily
We also fill some chocolate cylinders with some vanilla cream brulle mixture that also has gelatin in it so that it is pipeable. We seal both ends with chocolate and the cylinder is again made out of the overhead projector sheet.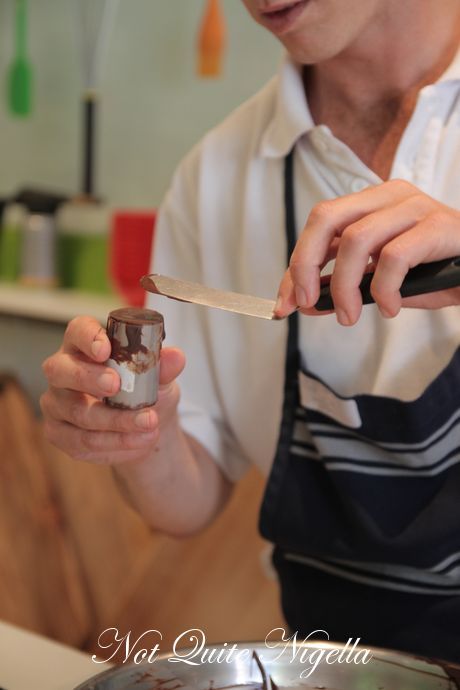 And what if, like me, you have hot hands? Some people naturally have hot or cold hands and cold hands are good for chocolate and pastry making. I'm rather annoyed that I have hot hands but I suppose that makes them better for chocolate and pastry eating? ;) In any case, Brad suggests that if you do have hot hands you run them under cold or ice water and dry them and keep doing this. Also if you are rolling truffles he suggests piping the ganache into rounds so that there is less rolling with the hands which is a clever idea.
The class is very informative and the pastry chef Brad was very knowledgeable-I think you could ask him anything about chocolate!  I think we came away with more chocolate knowledge than we knew what to do with. It is more of an instructional class however with some participation but not quite one of those scoff lots of chocolates kind of classes. You get to eat and decorate one tart and take one home a chocolate ganache tart (which was my favourite item) along with a few truffles. Also some information as to whether classes are more a participatory or observation class (I like participatory classes as I want to learn new skills first hand) or experience level would be helpful to find a class to suit your level or interest.
So tell me Dear Reader, do you have hot or cold hands?
NQN and Mr NQN attended the class as guests of Fisher & Paykel
Sydney Cooking School
73 Military Road, Neutral Bay, NSW
Tel: +61 (02) 8969 6199
http://www.sydneycookingschool.com.au/