Did you know that the difference between an artisan baker and a regular baker is in the hands? Specifically, artisans touch and examine each product at various stages using their hands and use their bank of knowledge to judge whether a product is ready and the senses determine when bread is ready rather than an alarm or a machine. So explains Matt Brock, teacher, baker and trained chef at Brasserie Bread's very first gluten free baking class.
Brasserie Bread don't make gluten free breads for sale because it would be difficult to ensure that breads are entirely gluten free with all of that flour in the air. The owners aren't 100% convinced that there is a market for them but from doing gluten free recipes I know that there is and that gluten free eaters miss baked goods a lot because these are the items that are forbidden to them. Here at Brasserie Bread, they use organic flour from Toowoomba and today we are using a special blend of flour for our gluten free baking.
Everyone else has brought aprons along and out of the seven in the class, one woman has been living gluten free for years while another woman's daughter was diagnosed as celiac at age two. She is a former baker and has been talking to Matt for a while and he has been giving her recipes to try. When her daughter was given the official diagnosis at age two (after much pushing for tests with the doctors by mum) she was devastated that it was her own cooking that had caused it. "I felt like I had poisoned her" she says, so she threw all of her baking ingredients and tools away and hasn't baked since. She is now hoping to have some tasty gluten free recipes to take home so that she can begin baking again for her daughter.
We start with biga, which is a batch of old fermented dough. This is a technique they use in the bakery here as the biga has already a developed maturity and flavour to it and adding it to the newly risen dough gives it an additional flavour. Bigas can last in the fridge for 4-5 days and every time you make a batch of dough and allow it to rise, you take out 200grams out of the dough and put it aside as the biga for the next dough.
The basic idea behind baking is that gluten forms strands that trap the gases that are produced when yeast comes into contact with water, sugar and flour and the strands become longer as the dough rises. In gluten free baking there is no gluten to form strands so they use xantham gum to get the right level of elasticity to the dough. The difficulty is getting the light texture in gluten free bread and as a fellow class participant says "gluten free bread is either cake or lead." Today we will be learning how to make gluten free friands, a trio of frangipane fruit tarts with a sweet shortcrust pastry or pate brisee, a  savoury tart with a savoury shortcrust pastry dough and a 450g loaf of bread.
We start with the breads which Matt slices up an example of. It is coated in sesame seeds and is a soft, light loaf and reminds us of a cornbread. The flour mixture is one that they developed through experimentation and the bread recipe was the most time consuming out of the four items to develop. The flour mixture is 75% rice flour, 12.5% buckwheat flour, 12.5% millet flour with some besan flour, more buckwheat flour and xantham gum. Without the xantham gum, the texture would be very wet and sloppy but he warns us to use it carefully as too much can result in a rock hard loaf of bread. Guar gum can also be used as a substitute.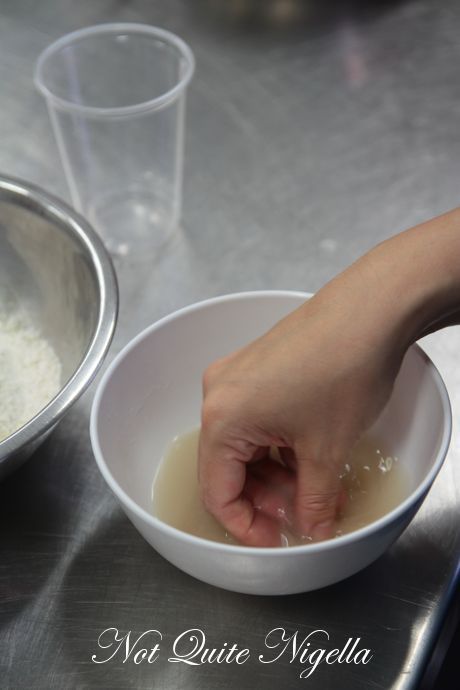 We start with our own mixture, already measured out for us, and add the water to the sugar and fresh yeast-they don't use a sourdough in gluten free baking and sourdough is just a wild yeast that has been cultivated instead of using a compressed yeast. And a tip, if you use dried yeast, that is more powerful stuff than compressed and you only need to use half as much. We mix the yeast up with the sugar and water with our fingers and then mix in the flour so that they are well combined.
We add the olive oil and milk mixture (you can use water or other types of milk instead of milk) and then the yeast mixture and biga and stir vigorously to combine. Then using the dough scraper we scrape down the sides and form it into a ball in the centre of the bowl and cover it with cling wrap and leave it to develop.
Matt tells us that if you are using grains you can add them in at the end as they can cut the gluten strands in bread as they are like little razorblades. Also, always soak the seeds in milk beforehand as they can draw moisture out of the dough otherwise. Bakers also use salt to control the activity of bread as yeast does not like salt and inhibits the growth of yeast and they use it if they want to stop dough rising.
Our next task while the bread dough is resting is to make the tart shells. He has made two types of dough for us (we get the recipes for everything to take home with us) and today we will be rolling out the tart doughs and filling in cases to make sweet and savoury tarts-the latter for our dinner! Gluten free dough is said to be crumblier and therefore can be more difficult to work with than non gluten free dough although this is a pretty good batch of dough and works pretty much like a regular dough.
We press it down with our fingers and then roll it and place it gently inside the tart rings (no bases are needed). He then lines it with a commercial grade cling wrap (regular domestic cling wrap doesn't work for this as it melts in the oven) and fills it with dried beans and then blind bakes it to give the bottom a crisp cooked through texture.
We do the same for the sweet tart dough which is actually a bit softer and easier to work with and this time instead of using a round cutter we gently ease it into the tart ring making sure to get it down into the bottom corners (Matt gives us a tip to use a piece of dough to push it down as it is cold and much easier than using fingers that may have long nails) and then we use the small, light rolling pin to cut the dough on top. The rolling pins were purchased in Chinatown and they are the same ones that dumpling makers use to roll dumpling skins with.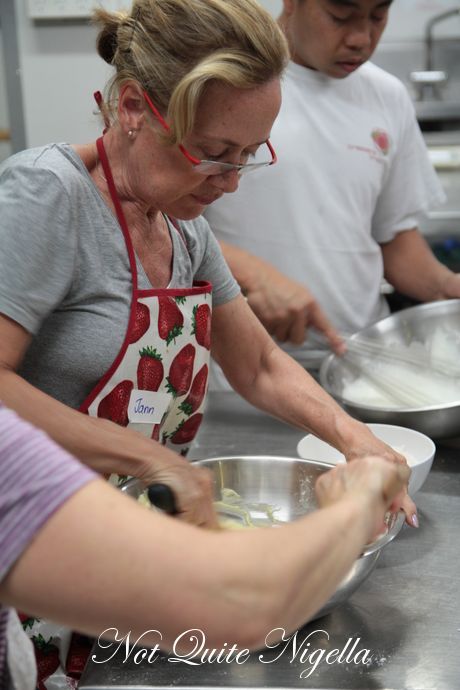 Our next task is to make the friands which are said to be even better than regular friands (and I must admit that I love cakes that have almond meal used in them because they are so moist).
You can make these using an electric mixer but we are doing these by hand so we beat softened butter with icing sugar with a wooden spoon and then a whisk until it is pale white (I enlist Mr NQN's help). Then gently and slowly in batches of four, we add the whipped egg whites until they are completely emulsified. If these aren't slowly added, the mixture turns liquid.
Back to our loaf of bread! It has risen so we take out 200grams of the dough and put it in the fridge.
We then take the small loaf tins and spray them with non stick spray (always do it up in the air or the floor will get very slippery!) and line them with a generous sprinkling of sesame seeds. We then scrape the dough into the loaf tin in two lots ensuring that there aren't any air pockets and using our fingers, smooth over the top and then give it an extra coat of sesame seeds on top.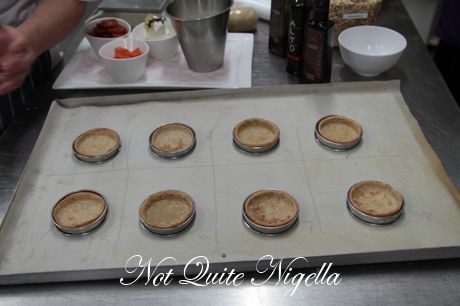 Our par baked savoury tart shells are ready for our filling and good thing because I am getting hungry! We fill them with smoked salmon, Yarra Valley Cardi goat's cheese and a egg mixture with cream and these are baked for about 10 minutes until set.
While these are baking, we fill our friand molds with the mixture. Matt shows us how to fill a piping bag and then demonstrates how to fill the friands.
We are making raspberry and chocolate friands using Callebaut white and milk chocolate. We fill it halfway and then sprinkle the chocolate on top and then top them up with batter and then finally place three frozen raspberries on top!
Our sweet tarts are next and these aren't blind baked. The frangipane filling has already been made for us and it consists of almond meal, eggs and sugar. We pipe this into the tart case being careful not to overfill and we have a range of tinned apricot halves, stewed rhubarb and sour cherries that we can put on top to make three tarts each.
Croissant tower!
While our dinner is baking we get a quick tour of the working bakery which is enormous. They have 400 customers ranging from Qantas first and business class to restaurants all over Sydney and they have just launched in Melbourne. We watch workers as they make pane croccante, the award winning crackers that are baked in large leaf shapes. And the life of a baker here isn't so bad as bakers here come in at 9am which is unlike the image where they rise at 3am!
The bread that they bake today will be for sale tomorrow. And it takes four days from start to finish to make their sourdough loaves so last minute orders aren't able to be accommodated. Yudha tells is that there is very little waste and what waste there is is given to a pig farm.
Which brings us to the sourdough starter. Yudha shows us the starter which was born in May 1995 and is housed in a separate coolroom and fed twice a day with flour and water. I taste some (hey, they offered!) and it tastes a little like yogurt!
Dinner time! Our tarts are fresh out of the oven and still warm and Matt makes an sample salad with rocket, semi dried tomatoes and an Alto olive oil and Pukara Estate caramelised balsamic vinegar dressing. We sit down at a table in the cafe area to eat and talk.
Our last task for the evening is to glaze the friands and tarts. Here they use a commercial glaze which has a gelatine to set it but at home we can use an apricot jam mixed with water and then sieved to get rid of any lumps. We brush the tops of the fruit tarts with the glaze. Then we brush the friands with the glaze and sprinkle some crushed pistachios on top which give them a beautiful green shade.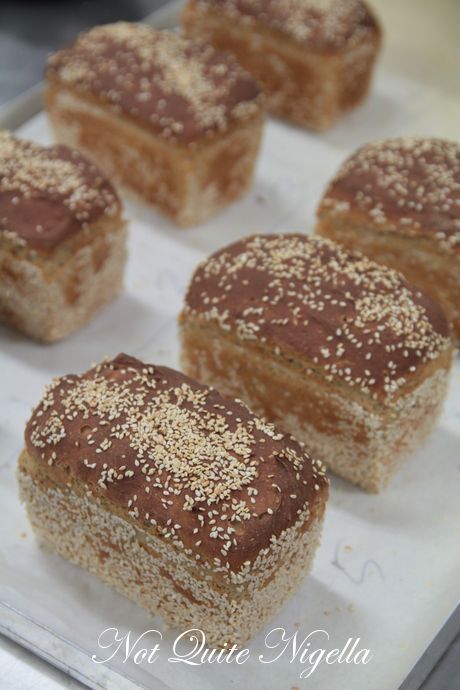 As Matt has generously given Mr NQN his share of the tarts we have quite a bounty of sweets and knowing how much I like them I suggest that we take some of them to Mr NQN's work that evening to share with his colleagues the next morning as he has a celiac colleague. The next morning he messages his colleague and tells him that there are some gluten free goodies but he deliberately doesn't tell everyone else that they are gluten free as he wants to see whether they can tell the difference.
And while everyone else couldn't actually tell that they were gluten free his celiac's colleague's response was the strongest and he said "OH MY GOD!!!! They are amazing... The best GF cakes I've had." And if you are interested, the next gluten free class is scheduled for Friday, the 9th of December from 6:30pm-9:30pm.
So tell me Dear Reader, are you a celiac or know anyone that is? Do you have any food intolerances?
NQN and Mr NQN attended the class as guests of Brasserie Bread
Brasserie Bread Gluten Free Baking Class
1737 Botany Rd, Banksmeadow, NSW
1300 966 845