Someone asked me once, actually about one year ago, what I would normally be doing on my weekends if I weren't working. I looked at her oddly. "I'd be doing this" I answered. It's absolutely true, I would do what I currently do in the name of interest and research being completely obsessed with food. And this year on my birthday there was no sleep in, no rest for the wicked as they say but a 6am rise and a Paddock to Plate cooking class and trip with The Essential Ingredient. Because of course that's what a perfect birthday weekend is made up of!
I deliberately kept the early rise to myself. We were without a car and the idea of getting to The Essential Ingredient in Rozelle by 7:20am was a hard sell so I left it until a couple of days before to tell Mr NQN. He gave me a look. You know the look that says that he was about to say "forget it" but then he stopped himself and realised that it was my birthday so he was coming along.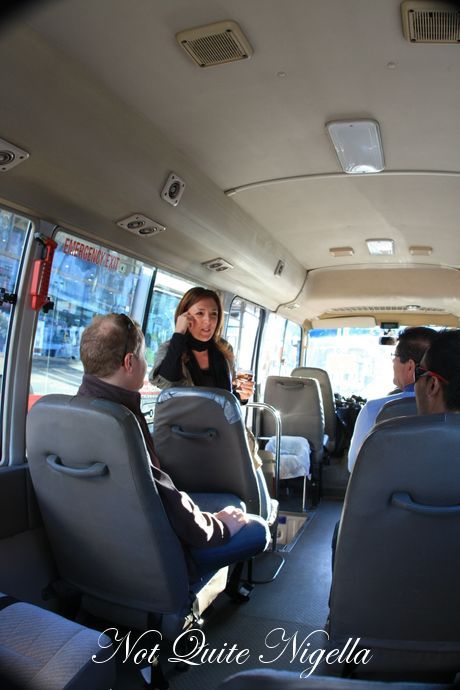 It's a creaky, cold day but one bursting with sunshine which makes this trip even more fortuitous. You see we would be shopping for our produce at a grower's market and then watching a cooking demonstration and eating our lunch afterwards and the entire class goes from 7:30am-1pm. And who should be taking this class but the lovely Tawnya Bahr who held the food expedition that I went to on last year's birthday. Tawnya is a fabulous guide and well versed in the food industry with contacts a mile long and a great instinct for what people want. And that morning, at 7:20am it's coffee!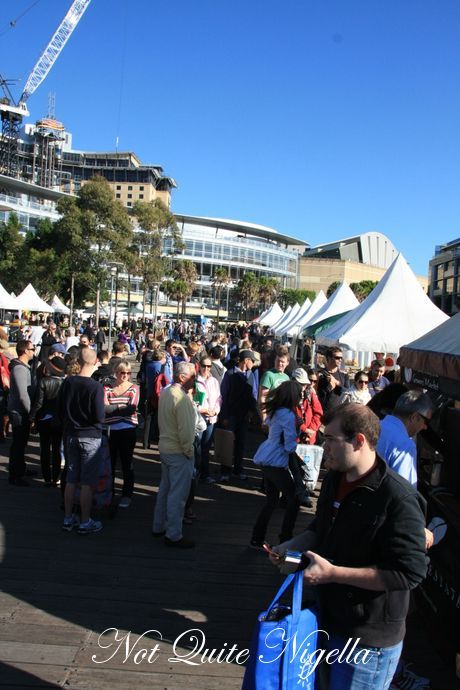 We pile into the bus and make our way to Pyrmont Growers Market. The aim of these classes is to show people that you can indeed buy 95% of the produce for a meal at a market like this. We will be stopping in to see some stands to visit four stallholders who have something special to show us. Then we will have some time to go shopping (Yay!) and then pile back onto the bus to watch chef Rob Hodgson from La Grande Bouffe prepare the food that we've bought.
Our first stop is at Over the Moon dairy where they sell non homogenised Jersey cow milk from their cows in Wauchope. Their milk sells at Harris Farm for $6 for 2 litres and we try a taste of it. This milk actually has flavour in it and tastes like the milk that you used to get years and years ago.  They also sell cream here and today they've brought in their butter churner where they will make us some freshly churned butter.  It takes Carl about 10 minutes to churn the butter manually (although they use machines for production). And this is the glorious double cream that I used to make our own butter.
Our next stop is the very entertaining John from Thirlmere Poultry named after the location of the same name near Picton. They own the trademark for Meredith ducks  and produce a fabulous duck. Restaurant goers can often see Thirlmere products mentioned on the menu. Their cross bred Meredith ducks are actually processed at 9 weeks old whereas ducks are usually 5-6 weeks old producing a quality product. "People asked us whether we had a magic breed of duck" John says laughing.
Duck rillettes
John was inducted into the Food Hall of Fame for his work within the poultry industry and it is a story of lucky timing for them as a Landline story on the farm was "like winning the lotto." Suddenly their market opened up and Singapore and Hong Kong buyers were interested in their ducks which are fed on high protein hormone free feed and are hand reared.
Duck confit and duck rillettes
John shows us one of their products, a rillette which he recommends warming up in the microwave for 20 seconds to take the fat off it. It's delicious spread on some baguette.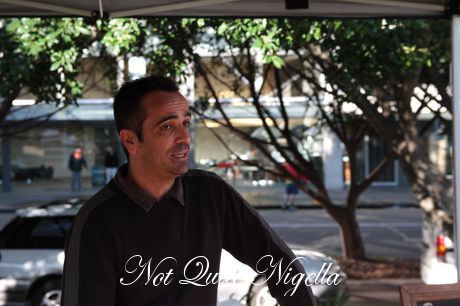 Mother in Law mandarins-said to be sweet and sour! ;)
Our next stop is at the Darling Mills farm where they grow a range of herbs and edible flowers as well as micro herbs. The family that own this used to own the Darling Mills restaurant in Glebe but now they grow produce including 30 varieties of microherbs (first requested by Tetsuya) either 1. hydroponically 2. organically in the ground or 3. in a greenhouse.
One of their best selling item is the European watercress which sells out quickly and they also sell boxes of edible flowers. They're so fetching I buy a box, not knowing what to do with them but eventually end up making flower friands! We get a little tasting of the salad leaves dressed in a vincotto dressing from a neighbouring stand.
Salad sample
Our next food stop is at Pasta Emilia where  stallholder Anna gives us a sample of one of their most popular pastas, a porcini mushroom ravioli with truffle cream. The pastas are based upon old family recipes from an area in Northern Italy between Milan and Parma and they sell a variety of filled pasta including crab& prawn, duck  &  truffle and pumpkin. Duck & truffle is popular all year round while crab and prawn popular in Summer.
The pasta itself is so silky smooth and plump with filling and if we weren't going out for dinner and doing the rounds we would have bought some to have at home.
Our next stop is Tinja organics where Scottish owner Jane greets us. Theirs is an organic farm and the Hill Cattle short horn cross feed on native grasses and herbs. For them organic farming is a matter of managing their herds and she shows us some of the beef that are awaiting customer pickup. "That's real marbling from walking" Jane says.  All of the beef sold here is dry aged (even the sausages) and because they graze on grasses rather than grain it is high in Omega 3s.
In order to buy meat from here one needs to pre-order it in advance and pick it up on the Saturday as they supply one beast for this whole market. And when you see that a dry aged organic standing rib roast that weighs over 2 kilos and could feed four people is $76.44 it is easy to see why people pre order it.
Our last stop is dessert in a way. We're stopping at Sweetness the Patisserie where Gena has made a career out of soft, sweet marshmallows in every flavour imaginable. The business Sweetness is not a traditional patisserie in that there aren't any baked breads but instead they focus on "small sweet food". Started 2 years ago after she left the corporate life at IBM she enrolled at Le Cordon Bleu at age 43 and now employs 12 staff at her Epping location.
Everything is made in an open kitchen and the marshmallows which account for 23% of her sales are made 3 times a week with 3-5,000 marshmallows being produced in 28 flavours. It's a small kitchen making small food-the nougat for example is made in lots of 7 bars and is cut with a serrated knife.
We spy some caramel apples which are made using apples from Adalong. Once the fresh apples are no longer available and they go into cold storage Gina stops making these as she wants to use them while they are as fresh as possible. And what does she have in store for us today? Well the venerable Whoopie Pie, an American classic cross between a cake and a biscuit. Hers is with a marshmallow filling. And Tawnya kindly arranges for my very own gift of them because it is my birthday!
OK you know I love putting in pics of puppy dogs!
Ze ingredients!
We do a bit of shopping-I pick up a baguette from Sonoma for Mother's Day the next day and we buy some fruit and vegetables and stop and coo over several adorable dogs before we head back onto the bus to go to cook the food! Chef Rob Hodgson has already started preparing some of the food while we wash up and get refreshed.  Today he is showing us how to make four dishes using the ingredients found at the market. We're making a marinated ocean trout with horseradish and finger limes; a duck, lentil & pickled quince salad; braised lamb shoulder with lima beans and fennel and for dessert caramelised pear and mascarpone mille feuille.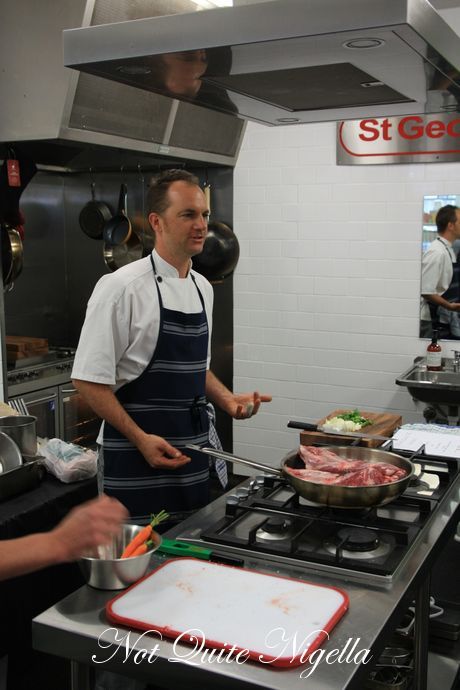 Chef Rob Hodgson
Because the lamb will take the longest he starts that first. It's a shoulder of lamb that is slow roasted in the oven which is perfect for this chilly weather. It is simply done by browning the sides of the lamb shoulder in a large frypan (Rob manages to fit in both in one frypan), adding diced vegetables, some garlic and sweating them down, adding red wine and reducing that and then placing it all in the oven for 2.5 hours.
Cored quince segment
Our next item to prepare is the quince for the duck salad. Here the quinces are peeled and then the hard core removed (and Rob cautions us to be careful as it is very hard to get out).  The quinces are then simmered in water, clove, star anise, white wine vinegar and sugar for 1-2 hours until they start to turn a blushing pink. Quinces hold their texture remarkably well although Rob does tell us that cooking them until they are rubied red is tempting but quinces can also soak up a lot of sugar and become too sweet.
This class is more a demonstration class perhaps due to time constraints although we do get to do a little prep and so we eagerly put our hands up for little things like trimming fennel which he then browns off and cooks until tender. One thing that I was quite fascinated with (and do look away if you are squeamish) is boning one of the Thirlmere ducks which had me muttering to myself "Very Jack the Ripper."
I've boned a leg of duck before and a spatchcock but never a whole duck. Rob shows us how to do it with a boning knife and it basically involves cutting the meat and skin away from the rib cage and cutting this out and then removing the leg bones and breast bone. I don't know if I could do it as neatly myself but I could give it a go I suppose! And when he goes to throw the bones out there are shouts of protest as members of the class take the bones home to make stock with.
He then seasons the boned duck with salt and pepper and puts it skin down in a large cold frying pan on low heat to cook it through which takes quite a while but we end up with a deliciously crispy skin and a pink centre. We sort through the leaves which including some bitter leaves like chicory and radicchio as well as beetroot leaves while Rob cooks the French style lentils.
The thing about this Wintry food is that it often involves long, slow cooking but once you get it cooking, it doesn't require much attention so the caramelised pears are next. We peel and core the pears for him whilst he caramelises the sugar and water-it is important to have the pears ready just as the caramel is ready.
Making the cartouche out of greaseproof paper and folding it up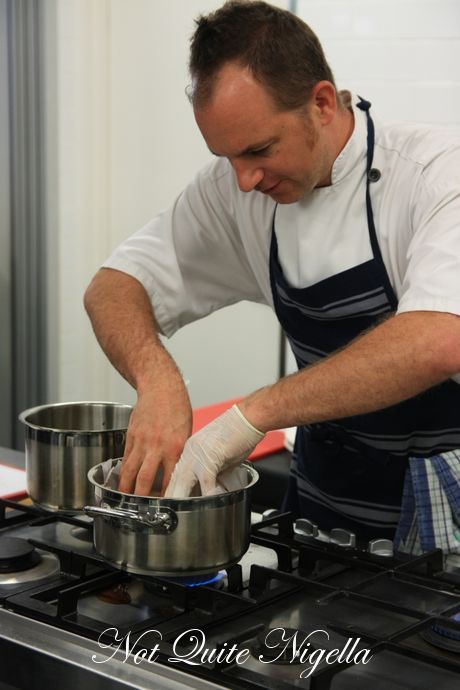 Once it turns into a luscious caramel shade he adds the pears which then release their own juice and cooks them under a cartouche which is a vented disc of paper that sits on top of the mixture that prevents too much of the liquid evaporating and is somewhere in between having a lid on (which doesn't really allow any liquid to evaporate) and having a lid off (which means too much liquid will evaporate).
Making the mascarpone filling
The next part is a rather delicious one when he makes the mascarpone filling which is egg yolks, icing sugar, vanilla bean and mascarpone similar to a tiramisu filling. His tip for dealing with vanilla beans? Heat them in the microwave very briefly and this will help to puff up the bean to make it easier to scrape the beans out of.
The buttered and sugared filo pastry
Then he sets about making the layered filo pastry in place of a puff pastry for the mille feuille. We get to butter each layer with a brush and then sprinkle some almond meal and brown sugar lightly. This large sheet is then cut into three equal sized pieces and baked until golden. When it is done and cooled he places a layer of pears and a layer of the vanilla mascarpone and the pastry and repeats this until the pastry is used. He then sprinkled icing sugar on top and lightly torches it. And because you asked for it, the recipe is included below!
The easiest dish and the one left until last to prepare is the entree, a marinated ocean trout with horseradish and finger limes. Finger limes are nearing the end of their season now and as a result many of the ones that you see in the stores have a pinkish hue to them whereas they are usually light green at the start of the season. Finger limes are of course those wonderful native lime fruit with little caviar pearls of lime but very little juice.
He breaks up the ocean trout and arranges it on a platter and seasons it with lemon juice, salt, pepper and olive oil. He then grates some fresh horseradish into some creme fraiche and dots this over the trout along with some artfully arranged baby shiso and coriander. This is served with thin slices of rye bread.
It's almost lunch time and we're getting hungry! He removes the lamb from the oven and flakes it and it falls off the bones easily. He plates it up with the fennel and lime beans and  adds the final touch-some breadcrumbs fried in some of the rendered duck fat. By now I was starving and somehow they've moved all the prep tables and set up a lunch table.
The food is delicious-the trout is soft and flavoursome with just the right amount of horseradish (although I preferred this without the rye bread). The lamb is wonderfully soft and flavoursome with the garlic, thyme and red wine flavour injections and we're all a bit surprised that the fennel isn't mushy and has retained a good consistency after being braised for so long.
The duck and lentil salad is a favourite and I keep going back for the prized pieces of duck. I might even be convinced to try my hand at boning a duck if it tastes this good. The quinces give a complementary slight vinegary tartness. And the dessert? Oh my, I think Mr NQN almost licked his plate clean. The pears and vanilla mascarpone were perfect partners and the crispy filo had an earth shattering crunch to it.
We finish off with some of Gina's cocoa dusted chocolate truffles.
The clock strikes 1pm and we have to run. The visit to the markets and meeting the producers (always a favourite thing of mine) was loads of fun. The class, although I prefer more interactive than demonstrative classes was fun and the meal was delicious. And yes it was worth the early rise!
So tell me Dear Reader, do you visit markets on the weekends? And what do you typically do on a weekend?
Caramelised Pear and Mascarpone Mille Feuille
Recipe by chef Robert Hodgson from La Grande Bouffe. As featured in The Essential Ingredient's Paddock to Plate Tour
Serves 8
Step 1 - Peel, quarter and core pears.
Step 2 - Heat water and sugar in a pot on high heat until it turns into caramel
Step 3 - Add the pear and cook until translucent, (about 15mins), and allow to cool then slice.
Step 4 - Lay down 1 sheet of filo pastry and brush with a little butter, sprinkle pastry with a little sugar and almond meal and
then repeat this process creating 8 layers.
Step 5 - Roll the 8 layered pastry with a rolling pin to flatten a little.
Step 6 - Cut into 3 equal pieces and bake at 180 Celsius until golden brown.
Step 7 - Whisk egg yolks, sugar and scraped vanilla pods over a pot of boiling water until it thickens (about 2 mins), and allow
to cool.
Step 8 - Fold in mascarpone.
Step 9 - Layer pastry, mascarpone and pear, and garnish with dusted icing sugar.
NQN and Mr NQN attended the class as guests of The Essential Ingredient
The Essential Ingredient
731-735 Darling Street, Rozelle NSW 2039
Tel: +61 (02) 9555 8300
La Grande Bouffe
2/758 Darling Street
Rozelle NSW 2039
Tel: +61 (02)9818 4333