I had a fright the other day. I looked at the calendar and realised that we were just mere days away from Spring. "Why the alarm?" You might ask. Spring signals warmer weather and that means filmy, pretty dresses and then comes Summer which is...cue dramatic music duh duh dum...
Bikini weather!
Gorgonzola
I've been revelling in Winter, like a pig in mud I've been a indulging in stews, puddings and all sorts of delectable sweets. I've been feasting on poutine and foie gras in Canada and revelling in chicken in bread sauce in Sydney. I have paid no attention to the scales (actually we don't have any which is deliberate as it can become an obsession) and now find myself in the precarious position of trying to down salads in this cold weather. I've tried steamed vegetables but these always seem to be pipped by lovely roast potatoes. In fact there has been a bit of a chip revival at Chez Elliott.
Enough was enough, I had to get serious. I couldn't quite give up the taste of oven baked chips but they needed to be healthier. That's when I recalled having these lovely polenta chips with a gorgonzola dipping sauce at Bloodwood and decided to make my own low fat version. Of course the gorgonzola dipping sauce is not low fat , I'm working on one miracle at a time darlings, but the sauce is optional extra and a truly optional one. The chips are absolutely perfectly seasoned and moreish just the way they are. Mr NQN preferred them without the sauce and scoffed an ungodly amount.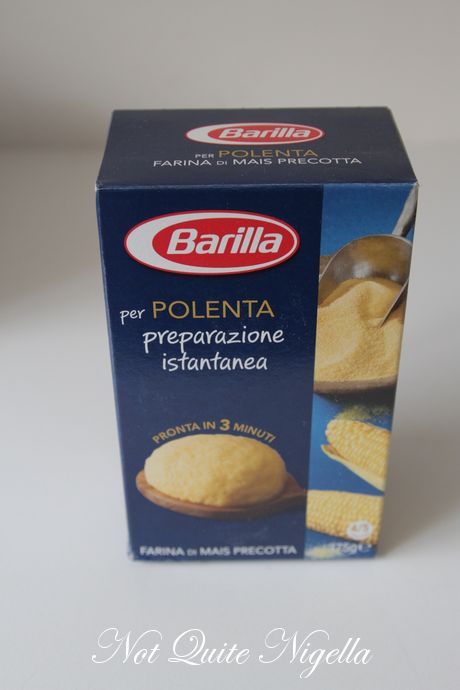 Another reason why I love these is because I always have a box or bag of polenta lying around. I think almost every kitchen does. You know, when you buy it for say making a pizza base crunchy or making cookies and find yourself with a massive amount of it left. I also got a big box of goodies from Barilla and it included a three minute polenta. I also love it as can be made ahead of time, popped into the fridge and then cut up and baked just before you need them. They are best when they are baked fresh to order, much like fries.
So tell me Dear Reader, do you have any tips on how to get ready for bikinis?
![Polenta Fries (https://images.notquitenigella.com/images/polenta-fries-low-fat-with-gorgonzola-dipping-sauce/polenta-chips-low-fat-7.jpg)
Polenta Fries (Low Fat) with Gorgonzola Dipping Sauce
An original recipe by Not Quite Nigella
1 1/3 cups polenta (I find the superfine tends to clump so medium coarseness is best)
1/2 cup parmesan cheese, finely grated
1.5 tablespoons oil for greasing and brushing
Gorgonzola dipping sauce (ok this is not low fat)
50grams/1.5 ozs gorgonzola blue cheese
Step 1 - Grease a medium sized swiss roll tin or similar rectangular tin with sides. In a large heavy based saucepan, heat milk , salt and stock until almost boiling. Meanwhile grate the cheese and measure the polenta out. When the milk and stock are almost boiling, take a large whisk and whisk in the polenta adding it in a steady stream, do not add in one lot. Stir until cooked. I used Barilla instant polenta so it took three minutes but cook it for as long as the directions tell you to. Add in cheese and stir until combined.
Step 2 - Spread out into prepared tin using a spatula smoothing it over. Cool and then place in the fridge to set for an hour or two (or overnight).
Step 3 - When ready to bake, line two baking trays with greaseproof paper. Preheat oven to 220C/440F. Cut out chip shapes in the polenta and carefully place on the lined baking tray. With a brush, lightly brush over with the oil and bake in the oven for 25 minutes until you get some lightly charred bits.
Step 4 - Meanwhile, while it is baking, make the gorgonzola sauce. It only takes about 5 minutes. Heat a small saucepan on medium heat and crumble the gorgonzola into it and stir and cook it until it becomes quite soft.  Add the cream and stir constantly until it becomes a smooth sauce. Serve this alongside the polenta chips.