I don't wish to ignite the Sydney versus Melbourne debate. I think you know that as a Sydney born and bred gal I'd instinctively defend Sydney but that's not to say that I don't fully appreciate the beauty and splendour of Melbourne. And if the weather were warmer I would perhaps be living there right now. One thing that I don't ever bother arguing with is the brilliance of Melbourne's Queen Victoria Markets. We have nothing like this in the middle of Sydney. The Queen Victoria Markets are in the heart of the city of Melbourne and it is where you can find some of the most diverse, unusual and freshest ingredients in one place. And Mr NQN and I were about to embark on a guided tour!
Started 132 years ago, the 1000 plus stalls stretch across an eight hectare property. There is the closed building which we're standing in front of and then the more outdoor area housing the fruit and vegetables. Four thousand people work here on a Saturday and every year 10.5 million visitors come here. It is one of the top Melbourne city attractions.
Offal and more offal!
We enter the meat area and there are three stands that sell all free range produce with most of the produce in Victoria (with some kangaroo from South Australia). We pass another stand where our guide Carmel tells us that they have expanded their offal section. There are dark red plucks (the sheep heart and lungs) which are popular around Greek Orthodox Easter where shopkeepers will stockpile a thousand of these. There's lamb's tongues, heart and mini marrows for $1, lamb's brains for $1.50 each as well as beef tongues with the tastebuds still visible some with a black underside to them.
Female pork guarantee is prominent
The metal hook and rail system above shops
Most of the pork sold is from female pigs (meat from male pigs are said to have a distinct odour to it). Carmel tells us that at midnight to 2am they cool down the entire meat section and the meat luggers enter at 2am and hoist the meat up on the hook and rail system and deliver it to the various stalls. At 3am the butchers enter and do their work.
Gourmet sausages
We then move onto a gourmet sausage stand which are all gluten free using rice flour instead. "What's your most popular flavour?" Carmel asks. "10 kgs of each!" the owner replies laughing. The most popular is the lamb and rosemary and the lamb and garlic along with pork & fennel and chorizo. In Summer, sales triple for the sausages.
Great deals (and this way of displaying mince-so different to the way we get it)
Prices for meats are quite amazingly good. At Quality Meats eye fillet is $24.99 a kilo and aged porterhouse steak is $20 a tray which has seven large steaks on it.
The best way to see things...
People glide by in their rented shopping trolleys and there is also an organic butcher where most of the meat comes from Victoria except for chickens which come from Queensland. Some butchers here specialise in one area of Victoria.
Coral Trout
Many of these stands are family run businesses and the Chitty family that run Happy Tuna originally dealt with rabbits but with the disease scare of 1970 they branched out to seafood. Carmel tells us that this is one of the most popular stands for Melbourne chefs. We stand below their custom ice chiping machine that constantly produces chips of ice to be rained down onto the fish.
Yanni from The Seafood and Oyster Spot
Coffin Bay oysters
We stop by the seafood and oyster spot where Yanni and George charm customers with their personalities and fresh seafood. We try a half dozen juicy, enormous freshly shucked before our eyes Coffin Bay oysters with lemon. They slide down the throat with a shimmer. Yanni is a personality and has been on tv many times-he's effervescent and a natural. On a Saturday morning, they easily sell 300 dozen of these babies. I feel an arm around me and it's Yanni "I'm making you jealous huh?" he says to Mr NQN.  Carmel tells us that when she has school groups she asks him to run down the hall with an octopus to scare the kids. Funnily enough, the school kids have become much more enthusiastic with the proliferation of cooking shows on television and now show a clear interest in the profession.
The deli building
Herbert Adam's original stall
We walk into the deli building which is now a National trust protected Art Deco design building. Originally built to sell butter and cheese the windows were built to face South to keep things cool. Back then there were fourteen butter and cheese stalls and today there remains one butter specialist. The rest are deli items. Interestingly some of the bigger brands started here such as Tibaldi smallgoods, Perfect cheese and Herbert Adams.  And how do the stallholders get in and out? Why through this little door of course! And this is also where deliveries and garbage go in and out too.
Can you spot how they get in and out?
We pass by Andrews bakery where they access breads from 18 different bakeries and make New York style bagels.
We stop by Pavilion Select Produce where a provolone cheese bell proudly sits and has been maturing for the past 23 years-right now it's worth about $500.  Again it's a family run business with the dad and sons manning the stand. We try a Warrnambool vintage cheddar, a King Island brie and a goat's cheese feta from Tarago River with the vintage cheddar and goat's feta being highlights.
Curds and Whey
We stop by Curds And Whey who specialise in unsalted, salter and mild butters from Warrnambool at $10 a kilo. You can even bring you own jars to fill up with Castlemaine honey.
The Pantry selling game and poultry
Kangaroo Tail
A sign catches my eye and we walk towards The Pantry where they sell game like rabbit, venison, kangaroo, crocodile and emu.  Sure enough there are emu sausages, crocodile sausages, buffalo fillets, kangaroo tail (which can be used in a slow cooked  stew where the tendons melt away), guinea fowl and pheasant. At Christmas and Easter they apparently have an excellent Barossa goose. And after Easter when they no longer have supply they shut down for a while until supplies are back instead of looking for other suppliers.
The mum
The daughter
Carmel shows us a true family business-or three in fact. At one end there is the mum who owns Tina's gourmet cheese deli. Her son owns The Epicurean store and the daughter Faye owns the Queen Victoria Deli. Faye gives us a sample of an assortment of olives including kalamata, tiny Mount Zero ones, ligurian and sicilian olives. They also sell a fascinating range of syrupy mandarin, lemon, raspberry and orange balsamic vinegars ($16.90 each) as well as no nitrate salami and bacon.
Tofu Trek's Sugar Bag honey
We head on over to the tofu trek stall where they sell tofu and honey (now that's a stall that Mr NQN's parents would own!). We try some of the Sugarbag honey which is a fascinating type of honey made from Australian native stingless bees (and was said to be a prize bush food for aborigines). The texture is like a liqueur syrup and is completely unlike any other honey you may have tried. This arrives only once a year and each hive produces less than 1 litre a year making it a fleeting and precious product.
We stop by Jim's deli where they have completely dairy free cheese made with soy oil called Kolios Nisitsmo fasting cheese.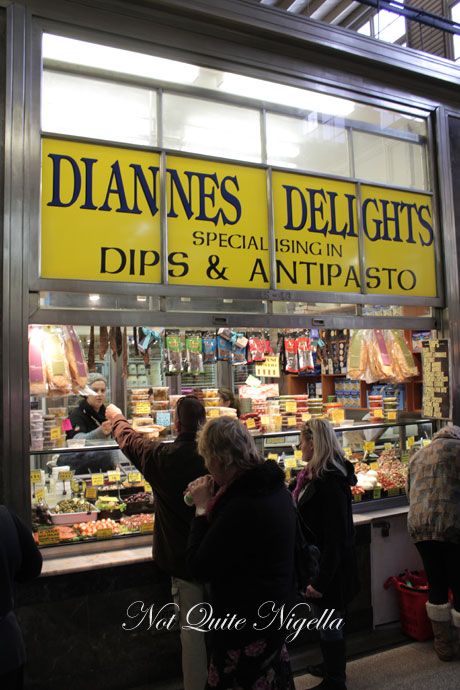 We stop by Dianne's delights where she has created a triple layered dip and her best selling product. It's a 3 in 1 dip with mascarpone, basil pesto and tomato pesto. We try it with some crackers and it's frightfully, deliciously addictive.
The Polish Deli
The Polish deli stocks all sorts of cured sausages including the wedding sausage which is a pork, leg ham and garlic sausage said to be very lean. And why the wedding sausage? Well the story that Carmel was told was that people asked for it to be made for a wedding which was then called off but the sausages were too good to go to waste so they gave it out to guests. truth or legend? Who knows!
My credit card starts itching...
We stop by a place where my credit card itches. The Traditional Pasta Shop makes freshly pasta daily and sells such goodies as peking duck ravioli. I spy a pasta that has me excited. It's a candy striped bow tie pasta. I know it's $21.90 for a box but they're absolutely eyecatching and before long others start noticing this product that only hit the floors two hours earlier. I snag a bag (and I am so excited I tweet about my exciting new discovery).
Our last stop in this building is the French Shop where we try some lovely provencale terrine with cornichons. During the Tour de France they hang up a bicycle above the display and there's a red light indicating where in France the group is riding through and they feature items from that area.
We then head out in the fruit and vegetables section. The structure was originally intended to be temporary but now it is very permanent with solar panels on the roofs and the use of recycled water. We try some Mr Tran's Murray Bridge tomatoes which are sweet and juicy. Mr Tran was a Vietnamese immigrant who lived in France and didn't know whether they had these tomatoes in Australia so he brought them over.
We also see some black garlic whose smell reminds me of Chinese medicine. At $140 a kilo one head of garlic ends up being $4-$5.
Black Garlic
Carmel shows us a Buddha's hand which is related to the lime family. Vietnamese women of various ages have told her what they use them for and it ranges from in a tea or grated and used in a humid room to deodorise a room or preserved in sugar. There is also an organic section and a mini mart.
Buddha's Hand
We end off having a coffee at Coffea and a slice of castagnaccio cake. Breakfast of champions!
So tell me Dear Reader, what is your favourite city in the world?
NQN and Mr NQN travelled to Melbourne as guest of Tourism Victoria
Queen Victoria Markets
Corner of Queen and Elizabeth Streets, Melbourne, Victoria
Market tours are $35 each and include samplings
Markets are closed Mondays and Wednesdays