Lavandula Swiss Italian Farm
Ever feel like a billy goat? I cant say that I have until now. Careful to heed the signs and waiting until the group of four who happily run across the bridge before us clear the planks, Mr NQN and I walk across the bridge to Lavandula Swiss Italian Lavender Farm. We were nearing the end of our lovely little sojourn to the Daylesford area of Victoria. Here at Lavandula they grow Italian and English lavender and hand harvest every batch slowly. As well as lavender, they also grow olives and grapes and these are used in the cafe.
The restaurant here is called "La Trattoria Cafe" and during summer months people can eat outside underneath the ash trees but since it's a bit chilly from the sudden burst of snow, we take a seat inside. The menu has some lavender items but it's not overkill and there are regular sorts of items too. We hone in on the local platter for two and the goat with polenta. It's ferociously busy with people constantly coming into the back room and seeing their faces fall as they see the reserved signs- so Dear Readers, if you want a table here, I can definitely recommend booking! ;)
Lavender champagne on left and Lavender lemonade $5
First we start off with lavender lemonade. It's soda water with lavender syrup and is refreshingly girly. Mr NQN finds it a bit to floral for him but I like it as I love lavender flavoured food. Mr NQN tries the lavender champagne "I think I like this better than regular champagne" he says. It has just the right amount with the lavender so that it doesn't overwhelm the champagne.
Regional tasting platter for two $35
Our local tasting platter comes out. There is a hot and spicy salami, prosciutto and bull-boar sausages from Istra meats. The bull-boar with it's star anise flavour is absolutely divine. The olives are from the farm and the frittata is fresh and warm and not rubbery as sometimes frittatas can be.
Goat from Spa venison braised in date and cinnamon with baked polenta $25
The slow cooked goat is wonderfully soft and I finish my half off of this. It's scented with cinnamon and Thai basil and slightly sweet with dates. There is a square of slightly crunchy edged seasoned polenta.
Lavender Scones $8.50 for two
If only I had room for the lavender scones! OK we have a smidgen of room and we find ourselves sinking our teeth into an absolutely terrific scone. It's enormous for starters and even though Mr NQN doesn't usually eat scones as he finds them too dry  he happily tucks into this and finishes more than half. The scone has just the right touch of lavender, never too much so that it becomes soap and it is served with a strawberry and lavender jam and whipped cream. The texture of the scones is very light and they're beautifully warm. There is also lavender ice cream served in a waffle cone but we don't quite have the stomach space for it. What a shame!
The kitchen of the original farmhouse
We then take a quick explore of the house which has been beautifully restored. Built in the Swiss Italian style by the original owner Aquilino Tinetti it gives us a real glimpse into the style of house of that day. The kitchen is particularly impressive as is the enormous fireplace. He excavated about 7 feet below and used the rocks from the excavation for the walls of the house. And because I love shopping, there's also a store that sells not only things scented or flavoured by lavender but also other goodies for the home!
My what a twisty neck you have Emu!
"Who are you saying has a twisty neck?" Emu says.
Daylesford Organics
Oh dear. I haven't brought any gum boots. But in my defence Your Honour, gum boots aren't the usually kind of footwear that I pack and I didn't expect such wet and cold conditions. Not to matter! Our hosts the lovely Brendan and Kate are Melbourne city dwellers that decided to make the change to become farmers once they had a child. They now produce almost 40 varieties of apples and specialise in organic produce, in particular heirloom breeds (which you know excites me!).
Brendan and precious organic garlic
They have about twenty varieties of heirloom apples as well as tourist pleasing varieties like the Isaac Newton apple and a 20 ounce apple. Along with these they also carry the popular granny smiths as well as English varieties like Cox's, Pippin and Bramleys as well as the Australian Ballarat variety. Apart from apples they grow about 30 different types of vegetables with about 200 heirloom varieties. They grow four types of carrots, five types of beetroot including a chioggia beetroot which looks like a fuchsia shade from the outside but once slices, resembles a red onion. They're one of Alla Wolf-Tasker's suppliers for The Lake House restaurant.
Brendan shows us how some crops are planted curved to catch as much water as possible in summer and to get rid of it in Winter. Everything that they do encompasses several farming principles like permaculture and biodynamic and even though they don't come from a farming background, they've made it work.
Brendan shows us the organic garlic for which there is a lot of demand (I find it so hard to buy Australian garlic, let alone organic Australian garlic!). I get so excited about it that he kindly pulls up a couple of stalks of it to take home with me. They also have chickens-they started with a dozen and then 6-7 years later they have 1,000 chicken of different breeds. The fences have movable posts so that they can rotate the chickens around so that they get to nibble on different grass. The chickens then fertilise the soil and this can then be used to grow vegetables later without the need to add anything to the soil.
Chickies! I want to take them home with me...
During farmgate season which starts at the end of January, people can walk through the farm itself before going to the shop. "I figured if you are going to open up a farm gate shop, people wold want to see the actual farm" Brendan says. And if they're not busy and you want to buy something straight out of the ground,they'll be happy to do this!
Pure Honey
We make one quick last stop at one of the many honey stands that line Jubilee Road. Pure Honey operates as an honesty stand which is unattended and there are honey samples for tasting prior to purchasing. The prices for honey are very reasonable. It is cold extracted honey from local apiaries and there are varieties like grey (my favourite) and stringy bark.
Daylesford shopping
You know any holiday isn't a holiday without a bit of shopping! We walk down Vincent Street where there are lots of cute little shops including a lovely vintage store which is actually three stores in one. We spy a hilarious ashtray, some good luck three legged pigs called Chanchitos and a tea cosy which I adore and immediately purchase.
See? She even looks like me!
I buy a coffin from Uncle Fester's which also stocks Living dead Dolls. Well not a life sized coffin but a small coffin which I used for my Halloween story. There are all sorts of fabulously Halloween items here.
Planning your next trip? Ensure you have the right coverage with HeyMondo travel insurance that includes COVID-19 protection. Plus, if you use our link, you'll receive 5% off the price. Find the best deals on flights from all airlines in various currencies with SkyScanner and set up alerts to get notified when prices drop. For reliable transportation options, look no further than 12Go Asia, offering train, bus, ferry, and flight transfers worldwide. Book your transportation now and enjoy a stress-free journey.
When you purchase through these links I will get a small commission at no cost to you. Thank you for supporting me! :)
Our last stop is the Sweet Decandence shop at Locantro where we spy some hand made chocolate in the displays. At $2.50 per chocolate they're not cheap but when Pia shows me how they're made upstairs you see why. They don't use any molds here and they make 1,000 chocolates a day using this single pot. Their method really harks back to how chocolate used to be made with old fashioned methods.
The single pot used to make all of the chocolates
Set in the tray
They pour the chocolate and then allow it to set and the cut them up or hand shape them and then coat them with chocolate. Incredibly, they don't use piping bags either and Pia explains that each "R" written in white chocolate on top of the Rum and Raisin chocolate is done using a spoon. Denise, the chocolatier dips the spoon into the chocolate, gets it at the right consistency and then draws the R using the melted chocolate on the spoon.
Their most popular chocolate is the Milkshake which is a two layered number. We also try the Sticky Fig which is sticky and fruity, Daylesford delight, toasted cashew and sultana and the fruit and nut. The chocolates remind me of a fudge and are on the sweet side, rather than the bitter sweet side but I can't help marvelling at the techniques that they use.
Other lovely little stores
Love these door handles!
Breakfast AND beer? Man win!
We check into the Grand Hyatt on Collins Street and are shown up to the Club Floor check in (I admit I do love these special checkin floors). Our room, although a tad snug, is newly refurbished and comes with complimentary breakfast, canapes and drinks in the lounge on the same floor. In fact as we're just after something light for dinner given we've been eating at an Olympic level this suits us perfectly.
Nibblies from club lounge
Potato chip nachos-don't be scared!
I make us a couple of plates as I'm a greedy ahem good wife and i particularly like the beetroot salad with fetta and herbs and the smoked salmon, prosciutto and scallops. I make Mr NQN a potato chip nachos-don't knock it until you've tried it. On the bottom is a layer of tomato and onion salsa, then guacamole and then chive sour cream and then crispy potato crisps on top (so they don't get soggy).
And last of all we end off with dessert which is a sweet mixed berry compote with whipped cream and strawberries with chocolate and other fruity bits. We retire to our room and I make use of the well stocked amenities box and get ready for bed.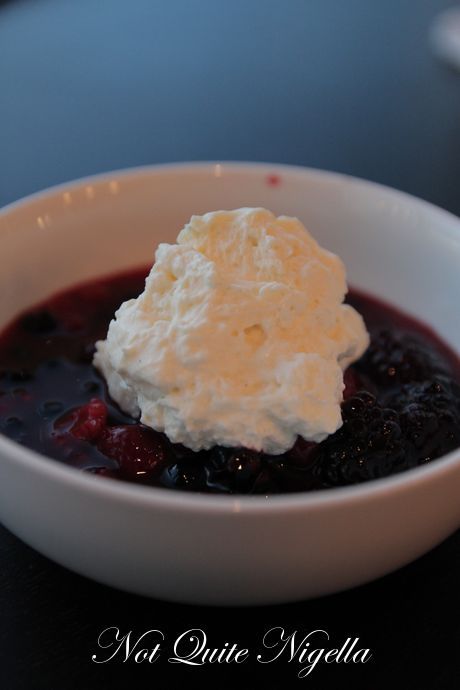 Mixed berry compote with whipped cream
After I take a shower I emerge from the bathroom to find Mr NQN doing something rather odd in the hotel room. "I'm drying the egg cartons" Mr NQN says to me by way of explanation. You see we had the precious eggs from Daylesford Organics but Mr NQN's wet board shorts in the back of the car managed to make the egg carton cardboard all wet and I wasn't ready, willing or wanting to give up my precious eggs! So we make use of the velvet lined drawers and rest our little eggs there while waiting for the cartons to dry.
"You never travel normally do you?" Mr NQN says. I look at the organic garlic and eggs that I am taking as carry on and admit defeat.
So tell me Dear Reader, what's the oddest thing that you've brought back from a trip?
NQN and Mr NQN travelled to Victoria as guests of Tourism Victoria and the Daylesford and Macedon Region.
Lavandula Swiss Italian Farm
350 Hepburn-Newstead Rd via Hepburn Springs, Shepherds Flat Springs, Victoria
Tel: +61 (03) 5476 4393
Daylesford Organics
19 Foxs Lane, Muskvale, Victoria
Tel +61 411 040 412
Farmgate opens January 2011
Pure Honey
143 Jubilee Lake Road, Daylesford, Victoria
Tel: +61 (03) 5348 2997
Vintage Store (three stores in one)
Vincent Street, Daylesford, Victoria
Uncle Fester's
197 Vincent Street, Daylesford, Victoria
Tel: +61 (03) 5348 4258
Sweet Decadence at Locantro
87 Vincent Street, Daylesford, Victoria
Tel: +61 (03) 5348 3202
Grand Hyatt
123 Collins Street, Melbourne, Victoria
Tel: +61 (03) 9657 1234