"That is Mother Nature giving us the finger" laughs Alla Wolf-Tasker, doyenne of the food industry and one of the key people that helped to make Daylesford a foodie destination. She is of course talking about the snow that fell gently but persistently last night and this morning. I do have "pinch me" moments, quite often in fact and this is one of them. Mr NQN and I have checked into the Lake House in Daylesford, a luxurious hotel which is famous for its restaurant as much as its view and lodgings.
Alla Wolf-Tasker
Alla's daughter Larissa heads up the marketing here at The Lake House and she warns "Mum can talk under cement so I'll have to stop her". Alla along with her artist husband Allan, have built what was a single building fronted by a swamp into a luxury foodie and travel destination (her mother wept when she saw the property saying "You're building a restaurant where?"). She also set up Daylesford and Macedon Produce which is a collective of artisan producers and farmers that allow them to truly stake claim to the word "local". Things are not 100 miles away, they're as far away as a few kilometres.  Now The Lake House have five organic farms within 10 kms that supply to them and the Daylesford Macedon Producers collective (DMP) has 126 members.
But it wasn't always that easy.
Allan Wolf-Tasker's paintings
Alla recalls where it all started. She was studying cooking in France and the places that resonated with her were the French countryside restaurants where they really had a sense of place. That is "You knew that you were dining in a country restaurant and not a city restaurant...We're talking 2 and 3 Michelin star country restaurants. They had farmers that were selling them vegetables so fresh that they were being delivered in the morning with dew still on them". So her dream became to open up a country restaurant. However Australian farming was not like European farming and everything back then was monoculture so a farmer grew only one type of food.
When she came back to Australia she told her husband Allan that she wanted to open up a country restaurant. "Luckily he said 'why not?' instead of giving me reasons why it wasn't a good idea which numbered plenty. We had no business or marketing plan" she remembers "I dreamed of a discerning clientele, rosy cheeked farmers and white suited waiters. But it was sh*t when we opened" she said with her characteristic honesty.
It took four years to build the first building and when they first opened it was only open Friday to Sunday as they had to keep their jobs in Melbourne to help support the business. "People just wanted scones and toasted sandwiches" she recalls with a grimace. "I put on a prix fixe meal for $24 a head which was never heard of here. I had shiraz glazed squab on the menu". Despite this resistance from the people, she persisted. I ask her whether the customer's desire for scones and toasted sandwiches put her off and she says "No I'm stubborn". "Crazy" interjects Larissa. Alla adds "I'm not going to glamourise it, there were plate throwing incidents. We had to do things like send laundry back to Melbourne because there was no-one to do it here so on a Sunday night we'd take off all of the linen".
Larissa Wolf-Tasker
There were also huge issues with growers supplying food and she recalls putting ads two weeks in a row for farmers to supply local produce. At the end of the second week a single bag of potatoes were left at their doorstep. But it's not just having farmers selling to locals, they needed to create a market for the farmers to do this.
Now things have changed and now there is a farmer's market every week.  And for Alla, even though she has has organic food, local always trumps organic. If given a choice between an organic product from overseas or a non organic local product, she'll always choose the local product.
So what is for dinner tonight? "We aren't harvesting anything at the moment" Alla explains. Their altitude and the colder climate means that they harvest a little later than everyone else. She tells us that she is excited that some of the farmers are growing her some black and watermelon radishes as well as amaranth. We leave with a signed copy of Alla's gorgeous hard cover book "The Lake House" which gives a fascinating background story to The Lake House.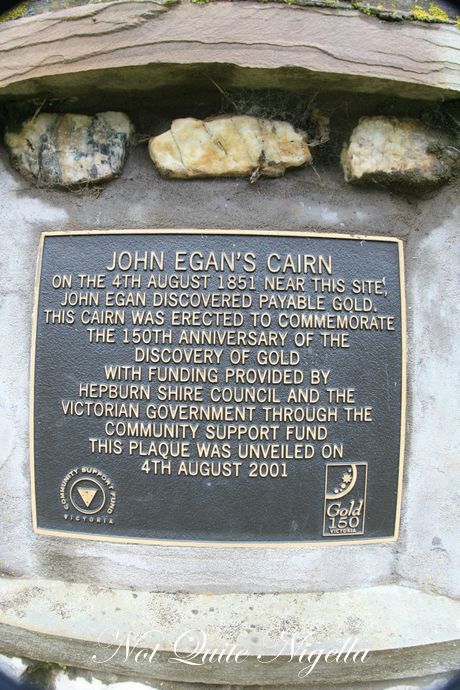 Suite at The Lake House
Mini bar goodies
We follow the trail of wooden cockatoos and our room is facing the lake which sparkles right outside. It is furnished in a modern style with a large outdoor deck, Lake House goodies in the mini bar (we particularly liked the fruit and nut biscotti which was chock full of plump apricots and pistachios), Natio products, a lovely mud soap, heated tile floors (oh bliss!) and a huge spa bath.
Mr NQN takes a nap and I do a bit of work and before you know it, it is dinner time! We take the short walk from our room to the main building and are greeted with a warm welcome. We are shown to our table by Tom who looks after us for the evening and the room is large with a stunning view of the lake.
The menu has a painting by Allan Wolf-Tasker of Alla showing her asleep holding a whisk and cradling a bowl and is called "Rousseau's Sleeping Chef" as a testament to how devoted she is to cooking and how she dreams it. An eight course degustation is $130 and $80 extra for matching wines or three courses a la carte is $98.
Inside the menu is a note from Alla about the spring produce and explains how spring is a slightly slower season here because of the cooler weather. Farms plant then rather than harvest in this region and she explains that spring Lamb is six weeks later here than in less cool climate areas. While Mr NQN and I are figuring out what to order Alla breezes in and sits next to me on the banquette and says to Tom "They only had 15 minutes for me before so I'm going to talk now!".
With two hats in The Age Good Food Guide this year, we're excited to try the cuisine. I'm torn between the degustation but then I also see the Gaytime dessert "Oh no problem, we'll swap it around for you if you'd like. How much can you eat? I don't want to kill you! We can just keep sending out the food" she says.  "We don't have to feed our geese" she says laughing, "they love the leftovers and they'll eat themselves into a foie gras state by themselves!". We decide on the degustation for Mr NQN and a la carte for me with my a la carte based on Alla's recommendations. Mr NQN chuckles at the note on the menu "If you would prefer some simpler fare, please speak to your waiter. The Kitchen will be happy to oblige".
Amuse Bouche (degustation course)
We start with our first course, a scallop cooked on the shell with a creamy fennel sauce and delicate slices of poached fennel in a vivid saffron which gives it that honeyed flavour and the fennel a delicate aniseed flavour. It's a great way to start the meal.
And no meal is complete without starting it off with some bubbly-the NV Lake House Sparkling Rose.
Tuna - air dried and tartare, aioli, apple, salmon roe (degustation course)
Mr NQN loves his tuna tartare with sweet poached apple. There is a tiny piece of air dried tuna on top which is similar to a tuna prosiutto and some lovely little pops from the salmon roe.
Five Tastes from the Sea
I do love tasting plates and this one has five separate seafood flavours on it. Our waitress tells us that we can start eating it in any order. I start with the Coffin Bay oyster with Nam Jin which adds punchiness and aroma to the creamy oyster, a fantastic little cup with two Kinkawooka mussels, "Mariniere" which is a creamy white wine soup, a spoonful of diced scallops and black bean ceviche with juicy scallops and black bean which gives it a Chinese flavour, and tuna sashimi wrapped around a crunchy Asian salad which is then wrapped around a paper thin layer of pickled cucumber in a sesame sauce and lastly, a crunchy Crystal Bay Prawn in tempura which is served plunged into a lightly spicy chilli aioli.
Salt cod tortellini, broad beans, Manchego, pancetta (degustation course)
The broad beans are another seasonal item and the salt cod tortellini is a fantastic morsel of smooth as silk salt cod filling and silky pasta. We use the house baked bread to mop up every last bit of the meal. Alla comes by to chat some more and Mr NQN remembering the note on the menu cheekily asks her for some scones and toasted sandwiches :P Luckily she has a keen sense of humour.
Quail tempura, chawan mushi, shiitakes (degustation course)
This dish was heaven quite simply. One half was the shiitake topped chawan mushi which was served warm and had a wobbly and weak kneed texture similar to warm bone marrow with that distinctive shiitake aroma with star anise. The quail is wrapped in nori and then tempura batter and very lightly deep fried so that it has a delicate crunch whilst still retaining the moist gaminess of quail.  It is paired with a dot of wasabi mayonnaise. Heaven. That is all.
Crisp, crumbed poached egg, white asparagus
Actually from the vegetarian degustation (oh yes did I mention that there is a whole vegetarian degustation?), this is a large crispy coated crumbed poached egg sitting on a bed of fat white asparagus. The coating is crunchy and sharp which contrasts well with the runny, runny yolk and toothsome asparagus and chive cream sauce.
Smoked Skipton eel, Instra Pancetta, heirloom beets (degustation course)
Mr NQN's smoked eel dish is served with a quennelle of creme fraiche, some golden and "pointy ends" from heirloom beets from Daylesford Organics which is a farm we are to visit tomorrow. They're all strong, earthy flavours which stand up well to each other.
Roast duck, pastilla, witlof, grains (degustation course)
There are four slices of pink centred roast duck breast, some small pieces of quince and sweet braised witlof and half a pastilla which is a meat filled pastry. The only complaint? More pastilla please! :) Mr NQN accused me of eating more than my share! He may have been right but I deny everything...
_Free roaming chicken-roast leg, breast, ballotine, spring vegetables, foie gras croquettes, morel sauce _
My main comes out and it's an impressive size. It's several pieces of Glenloth chicken with a roast leg, breast and a juicy ballotine wrapped in pancetta. The chicken is tender, even the breast which has herbs under the skin and the locally foraged morels which are new for the season give the whole dish a wonderful aroma. And I know, you're curious about the foie gras croquettes. Yep, they're every bit as good as you would imagine and go beautifully with the tender chicken and morels.
"Pot Au Feu" - poached beef fillet, smoked tongue, silverside,  tail dumpling, marrow brioche (degustation course)
This was Mr NQN's last savoury course-the Pot Au Feu (literally "pot in fire") which is a French stew that is made with several cuts of meat that require long cooking times. this one has a poached beef fillet-Alla explains that they weren't able to get a consistent enough produce with the veal which was originally on the menu. There is also smoked tongue, silverside as well as a little tail dumpling in a lovely broth and a smear of salsa verde. And on a separate plate there is a salty brown anchovy mayonnaise and a bone marrow brioche. Yep, bone marrow brioche. If there was ever an item that had my name on it, it is bone marrow brioche. it is a small, buttery, warm morsel spread with rich bone marrow. And it is fabulous.
_Side salad _
All mains come with a lovely side salad which is perfectly dressed and moreish and garnished with bright nasturtiums.
Palate cleanser: yogurt panna cotta with blood orange jelly
The shot glass of yogurt panna cotta with blood orange jelly is a sweet and slightly tangy jolt to our tastebuds.
A Multitude of chocolate textures with spring violets
I do love chocolate and violet together so I was excited to see this plate set down. There are several incarnations of chocolate here. There is a chocolate sorbet, a mousse, a chocolate hazelnut pudding, soil, chocolate pain perdu (a moist moreish bread pudding) and curiously a clear jelly that tastes like chocolate and a very dark chocolate ice cream. There is also violet granita on top. And even though I rarely order chocolate desserts at the end of a degustation and Mr NQN doesn't go for chocolate, every tiny drop is finished.
A plate of Spring citrus -steamed pudding, curd, ice cream, "caviar"
This was a surprise dessert course but I think Alla reads minds on the side because I was looking at this on the menu with some degree of lust as I do love citrus desserts. It is a moist almond meal steamed citrus  with a light as marshmallow lemon mousse and blood orange infused sago which resembles red caviar balls. And believe me when I say lemon curd ice cream is the bomb. It's what allows someone who has shared 12 courses to finish every speck on the plate.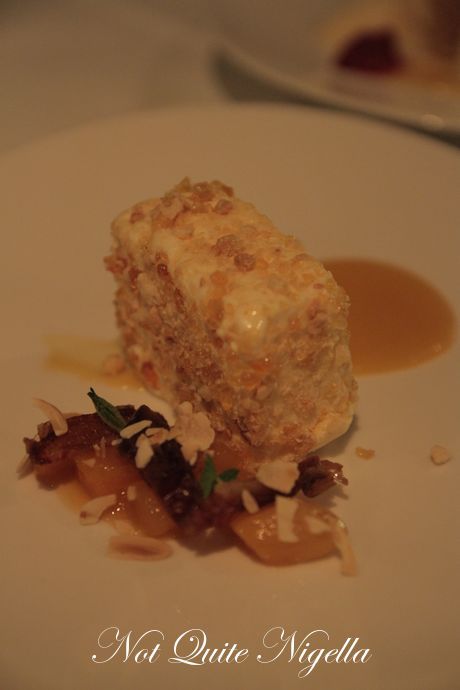 Lake House "Gaytime" Amaretto parfait, almond, dates, apricots, curry
I know, the Gaytime should probably be the national ice cream. Despite the double entendre name, I know so many people that love these (or perhaps because of the name). And yes there is curry in the apricot sauce but never fear, there is a gentle hand tending to this and you may or may not detect it in the sauce. The semifreddo ice cream is coated in almond praline brittle crumbs that crunch satisfyingly in the mouth and there's a divine salad of dried Turkish apricots, sliced fresh dates, flaked almonds and micro mint leaves. It's not entirely like  Gaytime but it's a sophisticated homage to it.
The bon bon trolley-a lovely sight indeed
Coffee and sweet indulgences from our bon bon trolley
"I'm stuffed" Mr NQN says putting down his fork. He has done well and finished every single morsel bar a tiny piece of steamed sponge. "I have room for the lolly trolley" I say grinning as I spy the trolley. We get a little bit of everything including mandarin marshmallows, chocolate and almond studded brownie diamonds, gorgeous chewy salted toffee caramels and the frightfully addictive spiced caramel popcorn redolent in cinnamon.
We take the short walk to our room and collapse into bed with a satisfied smile. The next morning I am awoken by an insistent honking. Is that... the geese? I jump out of bed, grab the camera just as two enormous geese walk past our room. And did you know that some of the geese's names are foie gras 1, 2, 3 and 4?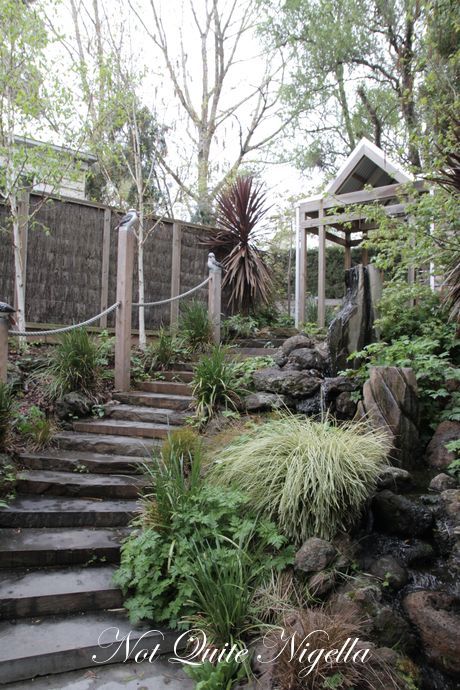 It is lucky I am up for my day today is a terribly hard one-just kidding! I am getting to try The Lake House's Solus Spa. I walk a few metres to the spa right next door to our room and am shown downstairs to a heated room. I am having a 75 minute treatment which involves dry body brushing, a hot oil massage, salt scrub, a short scalp and face massage and then a hydro storm shower. This is a two person shower where the shower head is an enormous 25cms diameter rain shower head. There are also steam and water jets and a colour therapy light which changes to all of the colours of the rainbow and if you like a particular colour you can pause it or turn it off.
At first I find it too strange and poke my head out for some fresh air but then I get used to it and find it hard to come out of it. I emerge in a lovely, blissful post spa daze and am glad that I don't have to operate heavy machinery or drive a car. I rest taking in the morning light in the waiting room.
As I'm getting my treatment, Mr NQN gets a tour of Alla's kitchen garden from Larissa as well as a tour of Allan Wolf-Tasker's artist studio. Larissa shows him a sculpture that he made using Larissa's niece's toys. Larissa tells us that growing up she and her sister would have toys go missing only to find later incorporated into his artworks!
Sculpture using toys
Part of Alla's garden
We just have enough time to pack and we reluctantly say goodbye to Alla and her team. "Come back when you're not working and I'll take you around to all of the producers myself" Alla says. I tell her firmly "It's a date. It's _such _a date!".
So tell me Dear Reader, what is your dream? What have you always wanted to do?
_NQN and Mr NQN travelled to Victoria as guests of Tourism Victoria and the Daylesford and Macedon Region. They stayed and dined at The Lake House as guests of The Lake House.
_
The Lake House
4 King Street, Daylesford, VIC
Tel: +61 (03) 5348 3329
http://www.lakehouse.com.au
The restaurant is open for breakfast, lunch and dinner. Reservations recommended.