I flipped through the calendar. Was it really true? Had I had this dreaded wretched flu turned bronchitis for over a month? I hate to sound like a malingerer but the dates didn't lie. I had had this dreaded lurgy for almost five weeks. It meant cancelling much desired travel plans and coughing my way through days and nights. I was never warm enough and we had the heaters on it seemed permanently.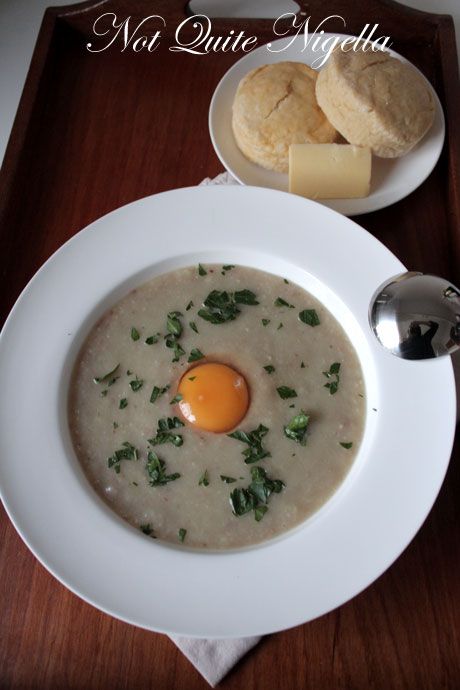 And I realised that everyone else around me was sick too. I apologised for my absence on facebook and twitter and many readers responded that they too were sick. That's when I got to thinking. Surely there's a recipe I can give to similarly ailing readers that could help recovery. And that is when I remembered the book Myriam gave me for my birthday: "Ducasse Made Simple" by Alain Ducasse that was translated into English.
I don't know if it was this soup and the many cloves of garlic or the slew of medication I was taking or whether it was in fact mental but I start to get better. The chemist who I consulted was amazed at the number of cough medicines I had tried. One was for a dry stubbon cough, one was for a chesty cough and one was just because neither were working! So to all of you out there with the flu, I hope you recover rapidly and fully and give this soup a try (you can omit the bacon if you are vegetarian and use vegetable stock). It tastes much better than any cough syrup ever could.
So tell me Dear Reader, what's your best flu remedy?
Cream of Garlic Soup
From Ducasse made simple
2 tablespoons extra virgin olive oil
2 oz diced bacon (I used pancetta but bacon is better as it purees down easier)
1 medium onion, thinly sliced
3 cups rich chicken broth
8 cloves garlic, green sprout in centre removed)
2 russet potatoes, cut into chunks
2 tablespoons chopped flat leaf parsley
1 egg yolk per bowl (optional, if you have health concerns about eating raw eggs)
Step 1 - In a medium stockpot, heat the olive oil over medium heat and sauté the bacon and onions for about 3 minuues until the bacon is lightly browned and the onions begin to turn translucent. Add the chicken broth and bring to a boil. Add the garlic, potatoes, bouquet garni and a pinch of salt and pepper and stir to combine. Cover and reduce to medium low and simmer stirring occasionally for 40 minutes.
Step 2 - Transfer the soup to a blender or food processor or use a stick blender and puree until smooth and creamy. Pour into heated bowls and garnish with a sprinkle of chopped parlsey and a raw egg yolk if desired.