Hate your boss? Your neighbour driving you up the wall with their decidedly bogan choice of music (yes I'm talking to you neighbour!)? A friend or a relative sending you passive aggressive emails? Well do I have the recipe for you! And if I told you that it would require you to vent any pent up fury inside you then would that make it even more fun?
Now I'm quite fortunate in that I am my own boss and I love that fact. Admittedly I am headstrong and I have literally had a rainbow of terrible bosses over the years. If I were to do a little round up I've had a Nazi sympathiser, the supervisor that tried to seduce my then boyfriend and call us at 2am in the morning and the paranoid one who we were all convinced was locked in a cellar for most of his formative years.
Then there was the boss that on the first day called me into her office and asked me how to set up "One of those cool hotmail accounts (it was the year 2000 and hotmail was not "cool"!)." She also had a copy of Internet for Dummies in her locked drawer (alarmingly, she was the media director of an internet company!) and would routinely shut me out of meetings. I didn't take it personally until her husband came into the office and when people introduced him to me his expression changed from that of benign pleasantry to a face contorted full of spite. He cast a significant look towards his wife, my boss and let out a slow "Oh yesssss I've know..." to which everyone took a step back and eyed both of us. Clearly they had been talking...
Thankfully I don't have any annoying bosses any more. In fact if I don't have to deal with someone I just don't which is one of the perverse pleasures of this job. Another pleasure of this job is talking about food in interviews and last week I was interviewed by Louise Maher for 666 ABC radio Canberra (you can listen to it here) to talk cupcakes and they asked me what my interactions with my readers were like. I told her that they were lovely  there were the comments which I absolutely adore but also emails full of sweet and lovely sentiments, questions, restaurant recommendations and  recipes. One reader Catherine had sent me a recipe by chef Jared Ingersoll which involved baking crabs in the oven and then periodically smashing at them with a mallet or rolling pin. Sanctioned violence in the name of a good meal? I liked it! Then another friend Renee sent it to me and I knew that it was a sign, make the crab and make it on the long weekend!
I decided to invite Queen Viv over, who needed to get some frustrations out and we set to work. The recipe calls for three crabs to be rubbed in a spice paste and then roasted along with some capsicum (peppers) , tomato, onion and garlic. And the most fun part is that every 15 minutes or so you get to take the baking tin full of crab and flavours (which by the way smells so alluringly come hither that you may have to restrain yourself and others) and smash it to smithereens taking out any fury you have on the crab. The best part is that the angrier you are the tastier the soup will be as the flavour packed shells release their deep seated flavour. See what I mean? Sanctioned violence! The whole thing is then simmered with stock and herbs for the last 10 minutes and then blitzed with a stick blender and then strained.
The recipe calls for a fish stock but I didn't have any so I used a new brand called The Stock Merchant who had sent me some of their stock to sample. They use free range chicken and beef bones and the stock is unsalted so that you can add the amount of salt that you want later.
The resulting flavour of this soup is incredible. There is an amazing depth of flavour from layering the soup. The careful and fun smashing of the crab means that you get the delicate sweetness of the crab but it also avoids that overt seafoody flavour in some bisques that I find too strong. I will warn you do not wear your best clothes and if you do like I foolishly did, get plenty of cold water on the stains immediately and they will come out.
It is not an every day soup, it's a little bit of a production for that but it is perfect for a dinner party or if you want to impress anyone and it makes plenty and enough to serve six as an entree and can be made ahead of time. It was just as good the day after and the day after that. And as for the leftover crab meat and vegetable mixture I did nibble at that and there are the occasionally bits of shell but it was so flavour packed that I treated it like eating fish with bones-worthwhile but you have to stop every now and then for the shell. But whatever you do save this recipe for when you or a friend is feeling frustrated and smash away knowing that the madder you are the tastier the soup will be! Play your loudest music, scream when you smash but whatever you do make this soup ;)
So Dear Reader, tell me about your worst boss and what you do to get your frustrations out?
P.S. Don't forget the To Market To Market winners have been announced here! Have a look to see whether you've won a prize ;)
Crab and Harissa Soup
3 whole blue swimmer crabs (about 750grams)
1 teaspoon coriander seeds
1/2 teaspoon fenugreek seeds
1/3 cup or 2 3/4 ozs soft brown sugar
150ml/5 fl ozs vegetable oil
3 red capsicums, seeded and chopped
1.5 litres/6 cups/52 fl ozs. fish or chicken stock
You will also need a mallet or French rolling pin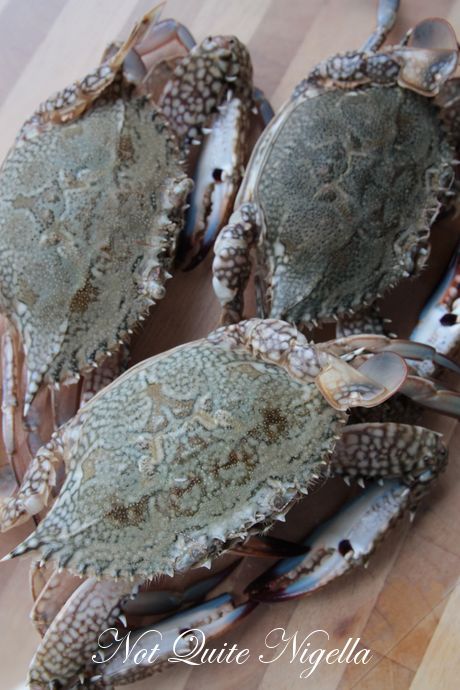 Blue swimmer crabs
Removing the lip from the underside of the crab
Pulling apart the shell and taking off the top of the shell
The dead man's gills (the clear puffy finger shaped items)
Step 1 - Preheat the oven to 180C/350F. Prepare the crabs-it's much easier than you might think. Have a large bowl ready. Remove the tab from the underside of the crab and then separate the top shell from the bottom shell. The meat will come with the bottom shell. remove the "dead man's gills" and then cut the crab into quarters using a heavy chef's knife. Place in a bowl being sure to collect all of the juice and meat.
Chopping in half
The finished quartered crab
Pounding the toasted spices
Step 2 - Prepare the spice mix by toasting the cumin, caraway, coriander and fenugreek seeds in a small dry saucepan until the coriander seeds start to pop and they become fragrant. Grind in a mortar and pestle and then sprinkle over the crabs in the bowl along with the brown sugar, chilli flakes, salt and pepper.
The spice rubbed crabs in the heated baking tin
Smash away!
Step 3 - Place a sturdy roasting tin in the oven-don't use your best one as you will be smashing at it with a mallet. When it is hot, add the oil and then the crab and spices. Mix together well and then bake for 20 minutes. After the first 5 or 10 minutes take out the tin and use a heavy mallet or rolling pin to smash at the crab. It gets easier as the crab cooks and to avoid giving your kitchen a Jackson Pollock, cover the tin with a teatowel and smash it underneath it (or just press heavily with the mallet to crush the shells). Do this one or two more times within the 20 minute period.
Adding the chopped tomato, capsicum, onion and garlic
After baking
More smashing
Step 4 - Then add the capsicum, tomato, garlic and onion to the tin and stir to combine. Cook for an hour taking it out two or three times to smash up the shells-or more if you're really feeling the fury. It should start to smell incredible at this point so you may want to restrain anyone rowdy and hungry...
All smashed up and ready for the pot
Step 5 - Heat up a large saucepan or cast iron pot that can fit the soup in it and transfer the contents of the tin into the pot.  Heat with the warmed stock and add the coriander and mint and simmer for 10-15 minutes. Using a stick blender, blend it up as much as possible. You won't be able to do the large legs or the large back shell but don't worry, do as much as possible. run through a fine sieve making sure to press it down to get all of the liquid. There will be a lot  of liquid so keep pressing-this is preciously good! Serve with some freshly baked bread.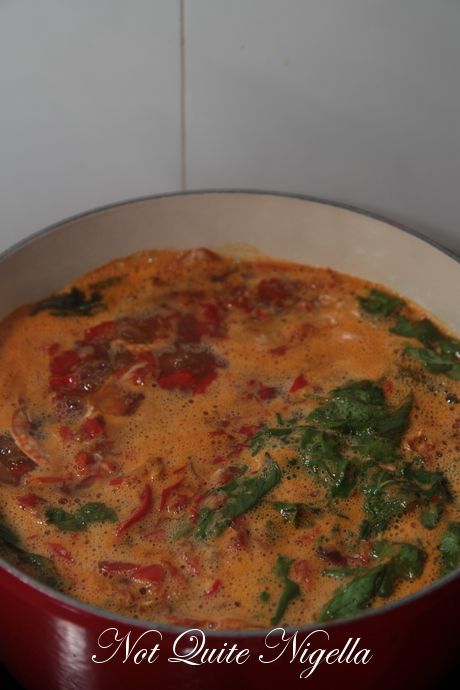 Cooking in the pot with stock and herbs