At breakfast at Villa Sungai Made presented me with three perfect mangosteen specimens which I gratefully and happily gobbled down (I did give one to Mr NQN). He also gave me a tip about mangosteen and how to buy them since I seem to have rotten luck with buying them in Sydney. Choose the mangosteen with a lighter colour as the darker black ones are older ones. Choose ones that are spongy to the touch and not hard-and very cutely, at the bottom of a mangosteen is a star shape. The number of points in the star reflects the number of segments that there are in the fruit inside! How cool is nature?
Banana smoothie
Sticky rice, coconut and mango
Mr NQN and I splashed a little in the pool. Many years ago he bet me that if I could swim 50 metres then I would receive the Prada bag that I had been lusting after. I tried and tried but the most I could swim was 12 metres and the bag became something that was a "never discussed" item. And then my friend Teena bought the same bag and that pretty much killed the urge to get it (you can't have two friends with the same bag right?). But here I manage to swim laps! Sadly the Prada bag offer is no longer...
Betel leaves with salmon, galangal and salmon roe
At 12:30pm we had lunch. As we had a big dinner that night we've been asking for salads for lunch. Now one of the best things about Bali is if you're a seafood fiend like me, you can easily get seafood. Items like beef and lamb are expensive but seafood, chicken and duck are easy to get and half the price. So I did what any food miles aware person might and ordered the seafood (haha and because I am a seafood monster, who am I kidding?). We start with the betel leaves with moist cooked salmon, galangal which is like a citrusy ginger and little pearls of salmon roe. You roll up the sides of the betel leaf and pop it in your mouth. A betel leaf is a tiny bit spicy and with an earthiness to it and an almost medicinal quality but mild enough so that it doesn't offend at all and just adds a hint of flavour.
Lime and chilli chicken dumplings with dipping sauce
The lime and chilli chicken dumplings were quite different to what we were expecting as we were expecting a traditional dumpling skin. These were chicken mince with lime and chilli specks rolled up and deep fried. Not bad at all but not quite what we were expecting.
Scallop salad with chilli paste and coconut
What we're learning is that the Thai food served at Villa Sungai is excellent and as good as the best Thai meals you'll find in Sydney or Thailand and you would think that there's a top Thai chef working there in the kitchen. This generous serve of twelve juicy scallops is divine and it comes with a kaffir lime, coriander, lemongrass and spanish onion sauce that makes you want to lick the plate. I don't. Just in case...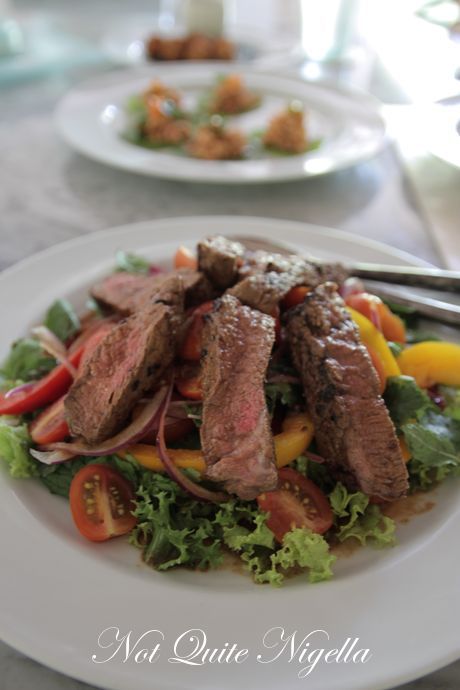 Spicy beef salad
Our last dish for lunch is the spicy beef salad which comes with thick, tender slices of beef on a salad of sweet and crunchy yellow and red capsicum, soft lettuce leaves and mint and coriander giving it a freshness to the pungent, welcome spiciness.
Rice paddies
Our day's activity was a last minute request made with Made. He was kind enough to take us to a local market which is where most Balinese would buy the food. For hygiene reasons the food for the villa isn't purchased here, but we were eager to have a look and see how a Balinese family shops and eats.
Religious offerings
Chillies and eschallots
We make our way to the nearby market which is about five minute's drive from the villa. There are numerous food stalls on our way to the market that dot the main road, some even selling fresh meat. Made doesn't recommend that we eat from here so we refrain although the food does look very tasty.
Made the villa manager and our guide
Scale
If you've ever walked down the streets of Bali you will, apart from dodging large crater sized holes in the street, you will also have stepped over small, colourful squares with flowers and small biscuits in them. These are offerings to the gods. One member of a family will buy an offering for the whole family and get it blessed by the gods at a temple and then bring it home as nothing is wasted. A simple four component offering typically costs 1000 rupiah (about 10 cents).
Snakefruit with their snakeskin like skin!
There are huge baskets full of snakefruit (salak) which is a tree that is close to the ground. The fruit comes as large clusters which are sold as whole clusters or broken down into single pieces. Items are bought by the kilo using old fashioned scales.
Making Tipat Cantok
We watch a woman make a snack called Tipat Cantok (pronounced "chan-tok" which means grind) and this is a similar dish to Gado Gado with baked rice, peanuts, Balinese spices, sugar syrup and salt. She pounds the peanuts with a mortar and pestle, add the spices and water and rice.
Rice dumplings in corn husks
Deep fried banana
Pandan leaves
There are fragrant pandan leaves shredded finely like a chiffonade. We see sticky rice dumplings wrapped in sweet corn husks called Dodol. There are also stands of ready made food like soups or urab which is a steamed vegetable with coconut and spices. Made shows us salt water spinach ready made in bags and deep fried eel snacks.
Made holding a bag of deep fried eel
We enter the undercover fruit and meat section where we see green tangerines being sold. These will ripen these along with the green bananas at home.
Green tangerines
We pass by butchers where chicken would cost 25,000 rupiah a kilo ($2.50) although there are quite a few flies hovering around. There is also fish available with salted fish being a popular item as many Balinese families cannot afford  to have a refrigerator at home and salted fish is a way for them to keep fish.
Salted fish
Made shows us the typical Balinese spice and flavour mix which is made up of ginger, galangal, turmeric, garlic and chilli.
Chicken and duck eggs
We see duck eggs for 1500 rupiah (15c) or chicken eggs for (10,000 rupiah) 10c each and cassava with the dark husk still on it.
Torch ginger buds
The ready made snack stand features steamed peanuts and whole corn that has been rubbed in tumeric to make them more attractive.
Cooked bright yellow corn from the turmeric
Hey there one eyed kitty!
We drive past rice paddies where many locals work. They employ the use of ducks who eat at the rice which has fallen into the mud during harvesting which then means that they are nice and fat to eat later on and no rice is wasted. There are literally hundreds of ducks walking across the rice paddies gobbling up food.
Ducks at work
Later we decide to stop by Made's Warung (a different Made, not the one from Villa Sungai) for some lunch. A warung means restaurant or eating place. It's quite a bit touristy but wanting some Balinese food but not quite willing to risk our tummies heeding Made's warning, we try somewhere a bit more foreigner friendly.
Inside is quite a mish mash of cuisines and we choose the Balinese items including the tipat cantok which we saw being made this morning.
Honeydew and Mango juice 15000 rupiah (approximately $1.70  AUD)
We start with thirst quenching juices in honeydew and mango which are very good indeed and full of fruit and fix the immediate issue of the heat.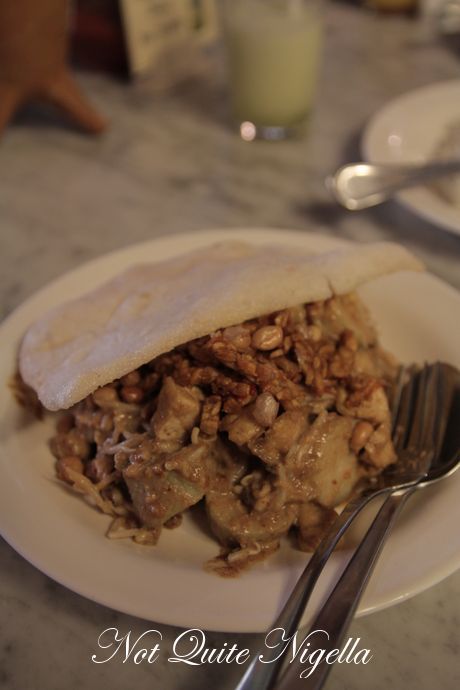 _Tipat tjantok 25000 Rupiah _ (approximatly $2.85 AUD)
The tipat tjantok is similar to a gado gado with vegetables in a peanut sauce. There are also soft rice cakes and crunchy peanuts and fish as well as the crunchy vegetables and soft rice cakes. It is both of our favorites.
_Ribs in young papaya 45000 rupiah _ (approximately $5.12 AUD)
I actually chose this because I have some strange sort of fixation with food being presented in carved out fruit and I was hoping that they had gone a little Hawaiian and grilled some pork ribs and placed them in a halved papaya, so when we got the dish I was surprised. It was quite good, like a non spicy curry or stew with the pork rib bones being cut short and the meat coming off the bone easily.
_Nasi goreng special 45000 _ (approximately $5.12 AUD)
This was a large plate of food with the nasi goreng special which meant the addition of duck meat and egg in it. I prefer the tipat chantok but it's good and even rice ambivalent Mr NQN finishes this all off. It comes with side cabbage salad like a coleslaw but with a French style dressing and a large camopy of cracker which I happily crunch on.
So tell me Dear Reader, do you ever lick the plate clean?
Not Absolut but petrol! ;)
NQN and Mr NQN visited Bali as guests of Villa Sungai and flew with Jetstar Star Class
Villa Sungai
Cepaka, Bali, Indonesia
http://www.bali-villasungai.com/
Made's Warung
Jalan Raya Seminyak, Kuta, Indonesia
Tel: +62 (0)36 175 5297
Open Mon-Sat 9am-6pm