The corners cut into the buildings so a horse and carriage could get past without cutting the corner!
I think that Melbourne has just got to hold the record for quirkiest shop/cafe/restaurant names per capita. Allow me to explain with this list of eatery names:
Naked for Satan, Pope Joan, Dr Jekyll, Coin Laundry, Omar and the Marvellous Coffee Bird, Dead Man Espresso, Friends of Mine, ESC, Mr Tulk, Three  Bags Full, Huxtable, Proud Mary, Hardware Societe and Captains of Industry among many others.
When people in a city offer to show me their city, I am delighted. Especially when they want to take me to somewhere that I've been dying to visit for the longest time. Tim @aerohaveno (a travel writer) and his wife Narelle @daggyvamp (a vampire novel writer) offered to show us some of Melbourne's famous blue stone edged laneways and share brunch at the Hardware Societe in Hardware Lane. We arrive and it is buzzing and full. There is a ten minute wait so we walk around the corner and they show us various laneways and other cafes of note.
More quirky names
Melbourne's eateries, stores and galleries have quite a collection of quirky names and we particularly like this laneway with galleries to each side and Narelle points out the "cut here" scissors along the centre of the lane. In Melbourne these laneway places are where small but driven shopkeepers, chefs and restaurateurs open up and flourish as the slightly hidden locations allow them a chance to survive paying less rent than a main street location. Before you know it, a place becomes a cult place and as Tim tells us "Melburnians like to discover secret laneway places, the places on the main street are for tourists".
Cut here street markings
Random street art
Before we know it, the ten minutes is up and we head back to the Hardware Societe where we take a seat at the end of a communal table. We receive our copy of the menu and two words pop out at me: Fried. Brioche. Holy heavens, yes please. My order decided Mr NQN orders the Spanish milk rice and Tim and Narelle order different things. "We order different things, is that how it goes?" Tim asks - words to my ears! Narelle explains that she is used to waiting for him to take photographs so we have lucked out as far as Melbourne guides are concerned. The menu is a mix of French and Spanish influenced dishes and there are displays of Spanish and French sweets on the counter.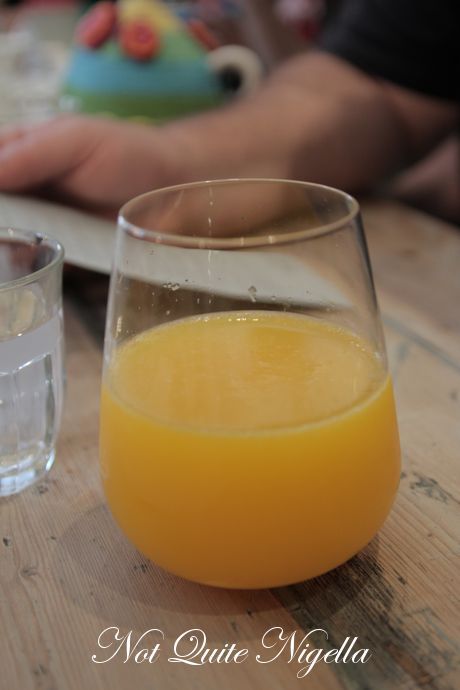 _Sunzest Orange Juice $4
_
The Sunzest organic orange juice is gorgeous-pure and sweet and with a small amount of pulp. It is just lovely sweet oranges squeezed like if you would do at home if a) you could be bothered juicing oranges and b) you found yourself really sweet oranges. I saw on their website that they are also stocked at Sydney's Flemington markets.
_Chai tea $4
_
I love a tea cosy and I'm glad I ordered a tea instead of a coffee or I'd be missing out on this colourful tea cosy. The chai tea is made slightly sweetened and aromatic.
Fried brioche $13 (read about the new flavour)
As soon as it was sat down I was like a mother that had recognised her own baby. This was miiinne! Two thick square pieces of brioche were spread with Nutella and deep fried and then topped with sliced banana and chopped hazelnuts. It's crunchy on the outside and lightly drizzled with syrup and clotted cream. OK it's not going to make it into any diet books but it is going to make it into my mouth and tummy quite happily.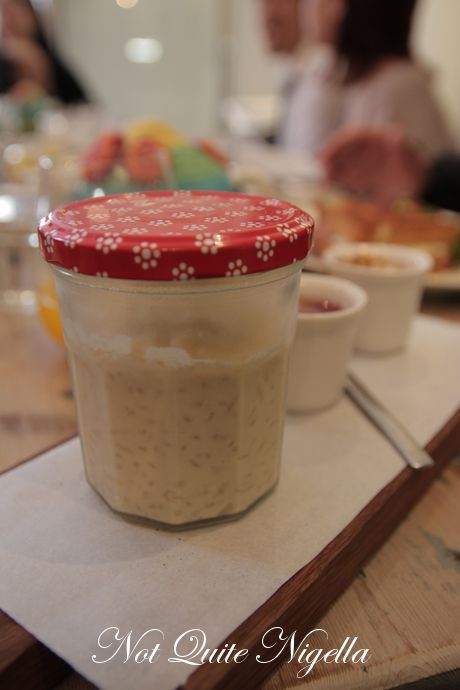 Spanish milk rice $10
Mr NQN's Spanish milk rice is topped with sweet stewed quince and chopped almonds and is served in a cute screw top jam jar. It is served cold and is a comforting milky rice pudding for breakfast. Styling and serving is very cute and a conversation point here. In fact there are vintage sugar holders holding panela sugar or rapadura sugar which is an unrefined crumbly whole cane sugar that has a golden caramel colour and is a nice melting consistency for coffees and teas. There is also butter and regular white sugar in the centre of the table.
Butter and sugars on the table
_Croque Monsieur $12
_
I try some of Tim's croque monsieur and it is droolingly good. The bread is soft and spongey and goes well with the ham and cheese.
_Baked eggs with chorizo $13
_
There were two types of baked eggs and Narelle chose the ones with chorizo which comes in a cute cast iron pot on a long wooden paddle. I dig a spoon into the pot and uncover layers of cheese, chorizo, tomato and other goodies and the predominant flavour is the garlicky chorizo. it is accompanied by green hued olive oil flecked slices of devastatingly good olive bread.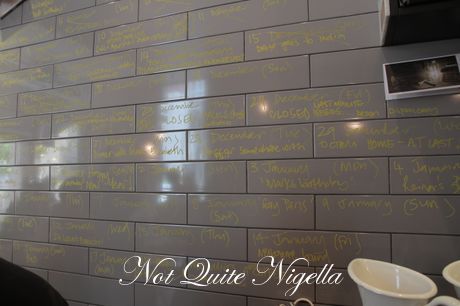 The wall calendar that reads "27th December: Lunch with Queen Elizabeth"
There are people that enter, the lunch crowd presumably so we depart and leave our seats for other customers who have gathered in the doorway. "Can you open one up in Sydney?" I ask Di and she laughs and says "No chance" . OK I tried!
Captains of Industry
The stairs leading up to the cafe
Our laneway adventures didn't stop there. Tim shows us a nearby cafe called Captains of Industry which was originally set up as a cooperative with a tailor, cobbler and barber who operated independent businesses out of the same location. They started up a cafe called Captains of Industry and up some stairs which look like they don't promise much, is a lovely cafe full of what Narelle calls  "genteel masculinity" crossed with a slight grunge factor to it. We are stuffed from our brunch but we feel compelled to stay for a coffee.
Soy chai latte $4
My soy chai latte is rich and creamy and comes with a very unusual spoon with a...
An outdoor dunny (toilet)!
Captains Ginger beer
We try some of Narelle's captain's ginger beer which is home made. It's strong in ginger and just the right amount of sweetness and is served flat with ice cubes in enamel mugs which we haven't seen in forever!
The tailor's room
Stylish gent
We loved this gentleman playing pick up sticks with a young girl too!
Sewing machine table
So tell me Dear Reader, do you know of any quirky cafe, shop or restaurant names?_
_
Hardware Societe
120 Hardware Street, Melbourne VIC
Tel: +61 (03) 9078 5992
Captains of Industry
Level 1/2 Somerset Place, Melbourne, VIC
Tel: +61 (03) 9642 5013
http://captainsofindustry.com.au