I find that through fate or folly that I am often the person that people ask where to eat. It's either readers who are looking for a place to eat in Sydney or interstate or friends or family. I don't mind of course, it is of course yet another chance to talk about food. But when my sister Blythe visisted Sydney from London she and my family asked me to find somewhere. The brief was simple enough yet it was complicated.
It had to have a gorgeous Sydney view to reorient my sister who was used to London views
It had to be impressive enough for my mother
It had to have reasonably priced meals to make Mr NQN happy
It had to have a shop attached to it as I needed to do some gift shopping
It had to have something to amuse my impossible to please father. Hmm ok that's a hard one. Let's just cut our losses and go with the first four points.
Burnt Orange is housed in a Federation style mansion, formerly the Mosman golf club in the 1930s. It is a cafe with a lovely view slash boutique slash gallery. We park at the carpark next door ($3-4 an hour!) and take the short walk down the path to the large timber and stone house. There is a wrap around verandah for diners and inside is the retail store. The Burnt Orange concept was from an Irish company called Avoca (they serve Avoca bread).
Jug of homemade lemonade $8
While we're browsing the menu we order a large jug of still homemade lemonade which comes out in a pitcher with a wooden spoon, cut strawberries and mint leaves. It's slightly bitter as of course it is lemonade, too lemony for my mother and Blythe who are not really into home made lemonades but I find it quite pleasant.
Elderflower pressé $6
The Elderflower presse is gorgeously refreshing and floral with the aroma of Elderflower from the first sip and delicate bubbles.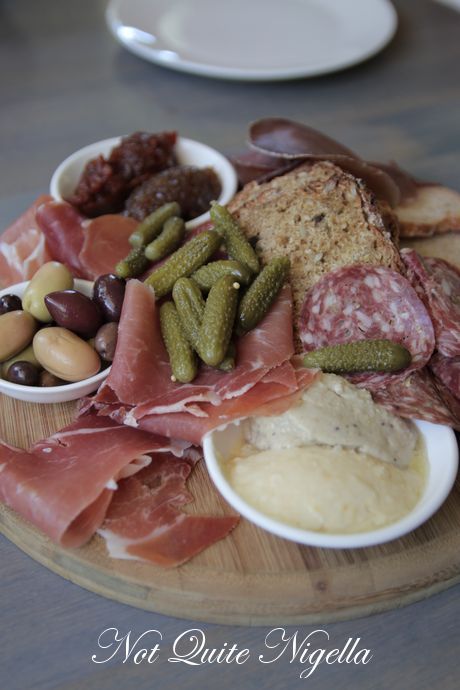 Australian Antipasti platter: Princi prosciutto, Affineur truffle salami and bresaola with mixed olives, dips and house chutney $26
Service is sweet and friendly and from reading reviews it has improved vastly. A very generous serve which could feed at least three for an entree, the antipasti platters comes out with some heavenly bresaola (smoked beef), prosciutto and Affineur truffle salami which is heady in fennel seed. It also comes with the Avoca walnut bread and a sourdough rye both thinly sliced, the Avoca walnut bread the clear favourite with it's rich nuttiness and almost cake-like texture. There were also two dips in a shared container: hommous and baba gannoush as well as a tomato relish and a pear chutney which were all made on the premises. To finish it off are black and green olives and cornichons.
Tasmanian salmon cake served on a crisp salad of baby cress & granny smith apple with a lemon mayonnaise $21
The mains come out together and we start with the Tasmanian salmon cake which is a nice surprise. We had expected a fried cake (for my mother) but instead we get fresh, well cooked poached salmon, potato, herbs and baby capers with salad. The salmon is fresh and singing with dill and it's a very generous sized portion and excellent value.
Burnt Orange fish pie with a selection of fresh fish fillets in a creamy leek & white wine sauce topped with fluffy potato mash and a side of green leaves $24
One of the most popular items on the menu is the fish pie which is filled with large, tender chunks of white fish and salmon (not at all watery as some fish pies can be) and a creamy sauce flavoured with fennel and celery which gives some mouthfuls an ever so slightly bitter taste to an otherwise creamy sauce. it's topped with mashed potato and then baked until it has slightly crispy edges on top and is paired with a large green salad. I did like this dish although I did find some mouthfuls had that ever so slight bitterness to them.
Moroccan-spiced lamb with fig & almond cous cous $25
The moroccan spiced lamb is cooked until soft and falls apart. It was a hit with everyone, especially when we paired it with the tomato relish which we still had from the antipasti plate. The lamb was well flavoured and matched with a fruity sweet couscous which had Turksih apricots and currants in it.
Chicken pie with preserved lemon & rosemary, spring vegetables and flaky puff pastry $24
This one was quite a favourite with everyone-Mr NQN was appreciating the serving sizes here and even he couldn't finish everything on the plates. The chicken pie is filled with a tomato based sauce, chicken thigh pieces, chickpeas, carrots, peas, preserved lemon and rosemary and topped with a layer of home made buttery puff pastry. The sauce was rich and given a lift from the preserved lemon and the buttery puff was good indeed.
Pumpkin, goat's cheese & walnut tart with Melissa's carrot jam and fresh herb greens $18
With the sizeable portions of the other dishes, the pumpkin, goat's cheese and walnut tart was noticeably smaller by comparison. It was an interesting tart though with a crumbly base almost like a sweet tart base which my mother adored. It was filled with pumpkin and rich goat's cheese and a spoonful of the carrot jam which was slightly sweet grated carrots and mustard seeds. The walnuts were hidden under the salad which we didn't quite discover until the tart was finished and we wondered where the walnuts were and it might have been better to put the walnuts on the tart as they would have provided a nice, toasty crunch.
Bilpin apple crumble served with vanilla bean ice cream $10
We had saved room for dessert of course! Blythe has had her eye on the salty peanut slice and reasons that a slice is "like half a dessert so we could have two slices and that could count as one person's dessert"! We start with the Bilpin apple crumble which is strong in clove rather than cinnamon and is served with little plums or dates and apple pieces and a butter crumble top.
Basil pannacotta with vanilla roasted peaches and almond crisp $12
Mr NQN and I first tried basil panna cotta a while back and I always liked the flavour of a creamy panna cotta with basil. This one has an appealing wobble and a true basil flavour to it. The vanilla roasted peach is an ideal sweetness and the almond biscotti is divine.
_Salty Peanut Caramel Slice $4 _
The salty peanut caramel slice is just that. A thick, slightly chewy slice with roasted, caramelised peanuts with a light saltiness to it. I find myself wondering how to make this as I would like to reproduce it at home.
Mars Bar Slice $4
I'm less besotted by the Mars Bar slice which has a thick layer of super sweet milk chocolate on top and very uncrunchy almost soggy rice bubbles on the bottom. We enquire with the waiter if this is indeed how it should taste and he brings a fresh one from the fridge which is markedly better although not as nice as the salty peanut caramel slice.
Our two hours almost up with the parking Mr NQN and my father go off to take care of the car while I do a bit of shopping including some gorgeous vintage Christmas cards and some invitation sets.
Downstairs there is the newly minted kiosk which sells Muffins, toasites, Daylesford and Hepburn flavoured sparkling mineral waters and Serendipity ice creams as well as picnic fare such as sandwich or salad picnic boxes ($40 for 2) or platters for $20.
So tell me Dear Reader, are you often the ones that is asked to choose where to dine?
Burnt Orange
1108/1109 Middle Head Road, Mosman NSW
Tel: +61 (02) 9969 1020
Burnt Orange at The Club House is located at the end of Middle Head Road opposite HMAS Penguin,
with a sign-posted car park before the building.