Who me? I'm innocent...
One of the things I miss most about living in Mosman is the birdlife. Living near Balmoral Beach on the top floor of an apartment block meant that we had kookaburras, cockatoos and rainbow lorikeets visit our balcony on an almost daily basis. None of these birds however stole a sandwich from me. Until now of course. And a confession? I liked it!
Queen Viv and I are Afternoon tea lovers from way back and we're headed to Gunner's Barracks to take part in their afternoon tea and new Winter menu. We're late as of course anything involving Queen Viv and I always involves an element of tardiness. Constructed in 1873, the sandstone building was originally a place for the military. Since October 2005 it has been serving afternoon tea to lucky locals and visitors. We take in the sweeping views of the Harbour and realise instantly why it is always so booked out by wedding parties. We're shown to our table outside with little heaters positioned strategically to take the almost Winter chill off.
Spiced quail and chestnut soup, spinach, baby coriander $19
We take a look at the regular menu. Today we're sharing a combination of a High Tea and a three course meal which of course we're happy to share. We start with a dish that just surrenders to Winter. The Quail and Chestnut soup has two plump pieces of quail in the centre atop a creamy chestnut soup with a distinct curry taste to it via coriander seeds. There's some sauteed spinach sitting under the quail. The dish is warming both by virtue that it's a hot soup and also via the curry flavour.
Roast rump of lamb, shepherds pie, carrot, parsnip, garlic and thyme jus $29
_
_
Being a lamb lover, Queen Viv was especially keen to try this and it comes as two separate pieces. In  a small oval dish is a shepherd's pie and on another dish is the sliced roast rump of lamb which is tender with a lovely light thyme jus (you know me, I don't like thyme but this isn't strong in it). The split dutch carrot and parsnip are too firm though. The star of the plate however is the gorgeously rich shepherd's pie redolent in red wine and the juices from roasting the lamb. You can absolutely taste these extra touches and we scrape the bowl clean while declaring that we could eat a whole bowl of it by itself. There was almost bowl licking too-almost!
Green leaf salad $7
The green leaf salad is well dressed although the dressing could use a touch of sweetness from a mustard vinaigrette or balsamic as it's a touch too zesty.
Spiced marzipan filled pear, mulled wine ice cream $15
Although we knew that we had an afternoon tea to sample I couldn't resist the marzipan filled pear. The pear itself isn't cooked in a red wine but the marzipan inside it has been mixed with red wine so that it is red inside-at first glance I think it's red bean paste as it has a similar texture. The pear itself is quite soft and I prefer pears firmer. The red wine component comes via the velvety mulled wine ice cream drop.
Traditional Afternoon Tea $40
Our "dessert" is the afternoon tea. On  Royal Albert china, there are three tiers to this Afternoon Tea. The sandwiches are egg, mayonnaise and chive; roast beef with dijon & rocket and smoked salmon, horseradish & cucumber. All are interestingly on brown bread and they're all very fresh my particular favourite being the roast beef. On the savoury plate are also an asparagus tart and a chickpea samosa with a spiced yogurt.
Scone layer with asparagus tart and chickpea samosa
Cream and homemade jam
There is a date and a plain scones with home made berry jam and thick cream. I'm a huge fan of their scones and I think these are the best I've ever had (I've also had these at the QVB tea room) and I even try wrestling a recipe out of them...
Dessert layer
The top section houses a orange and chocolate macaron, a cheesecake which has a light honey flavour, a chocolate and coffee opera slice which remands us of a tiramisu, an apricot and lemon thyme cupcake which has an unusually appealing flavour and moistness and a mango panna cotta with lychee tapioca balls which is just fruity and fresh.
Just ignore me he says...
When our waitress sets it down she tells us that the tiers usually come with a white napkin covering it which we had assumed was to protect the food from wind but is in fact to prevent naughty kookaburras from pinching the sandwiches, Apparently there is a gang of four hungry kookaburras that know to visit at 11am and 3pm when they know that sandwiches will be out and make no mistake, they're only interested in the sandwiches. Our waitress tells us that they've even stolen them out of the hand of one customer who was about to take a bite.
Ready to pounce...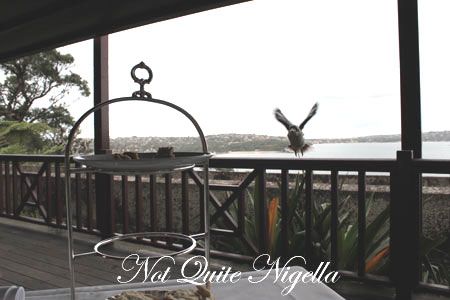 Incoming!
And spot on 3pm the first kookaburra arrives. He sits on the ledge trying to look as nonchalant as possible and looks at each side. After a minute when we're all convinced that he's just happy sitting there he swoops in and ducks under the neighbouring table's napkin covered stand and grabs and sandwich from the second tier and flaps away.
The crust is mine!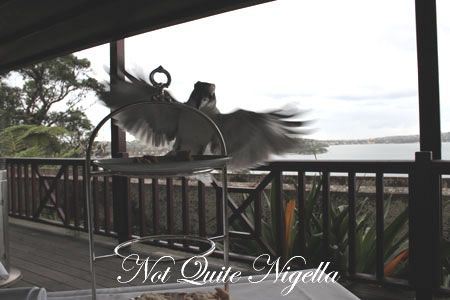 Score!
Everyone is stunned at their accuracy - somehow it knew which layer to attack. He takes off and we hear squabbling and grunting noises as the sandwich is divided up between two of them. We had a tiny portion of crust left on our stand and before long he swoops in for ours too. It's a tiny 2cm x 1cm piece but with deadly accuracy he swoops in and picks this from a plate of savoury morsels. Crafty, clever little bugger!
I sip my cup of blueberry muffin tea (more blueberry and not quite achieving the muffin part) and enjoy the vista and chuckle at the sound of grunting sandwich stealing kookaburras.
So tell me Dear Reader, what has been your most amusing or surprising encounter with wildlife?
NQN and Queen Viv dined as guests of Gunner's Barracks
The Tea Room at Gunners' Barracks
End of Suakin Drive, Georges Head, Mosman, NSW