I started off the sentence "Well my agent recommended this to me..." before trailing off and realising how terribly affected that sounded. Surely starting off a sentence proclaiming that you have an agent is similar just the precursor to speaking about yourself in the third person for example "Lorraine is hungry now. Please bring Lorraine something to eat chop chop!"
But in this case it's true (the agent recommendation, not the affectedness). You know I'm lucky enough to have people around me and readers that recommend places to me and it is true that my literary agent who lives in Mosman sent me an email one day recommending that I visit Hawthorn in no uncertain terms.
In the olden days, in a past career, I managed a designer shoe store in Mosman just up the road from Hawthorn. We put all of the nicest, most expensive shoes in the window and none of them sold. The thing about Mosman is that it is very family focused and many people there have a mortgage and expensive cars that need paying off so once we figured this out, we put in the sale shoes in the window and they sold much better.
So what's my point? Well whilst the prices at Hawthorn seem very reasonable for an area such as Mosman, it also probably helps ensure its success. When we walk in towards the end of the lunch at 1:35pm the place is full with only two tables free. Only four weeks old it is full of ladies that lunch. Opened by the former general manager from Jonah's in Whale Beach along with many of their staff (including George Francisco who is the consulting chef here) according to my agent (there I go again, sorry!) it has been busy every day for breakfast that she was walked past.
It's set in a building and as a former Mosman resident I am having some trouble remembering what was there. Built in 1901 it became a dental surgery in 1950 (and apparently causes some residents some distress when they visit the tiled bar-no doubt bad memories!) the owners seeing how the street was being developed intentionally had the building heritage listed to avoid the same happening to their building. The interior now is designed by owner Sean's brother who owns Coco Republic so that it looks like a home-well perhaps not my home but the home of someone that has very good taste.
Oysters with fire ice $4 each
We're trying a few different things so they put together a share platter for us. The fire ice oysters are Sydney rock oysters with a granita of chilli on top. The granita melts quickly as it's just a little dab so move fast if you want to experience the fire ice sensation, as it was the photo taking meant that it had melted by the time I got to them. The chilli was a sweet and spicy lift to the fresh Sydney rock oysters.
Salad of sautéed prawns, green papaya, purple basil, Vietnamese mint with nahm jin and Tempura ricotta filled zucchini flowers with a basil pesto platter $30
My favourite item from this plate were the zucchini flowers, which are admittedly omnipresent across many menus but these ones are plump and stuffed with a cheesy slightly sweet filling punctuated with the light crunch of pine nuts and sweetness of currants with an earth shattering batter outside. The prawns with nam jinh are fresh and well cooked and served alongside a green papaya salad with plenty of Thai basil leaves.
Halloumi, Semolina flash fried Hawkesbury River Calamari with Cajun remoulade and chorizo platter $30
We're all halloumi freaks here and so a couple of halloumi dishes were ordered. The first one was the second platter where the halloumi was salty but quite thin and uneven in thickness. I like the halloumi pieces to be fatter to get that lovely squeak so I wasn't as taken with the halloumi on this dish. The chorizo, always a crowd pleaser was generously portioned and garlicky but my favourite was the semolina crusted squid which had a gorgeous crunch and tenderness to it and was paired with a thick creamy spicy cajun mayonnaise. I'm sorry Marie Claire and Emma if I ate more than my share of this-truly!  ;)
Fish of the Day, sautéed zucchini flowers, baby capers, wilted spinach, blood orange sauce $26
The kingfish, usually one of my favourite fish either sashimi style of cooked is paired with a stunning salad-I could eat a big bowl of the salad by itself. The fish itself is a little on the too cooked side and loses its juiciness and it comes with a blood orange reduction which I'm not sure is the right sauce for it. Some people seemed to really like it whereas others didn't.
Emily's Yellowfin Tuna Nicoise salad, green beans, kipfler potato, olives, eggs, pickled Spanish onion $24
The tuna nicoise salad is a deconstructed version, prettier than normal featuring a lovely seared piece of tuna, still raw in the centre with an assortment of olives, beans, boiled egg, anchovies, cherry tomatoes and pickled onions which allow you to make your own nicoise on the fork and the quality of the seared tuna puts this above other nicoise salads.
Haloumi melt, tomato, basil and spinach, topped with a poached egg $14
Now this is the other dish that we ordered because we all love halloumi. We also ordered this just to see what sort of sandwiches they would serve and to see whether it was a good place to have a quick lunch because sometimes you want that sort of thing. This was an open sandwich (low carb!) on a slice of toasted Turkish bread spread with pesto with additional pesto drizzled on the outside. It was topped with tomato, slices, sprouts and halloumi and a runny centred poached egg. There was just the right amount of each ingredient on this with the creamy yolk from the egg bringing it all together.
We adjourn inside now that most people have left and take up a place at the back booth, one of the most popular spots which affords a comfortable seat and a bird's eye view of everyone in the restaurant. It's time for dessert. Everyone so far has recommended the caramel panna cotta with caramelised pineapple so an order for that is put in. We give the ice cream and sorbet a miss although they sound good but they aren't made in house and instead are tempted towards the freshly baked cookies.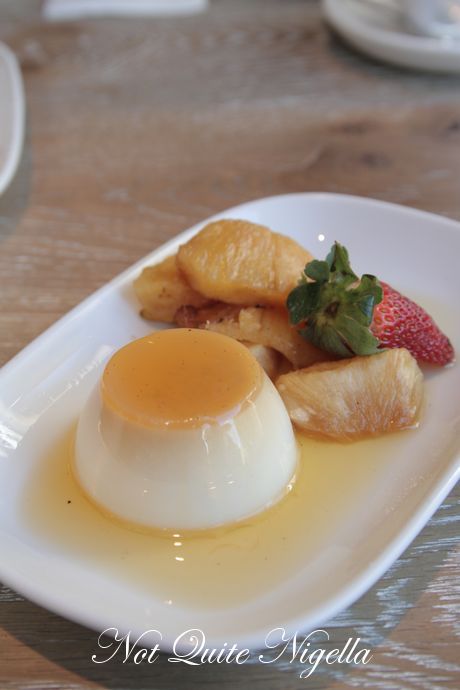 Caramel and coconut panna cotta with caramelized pineapple $8
The coconut panna cotta has a caramel flavour and the first thing I think of, perhaps given the look, is of a creme caramel. It is paired with some sweet caramelised pineapple and a some pineapple syrup. It's quite good although it really does taste of creme caramel to me with pineapple.
Daily Baked cookies $4
The freshly baked chocolate chip cookies are quite good with that small pockets of come-gobble-me melted chocolate chips and ideal for dunking into the tea.
Freshly baked scones with homemade jam and clotted cream $7 available from 2;30pm-4:30pm
We could not resist the scones (well that was really me) just to see what it would be like to stop here on an afternoon and have a cup of tea and some scones. They come with a scoop of lovely clotted cream, berry conserve and two icing sugar dusted scones which are soft and freshly baked. Just the trick for this lazy afternoon...I do miss living in Mosman sometimes!
So tell me Dear Reader, what sort of suburb do you live in and what's your favourite local haunt?
NQN dined as a guest of Hawthorn
Hawthorn
707 Military Road, Mosman NSW
Tel: +61 (02) 9968 4244
Open: breakfast & lunch 7 days, dinner from Thursday to Sunday