What do Justin Bieber and Bono have in common? Well apparently they've all taken in the view I am looking at right now. No it's not of a stadium full of screaming fans but instead the surrealy beautiful blue water of Whale Beach. Whale Beach or Palm Beach is the playground of the moneyed and if you're fortunate enough you might have a house to go to on the weekend up here-or you could just stay for a weekend at Jonah's.  And I am about to cut traffic time by engaging in a mode of transport that ensures that instead of driving 50 minutes from the East to the far North, we make it there in a mere 12 minutes.
The day is gloriously sunny and we lucked out with the weather for only yesterday it was whipping windily and the seaplane flights were grounded. However today it is still windy but safe to fly out. We were warned to wear flat shoes to make getting on and off the plane easier and I am glad that I heeded the warning. I'm one person that is poorly coordinated at the best of times (I am always warning Mr NQN not to fall on things and he just looks at me like "How/why would I fall on that?). So I gingerly get onto the seaplane with my handbag and camera bag and breathe a sigh of relief as I miss having to use the folded up life jacket that we've strapped around our waist. I'm definitely not coordinated enough for that.
They close the door and we're enclosed in the plane and it skims along the surface of the water until reaching a speed where the seaplane takes off into the air. The short ride is scenic but with the winds and the air pockets there are lots of tiny jumps and our stomachs are somersaulting. I'm thankful I didn't eat breakfast that morning as my stomach continues to leapfrog and jump.
The seaplane turns smoothly to its right almost at a 45 degree angle and we land on the water. From here a small dinghy from Jonah's will collect us and drop us at the sandy beach and from there we'll take a minibus. Ok so it's not exactly 12 minutes in total but it's scenic. Our feet arrive on the sandy beach and again I am thankful I didn't wear spindly heels. We board the  bus and take the short five minute drive up to Jonah's.
Jonah's is set in an 82 year old house and comprises of 11 suites, 3 of which are located in a separate building called "Jonah's Private" and is one of the four well regarded Relais & Chateaux properties in Australia. From Monday to Thursday diners can stay with them with just the room but from Friday to Sunday they have breakfast, lunch and dinner included in the tariff. And when we gaze into the blue waters below we are reminded why it is called Whale Beach as they tell us that whales were spotted only this morning frolicking in the water below ( from May onwards is the Southern whale migration). A pair of dolphins are our current companions down below diving and splashing.
Chef Alfonso Alés
As we have a seaplane booked to take us back at 2:30pm we pull our eyes away from the expansive blue view and take our seats. Jonah's now has a new chef, Alfonso Alés who has worked at Spain's El Bulli and Bilson's here in Sydney and he comes out to say hello and explains his style of cuisine which will remain Modern Australian but of course be influenced by his Spanish upbringing.
Oyster gratin
The amuse bouche is a crunchy buttery topped oyster gratin which slides down the throat easily with a little crunchy edge for texture. It is briney with a creamy layer of cauliflower underneath it.
Marron Lobster, Western Australia, Green lentils cassoulet with duck confit and foie gras $35 served with 2009 Giaconda "Aeolia" Roussanne/Marsanne, Beechworth, Vic
The marron lobster is two pieces of succulent and sweet Western Australian marron resting on a bed of rich green lentils flavoured through with a rich full flavoured duck confit and foie gras. Although the foie gras flavour isn't readily apparent the marron and the rich stew of lentils underneath go well together.
Sommelier Christian Baeppler
Peking-Aylesbury Duck "Apicius", Hunter Valley N.S.W. $48 served with 2003 Bodegas Laurona GR/CAR/M/SY/CD, Montsant DO, Catalonia Spain
I resisted the urge to get two courses of seafood as I usually like to do but well one just has to try the duck. Here it is a Peking -Aylesbury Duck "Apicius" from the Hunter Valley and it is slow roasted with root vegetables, citrus fruits and honey braised pears and has a sauce Bigarrade with pomegranate seeds. And who is "Apicius?". In Imperial Rome he was known as a great gourmande and the author of the first ever cookbook known to have existed. He wrote about sweet and sour sauces and in this dish the sweet is from the honey and the sour is from the pink grapefruit segments. The duck itself has a sweet glaze on top too and the dark meat and the honey glazed pears are a great match.
Kingfish and Scampi, South and Western Australia In a ginger and Kaffir lime vegetable nage with baby winter vegetables $48 served with 2007 Marques de Alella Pansa Blanca, Alella DO, Catalonia, Spain
_
_
Pre dessert
Interestingly, our pre dessert comes with some petit fours on it. There's a little shot glass with some pineapple jelly inside it and topped with kiwifruit and a cloud of cream and a scattering of crumbs which is sweet and creamy. The petit fours are a triangle of moresish raspberry jelly (why can't jubes ever taste this good?). There is also a dark chocolate filled with macadamia toffee and a tiny madeline.
All about Chocolate. "Valrhona Grand Cru" $18 served with 2005 Cave d'Abbe Rous Cornet & Cie, VDN Red Dessert Wine, Banyuls AC, Roussillon, France
I'm not one usually for chocolate desserts at the end of three courses but I couldn't help myself. The sound of the Valrhona Grand Cru chocolate was irresistible and it came out on a long plate. In the centre was a glass bowl, all round curves with a thin circle of chocolate tuile on top. The waiter tells us that the chef recommends that we lightly smash the tuile to break it up before he pours in a little jug of molten chocolate on top of the ganache that already sits in the bowl. On the side is a scoop of milk chocolate  ice cream which contrasts well with the tangy crisp tuile and rich and thick ganache coated in melted chocolate in a bittersweet 72% chocolate. And yes it is heavenly and yes it is rich...
Macaron with lemon custard, confit peppered strawberries and rhubarb sorbet $18 served with 2007 Domaine L'Arjolle"Lyre" Late Harvest Muscat, Cotes de Thongue, France
A short time later I found myself driving up to Jonah's one afternoon with Mr NQN. Now Mr NQN didn't exactly grow up in a family that ate out much. So when I mentioned that we were headed to Jonah's for a night one weekend he said "Oh yes Jonah's I went there when I was 18". As he's a joker I assumed he was telling a joke but it turns out he was taken there by family friends and he even remembers that he had the steak there (quite a leap  for a boy brought up vegetarian!).
It seems every time Mr NQN and I head to Palm Beach, it pours torrential rain. As a result I feel like we're slightly cursed for weather. On that evening the rain and the peak hour weekend crowds make the normally one hour drive more a one hour and forty five minute drive. We drive up Surf Road, an evocative and telling street name and pull up to Jonah's.
We go to our room, number 2 and drop our bags. The view is quite dark as we've arrived at 7pm but the room is chicly furnished with covetable pineapple lamps, wooden panels hiding cupboards and storage spaces, large LCD screens and a balcony. It is a Relais & Chateaux property and has all of the nice little touches that you would want (my personal thing: robes and slippers). There is free wireless internet and a reasonably priced mini bar and a very good television station selection. Not that we'd have the chance to test them as Mr NQN had the Tour de France firmly on his radar.
Coveting those pineapple lamps!
Cute bathtub accessories
The bathroom is sizeable with a spa bath with shutters that open out to the bedroom and the view. There are also the marriage savers aka his and hers sinks and Bvlgari shampoo, conditioner, body wash and soap (although there's no amenity kit or body lotion which I do tend to expect from Relais & Chateaux properties). The shower has two heads, a monsoon and a massage head. And on the table is an invitation to nearby Avalon boutique Ginger & Smart where they will close the boutique for you-now a part of me has always wondered what that would be like!
The history of Jonahs is an interesting one and it was started by a woman with a vision. In 1928 Constance Vidal, who was an English widow purchased the land for 740 pounds and decided that it was an ideal location as it overlooked beautiful Whale beach below. She also foresaw the advancement of the motor vehicle which would allow for access to the site even though the area was quite uninhabited. She opened a roadhouse and the dining room is where the current bar sits and the roadhouse verandah was the current foyer area.
The bar area which is where the restaurant used to be
One of the old menus
It changed to become a restaurant after the second world war and has gone through different cuisines over the years-in the 60s it was a nightclub in the Summer time after dinner was served (and was when the first accommodation was built). In the 1970s it became an Italian themed restaurant with an Italian owner. There have been French chefs, English chefs and American chefs and now a Spanish chef. In 2003 the old accommodation was levelled and the current accommodation built. They've been a member of the Relais & Chateaux association since 2007 and were introduced by Relais & Chateaux Grand Chef Tetsuya Wakuda.
But no time to linger as we're off to the restaurant for dinner. Peta the restaurant manager is superb and seems to be able to read customers like a book. She advises a booth as on cold nights it can get chilly sitting next to the windows and we couldn't agree more and slide into a comfortable, generously sized booth. Chef Alfonso is in the kitchen and comes out to say hello. He asks us what we would like to order and gives some recommendations which we happily take up. The menu is a la carte and there is also a prix fixe menu for lunch and dinner Monday to Thursday (3 courses with a glass of wine for $70). He asks if we are hungry enough to try three entrees and mains and Mr NQN, having had a small lunch nods eagerly.
Jonah's has definitely seen its share of celebrities. Peta tells us of when Justin Bieber stayed here for an afternoon "That was the worst night of my life" she laughs recalling that the twitter mad Bieber tweeted his general location and thus tipped off 60 or so excited young female fans to call Jonah's every few minutes to be asked to be put through to his room. There has been guests such as Kevin Spacey, Cate Blanchett, Jeremy Irons and George Miller.
Sommelier Christian Baeppler comes over to recommend some wines. We always find that if a restaurant has a sommelier, it is always best to ask them to recommend a wine-they have never steered us wrong. Christian has spent a long time compiling the very extensive wine list with a cellar of 2,500 wines and has an excellent reputation. He recommends a white wine, a 2009 Pazo de Senorans Albarino in Spain ($15 by the glass) which Mr NQN really likes.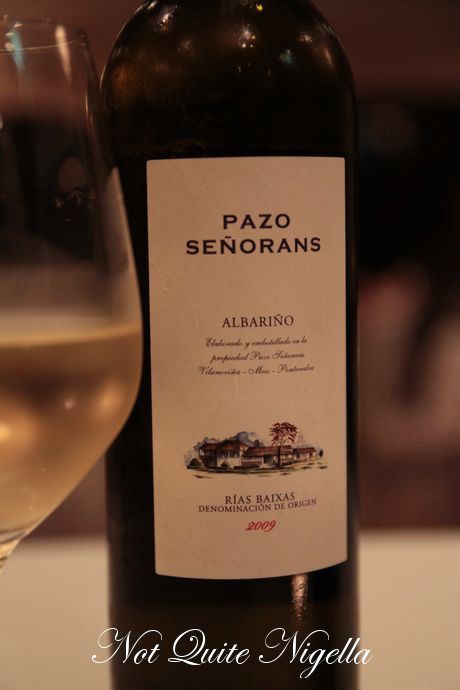 Amuse bouche
Our amuse was the crab and chorizo cake which was about the size of a 20c coin and full of garlicky goodness. I could have eaten a dozen more.
Hen's egg, open range "Papanui", Hunter Valley N.S.W. $25
_ _We've learned that there's a general order of how you should eat things when you share plates. Generally the milder tasting items should be eaten before the stronger, saltier flavours. This dish is the soft, gentle end, no less exquisite than the others but it is all about subtle, soft flavours. It is a softly poached egg with acidulated mushroom consommé, crushed kipfler potatoes and toasted brioche forestiere. The egg is so, so soft that it feels that moving the plate might burst its delicate membrane and when I break it into the consomme, it spreads slowly in no hurry at all. Spooning a little of it with some of the crushed kipflers and toasted brioche and sliced mushrooms it blankets the tongue with creaminess whilst the rest of the flavours play on the tongue.
Octopus, Fremantle W.A $28
The octopus was slightly spongey and tender and served cold. It was slow cooked and then roasted. It is paired with confit potato with lemon, garlic chips, black olives and hot paprika oil with the most predominant flavour being the black olive.I would have loved a little more lemon to balance out the black olive but overall it's a pleasing dish.
Anchovies, Cantabrian Sea $28
_ _Both of our favourites, this was cured and marinated anchovies with "escalivada" (i.e. grilled vegetables)  of aubergine, red capsicum, Spanish onion, avocado mousse and olive grissini. The flavours are bold and salty but not lip puckeringly so. The soft eggplant and capcisum are strong enough flavours to counter the anchovies and the avocado mousse lends a much needed mild creaminess and the delicate spindly olive grissini give it an appealing crunch.
2008 Alvaro Palacios "Camins del Priorat" $17 by the glass
Kingfish and Scampi, South and Western $48
Again this is the mildest dish and reminds me of high end spa cuisine in which subtle flavours are at play and flavours are clean and include ginger and Kaffir lime. The vegetable nage, a clear, delicate soup featured perfectly cooked baby winter vegetables. The kingfish is moist inside with a crispy skin on top.
Cod, local $45
_ _Again we were quite taken by Chef Alfonso's Spanish flavours. Whilst much of the menu is Modern Australian, there are some distinctly Spanish influenced choices which gives it a point of difference and we find that we really enjoy these dishes. The cod, cooked confit style in olive oil is paired with a piquillo pepper stuffed with brandade and a creamy garlic veloute. There's a strong capsicum sauce and a herby sauce that provides more strong flavours.
Black Angus Beef scotch fillet, Rangers Valley, mixed tuber vegetables and red wine jus $48
Cooked just the way we asked (medium rare) the steak is beautifully tender. It comes with a rich red wine jus and an assortment of chips including beetroot, sweet potato, potato and black potato chips and on the side is a creamy puree with fried baby capers which is fabulous-I only wished for more of this to go with the steak.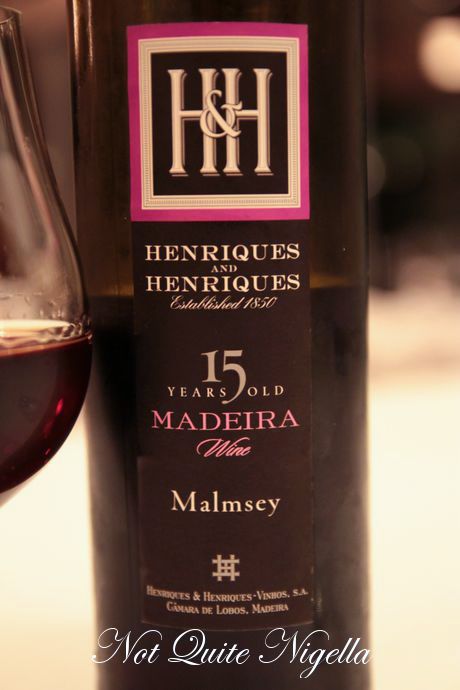 Henriques & Henriques 15 year old Madeira
Apple tart "like a tatin" with Granny smith and Calvados sorbet $16
Are we ready for dessert? Sure! A version of a tarte tatin this was a slice of buttery dark baked pastry with slices of sweet cooked apple and a slightly tart but moreish granny smith and calvados sorbet. And I do love apple desserts...
"Bourbon baba" with chestnuts and pears $16
The Bourbon baba is not what I expected. I've had rum babas and expected something similar from the cake at least but here it is like a doughnut. It's not particularly bourbony, in fact I don't taste much at all which is not a bad thing for me as I find that the alcohol can often dominate a baba. There are pears and I don't get any chestnuts but I think Mr NQN stole those! ;)
Petit fours and pre dessert
We make our way back to the room and press the button for the automated shades to go down. I draw a bath (give it a bit of time) and relax with magazines and the truffles left for us. The king sized bed is extremely comfortable (one of the most comfortable beds I've slept in) and I fall asleep reading my new Charlaine Harris Sookie Stackhouse book and listening to the waves crash around me.
I'm the only one to rise for breakfast the next morning. Mr NQN has stayed up all night watching the Tour de France and unable to rouse him I make my own way to breakfast. Now I'm not usually one to eat breakfast but for years I've wanted to take the drive to Jonah's to have their breakfast and so I wanted to see what it was like. There are two other tables this morning and breakfast is supposed to finish at 9:30am (a tad early for a weekend in my humble opinion) but the staff don't seem fussed at a late arrival.
I take a seat and the menu sits on the table. Normally $50 for non in house guests, it is included in the accommodation package. There is freshly squeezed juice (excellent) and tea or coffee. I opt for my usual Earl Grey and it is a loose leafed tea.
There is supposed to be a French style croissant included but I don't see this coming my way so I have to ask for this and when I do they get it straight away. It comes with house made marmalade and raspberry jam, both very good. The croissant is much lighter and airier than I've had them. Usually they're a multi layered crunchy and much more buttery.
Churros
There is a choice for the first course and given we had had such a success with the Spanish themed dishes last night I opt for those too (not that Alfonso is cooking in the kitchen at this hour!). The rest of the items sound good but I wanted to go for something different. Now I know in Spain they start with churros for breakfast so I order these knowing that starting with donuts lends oneself to just let the rest of the day go in terms of food consumption. But I'm glad I did. It comes with a runny chocolate sauce but I just enjoy having them plain. They're superbly fresh and light as air and just melt on the tongue. Before I know it, I've eaten three and when the waitress asks me if I would like her to clear my plate I gratefully say yes before I eat the last one.
Soft poached egg with artisan charcuterie and dark rye bread
There was a miscommunication and I was given the poached eggs which comes with mushrooms and bacon but I wanted the other poached egg dish which they bring out shortly after. It is a single poached egg, cooked at 42C for 16 minutes so that the white just sets around the yolk. There is some artisan sausages like black pudding, black pudding with pressed veal's tongue (both my favourite, especially with the runny, oozy yolk), a German version of a mortadella, an excellent veal liver pate and a pork chipolata sausage. The small goods are from a German sausage maker in Narrabeen). And despite how many churros I ate, I finish much of this as its too good to send any back on the plate.
A breakfast of champions really and one that affords me enough energy to try and rouse Mr NQN from his sleep. Alas I shall need all the strength that I can get for that task. He opens a sleepy eye and smiling says "Can you hear the sound of the waves crashing outside?" before going back to sleep.
So tell me Dear Reader, do you prefer soft, subtler flavours or bolder flavours in your food?
_NQN and Mr NQN stayed and dined as a guest of Jonah's. _
Jonah's Whale Beach
69 Bynya Road, Whale Beach, Sydney, NSW
Tel:+61 (02) 9974 5599
http://www.jonahs.com.au