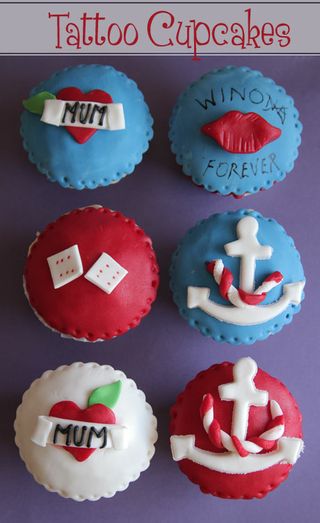 There weren't many heroines around for me when I was little. I should explain that statement. There weren't many dark haired heroines on television and there was certainly no-one that really looked like me. Dark tresses was usually the territory of the anti heroine or the evil twin. I had the following to choose from:
Step 1 - Wonder Woman
Step 2 - Morticia Addams
Step 3 - Veronica from the Archies
Is it any wonder that I love all three?
Many years ago a friend and colleague revealed his tattoo to me. It was of Veronica from the Archies with an outraged look on her perfect but pouty face. I thought it was utterly fabulous until I realised all of that black hair would mean a world of pain. Shortly after I met him I moved to Japan where tattoos are more the territory of yakuza rather than ordinary folk and that plan was put the rest. I'm quite glad that it did as I never did find an appropriate place to put poor Veronica.
When I was visiting Busselton Jetty in Perth I came across an anchor cookie cutter. I had never seen one of these before so I immediately bought it. I was also given a box of Coco's Tattoo chocolates from my friend Myriam only weeks before and I already had its destiny in mind. Not cookies but tattoo cupcake toppers!
I used Faith's great yellow cake recipe which I also used for the Linzer Heart Cupcakes as this produced a lovely dome effect. Making or drawing a tiger was way beyond my abilities so I picked some easy tattoo patterns. An anchor of course, a dice which just involved cutting out squares, a "mum" heart and a tribute to Johnny Depp's shortsighted tattoo when he was dating Winona Ryder and got Winona Forever tattooed on his arm. Alas poor Johnny was caught up in the romance and was unable to see the fate of most Hollywood fated relationships and they broke up and he had the last two letters of her name removed to say "Wino Forever".
So tell me Dear Reader, do you have a tattoo? And which tattoo would you have?
Tattoo Cupcakes
Degree of difficulty: medium to high
Degree of frustration and fiddliness: high
1 1/2 c white sugar

3/4 c canola oil

3 eggs

3/4 c milk

2 tsp pure vanilla extract

2 cups all-purpose flour

2 tsp baking powder

1/4 tsp salt
To decorate
Red. white and blue fondant

White chocolate ganache* see recipe below

Anchor cookie cutter, heart cookie cutter, edible pens, small brush, glass of hot water, angled spatula, sharp paring or small knife and some cornflour/cornstarch and a small rolling pin to roll the fondant.
Step 1 - Preheat oven to 180C/350F and line a cupcake baking pan with paper liners. Use a handheld electric mixer to beat sugar and oil together in a large bowl, then cream in eggs until light and fluffy; beat in milk and vanilla. In a separate bowl, mix together flour, baking powder, and salt. Gradually beat dry ingredients into wet until just combined, making sure not to over-mix.
Step 2 - Fill each cupcake well with batter to just under the top of the paper liner (I usually only fill cupcake liners 3/4 full, but for this recipe I like to fill the wells a little more than usual to make sure that I get a nice upper rim that I can cut off). Bake 22-24 minutes, or until light golden around the edges and a toothpick inserted into the cupcake comes out clean or with just slightly moist with a crumb or two. Cool for 5-10 minutes in the cupcake baking pan and then remove to a wire rack to finish cooling completely.
Step 3 - Make the white chocolate ganache. To create a smooth topping for a dozen cupcakes melt 300grams of white chocolate with 1/2 cup of cream until a smooth consistency. Allow to set firmer-you can do this in the fridge. Then uding a small angled metal spatula smooth the spreadable ganache over the cupcake coating it. Then filling a glass with hot water, dip the spatula in the water, shake off any excess water lightly and then smooth over the ganache surface to give it a smooth surface. The heat from the hot water and tiny drops of water make it smooth. Allow to set.
Step 4 -  Dust a clean surface with a light dusting of cornflour and using a rolling pin roll out the white fondant first. Cut out some circles to fit the top of the cupcake (I used a fluted cutter but a plain is fine), white anchors using the anchor cutter (sadly this is difficult to freeform cut unless you are very dextrous) and cut out some "ribbon" for the mum tattoo and fold it over at each end so that it looks like a ribbon scrolled. Cut out some small squares for dice. Roll out some thin "sausages" of white fondant which you will intertwine with red fondant to create the anchor ropes.
Step 5 - Roll out the red fondant (wiping the surface clean with a dry cloth between colours and redusting with fresh cornflour) and cut out some rounds to fit the top of the cupcakes, some red hearts and some lips (I shaped these in the same way I did the vampire cookie pops). Roll out a thin red fondant sausage and intertwine it with the white fondant to make the anchor. Roll out the blue fondant (again wiping the surface clean with a dry cloth and redusting with cornflour) and then cut out some discs to cover the top of the cupcakes.
6. With the brush, brush the ganache top of the cupcakes lightly with water. Affix the fondant discs onto the ganache. Place the hearts on top of some of the cupcakes and place the scroll on top affixing each with a small amount of water. Draw Mum on the ribbon with an edible ink pen or an icing pen. Draw dots on the dice and affix these to some cupcakes. Then do the same for the anchor and the rope and the lips where you can draw whatever message you like.