If there's one dessert that deserves to be made into a infinite variety of iterations it's Baklava, the sticky, crispy nutty Lebanese pastry. I'd been well warned about Nigella's Baklava muffin recipe from How to be a Domestic Goddess - not that it was bad but that it wasn't particularly baklava-ey. I made a batch and I had to agree so given that I'm an obsessive type coupled with an ardent baklava enthusiast, I made another batch straight away seeking to rectify this baklava-less-ness. The secret was of course with the filo. One absolutely needed to have crispiness via the filo. And not just one set of filo layers on the top but a set of filo layers in the middle too. Over the top, moi? Surely not. But I have to say that these do replicate the baklava experience if I may so humbly claim.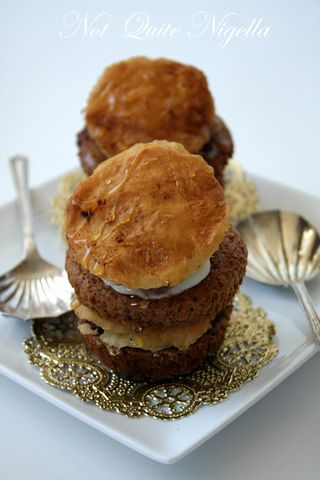 I wanted the top filo discs to be tilted for the photograph so I used a bit of buttercream I had leftover from another baking escapade. Of course you don't need to do that - they are perfectly delicious without the dollop of buttercream or the tilting. You could also upp the amount of walnut filling and use that as a cushion for the filo particularly if you are not needing to transport these anywhere aside from the four walls of your own house. I should also add a special thanks to my friend The Second Wife for loaning me pieces of her amazing cutlery collection - aren't those scalloped spoons to die for?
And if there's one thing that I learnt from the preliminary results from my reader survey (please click to do it, you can win a Nigella Lawson apron :) ) it's that you like the cupcake recipes and want to see more. So like the ham that is always looking for an audience, here is a cupcake recipe for all of you lovely readers that let me know that that was what you wanted. So tell me Dear Reader, is there a flavour of cupcake you'd like me to make? I'm stuck for cupcake inspiration so any suggestions are welcomed!
Baklava Cupcakes
Makes 12
210g plain flour

1/2 teaspoon bicarbonate of soda

50g caster sugar

45g butter melted

1 teaspoon cinnamon

1 large egg

1/3 cup runny honey

250ml milk
For filling
200g walnuts chopped

150g demerera sugar

1 teaspoon cinnamon

85g melted butter
Also
10 sheets filo pastry

100g butter melted and preferably clarified *see note

1/2 cup runny honey
Step 1 - Preheat oven to 200C/390F. Line a 12 hole muffin baking tray with papers. Mix the flour, bicarb and sugar together until well combined. In a measuring jug whisk the egg, milk, butter and honey and make a well in the flour and mix in until combined. Spoon into papers until 2/3-3/4 full and bake for 15 minutes until a skewer inserted comes out clean.
Step 2 - Cover the filo with a damp teatowel (it dries out very easily) and doing it layer by layer, lightly brush the butter over each sheet of filo until all of the sheets are used. Cut out 12 circles about the same size as the diameter of the cupcakes and bake in the 200C oven for 10-15 minutes until golden. Cool.
Step 3 - Mix all filling ingredients in one bowl. When the cake is completely cool gently remove the paper cases from the cakes. Slice the cake horizontally in half and place a spoonful of the nut mixture on the cut side and then top with a few circles of the crisp, golden filo (4-5 layers of the pastry discs or so - some might break, you can eat those or save them for the middle, use the best discs for the top). Drizzle a little honey on top of the filo and then replace with the other half of the cupcake.
Step 4 - Repeat with the nut mixture, filo discs and honey on the top of the cupcake.
*To clarify butter melt it and then skim off the foam and white that floats to the top