Good Morning Dear Readers! Today we're off on our last stop of the picturesque Beechworth and Milawa region in Victoria. After a restful sleep, my friend Gina and I head off early and take the 50 minute drive from Beechworth to neighbouring town of Milawa. Milawa is known for its gourmet foods and producers with much of the produce popping up on restaurant menu. Items such as Milawa Mustards travel as far as Bells at Killcare on the Central Coast of NSW. At Milawa they have started a very cute idea-the Pedal to Produce bike system where people can hire bikes to visit the various producers in Milawa. We see plenty of people making use of the cute bikes (and hopefully there might be a tandem bike in the future!).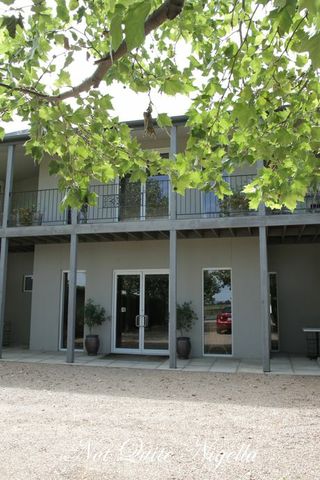 But first things first! We need to check into our hotel room. We are booking into Lindenwarrah, a family run series of hotels. There are forty rooms here and some rooms have a view of the vineyard. There is a large shared verandah and a pool and the rooms are large and spacious with white plantation style touches.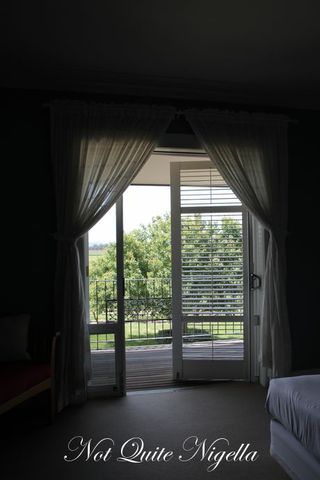 View from the bedroom
There are also  two huge lounges on each floor and the bottom floor lounge is the pick with three enormous floor to window views of the merlot vineyard but what really sets this place apart is the service. They're friendly, deferential and keen to help out with everyone. When we ask about the corn cob bread at the Milawa Bakery that we enjoyed at 1860 they offered to get us some loaves to take home with us which we gratefully accept. "They'll sell out if you don't get there before noon" Tim says to us displaying country hospitality to a tee. With our bread sorted, we set off for a spot of lunch and shopping!
Milawa Cheese Factory
Ceridwen greets us with the magical words "Would you try to try some cheeses?" Gina is a big cheese fan so this is particularly exciting for her. The most popular cheese here at the Milawa Cheese Factory is the mild but gorgeous King River Gold which has a very accessible, mild taste to it. The other one that I particularly like the the Milawa Gold which is stronger and more pungent with an oozy, runny centre. We try a camembert, a cajun pepper rolle fresh goat's cheese as well as a cheese named after Cerwiden herself. When her father was developing it it in 1991, it was simply called "Project X" but Ceridwen suggested a better name might be hers!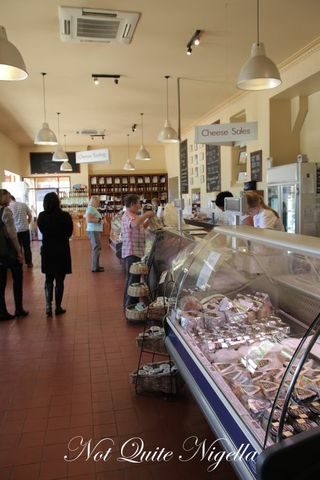 There are two blue cheeses, starting with a Milawa blue mild and an aged blue which is stunning and has been aged for one and a half or two months longer using milk obtained from local farmers. And then there's Tomme. Underneath the cheese tasting tray there is a display of striking molded cheeses. These weren't quite right for sale upon tasting but they thought that they'd make a striking display and they certainly do. This lot of Tomme has blue mold running through it but normally it doesn't which Ceridwen explains is the beauty of cheese. She is set to take over the family business after doing time working at famed London cheese retailer Neal's Yard. Her family moved to Milawa and purchased a derelict butter factory when she was eight choosing this location as the famous Brown Brothers winery was down the road. We only wish we could bring back some cheese!
Brown Brothers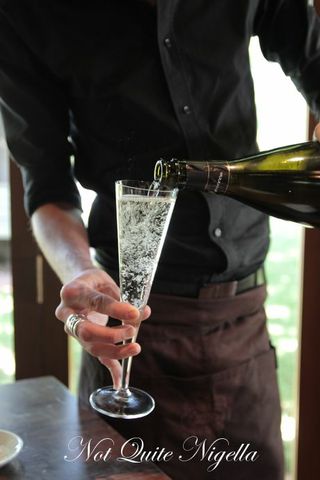 Speaking of Brown Brothers, a visit to Milawa just cannot be had without a visit to Brown Brothers, one of the most widely distributed winemakers in Australia. Their moscato is a crowd pleasing bottle that Mr NQN's sister used to drink every night. Here at their Milawa location they have their cellar door along with a restaurant headed by chef Danny Neate.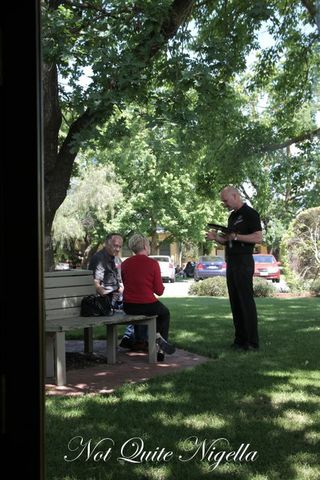 Customers ordering wine in the garden
Food on the menu here has a recommended glass of matching wine and the menu is devised with the wines first then matching the food to the wine. And cleverly, all food prices include a glass of the wine but if you want to change your wine, they will also do this for you. We start with a glass of the 2010 Limited Release Prosecco which is lovely and peachy.
Wagyu beef tartare, egg yolk, horseradish, garlic crouton $22
Having sampled quite a bit this morning, Gina and I  share an entree and have a main each (plus the desserts sound fabulous so we must leave room). We share the soft, creamy wagyu beef tartare with the raw egg yolk broken and stirred through. It is paired with lacy, holey croutons. The condiments are finely diced and the kick is made via horseradish and it is well seasoned and moreish.
Smoked Berkshire pork rib, boudin noir, beetroot and Jerusalem artichoke (gluten free) $36 served with a 2009 Limited Release "Heathcote" Shiraz
The smoked berkshire pork rib has been exclusively smoked for them by the butcher for a period of eight hours and it is then cooked sous vide for an additional eight hours at 60 degrees celsius. It is very smokey and is paired with boudin noir (black pudding) and roughly pureed beetroot as well as Jerusalem artichokes and pickled glove artichokes. On top is a layer of more boudin noir and thin slices of Jerusalem artichoke. I prefer sweeter flavours with pork and the boudin noir is a very omnipresent and dominant but rich addition to the already very richly smoked pork.
Lacquered duck breast, peppered pear, sauce bigarade $38 served with a 2007 Limited Release Sparkling Shiraz
We both adored this dish, the petite piece of sticky lacquered duck breast, black peppered pear and thin pastry wrapped duck meat dumpling and sauce bigarade which is an demi glace based orange sauce. It really hits the spot and balances well with the sweet flavour but never getting overly sweet.
Cabbage salad, soft herbs, salad cream $9
The cabbage salad uses pieces of regular cabbage which is slightly butter and it has a very lemony salad cream sauce which is a bit too lemony for my liking (and I do love lemons).
Hand cut chips $9
Perfectly seasoned, crispy and blistered on the outside and soft and fluffy on the inside, we keep going back for more of these piping hot  hand cut babies.
Durif ice cream, chocolate ganache, apple $8
_
_
Michelle joins us for dessert so we decide to try three desserts. As we don't see durif wine much we order their durif ice cream which is stunning. It sits in a streak of chocolate ganache set slightly more firm against the ice cream and there are fine dices of apple on top and a dehydrated raspberry and chocolate powder (perhaps not strictly necessary but pretty indeed). This isn't served with a wine as the wine is in the dessert.
Vanilla Panna Cotta, apples and brown sugar $16 served with 2009 moscato
The vanilla panna cotta is unlike any other panna cotta that we've tried. It comes out on a shallow large circular plate and on the bottom layer is stewed apples, on top of this is a wobbly vanilla panna cotta and on top of this is a buttery brown sugar toffee that is so thin that it resembles a toffee filo pastry. It is decorated with candied fennel and candied violets. It's lovely, particularly the top two layers with the buttery brown sugar toffee and I keep going back for more of this.
Rum baba, vanilla roasted pineapple, cream $16 served with 2006 Patricia Noble Riesling
Our last dessert is a light, spongy rum baba soaked in an orange marmaladey syrup and slices of orange. It has pieces of vanilla roasted pineapple which is delicious (although they use the core which is harder than the other parts of the pineapple). Instead of the gingerbread ice cream which it was supposed to come with, it comes with unsweetened cream but we feel that it would have benefited from the gingerbread ice cream which would bring it all together.
Chef's smallgoods curing in the barrel room
We take a little tour of the cellar door and Michelle asks Darren from Brown Brothers to show us the room where Danny cures his salami and prosciutto and peppered wagyu beef which takes about 6 weeks in total to make. We try some of the duck prosciutto which has the aroma of a duck pate and a tingly peppery flavour. And if you are interested, Brown Brothers is holding their Brown Brothers Wine & Food Easter Festival on the weekend of the  23rd and 24th of April!
Plus even Mr NQN gets a bottle of their durif
Milawa Mustards
After lunch we take a little trip down the road and pop into Milawa Mustards. Here the range of mustards is dazzling. There is ginger & orange, bourbon, balsamic, garlic, dill & lemon and flaming hot mustard and the favourite is the three seed mustard which contains all three of the mustard seeds that they grow: yellow (the hottest), brown and white (the mildest). The other stand out product is the tomato chilli jam which it has to be said is fantastic. The shop is a mustard lovers dream!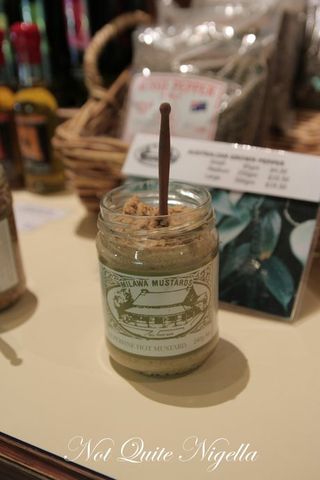 Lindenwarrah
Canapes and Pimms vineyard side
A bit later that day we get dressed for dinner and head downstairs. They have a table of canapes waiting for us and they pour us a glass of Pimms and lemonade with strawberries and citrus zest. It's sparkling and refreshing and I'm convinced that everyone loves Pimms especially Gina and I at this point. The noise? Well there is none, it's tranquil and quiet and the view is miles and miles of merlot vines and Mount Buffalo in the distance.
Free range chicken karaage with gari (pickled ginger) mayonnaise
The small free range Milawa chicken pieces (as opposed to the large chunks that you can sometimes get) are gingery and flavoursome with hoi sin, soy and mirin are addictive and I pop about four or five pieces in my mouth before realising that we are to eat dinner.
Soused cucumber, horseradish, sour cream, trout and chervil spoons and Milawa honey & oat bread rounds with Londrigan lamb and Milawa honey mustard
The cucumber and trout spoonful is light and refreshing with a nice amount of creaminess to it. The lightly toasted rounds of bread are topped with a soft lamb and a sweet honey mustard. There's a part of me that just wants to sit outside and stare off into space and  pop a morsel into my mouth or raise the glass every now and then.
2006 John Gehrig Cabernet Merlot, Oxley, Victoria $9
Char Sui barbecue pork served on a Thai pickled vegetable and vermicelli noodle salad $17
But inside we go as despite the large amount of food that we've eaten, the country air does things to you and you end up being quite hungry come dinner time! I adore char siu barbecue pork and this salad has thin slices on a crunchy vermicelli and pickled daikon and carrot salad which is sweet and gingery. It is slightly sour and crunchy from the pickles and the barbecue pork is sliced quite thinly which is ideal for the salad but I'd like a touch more (what's new? :P).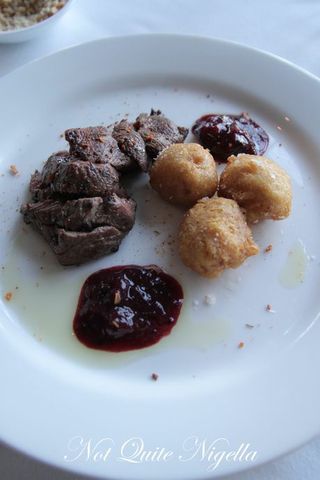 Bush tomato and mountain pepper kangaroo fillet with cauliflower beignets and spiced plum chutney $19
The kangaroo is cooked very well with a nice char on it but never tough. It has mountain pepper and bush tomato sprinkled over it and it comes with some lovely crunchy besan beer batter made with Beechworth brewery beer. There is a spicy bush chutney that is very tangy but I prefer this sparingly as it is very strong. We both enjoy this dish.
Steamed asparagus wrapped in cracked pepper pasta with shaved quail's eggs, truffle cream and pecorino shards.
This is a pretty dish indeed with the steamed green asparagus wrapped around cracked pepper pasta sheets, a rich truffle and pecorino cream and topped with pecorino shards and shaved quail's eggs. I adore this dish not just for its pretty presentation and despite eating so much today I keep going back for more and finish it.
Slow cooked Londrigan lamb served with curry leaf spaetzle, pea puree and pan jus $30
The slow cooked Londrigan lamb is soft and gelatinous with a mild flavour and served with a divine curry leaf spaetzle which reminds me of little pancake pieces with a nice crunchy outside and soft inside. In fact I could happily have a plate of the spaetzle by itself. There is also a quennelle of pea puree and some pan jus to finish off the dish and it's the kind of dish you really wish you had more room for.
Dessert assiette plate
Anthony our waiter tells us that Chris the head chef has suggested that we try a dessert assiette platter which we are delighted to try. We start with the steamed lemon pudding served with Gundowring coconut ice cream ($14) which is set quite firm with a lemony flavour that balances well with the Gundowring ice cream (although we might have liked the steamed pudding to be a bit lighter).
The middle panna cotta is a Callebaut strawberry chocolate panna cotta with rose flavoured Persian fairy floss and Lindenwarrah Shiraz syrup. It has a bit of an unusual strawberry flavour to it whereas I prefer fresh strawberries especially as it is strawberry season. The last dessert is our favourite, it's a local stringybark honey parfait served with rhubarb chutney and crushed pistachios which is sweet and generous with the amount of honey and crushed pistachios  used.
The next morning I sleep in (this is why I love visiting regional areas, it's so quiet!) and I almost miss breakfast as there is a bit of a miscommunication with the time that breakfast finishes. Gina makes it downstairs for some breakfast but I am slower to get ready (makeup darlings makeup!). They kindly bring up a selection of goodies to the room so that I can powder and peck! Sadly we leave our accommodation for the evening and the wonderful hospitality at Lindenwarrah and embark on the last of our adventures.
Walkabout Honey
"We are either possessed or obsessed" Jenny says as she is showing us the honeys that Walkabout honey produces. In fact her husband Rod and son are migratory beekeepers. This means that they move their bees from area to area to create the bet conditions for their bees. "The bees come first, we just get the surplus" she says and if the bees aren't producing because they're not under optimal conditions that simply means no honey.
To migrate the bees they will find a place to move them and they move the hives as far as mid to top NSW , south west Queensland and  the South Australain border. They have moved bees within two states and to do so they must find an area that has good trees and ideal conditions. They can locate these areas through friends or other beekeepers who help each other out (and sometimes they "trade trees"). Before they move in they mow and clear the area and then move the bees at night. This is because all bees come home at night time and they don't want to leave any behind. They then bring the bees in a truck where Jenny's son sleeps in the sleeper cabin and he then moves them in the morning.
Migratory beekeeping allows them to keep up higher production levels and to have the varieties that they do. If they stayed in the one area they would be restricted to the seasonal and flowering patterns of the area. For example some trees only have a summer crop. A tree such as Red Gum only flowers every once every years and Milawa is what they call Red Gum country. "Beekeeping as a hobby that got out of control" Jenny says smiling.
Honeycomb cells slightly angled upwards
The thin but strong wax tips on top of a honeycomb
She's clearly admiring of the work that her 1,200 bees produce and shows us the cells of each honeycomb and how each cell is slightly angled so that the precious honey doesn't tip out even if the comb is tipped upside down.The end of the honey comb cell has a wax tip which is strong but wafer thin and delicate yet can still hold all of the viscous honey in. And the question that many want to know-can you eat the honeycomb? You can eat honeycomb but be prepared to chew it and you can certainly eat the wax or you can spit it out.
Jenny shows us a creamed honey that has the taste of butter. The next honey we try is the raw honey which is gorgeous, with a delicate flavour to it. The raw honey is for purists that feel that the other types of honey are too processed. It's essentially the honeycomb without the comb and simply drained whereas the other honeys are heated.
We then try one of the honeys that they are known for. The chestnut honey, which proved troublesome so this might be their last harvest, is honey made from the flowers of chestnut trees. The flavour is something else, almost metallic it is strong, much stronger than other honeys we have tasted and would be lovely with a strong blue cheese or on a meat that would be able to stand up to the strength of flavour in the chestnut honey. And I can't wait to use them all at home!
King River Cafe
We stop by the King River Cafe where we try a slice of their homemade lemon tart and duck egg ice cream, all house made. The tart has a butttery short crust, tangy lemon well balanced with sweetness and a bruleed sugar toffee tops which isn't strictly necessary and does contradict the smoothness of the lemon curd filling. The duck egg ice cream comes in two flavours: a rum and raisin and a honey which has an almost orange marmaladey flavor ( perhaps they used Walkabout's orange blossom honey!).
Blue Ox Berry Farm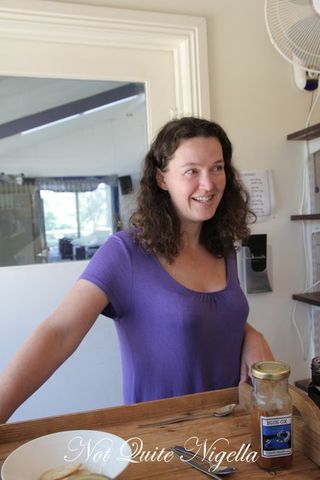 Our last stop before lunch is Blue Ox Berry Farm where in about a month's time the fields will be blossoming with raspberries and other berries such as boysenberries, raspberries, bramble berries, blueberries and figs.
Helen and her family have made the tree change from Melbourne about 11 years ago. And why the name Blue Ox? This is not a Paul Revere reference, it is simple Blueberries at Oxley. They are known for their jams and chutney and relishes using their own fruit as well as fruit grown locally. There are delicious flavours such as blackberry and durif jam which has stolen my heart with the durif so heart-poundingly present and strong in it and a great complement to the sweet blackberries.
There is also a best selling raspberry and vanilla bean which is lively and fragrant and a best selling tomato relish which is so, so good it is best eaten with a spoon as it has just the ring balance, never verging into the too vinegary or too acidic. They also stock some unusual products such as the blueberry relish fragrant with orange zest and Christmasy spices and a blueberry chutney. I think I'm going to be very popular when I come home with jam loving Mr NQN!
Sam Miranda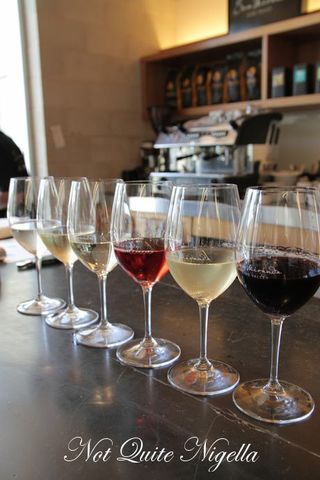 It's 1pm when we arrive at Sam Miranda, the boutique winery in King Valley where Sam is a third generation wine maker. We settle into a comfortable seat just near to the cellar door where Sam and his staff give eager customers a taste of their wines. We are here for lunch and Gina and I, despite tasting all morning, are interested to try the Italian themed menu here.
Charcuterie platter $20
I do love a bountiful platter and this looks to be a goodie. There is a San di Daniele prosciutto, a lovely beef breseola served Spanish style with salt and lemon, a pork which is both of our favourite as it is intensely flavoured, chorizo which is quite mild and needs a bit of a punch, a cacciatore and a lovely lemony salmon rillette. These are all served with a Milawa ciabatta bread and an out-of-this-world-good house made sticky onion jam as well as an apple chutney.
Pumpkin, Milawa brie and chive piadina $8
A small snack ideal to have with a drink the piadina flat bread style of folded over pizza is cut into little squares. It is a little dry so we add some prosciutto and some onion jam from the charcuterie platter.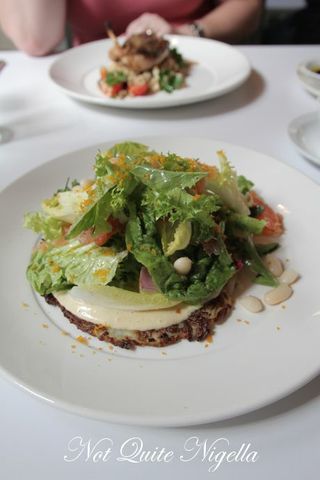 House cured Atlantic salmon, potato roes to, seasonal leaf and cannellini bean salad $28
We end up waiting quite a while for our mains and we end up receiving these about two hours after we arrive which worries us a little as we have to catch a plane that afternoon! The salmon salad is light and served with a variety of vegetables including cannelloni beans, witlof, purple witlof and tiny salty balls of bottarga (cod roe) as well as a large potato roesti on the bottom. It is light but filing enough and the house cured salmon is very good indeed.
Brined and pan fried chicken breast, lemon and sage Veloute, coarse Turkish burghul, tomato, feta, parsley and olive salad $28
The chicken is tasty and highly flavoured with the brining process imparting a lot of salt into the chicken as well as a juiciness. It has an appealing pan fried skin and is juicy and flavoursome. The creamy veloute is a contrast to the fresh flavours of the parsley and tomato salad with the large Turkish burhgul which is like large barley or brown rice. I particularly like this burghul.
Candied apple tart, house made rhubarb sorbet $13
Do we have time for dessert? Just! We ordered dessert as soon as our mains came so we wouldn't miss out. Luckily Gina shares my love of apple deserts and we ordered the apple tart with sweet, candied apple pieces which are soft and extremely sweet. The apples along with the crust remind me of an apple pie - the only reason why I say this is because I initially thought that it might have been a puff pastry base. Still the dreamy, creamy rhubarb sorbet provides a fantastic, ever so slightly tangy complement to the very sweet apples.
Drunken pear $8
I do love pear and when you're at a winery, you just have to have a dessert that is floating in their NV Snow Road Sparkling wine. The house made dry ice pear sorbet is a scoop sitting at the bottom of a martini glass and they pour over the sparkling wine. It is particularly refreshing when you mix the sorbet together with the sparkling wine to create a fizzy palate cleanser.
There is also a selection of local and imported cheeses and wines. A very reasonable cheese and wine flight tasting menu can be for $32 but with Gina having to drive us to Albury we have to sadly give that a miss. But don't cry for us as we've had a fantastic trip exploring this enchanted part of Victoria!
So tell me Dear Reader, do you often bring back "food souvenirs" from your travels? And if so, what is something interesting that you've brought back?
NQN and Gina travelled to and explored Beechworth and Milawa as guests of Sydney to Melbourne Touring.
Lindenwarrah
223 Milawa-Bobinawarrah Rd, Milawa VIC
Tel: +61 (03)5720 5777
Milawa Cheese Company
Factory Rd, Milawa VIC
Tel: +61 (03) 5727 3589
Brown Brothers
239 Milawa Bobinawarrah Rd, Milawa VIC
Tel: +61 (03) 5720 5500
Milawa Mustards
The "Old Emu Inn", the Crossroads in Milawa, VIC
Tel: +61 (03) 5727 3202
Walkabout Honey
1531 Glenrowan-Myrtleford Rd, Milawa, VIC
Tel: +61 (03) 5727 3468
King Valley Cafe
Shadforth St, Oxley VIC
Tel: +61 (03) 5727 3461
Blue Ox
77 Smith Street, Oxley, VIC
Tel: +61 (03) 5727 3397
Sam Miranda
1019 Snow Road, Oxley, VIC
Tel: +61 (03) 5727 3888