The Provenance's courtyard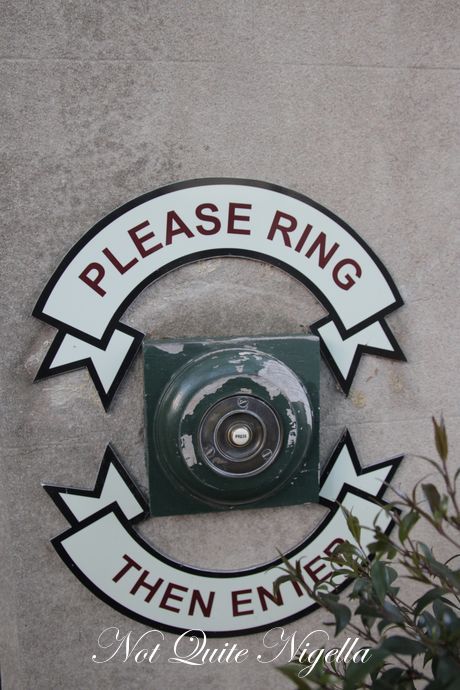 "Please ring the bell then enter ". I am very much about first impressions and from glancing into the picture perfect courtyard and seeing the heavy brass knocker, the ornate doorbell and sign I think I'm in for a real treat. However I'm too busy taking photos to follow the instructions properly and the heavy door swings open and we are ushered into the lobby for The Provenance. Owner and Head Chef Michael Ryan greets us with a handshake and a smile and an angled spatula sticking out of the shoulder pocket in his chef's whites.
Where are we? Why my friend Gina and I are in Beechworth in Victoria. Mr NQN has had to work (poor baby!)  so Gina has volunteered to take his place for my little trip to Victoria. We've been prepping ourselves for this meal today having all but skipped lunch as we didn't want to ruin our appetites for this meal. The evening before, Michael's tweet letting people know that I was visiting did induce some envious comments from fans of his food and I wasn't going to waste this exciting eating opportunity.
Amuse bouche: French radishes with whipped butter and miso powder
We start with an amuse bouche with a different. It is a plate with two French radishes with whipped unsalted butter from a local Myrtleford supplier and a sprinkling of dehydrated miso powder. We are to dip the radish into the whipped butter and then dip it into the miso powder. It's a crunchy, smooth and buttery texture with the salty miso powder which bizarrely, and stay with me, tastes a little like beef stock powder!
_Poached octopus, sake infused cucumber, umeboshi, raw broad beans, avocado, ponzu 2009 Dal Zotto Arneis
Rutherglen_
Our first dish is a dish that Gina is usually reluctant to eat. She doesn't like octopus and so I offer to eat her version if she doesn't like it. no such luck :( The octopus is sliced thinly and is paired with traditional Japanese flavours and Michael brings them out and explains to us that he uses grated daikon to tenderise the octopus which is a traditional Japanese method and this is then poached for a mere five minutes. There are strips of pickled cucumber pickled with sake and ginger. to finish it off there are little squirts of umeboshi puree and avocado puree.
Asparagus three ways
An extra course for us proves to be one of my very favourites. It's the ultimate in simplicity-three spears of asparagus. The bottom one is a pickled asparagus, the middle a white sous vide asparagus and the top a steamed green asparagus spear and they are all topped with a seaweed sauce. The difference between the three asparagus is readily apparent and the simple but perfect seaweed sauce complements it. It reminds me of dishes I had when I lived in Japan that celebrated the simplicity of good, seasonal produce.
_Butter sautéed cauliflower, cauliflower puree, mustard sabayon, polenta shortbread crumbs, brown butter jelly
2008 Mayford Chardonnay Porepunkah_
Vegetable phobic Gina's first words when she tries this are "If I could cook vegetables this way I would eat them". There is a little trail of butter sauteed cauliflower, pickled cauliflower florets, a chickpea and cauliflower pure sitting on a bed of small and large crumbed polenta shortbread crumbs, topped with a creamy, light mustard sabayon and brown butter jelly which pulls the whole dish together. In fact if there's one thing that we could perhaps suggest is a few more of the jelly cubes- it's not greed I promise! And I'm so fascinated by the brown butter jelly as it tastes like browned butter but I've never seen it in a jelly form before. Michael tells us that it is done by gelatine filtration.
Chef Michael Ryan
Confit artichokes, cured tuna, blood orange, olives, pangrattato 2009 Sorrenberg Gamay, Beechworth
Another dish is given an Italian flavour with the olive cheeks and beautifully lush soft and silky artichokes that have been cooked at 82 degrees celsius for three hours. The tuna has been cured between two sheets of kombu, sugar, salt and sake. It is served with a soy beurre blanc which gives it a lovely saltiness. This dish was all about the silky textures of the tuna and the artichokes.
Tea smoked duck breast, steamed duck leg, pickled cabbage, congee, crisp shallots, spring onion oil served with 2009 Punset Barbera D'Alba DOC, Piedmont, Italy
"This may have ruined all congee for me" I tell Gina as I taste the shallow bowl of congee with soft shreds of steamed duck leg, finely sliced pickled cabbage that sit atop a bed of congee, crispy shallots and star anise. On top of this sits three pieces of tea smoked duck and three strands of pickled cabbage. It's flavoursome and comforting with a range of textures and flavours. And I doubt that I'll get congee this delicate and flavoursome as this at home.
View from our table out of the window
Berkshire pork belly, celeriac, shiso and pork cheek salad, pork dashi, fried celery leaves served with 2004 St Jean du Barroux Oligiocene Grenache Shiraz blend, Ventoux, France
Our last savoury dish is the much anticipated pork belly. It comes as a slender slice of pork belly with a semi crispy skin that only just sticks to the tooth. It sits on a bed of spring vegetables and a celeriac, shiso and pork cheek salad with broad beans, aspargus and spring onion and some roasted pork bone dashi that has been cooked for ten minutes just to get the flavour of the pork through. In the centre is a slice of simmered daikon and on top is a fried celery leaf with a kombu (seaweed) powder.
Rhubarb mousse, strawberry and yoghurt sorbet, strawberry and rhubarb salad, green tea syrup cake, salted green tea praline 2006 Baumard Coteau du Layon Carte d'Or Chenin Blanc, Loire Valley, France
Michael asks us if we would like try another dessert and share instead of getting two of the same and we eagerly agree. There are several components to this dish and it is a very photogenic shades of pink and green. In the front there is a light as air rhubarb mousse and it is light we wonder how they managed to cut it and lift it into the plate. It is topped with dehydrated raspberries. To the right of that is a little pile of lightly stewed rhubarb and strawberries and I particularly like the sweet local strawberries. The final component is the green tea syrup cake which is moist and strong in green tea which is paired with a tangy strawberry and yogurt sorbet and topped with a sprinkling of green tea praline which gives the soft, moist, chilled and smooth components a nice crunch.
Tocino del Cielo, confit pineapple, coconut crumble, toasted coconut ice cream
The pineapple dessert is a tropical dessert with pineapple and coconut flavours and a most interesting component called "Tocino de Cielo" which translates to (heaven's little pig)  which is essentially a custard made up of just egg yolks and sugar. Michael tells us that the recipe specifies something like 24 egg  yolks and 1 kilo of sugar and we are fascinated by it so we pop a square of it in our mouths and it tastes like a little square of firmish but still jellied creme brulee. So if you're ever stuck with an excess of egg yolks (bakers will know what I'm talking about!), try making this dessert!
We hate to rush but with some quick sips of my Tea Corporation Earl Grey tea (cute cup and teapot combination!) we have to leave for we have a date with a ghost! Michael comes out of the kitchen to chat and bid us goodbye and taking our well fed tummies we change into some walking around footwear and clothing. We are off to the Beechworth ghost tour! Now if you know me, you'll know that I adore a good ghost tour and Beechworth is known for its variety of ghost tours. There is one that starts at the post office and we have Laura who is giving her very first tour. She is dressed in period costume as a "lady of the night" and we follow her lantern around the town of Beechworth and shows us building of significance where ghosts are spotted (if there are more than ten sightings, then it is considered a "sighting").
She gives us a history of each building that we visit and the form that the ghosts take. Ned Kelly and Mad Dog Morgan were famous bushrangers that have a history here and she explains the role of Doctor Dobbin who was the town doctor and how he had skinned the head of Mad Dog Morgan in an effort to study it phrenology  and then cut off his genitals to use as a snuff bag. Kinky bugger!
We finish up the tour in front of the Beechworth prison and then are offered another tour-one in the lunatic asylum! This one is  more "hardcore" and it starts on the ground of the La Trobe university site. There are two types of tours: a historic guided walking tour and an investigation tour where they take around several types of equipment in order to read any paranormal activity. We are being guided by Ian who is a seasoned tour guide. They run tours at 10pm and midnight tours and prove very popular.
The May Day Hills lunatic asylum is chilling and we see the horrific conditions in which the inmates lived-the inmates of course were considered "lunatic" for a variety of reasons, even for being different. I can only think that I would have definitely been considered a resident there! You only needed signatures to put you away but eight to be released so effectively no-one was released!
Ian showing us how thick the glass was in the windows
We make it to the Grevillea room. "This is not a nice place" Ian tells us. In fact, it is where some of the most gruesome experiments took place on the patients. The Darwin chair  (unrelated to Charles Darwin) was a contraption which spun people around for 100kms per hour from anything for 15 minutes or two hours.  He tells us the legend of one man was in the chair for two hours and ten minutes and when they took the straps off him he collapsed to the ground and it took him 24hours to be able to stand again. Ian tells us that people have thrown up after being in this building and fainted and this is the building in which most people feel an "effect".
Now I must  confess that I have had encounters with ghosts-not seeing any but feeling them and smelling them is the most common encounter that I've had. When I touched an autopsy table at Berry Museum I felt a chill go right trough my body and stay with me for a while afterwards. So I was interested to see my reaction to this. I didn't faint or throw up but I  did feel a heaviness and a depressed mood which started and ended when I entered and left the building.
We end off with visiting the "store" where there is a notorious ghost called Harry who has been known to help visitors up the stairs by pressing gently against their lower back. Ian who knows that I am keen to see a ghost asks me to go up first carrying my lantern. Sadly Harry was out of action that evening and I didn't feel his presence but we did go to bed excited and at 2am!
So tell me Dear Readers, have you ever been on a ghost tour and what did you think of it?
NQN and Gina traveled and explored Beechworth as guests of Sydney to Melbourne Touring and dined at the Provenance as guests of Chef Michael Ryan.
The Provenance
86 Ford Street, Beechworth, VIC
Tel: +61 (03) 5728 1786
Beechworth Ghost Tours
www.beechworthghosttours.com