Nathan from The Green Shed
"You'll never leave the Green Shed hungry" owner Nathan says proudly. Along with his partner Megan they run The Green Shed, formerly printery built in 1891. Nathan's father was a butcher and his uncle was a baker "and somewhere there's a candlestick maker" he quips. Nathan was a chef for over 20 years and his partner Megan a chef for 12 years. On his right arm is a tattoo of a EKG print. Why an EKG print? He had a black armband tattooed on his arm when his grandfather passed away but says "it looks kind of stupid" so he tattooed an addition to it to make it look like an EKG.
We start with a Sonnenberg Rose 08 which is a wine that is made especially for The Green Shed to  suit their food. The menu crosses several continents and countries. There is India, Greece, Thailand and Japan. I admit that I have to suppress an inner worry. Usually when menus features so many countries cuisine they can suffer from a jack of all trades, master of none syndrome but I keep my reservations to myself. What is promising is that they use plenty of local produce such as Corowa pork, Beechworth apples, figs, lemons, chestnuts, home grown herbs and wild picked pine forest mushrooms.
Tempura Zucchini fritters filled with Thai prawn mousse and ginger mayonnaise $17
I needn't have worried. Once I try the first dish I am relieved as it is delicious. The local zucchini flowers are from Oxley and have a lemon flavour are filled with minced prawn meat with ginger and Thai flavourings and fresh coriander. It sits in a generous swirl of ginger mayonnaise which is subtle on the ginger and the zucchini flowers are crisp with a moreish texture.
Crisp quail with watermelon curry, fresh mint and crumbed labneh $18
I just had to order this dish as I have never seen a watermelon curry before so I was intrigued. The quail is juicy with dark meat and tender with a light dusting of Indian spices including cumin. The watermelon cubes, fresh mint and crumbed labneh (yogurt cheese) balls are such a fantastic complement to the quail and curry sauce. It is much like mango works well with chicken curries and fruit such as lychee works well in duck curries and suddenly watermelon curry doesn't sound anywhere near as peculiar as it did before.
Steamed marinated eye fillet with smoked tofu, wakame, bean curd  and miso tea $35
This is their tribute to a steak. Nathan tells us upfront that the beef is a local Angus cross but isn't "one of those fancy or designer meat" but the key is in the way that it is cooked. This is very unique with a steamed, marinated eye fillet sitting in a strong miso tea broth poured from a teapot. The miso tea broth is rich and salty and the eye fillet is juicy and tender giving the very succulent meat little resistance to the knife and a real sweetness to it. The firm smoked tofu is very lightly smoked (in fact I don't taste much smoke) and there are also pieces of wakame seaweed and yuba (bean curd roll). I can imagine a steak die hard ordering this, protesting and then eating it happily it all and ordering another once tasting a mouthful.
Roast duck and orange festive pie with spiced beetroot jam and pomegranate glaze $35
Taking a pithivier form, the duck is soft and similar to a duck confit and it is highlighted with orange and sits on a sweet star anise rich beetroot jam with streaks of sticky pomegranate glaze. The pie is best when combined with the beetroot but it really needs the moistness and sweetness from the beetroot.
Moroccan lamb and olive tagine, preserved lemon chilli couscous and a date and tamarind chutney $34
Presented in a pretty decorative tagine, the lamb is soft and tomatoey and served with a preserved lemon chilli couscous and the meat so tender and soft. It is accompanied by a sweetly rich date and tamarind chutney which is good enough to eat by itself by the spoonful!
"Banana Sunday" Crumbed  banana custard mille feuille with peanut brittle, toasted coconut ice cream and bitter chocolate sauce $14
Do we have time for dessert? Always! This is nothing like what we thought it would be like. It's a banana custard that has been created by pulverising dried banana chips (and you can really taste the distinctive dried banana chips) and creating a custard with it. It is then crumbed and deep fried, like a deep fried ice cream and it is so gooey and gorgeous we can't resist. It is served with a pounded toasted coconut ice cream scoop and a streak of dark chocolate sauce.
Gina and I are standing in front of the 1860 original timber slab hut and we smile to each other as we both adore rustic luxury. 1860 where we are staying tonight is an original timber slab cottage. The horizontal timber slab construction sat in Emerald a town 60 kms from Melbourne. Now it stands in Beechworth having been painstakingly rebuilt piece by piece by 1860's current owners Matt Pfahlert and Gina Bladon.
The original structure was made of hand hewn wood from local Mountain Ash (Eucalypt) trees. Built in 1860 by a German man it was built entirely by hand using tools such as a broad axe, falling and trimming axe, crosscut saw, paling knife, maul and wedges. They bought the property from friend Bronwyn Raynor and rebuilt it using reclaimed materials. Jarrah floorboards are from an old Army training barrack, the mantel piece is an old railway sleeper and the fireplace plinth are the window sills from an old Beechworth pub. The floors, ceilings, bench tops, walls, roof and verandah are made from reclaimed timber and materials to minimise their impact on the environment.
Facing the kitchen
The Blacksmith bellows table and check out the timber slab walls!
Inside the cabin is luxurious. The term rustic chic describes it to a tee and the focus of the main room is the fireplace with a table made out of a giant Blacksmith's bellow coffee table from a farm near Yackandandah. The lounges are leather and the exposed wooden beams and barn ceilings give it a homey look. There is a white timber kitchen with a white marble splashback and hand carved stools with tree branch legs. The urban necessities like air conditioning and television are hidden behind in timber cupboards.
There are thoughtful little touches of luxury such as  a leather daybed where Gina positions herself with a book and a magazine, luxury linen and designer appliances as well as a fabulously deep two person tub built into wood (although Gina and I won't be sharing!). They've kindly ensured that I have an internet supply via their neighbour Harry's wireless connection-in this lovely town people help each other out here. In fact before we left The Green Shed Nathan said "If you need an internet connection, I've got one for you". In the bathroom are soft towels and French soaps and lotions and a chemical free Syrian soap using olive and laurel oil, water and soda extracted from sea salt and is said to be gentler on the skin.
_ The bedroom with an added cot_ bed
Day bed! We love...
The owner Gina (not the Gina that I've brought along)  shows us how the slabs dovetail at each corner and how each had to be put back in exactly the right position in order for it to stand properly.
Breakfast provisions
There is a fridge full of gourmet goodies for breakfast including a lovely Beechworth apple juice, what has to be the best raspberry jam around with just the perfect level of tartness to sweetness and whole raspberries (a local number by Fay's Jams sold at Goldfields Greengrocer), eggs, bacon and Carman's muesli as well as the Milawa Bakery's corn cob bread. I'm not usually a big bread eater but this loaf is so delicious with the butter and raspberry jam that I polish off two huge slices of it and we package up buttered and jam spread slabs to snack on during the day (as if we don't have enough food as it is!).
The bread and newspaper
And now that we've settled in, we're off to explore Beechworth a bit more! Gina and I do some shopping on the main street and stop in some of the cute little stores in the area. There is The Growing Suitcase, a gorgeous store with a lovely golden bee wallpaper which I covet desperately. They are the exclusive stockist of Le Prince Jardinier gardening tools and homewares (there are only twenty stockists worldwide of this brand).
The Growing Suitcase
The Larder
Of course we must stop by Larder to try some of the local produce. Gina, who owns 1860 also owns Larder too and she stocks many local products. I buy some of the Renaissance chocolates including a raspberry and a durif chocolate ($2.50 each). The raspberry milk chocolate ganache centre with raspberry and white outer is pleasant although a touch sweet it might be for the sweet toothed. The durif chocolate truffle is creamy and with a nice hit of durif.
We also buy some Mundoona Mini Farmhouse cheese which we squirrel away to eat with the lovely Milawa corn cob bread and butter. The cheese itself is divine - smooth, mild and buttery. Gina buys some of the very popular chutney there-the spiced apple and pear chutney by Sugarloaf. Larder is also the exclusive stockist of St Ali coffee in the area (poor Gina bought herself a very below average coffee from another place!).
We stop by for tea at Jacqueline's Tea House where I try some Beechworth Eureka tea which is flavoured with bergamot and Gina tries a vanilla tea. They're both served on a pretty setting and the teas themselves are very nice indeed with strong aromas.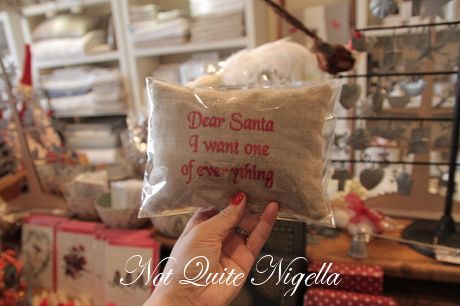 Yep, what she said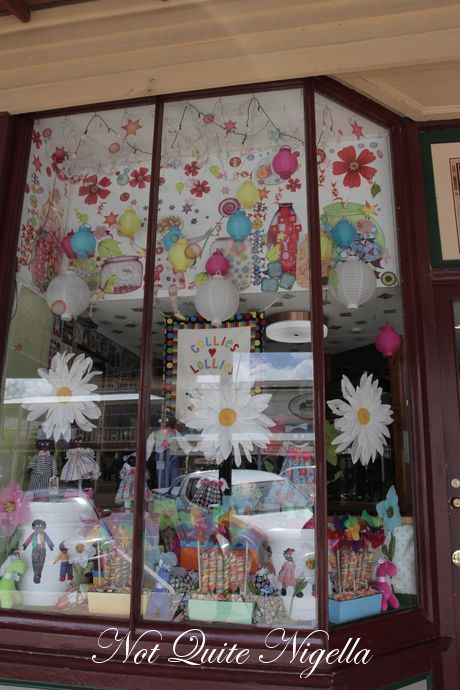 Lolly shop window
Beechworth honey shop
After some shopping and relaxing, it's time for dinner! We didn't really mean to eat all of this truly your Honour. We only meant to try the food but as often happens, our taste buds took over and...
Awards line the walls of Wardens and it currently enjoys one chef's hat in the Age Good Food Guide. However what Gina and I are intrigued by is their Wine Bar and their machines that allow people to buy 30ml, 60ml and 100ml bottles of very expensive bottles of wine which range from $100 to $300 a bottle. They dispense these sample sizes and the machine creates a layer of food grade argon above the wine that protects it and keeps the wine fresh for a guaranteed four weeks. This means that diners get to try a wine that they ordinarily might not be able to buy a whole bottle of.
Sourdough bread
We start with a sourdough bread that is paired with an olive oil that has a white haricot bean puree. They have it blended to their specifications and this olive oil has 2010 and 2009 olives. I do prefer a more grassy olive oil for dipping my bread and this is a milder tasting oil.
_Fried calamari on a "caponata" of eggplant, ruby grapefuit, smoked trout, almonds and a light curry sauce $22 matched with a 2008 Franz Haas "Manna" $8
_
The fried calamari pieces sit on a salad of cubed eggplant, tiny sections of ruby grapefruit, slivered almonds and smoked trout flakes and is enclosed in a light curry sauce. Even thought these ingredients sound disparate and numerous for one dish, the crunchy slivered almonds go well with the soft eggplant cubes, trout and tender squid and mild, creamy curry sauce.
_Tart of white asparagus and carameliesd onion, goat's cheese fondant, walnut praline and beetroot dressing $21 matched with 30ml of 2009 Giaconda Acolia Roussanne  $5
_
This looks simple (well the tart part) but is well executed with the lovely buttery puff pastry rectangle topped with tender white asparagus and a quennelle of herbed goat's cheese fondant. On the opposite side is a sweet beetroot sauce in drawn squiggles and an absolutely moreish walnut praline in small cheesecake crumb pieces. It is the kind of dish that a carnivore would happily eat and then forget that there was no meat.
_Baked roman gnocchi, oyster mushrooms, roasted pine nuts, brown butter and buffalo mozzarella $30 matched with 2006 Savaterre Chardonnay $8
_
The baked Roman gnocchi is a single polenta gnocchi or baked polenta square topped with oyster mushrooms, browned butter and little torn pieces of buffalo mozzarella which melts appealingly to a gooey, creamy mouthful. They've forgotten the roasted pine nuts which you need to give some crunch but these are delivered promptly.
A cork tray!
_Loin of lamb , braised lamb and pecorino cabbage ball, green pea risotto and a roasted garlic sauce $36 matched with 2004 Pizzina Sangiovese "Rubacuori" $8
_
Gina and I are swapping meals and she is very impressed with the braised lamb and pecorino cabbage ball so when we swap I am eager to try this. As soon as I set this in front of me, a beckoning aroma grabs my olfactory senses and I dig in. The cabbage wrapped dumpling is divine and rich with flavour with the roast garlic sauce . The lamb is tender and pea risotto is nice but all we both want is a plate of those cabbage balls!
Asparagus with lemon butter $9
I love asapargus and the creamy lemon butter is a nice creamy piquant complement to the asparagus.
Green Salad $9
Dressed with Warden's house dressing, the leaves are well dressed looking glossy and appealing.
Macadamia nut nougat panna cotta and prosecco and berry soup, ginger shortbread $16
As I mentioned, we didn't quite mean to eat that much but as Warren our waiter steered us right all night with menu choices and was very enthused about the panna cotta we had to try this. Oh me,  oh my! We take a spoonful and the silky, creamy panna cotta is divine-from the heavens.  We don't really get the nougat flavour though and the macadamia nuts are via tiny little flecks on top. The prosecco sits in a berry soup which has a tartness that counters the indulgent creaminess of the panna cotta. The buttery shortbread isn't particularly gingery but it tastes more like aromatic Christmas spices and cloves.
As you can imagine, we slept like babies that night!
So tell me Dear Reader, do you like trying unusual combinations or do you go for tried and tested?
NQN and Gina traveled and explored Beechworth as guests of Sydney to Melbourne Touring.
The Green Shed
37 Camp Street, Beechworth, VIC
Tel: +61 (03) 5728 3460
Open for lunch and dinner Wednesday to Sunday
1860 Luxury Accomodation
4 Surrey Lane, Beechworth, VIC
Tel: +61 (408) 273 783
Wardens
32 Ford St
Beechworth VIC
+61 (03) 5728 1377
Jacqueline's Tea Room
34 Camp Street, Beechworth VIC
+61 (03) 5728 2619
Larder
14A Camp St, Beechworth VIC
Tel: +61 (03) 5728 2299
The Growing Suitcase
74 Ford Street, Beechworth, VIC
+61 438 286 101
Divine Linen
45 Ford Street, Beechworth, VIC
+61 (03) 5728 2088