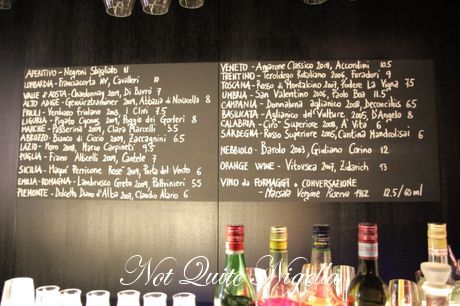 I am not particularly claustrophobic (I used to sit in my cupboard for ages looking to get into Narnia as a child) but I say to myself "This is one small, dark place!" And like my Narnia journey that never was, I am totally lost when finding it and it's only when I ask at a neighbouring restaurant am I told that 121 BC is actually not on Holt Street but on Gladstone Lane and the sign doesn't actually say 121 BC but it says Cantina Enoteca with 121 BC written in tiny letters near the door. Of course. I might have had better luck trying to find Narnia.
Named 121 BC as that was said to be when the first great wine harvest occurred (said to be the vintage of a lifetime), this is one of the three places owned by the people that own Vini and Berta also in Surry Hills. And there is one common thing: they are small with 121 B.C. seating 25 people on a long communal table and they are dark which means that I need my dining buddy Alison from delicious. magazine and her iphone to shine some light onto the food (she kindly helped me through the Singapore trip by providing the light there too). Before we arrived, I didn't intend to blog it as we didn't know how much food they would have but after clocking the wall menu the food sounds rather good. Before you know it, I've got the camera out.
I seem to have caught the flu that everyone else in Sydney is currently suffering through and so I nurse a ginger drink which is truth isn't particularly gingery and just tastes like chinotto. The focus here is on Italian wines, 250 or so, that are served in 100ml tasting glasses and the sole occupant on the cocktail menu is the bellini. Bartender Giorgio checks on Alison's wine choice. When she finds one a bit too dry he offers her a taste of another which she likes a lot better and then goes on to order.
Pork ribs $10
Our first course is the pork ribs which come out on a board sprinkled with salt at one end. The ribs are flavoured with balsamic and have a slight tanginess that helps offset the richness of the pork ribs. The meat has a lovely texture, a little chewy and crusty on the outside but falling off the bone too.
Kingfish $10
The sashimi or carpaccio of kingfish is paired with pomegranates and celery leaves. I'm not a huge celery lover but when you get a bit of everything it isn't too bad although I always find that celery tends to dominate all of the other flavours and if you take a bite with just the pomegranate and kingfish then the flavour changes vastly.
Mozzarella en carozza $7
What's not to love about buffalo mozzarella fried in bread and crumbs? This is earth shatteringly crunchy and buttery on the outside and with a stretchy, creamy buffalo mozzarella on the inside. And yes it's worth every calorie and at this price for a few mouthfuls of utter pleasure, it's worth it.
Figs, fennel, radicchio and prosciutto $10
The plate of fresh figs, radicchio, fennel and prosciutto was ordered as soon as we clapped our eyes on another diner's plate. I adore fresh figs and these are quite sweet and it pairs with fennel and radicchio. The prosciutto comes crispy as if deep fried and we would have liked a little more. Or it could be that in the dark it was hard to tell what we were spearing onto our forks too!
Pork & veal meatballs with borlotti beans $18
The meatballs are a little too strong in a sausage mince taste. We do like the borlotti and braised greens underneath it but the meatballs themselves aren't a favourite.
Corn cobs
Who ever knew that corn needed anything but butter, salt and pepper? Well apparently it needs porcini and reggiano shavings and although hard and unglamourous to eat, the sweet corn and savoury topping are worth just getting in there and hoping that lots of little bits aren't stuck in your teeth. It's time like these that I wish I carried dental floss.
Zucchini $8
The last dish piqued our curiosity as we couldn't figure out whether it was zucchini based on their spelling and it was a surprising hit. The zucchini is grilled and then paired with a fragrant, rich taleggio cheese which is slightly melty although there isn't much in the way of the promised preserved lemon except for one biteful which Alison gets.
Even though I didn't try the wines, Alison was impressed with them whereas the food was a hit with both of us. Surprisingly reasonable is the price, it may not be the place to take your ravenously hungry boyfriend or husband but we'd imagine ideal for girly catch ups after work - and given that at 6:10pm Alison procured the last two seats don't make it too late after work. Perhaps the confusing address might mean a better chance of snagging a seat at this tiny little hole in the wall!
So tell me Dear Reader, I know this is a strange question but do you ever carry dental floss with you? And I'd like to wish you all a very happy, fun and safe Easter holiday full of good food! I hope the Easter bunny brings you lots of goodies  :)
121 BC
4/50 Holt Street, Surry Hills, NSW (entry via Gladstone Street)
Tel: +61 (02) 9699 1582