The LPs on this wall all have a wine theme to the name
I'm having a deju vu moment. I look around and my mind appears to be spinning and my surroundings melting. I remember I used to dine in this space way back when it was a Hyatt Kingsgate hotel and it used to be a Japanese restaurant. In fact I have just walked past where 20 years ago my friend Miss America and I used to sit down and have chawanmushi and sushi way back when it was somewhat of a new cuisine. Yet 20 years later it is nothing like it used to be. Now it is a wine bar called Time To Vino run by sommelier and owner Clint Hillery who was the recent winner of the Electrolux Young Restaurateur of the Year award.
She's a bottle opener if you can believe it!
Part of the Diamant hotel for whom they also provide the room service meals it is a place full of quirky knick knacks, many with the wine theme such as this buxom lass who in her spare time is a bottle opener. Clint tells us that they have a lot of fun scouring ebay for pieces and the waiter is kind enough to bring me a little nesting table to put my camera on, the table being another ebay purchase!
Wine corks a plenty everywhere!
The bar snacks are a comforting cut above with bangers and mash and a glass of wine for $20 or a Sunday roast with pudding for $30. And last but not least is the legendary toastie which changes regularly. Darren tells us that the toastie's fillings change regularly and can feature fillings such as duck rillette and truffles.
Every Thursday night for the rest of the year they will also hold a wine and charcuterie plate tasting with 5 courses of nibbly style food and matching wines for $60.  Their point of difference is that they do their charcuterie in house including an incredible venison morcilla (blood sausage) using New Zealand venison. While we are standing around a divine guinea fowl pate and cassis jelly eclairs are passed around along with a glass of NV Louis Roederer "Brut Premier" champagne. The guinea fowl livers used have a mild, less gamey and lovely flavour.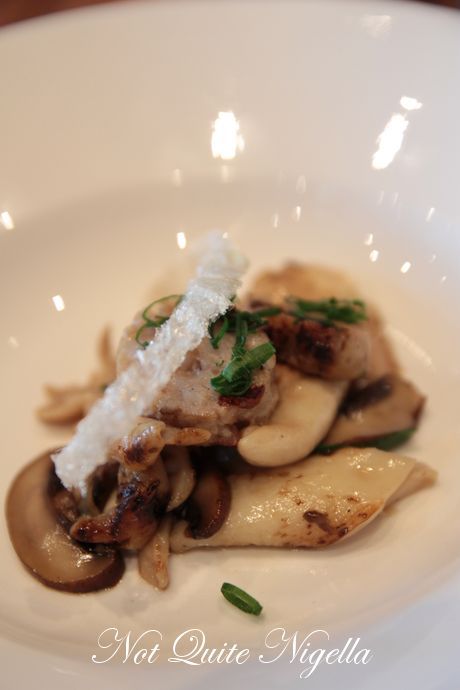 Wild Abalone with pork sausage served with 2010 Robert Oatley Riesling (Great Southern WA)
The wild abalone and pork sausage is a fresh sausage and Clint explains that the sausage only has a short life of one or two days because they cannot use a preservative as that will turn the abalone tough. The oyster and Swiss brown mushrooms are cooked in an abalone sauce which is made from the off cuts of abalone and the mushrooms have a slightly Asian flavour while the abalone and pork sausage pieces are packed full of flavour and to top it all off is a baton of crunchy, airy, lacey pork crackling. And the wine it has to be said is an excellent match. I'm not a wine writer, not would I ever claim to be but one thing that everyone has in common is knowing when wines match and this one softens the acidity in the wine and makes it smoother.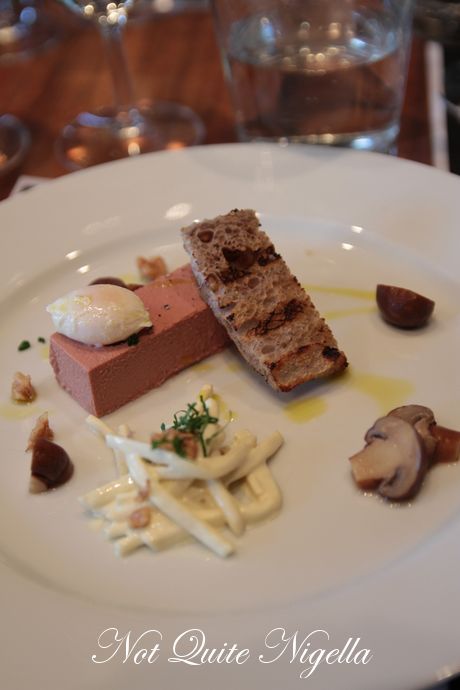 Burrawong Chicken Liver Parfait, poached quail egg, walnut remoulade and pickled mushrooms served with a 2009 Robert Oatley Chardonnay (Margaret River, WA)
The Burrawong chicken liver parfait really comes to life with the accompaniments. I like parfaits a lot by themselves but find that I often can't finish them because they are so rich. But when they're paired with the star anisey pickled mushrooms, a soft centred oozy quail's egg and a remoulade with small walnut pieces on top then finishing a parfait is easy work.  Extra trays of warm toasted bread are brought around for the parfait and again the wine match on this is excellent.
Duck, goat and fennel sausage, Barbera braised red cabbage, crispy chestnuts served with 2006 Montrose "Omaggio" Barbera (Mudgee, NSW)
Oh my, this is what they mean by a sausage. The duck, goat and fennel seed sausage was peppery, juicy and flavoursome and it was a case of just not wanting it to finish. It sat on a bed of Barbera braised red cabbage which had a sweet and sour aspect to it and there was a thin, semi translucent stick of pancetta jowl which was incredibly crisp and gorgeous. A whole bowl of these please!
Venison Morcilla, seared loin and mojo verde served with 2009 Robert Oatley Shiraz (Mudgee, NSW)
Our last dish is a savoury dish and is a New Zealand venison morcilla (blood sausage) which is another highlight on the menu. It comes as a rectangle with a toasted, lightly crunchy exterior and a spicy, rich, soft mealy interior topped with toasted almond pieces. I could easily imagine this with some poached eggs for breakfast. It is paired with the seared loin of venison with a spicy mojo verde and a neat pile of roasted capsicum.
Gourmet toastie: kurobuta ham with truffled gruyere $12
After Darren's raves about the toasted sandwich we asked if we could try them. The gourmet toastie sounds like a good one and is filled with thinly sliced kurobuta ham and a thick layer of melted truffled gruyere. In fact writing about it now makes me want to have another! They're served with pickled and olives.
Empanadas $12
The well seasoned and crunchy empanadas are filled with chicken and accompanied with the verdant mojo verde salsa which adds to the chicken filling.
There isn't a dessert included in the dinner but you can add on one of their "adult sundaes". And adult refers to the wine in the sundaes and not to a XXX appearance of them (I was picturing risqué banana sundaes! ;) ).
So tell me Dear Reader, do you often have wine with your meals or do you enjoy wine by itself or with bar snacks?
And good news Dear Readers! The MasterChef Live VIP pass giveaway has been extended until midnight on Sunday the 11th of September so you have some more days to enter! There are VIP double passes to give away worth $170 per set! Enter here.
NQN dined as a guest of Robert Oatley Wines
Time To Vino
2-14 Kings Cross Road, Potts Point
Tel: +61 (02) 9380 4252
Monday - Sunday 5pm till late