The first time I ordered pasta in Japan, I had to do a double take. On top of a bed of spaghetti, there was dried nori seaweed as well as a sauce made up of tiny balls of cod roe (mentaiko). I thought that it was the strangest sort of pasta. However, never letting surprise spoil the chance for a meal, I took a bite of it and pondered the salty, rich roe and the savoury strips of nori and decided that perhaps it wasn't so weird after all and it was all rather quite delicious.
So when Mr NQN and I are in Porcorosso, a Japanese Italian restaurant in Waterloo and I see mentaiko and seaweed on top of spaghetti, I know that I have found an authentically Japanese Italian experience. In fact, it is the merging of four Italians and one Japanese (the chef). Intrigued by the name we had to ask - Porcorosso is named after the animated Crimson Pig (Porco Rosso) which is the name of the film's main character. He was an Italian WWI fighter ace pilot turned bounty hunter who was cursed and turned into a pig. Well it all makes sense when you watch it I'm sure.
The restaurant is subtly signposted, the only indication is that there isn't much else on quiet Allen Street apart from the restaurant next door. Inside are exposed concrete and brick wall and a large fighter pilot pig sits in front of the kitchen glass. The walls are covered in metres of grey tactile paving which is a common sight on Japanese subway stations and footpaths, albeit in yellow. The menu is two sided with drinks, entrees and salads on one side.
On the other side are the pizzas on the left named after Italian numbers and on the right are the pastas, named after Japanese numbers (although number four appears to be missing in both columns - according to a Japanese friend, four is inauspicious in Japanese culture). Service is very sweet and friendly and it was politely suggested that we may have over ordered (oops over-itis again!). However Mr NQN was hungry and we figured we could take the leftover pizzas home with us.
Tofu salad $14.50
I am a sesame dressing fiend-it's light and packs so much flavour and this salad had it all. There was seaweed salad, a generous amount of edamame, shallots, green leaves and a sesame and miso based dressing along with crumbled tofu. If I worked or lived near here I'd probably order this salad every day for lunch.
Go $19
The pasta was spaghettini with chilli marinated mentaiko (cod roe), nori seaweed, fresh basil and lemon zest. I was lucky I ate my portion of this while Mr NQN was busy taking the photos because he wolfed it down in about three large, enthusiastic mouthfuls. The pasta was silky and noodle-like, the mentaiko had a gorgeously rich, spicy flavour. Within each mouthful, you first had the nori and cod roe, then the basil stepped up and then the lemon zest. All of the pastas are home made and you can see them sitting on a counter in trays.
Cinque $20
The pizzas were large and Napoletana style with a super thin polenta dusted base and thick puffy sides. The cinque had tomato sauce, spicy salami, nduja, mozzarella and Spanish onion on top and it had a good amount of spice although I think we would have both loved a bit more chilli heat.
Otto $22
We weren't quite as taken with the Otto, a pizza with tomato sauce, pork sausage, mozzarella, wild mushroom and radicchio as there weren't any standout flavours and compared to the rest, it just wasn't as flavoursome.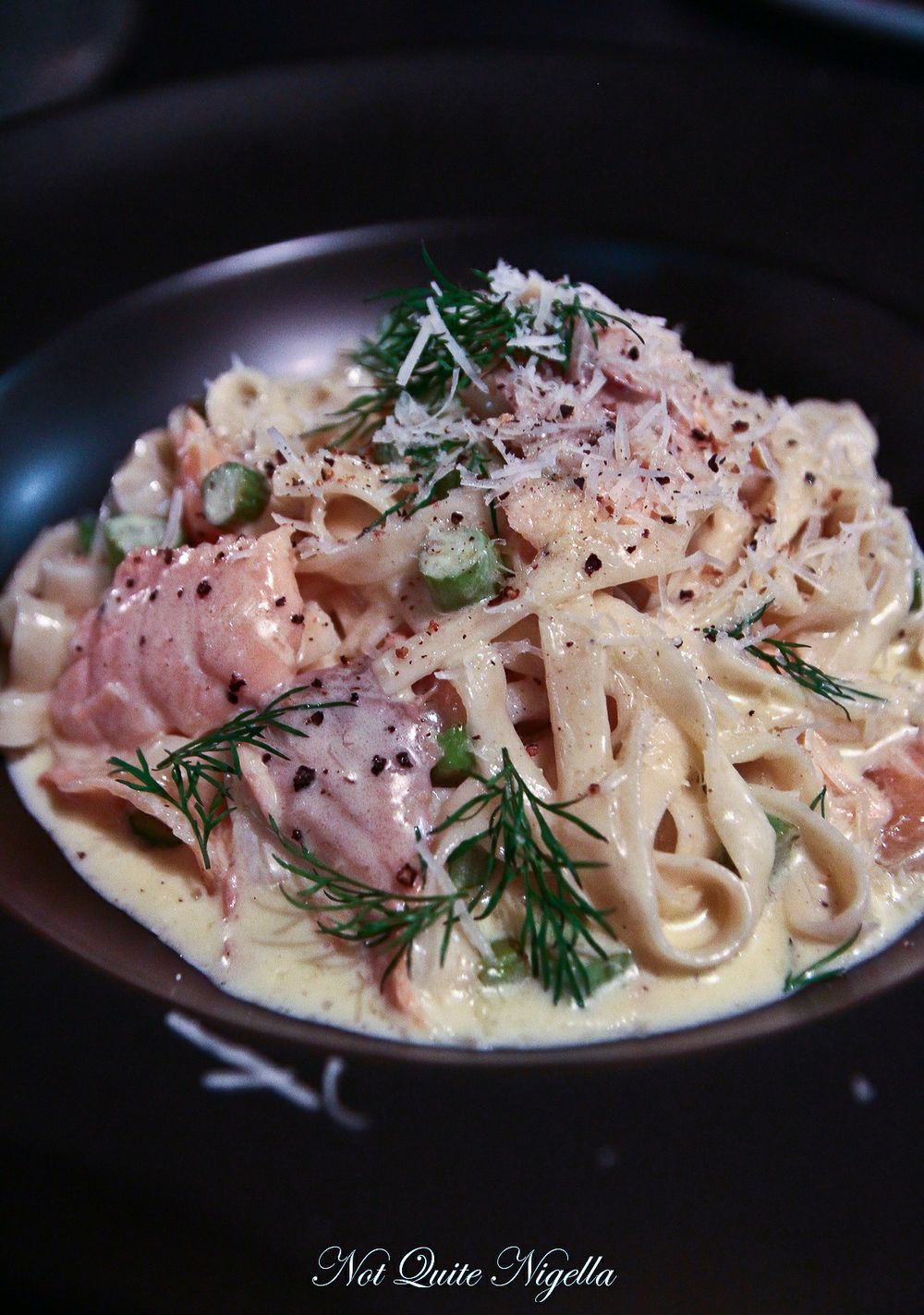 San $20
I liked the richness of the fettuccine with home cured salmon, asparagus, fresh cream and dill which had large chunks of soft, salty cured salmon and thin, silky fettucine. Oh and that reminds me, gluten free eaters, they offer a kamut spaghetti which is an ancient wheat that is said to be easier to digest and well tolerated by gf eaters (I didn't try this though).
Tiramisu
I know, how could two people that ate all of that have room for dessert? When one of them has enviably hollow legs -that is, Mr NQN.  In the front display there are a range of home made cakes from an orange and poppyseed slice, chocolate friands, strawberry slice and a huge tray of tiramisu. Our waiter recommended the tiramisu so who was I to disagree? It came as an enormous slab with light and creamy mascarpone but with a slight difference. Their tiramisu is made out of sponge cake rather than sponge fingers. Now I know that I'm not Italian and the use of sponge cake might be sacrilegious to some but it was really delicious and strong with coffee and liqueur. I usually try a spoonful of tiramisu and leave it as I often find it a bit watery but this was worth the extra pitstops with the fork.
Carrying our leftover pizza, we bade the fighter pilot pig  sitting on the table 'ciao' or 'sayonara.' He didn't answer back.
So tell me Dear Reader, what is your favourite fusion food combination? And are there any cuisine fusion combos that you think would be good or terrible?
Porcorosso
33 Allen Street, Waterloo, NSW 2017
Tel: +61 (02) 9698 2983
Monday - Friday 7:30am - 4pm
Thursday - Saturday 6pm - 10pm