I'm in Social Siberia. I look to my left. Couples are chatting intently. I look to my right. Groups are chatting. I'm standing there nursing a rosy orange Campari cocktail and through a miscommunication I have arrived early at Guy Grossi's The Merchant at 6:30pm. I've been told that I am meeting people from the Melbourne Food & Wine Festival and other journalists but I have no idea what they look like. Unlike a networking event where people want to talk to others everyone here has their posse and is sticking with it. Breaking into a group requires confidence that I don't have so for the next long 25 minutes I stand there sipping my cocktail and getting progressively drunk hoping that another person waiting for someone else will appear so that we can stand together and not look so damn alone.
Some food appears. It's a duck liver parfait on toast. I'd get some photos of it but I'm not going to whip out my huge camera which would only label me an even bigger oddity so I keep sipping. My phone with its dying battery becomes a distraction and lifeline and something for me to do with my fingers. People drop off empty glasses on the table next to me and suddenly things start swaying.
Oops I've gotten drunk off 1/3 of a cocktail again.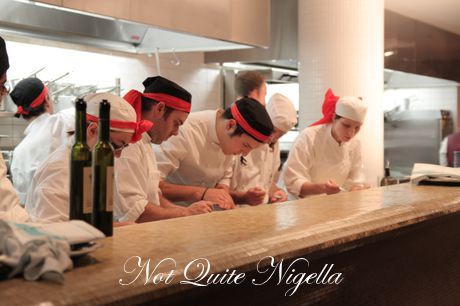 I walk inside and ask if I can sit down as things are swaying dangerously. They are kind and solicitous. "Senorita, that's no problem at all" they say. I tell them I am part of the media table and they look it up and show me to a small table for six where they offer me some food and some water. I start taking some photos of the kitchen brigade and the chefs wave at the camera and comes over to talk along bringing with them Guy Grossi. They're friendly and welcoming in that lovely Italian way and explain that tonight's dinner will be served Venetian style with dishes from the Venice area with a rustic presentation in homage to Grossi's roots. The Merchant is short for "The Merchant of Venice". And regular dinner prices are reportedly very reasonable with mains averaging mid $20s.
Four people arrive and sit at the table. We shake hands and introduce ourselves. "So...are you journalists?" I feel compelled to ask because they appear to be two couples. "No, we're not" they answer and I laugh. The already slightly strange night has gotten stranger and it appears that I am at the wrong table. "Don't worry" they say kindly "You can stay here."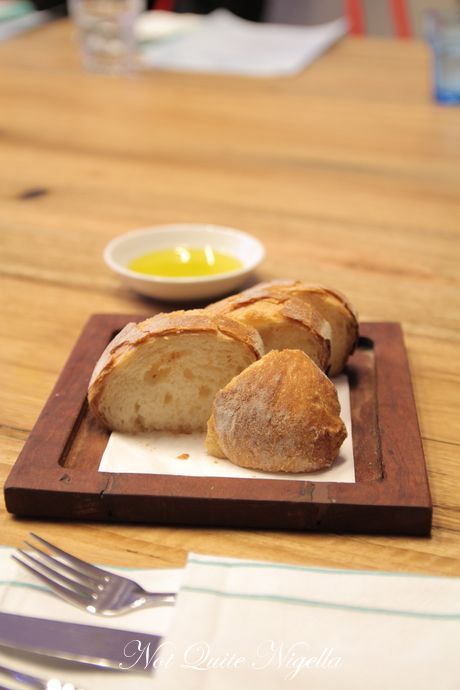 My actual group of friendly food journalists finally arrive and I am shown to my real table where I sober up on excellent crusty bread and olive oil and the strange night takes a more normal turn. I turn my attention to the menu. There are four courses all matched with a cocktail. I'm going to have to pace myself.
Natural oysters, Skyy vodka jelly, caviar served with cocktail Lina's Blushing with Skyy vodka, Aperol, Cinzano rosso, orange blossom
The first plate of two oysters on ice is a welcome sight. it is topped with a sweet Skyy vodka jelly and black caviar. I pop one down the hatch and the cold oyster and sweet jelly and salty caviar are sublime. Another dozen please!
Char grilled octopus, smoked potato served with Amalfi Oro, Espolon Reposado tequila, white chocolate, pineapple, passionfruit, lemon
A deceptively simple sounding dish this was the unexpected favourite plate of the evening. Tender long cooked octopus was paired with a herbed smoked potato salad, diced tomato and a celery and leaf salad each of us takes turned being wowed by it. It's not every day that a potato salad becomes the star of the show. We use the bread to mop up the juices. And I don't often put in empty plate photos but I just had to this time. Grossi does one of two laps around the restaurant shaking hands and greeting people and checking to see whether people have enjoyed their meal.
"Capretto" braised, garlic, rosemary, white wine, "Wild turkey American honey", polenta served with The Bicycle Thief, Wild Turkey bourbon, fig, cardamom, lemon curd, orange juice, rosemary, bitters
This dish comes with a side portion of creamy white polenta and a leaf salad with bitter red cabbage and green leaves. The "Capretto" which is a goat stew comes with a rich depth of flavour from the garlic, rosemary, white wine and a sweetness from the honey liqueur. It too  necessitates mopping up with the bread and picking up on the bone to extract all of the meat and marrow. Most of the pieces are fall apart soft but a couple are a little firmer from perhaps sitting on top and getting more of a roasting than other parts. The cocktail is a doozy too - in fact they're all frightfully dangerously delicious.
"Negroni" inspired dessert, campari, gin, sweet vermouth, orange served with La Dolce Vita, campari, frangelico, rosemary & cinnamon syrup, lime
The dessert comes out as an ode to a cocktail. At first we dig in expecting a moussey light texture but we hit firmer ground with our spoons. The top layer is a thick ganache and underneath it is a campari jelly. Now ganache doesn't really come with campari jelly very often but I can say that it probably should. On top of this is a gin and sweet vermouth sorbet and pieces of candied citrus.
Guy Grossi
And before I bid you adieu from my coverage at the Melbourne Food & Wine Festival, I know a few of you asked what the snacks were like at the Club Lounge of the InterContinental. During the day there are snacks like antipasto and drinks and in the afternoon there are little tasting plates of food that they offer to guests and they bring out from the kitchen.
Seared scallop on watermelon and goat's cheese with port infused wild figs and a cheese stick
The seared scallop was my favourite and yes I did ask for a second one. It's refreshing but light and the ideal way to refresh after traipsing about all afternoon. The goat's cheese is rich and heady and it does well as dessert!
Love those dolmades and the sweet stuffed pepperdews...
And some chocolates and tomorrow's weather greets me as I go to bed....
So tell me Dear Reader, what's your best strategy for dealing with being in "Social Siberia" at an event or party?
NQN travelled to and explored the Melbourne Food & Wine Festival as a guest of  Tourism Victoria
The Merchant
Ground Floor of the InterContinental
495 Collins Street
Melbourne VIC 3000
Tel: +61 (03) 9614 7688
The InterContinental Melbourne The Rialto
495 Collins Street
Melbourne VIC 3000
Tel: +61 (03) 8627 1400