When is the best time to visit a restaurant for a story? I usually stay away for the first few weeks preferring to visit at the four week mark although I know bloggers and magazine reviewers that visit within the first few days of a place opening. Things inevitably change and areas like service and timing improve as everyone gets used to the new surroundings and menus. But when we were asked if we'd like to check out Neil Perry's new restaurant Rosetta, well who on earth would say no?
Melbourne's Rosetta opened to much curiosity - every time we walked past the restaurant, people were peering in through the curved glass windows trying to take a look at the interior. Slated to originally have opened months before, the restaurant is an homage to all things Italian.
Where is it among the Crown Complex? It turns out it is on your direct left if you're walking out of the Crown Towers lobby, it sits in a separate building. The large logo of Rosetta grabs your attention straight away and it is located right next to Rockpool Bar & Grill alongside the Yarra River.
What would Neil say to those that ask 'What does Neil Perry know about Italian food'? He says "as much as he does about Chinese I guess. It has been a lifelong love as the food is very seasonal and produce driven, for the same reason I love Japanese. So it fits with my philosophy. It is really nice working within a cuisine that is so varied from north to south and in between. I also wanted a reason to go there at least twice a year!!! I'm using not being Italian as an advantage so I can believe that all parts of Italy make good food."
The interior is luxe Italian. His brief to designer Iain Halliday was to use references from classical Italian design. There are two types of Italian marble used on the floors and tables. Curved glass windows look out onto the view outside and the terrace area features Pucci inspired cushions.
Diners push the Fornasetti copper plate at the door and present themselves at the front desk which Ferrari fans will notice is upholstered in the same patterned leather as the interior of a Ferrari. A length of Missoni inspired rosetta or red rose carpet lies underfoot while a portrait of Fiat founder Giovanni Agnelli overlooks vases of red and pink roses sitting on an antique Italian table. Neil tells us that he wanted to call it Rosetta for a few reasons: firstly because it is a beautiful Italian woman's name, secondly, because of the classic rosetta roll and also because he saw this as a feminine space whereas nearby Rockpool Bar & Grill was more masculine.
The main dining room has a classic Italian herringbone patterned floor. There are three domes within the ceiling from which Murano hand blown chandeliers are suspended and there is a wall of framed infamous and famous Italians from a young Giorgio Armani and Valentino to sirens Claudia Cardinale and Gina Lollobrigida to Sergio Leone and Frank Sinatra.
You know, I'm not really one for strong, knock yourself out drinks. The strawberry bellini with fresh strawberries of the season was pure sweet strawberries and very moreish. The Americano was too strong for me, well you know me, I love my cocktails girly rather than burly but Mr NQN enjoys it.
We settle into our table inside in a comfortable chair and the menu makes things difficult to choose. Along with the food, there is an extensive wine list available too. All of the ricotta is made fresh daily and took months of testing to get it just right. At our table is restaurateur and Melbourne's Godfather of Italian cuisine Ronnie Di Stasio who declares this entree one of his favourite dishes. The ricotta is milky and soft and never sees the inside of a fridge as it is made fresh every day. It comes with a soft roasted tomatoes and slices of bread to smear it on.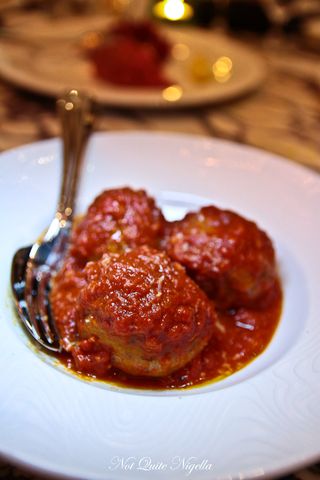 Apart from vegetarians for obvious reasons, I don't think I've met anyone that doesn't love meatballs. For me, I like it when they're large and soft with a good, thick, rich tomatoey sauce. Fire roasted before cooking with the rich sauce, these were luscious, plump veal and pork morsels with a beautifully rich tomato based sauce. I could have eaten the whole plate by myself.
The thin, tender deep fried squid was lightly crumbed and came as tender light golden fingers of squid and zucchini. This was good although it is a tad pricey at $32 for the size.
The vitello is raw, chopped veal flavoured with lemon and served with a very thinly sliced bitter raddichio. The veal was very well seasoned and with a lovely lemon accent although I found the raddichio a bit bitter for me while Mr NQN liked the combination.
Onto the pastas! All of the pastas are house made and we start with the house made spaghetti alla chitarra. The house made spaghetti has such a lovely texture, softer and silkier than a dried spaghetti and this is accompanied by tender prawn pieces and pistachio which is a lovely, delicate combination.
If you want something the polar opposite of this dish strength-wise, the maccaronara, a fatter version of spaghetti, is rich and bold with a hearty tomato ragu sauce and snowy blanket of reggiano liberally sprinkled on top. Despite the fact that I know that I have a main and dessert left, every curl of pasta is slurped and every lick of sauce is mopped up with the bread.
And psst! On the way to the bathrooms, take a peek into the back room, a private dining room that seats 14 which is also used as part of the restaurant. Along the back wall is Andy Warhol's "The Last Supper". And just in case you needed to know, the taps have motion sensors (whereas I was trying to turn the top-oops, you can't take my anywhere ;) ).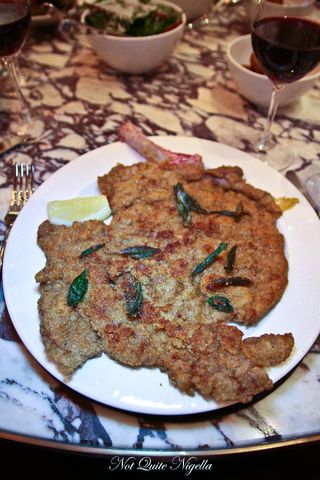 The crunchy breadcrumbed veal cutlet was served thinly sliced and pan fried with a lemon and caper salsa and takes up every corner of the enormous plate. I tried a little of this and it was very good with the floral fragrance of sage leaves.
Soft and luscious, the agnello lamb was rich and yielding without ever being overly fatty. It was a generous sized serve accompanied with sweet peas.
The main dish that I wasn't as smitten with was the Anatra or the wood roasted twice cooked duck. Whilst the serve was generous, the duck was cooked til pink but the pieces on the bone are a little difficult to cut which was surprising as it was twice cooked. The two peach halves were quite tart to go with the rich duck.
We quickly pop into the kitchen, firstly checking that we won't be in the way and we stand back and watch the action inside. It's phenomenal to watch - the coordinated action has a real urgency to it coupled with the nervous tension of a new restaurant. Rockpool's Brendan Sheldrick heads up the kitchen under Neil. Neil's signature ponytail swings as he turns back and forth directing dishes and rows of staff wait their plates while other staff watch on.
Dessert is a whole column in itself on the menu with a range of five Italian cheeses to choose from as well as desserts, gelati, sorbetti and pastries. The Bonét is a swoon worthy Piemontese chocolate pudding - rich, dark and glossier than a moonlit harbour. It's a divine balance of chocolate, coffee, caramel and rum in a dense, smooth pudding. It's an adult's dessert and Neil tells us that apart from the caramel, there is no added sugar in this dessert which uses a Valrhona bitter chocolate.
Again, another polar opposite dish to the above is the panna cotta. We've all heard the line that panna cotta is supposed to be as wobbly as a woman's breast. This one is so soft and wobbly, it's almost obscene. Competing with the Bonet for favourite dessert, this milky vanilla and jellicious number is paired with a sweet rhubarb and strawberry compote. I went to the dark side of the Bonet while Mr NQN went to the light side of the panna cotta.
The fior di latte is a milk and cream based ice cream which is made on the premises as is all of their gelati and sorbetti. It has a lovely texture and just the right amount of sweetness to it.
The pistachio gelati tasted like roasted pistachios, not like almonds which usually happens when they use pastes to flavour gelati and I could have eaten scoops of this along with the dark, intense chocolate gelati.
Freshly filled with a paper thin crispy shell and a smooth, sweet ricotta filling, these are the perfect size for a post dessert snack. Sophia, Gina and Claudia would surely approve no?
So tell me Dear Reader, who is your favourite starlet from yesteryear? And do you prefer rich, bold flavours or light, delicate ones? And do you like your cocktails girly or burly?
Rosetta
Crown Complex, 8 Whiteman Street, Southbank Victoria 3006
Tel: +61 3 8648 1999
http://www.rosettaristorante.com/reservations/
Open: Lunch Tuesday to Sunday from 12pm – 3pm
Dinner 7 days from 6pm – 11pm