If I said the words "Whose cuisine reigns supreme?" I would hazard a guess that most of you would know that I was quoting a line from the television show Iron Chef. You may also know the names of the Iron Chefs who grace our television screens every Saturday night for seemingly the last few decades (do they ever run out of episodes?). The studious may even know which of the three main chefs has the highest percentage of wins over losses (it is Iron Chef Japanese Michiba at 86.5% followed by Iron Chef French Sakai at 83% and Iron Chef Chinese Chen at 76%). And knowing that they have a loyal fan base, each year the Iron Chefs visit Australia to hold some very special dinner. For $485 per person you can snag a place at a table and for $585 you can get yourself a seat at a VIP table within sweating distance of the chefs.
Each year the event always seems a little different and they appear to have heeded some of the criticism of the last Sydney event in which only one course from each Iron Chef was presented. This year diners receive two courses from each Iron Chef plus two courses and canapes from the RACV chef Mark Normoyle. This is Melbourne's first Iron Chef dinner and expectations are high and diners are excited. Held in the ballroom of the RACV it is a little function room like and reminds me of the Hilton last year although here we do get windows and a view.  I still loved the room at 2007 Observatory Hotel the best for atmosphere as the over the top opulence matches the dramatic campness of the television show.
I wish I could have brought you some pictures of the canapes and they looked wonderful but in the crush every time I spotted a tray heading in my direction, by the time it got to me it was empty! But before I know it we hear the sounds of the taiko drummers and head inside.
There's something to be said about VIP seating. And when your seat is right in front of the stage at Iron Chef you realise what a whalloping good view you have of the chefs. There are two huge screens with a Brillat Savarin quote "Tell me what you eat, and I'll tell you who you are" and the taiko drummers have taken centre sage and are beating out a rhythm that gets the crowds excited. This is Melbourne's first Iron Chef event and diners appear to be thrilled to be there.
Iron Chef Sakai
They're not mucking about tonight, Simon Thomsen is up on stage in his  black velvet mandarin jacket and he is playing a less flamboyant Chairman Kaga. He bites into a fruit with gusto and introduces Iron Chef French Sakai who takes his place in front of his picture. He stands holding a pear and waves to the crowd who are cheering enthusiastically. Then a cleaver wielding smiling Iron Chef Chinese Chen comes to take a bow to just as much applause then followed by the RACV's chef Mark Normoyle.
Iron Chef Chen
"Gonna Fly Now" from  Rocky sounds and the Iron Chefs do a lap around the room. I'm convinced Sakai does it just to check out the pretty girls in the audience as he likes to do. The Iron Chefs are ageless and having a read of their bios I am somewhat surprised to learn that Sakai is 69 years old and Chen is 55 yet they look exactly like they did on the television show which was filmed from 1992-1999.
Chef Mark Normoyle
Sakai looking for girls again!
Iron Chef Sakai is reflected on the screen back in the kitchen where we get glimpses throughout the night of the action happening in the kitchen. They tell us that there are 80 chefs working in the kitchen, many who have just come in on an unpaid volunteer basis just to have the chance to work with the Iron Chefs.
Video of the first course being prepared
And Sakai busy at work
Sakai explains the dish that he has prepared and host Mayumi Uchida translates for him. For this dish they have used 9,000 kilos of Western Australian marron and $2,000 worth of caviar and each guest will get about ten dollar's worth of caviar in their martini glass. They show a short video of the kitchen preparing the dish that was filmed earlier. Interestingly, the glasses are filled while within plastic lined cardboard boxes and with a prompt the tens of white gloved waiters head towards the kitchen.
Iron Chef Sakai: Marron and pearl meat salad on vichyssoise, mango, consomme jelly,  caviar served with 2009 Phillip Shaw No. 11 Chardonnay, Orange
A few minutes later a martini glass filled with Iron Chef Sakai's dish arrives. There are plump morsels of wonderfully cooked marron-sweet and tender and not chewy at all. The costly pearl meat has a wonderful texture, softer  than marron and lobster and spongier but not wet and it seems to be the ingredient that many are using nowadays. There are waves of delicately flavoured consomme jelly and a creamy cold vichyssoise soup although the mango flavour is mild in mine and I don't taste much of it. This dish is really an exercise in slippery textures and it is similar to the first course that he made last year in Sydney.
Iron Chef Sakai and Adam Liaw
They scan the crowd for opinions on the dish and they settle upon Adam Liaw and his girlfriend Asami Fujitsuka who are sitting next to me. Sakai appeared on Masterchef and judged Liaw's dish and he said that it was good but had some way to go. Liaw is diplomatic when it comes to judging Sakai's dish and says that when he tried it, he realised that he still had some way to go.
It's game time as all of these Iron Chef events have had an element of games and fun and Iron Chef Sakai peruses for crowd for girls... ahem I mean judges. Thomsen asks for a giggling female and people that can do American accents before Sakai chooses two women and one man to come back into the kitchen to participate in a challenge.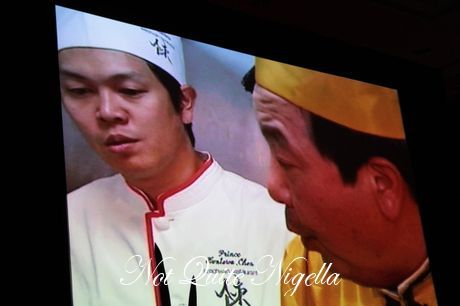 Iron Chef Chen and his son on the left
The screen flickers again and this time it is Iron Chef Chen. If Sakai is girl mad, Chen is golf mad and they ask him what his handicap is (six by the way) and when Thomsen says that is the Tiger Woods of cooking Chen quickly says "No No no Tiger Woods" (although we're not sure if he is being modest or averse to being associated with the promiscuous Woods!). We watch some video of Iron Chef Chen and his son who travels with him to all of these events. For this dish, they are using a Victorian abalone.
Chen's challenge to the three contestants is to plate up the next dish. Ever the clown Chen shows us by plating up the liver sauce haphazardly banging the spoon on the plate and making a mess. He then challenges the three to better his work. The three have 30 seconds in which to do it and they all do a great job. He draws out the suspense for the three by stopping at each one and lingering before declaring the gentleman Salvatore the winner. "Salvatore? Sal...va...to...re?" he says in wondernment of the winner's name.
A very happy winner!
Iron Chef Chen: Abalone fritters with seaweed salad and roe sauce served with  2010 Petaluma Bridgewater Mill Pinot Grigio, Adelaide Hills, SA
Our white gloved waiters bring out our next dish. It's the abalone served with the abalone liver or roe sauce and a  seaweed salad. This was the dish that many swooned over and out of the evening this was my favourite dish. I'm usually nonplussed about abalone. For the cost I usually go for lobster instead but this is divinely tender. The item that really makes this dish is the liver sauce which is so complex and rich and the seaweed salad served in an abalone shell has a wonderfully tingly peppery taste to it. The bread roll which is soft inside but crispy and deep fried on the outside is the perfect foil for the moreish sauce. And Iron Chef Chen tells us all to use the bread for the sauce.
The correct finger placement for holding a ladle-with index finger against the back of the handle
They bring out a large prep table with a wok and select three more members of the audience to help out. Now that everyone has had a good try of the wines and people lose their inhibitions, hands go up enthusiastically and three are chosen. Iron Chef Chen shows them the correct way to hold a wok and correct finger placement and then shows them how to toss dry rice in a wok. The three have a go and there's soon a winner!
Iron Chef Sakai then comes out to talk about his dish. Thomsen asks him what a French chef is doing using Italian ingredients like white balsamic vinegar and he answers "I'm a professional!". We go to another quick video of Sakai preparing his dish and as smooth as silk our meals come out straight away which is perfect for instant gratifiers like me.
Iron Chef Sakai: Slow cooked hapuka, white balasamic shellfish jus and fresh herbs served with 2008 Henschke Louis Semillon, Eden Valley, SA
Now before I start babbling incoherently, this dish was a "most pleasing aroma like walking through a delicious herb garden in Italy". Not too crazy fruity right? But it certainly did. The hapuka, a New Zealand white fish is tender and juicy and is paired with sauteed capsicum, potato and carrot and is served in a slightly tangy shellfish jus. If there was one criticism it would be that my slender piece of Hapuka was very small and out of proportion with the rest of the dish and the amount of the vegetables.
Iron Chef Chen is somewhere in there!
Even Iron Chef Sakai is busy taking photos
There is a bit of a break in the proceedings and they bring out a warmed bread roll to tide us over although it does feel a little odd having bread at this juncture. The next course is from the RACV's Mark Normoyle so the Iron Chefs take a breather and by breather I mean pose for numerous photos. After a while we cut to a video of chef Mark who is in the kitchen showing us how to cook the Victorian beef that comes in the next course. He sears it on all sides and explains that the dish will come with a variety of mushroom textures.
Chef Mark Normoyle: Porcini roasted aged Angus sirloin, taste and textures of mushroom, cassava root fries, black garlic jus served with 2001 Redbank Winery Sally's Paddock, Pyrenees Range, Vic
Now I know how hard it is to do beef for 250 people. That's why Mr NQN and I didn't have a beef course at our wedding. It always ends up tough and after wedding after wedding of tough beef we spare our guests a chewy gumboot texture dinner. So I was interested to see how they would fare in serving us beef, hopefully medium rare and tender. When the beef comes out it looks fantastic. Medium rare-check! Tender-check! Delicious-check! It's most impressive and the mushrooms come as a duxelle puree, sauteed, deep fried and withered and in a powder which is probably the only texture I didn't like as it reminded me of cream of mushroom cup-a -soup (sorry, but honestly that was really the first thing I thought of). The cassava root fries and gloriously crispy and the black garlic jus gives the dish a delicious mysterious quality. And there is a single clove of the black garlic which is sweet and intense.
A yin yang plate of sancho pepper is put down on the table and the waiter explains that it is very hot so we need to exercise caution. The taste is fiery and tingly and lingers on the tongue and lips. And what is about to happen? Well Iron Chef Chen is about to demonstrate his famous Mapo tofu! This is the dish that his father brought to Japan and was famous for. Mapo tofu is a heady, spicy, flavoursome mix of pork mince, garlic, szechuan oil, soy bean paste, sansho pepper and soft tofu.
In fact he tells us that this tofu was made only a few days before in Queensland by a third generation tofu maker who flew the tofu down for this event. He explains that the tofu is boiled prior to cooking in the wok as it 1) helps the tofu become plump and juicy and 2) it stops the tofu from losing moisture. He demonstrates the dish ladling in ingredient after ingredient including green onions and interestingly a couple of ladles full of oil once the deep rich scarlet colour is reached.
Iron Chef Chen, ever the comedian pulling faces
Before he comes over to give us a smell of the delicious aroma
Iron Chef Chen: Kenichi's Mapo tofu served with 2010 Bass Phillip Rose Pinot Noir, Gisspland, Vic
Our plate comes out with a generous portion of mapo tofu and steamed Japanese rice. I sprinkle the sansho pepper over as if it were rare fairy dust and take a spoonful. Oh yes I should mention the spoons. The Chinese soup spoons sat on a square of paper on which there is a copy of the mapo tofu recipe. It is not complete according to Asami but it's a start! The tofu is so deeply flavoured and spicy it is a pleasure to eat it and then breathe hot dragon's breath while waiting for your taste buds to calm down and then dig in again. The tofu is incredibly soft and the fine mince and flavours meld beautifully together.
Don Pachi Geisha cold drip coffee extracted over 8 hours by Sensory Lab
A small dark brown bottle is placed at each of our places. We're curious, is it for dessert? Well apparently not, it's the siphon coffee which is a popular Japanese method of making coffee. it takes Don Pachi 8 hours to make 1 litre of coffee in this cold drip style which is made using room temperature water. The coffee used is from Panama and is called Geisha  and is a rare and expensive coffee that retails at $300 a kilo. At the Sensory lab at David Jones two cups of the coffee will cost $10. I pop it in my bag to take home with me as it is getting late and I  need my sleep!
Chef Mark Normoyle: Gold, silver and chocolate bar, crushed honeycomb, silky raspberry mousse served with 2010 Mitchelton Botrytis Riesling, Nagambie, Vic
"I hope you like chocolate" Thomsen says and explains that we are about to get a whole lot of it. I'm not complaining. First to come out is chef Mark Normoyle's dessert, a frozen chocolate parfarit that is enrobed in glossy chocolate and filled with crunchy feuilletine pieces which gives it a wonderful unexpected crunch. On top is not quite a raspberry mousse but more a stripe of raspberry gel and on the side are luminescent powder coated cocoa nibs. And would you call me a guts if I told you I managed to eat half of this even after all of this food? ;)
Chocolate petit four centrepiece
_ _And then a final course, a chocolate course of petit fours to accompany the coffee. The Japanese kanji character for Happiness is rendered in chocolate and there are macarons and truffles to finish off the evening. I can barely fit anything else in after semi demolishing the dessert so I nibble on a macaron (plain almond). Well of course I had to...
All of the chefs come out to take a bow alongside the Iron Chefs. Some of them are holding cameras and video cameras eager to capture this moment.
Iron Chef Chen's son
Outside the venue there is a huge queue of people that want their photo taken with the Iron Chefs. I get into the lift where there is a man holding the entire chocolate centrepiece. "I'm bringing it home for the girls" he says sheepishly.
So tell me Dear Reader, do you watch the Iron Chef show? And if you could choose any Iron Chef to cook for you, which one would it be?
And to see posts on the previous dinners:
Iron Chef Dinner 2007 at the Observatory Hotel
Iron Chef Dinner 2010 at the Hilton
NQN travelled to Melbourne and a guest of Tourism Victoria and attended the event as a guest of JTB.
Iron Chef Dinner
RACV City Club, 501 Bourke Street, Melbourne, Vic
http://www.ironchefevent.com.au/